ADAMS — A message, written in a women's autograph book over 120 years ago by Susan B. Anthony, is suspected to be a one-of-a-kind quote written by the suffragist.
Now on display at the Susan B. Anthony Birthplace Museum as part of the exhibit, "Autographs and Timeless Wisdom," the autograph book was donated to the museum by Terri Maitland in late 2021.
In her message to the autograph book's owner, Emma Herne, an actress of the Gilded Age, in neat black cursive, Anthony wrote: "Whether possessed of the characteristics of the oak, the vine or the flower all truly developed human beings love liberty and demand for themselves and their fellows the possession of equality of rights, privileges and immunities irrespective of sex or any mere accident of birth!"
Helpful context: On a previous page at an earlier date, Robert Ingersoll, a well-known lecturer, wrote "men are oaks, women are vines, children are flowers."
"We're curious as to whether she wanted to make a commentary on what he said," said Carol Crossed, president of the museum's board of directors. "Maybe she was making a statement that women can be strong as oaks, too."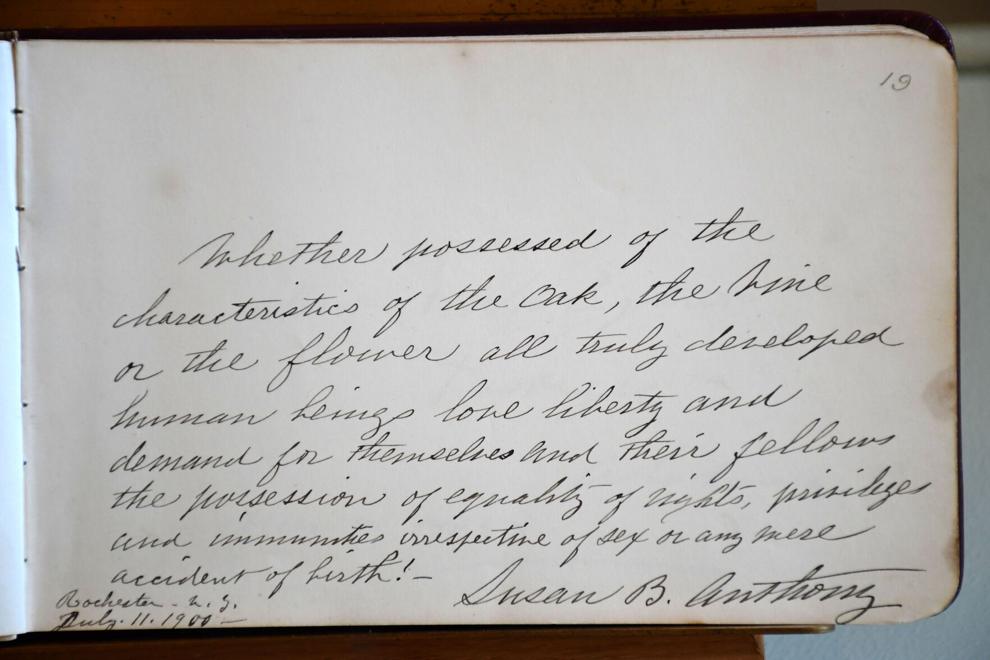 "Part of me wonders if she felt demeaned in that moment by his quote, because as we all know, she is certainly an oak," Carrie Miller, a member of the museum's board wrote in an email. "She needed no man to be a vine and spread her wings across America. I think it speaks volumes that she did not put such an original common quote of hers like even Keller and Twain did, but she was struck by this man's words 14 years prior and decided to almost ... correct him."
Herne first owned the book and collected the signatures, it got passed down through three generations and ended up in the possession of Maitland, who donated it to the museum.
AUTOGRAPH AUTHENTICATED
The museum had the Anthony signature authenticated, and Meredith Kottom, an intern and student at Hillsdale College, designed the exhibit.
"It's cool to see this piece of history come out from someone's house to be out in public to view," Kottom said. The quote is "very Susan B. Anthony — very articulate and beautifully worded," she said. "It really articulates her life's work and all she did for abolition and fighting for women's suffrage and women's rights."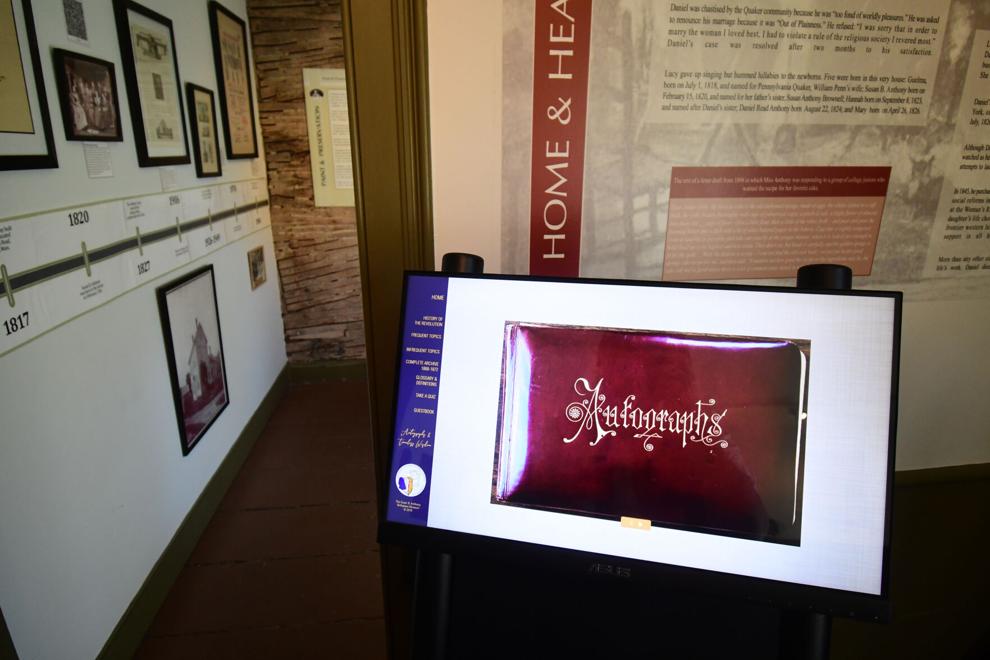 Kottom searched the Library of Congress and National Archives for the Anthony quote written in the autograph book and didn't find any matches.
"It is the only one I could find where she wrote that exact quote out," Kottom said. "It's hard to 100 percent say, but I definitely could not find that anywhere else."
Crossed was not familiar with it either.
"I'm somewhat of an authority on Susan B. Anthony. I had never heard it," she said. "It could be in someone else's autograph book, but it's something that is not in the public domain."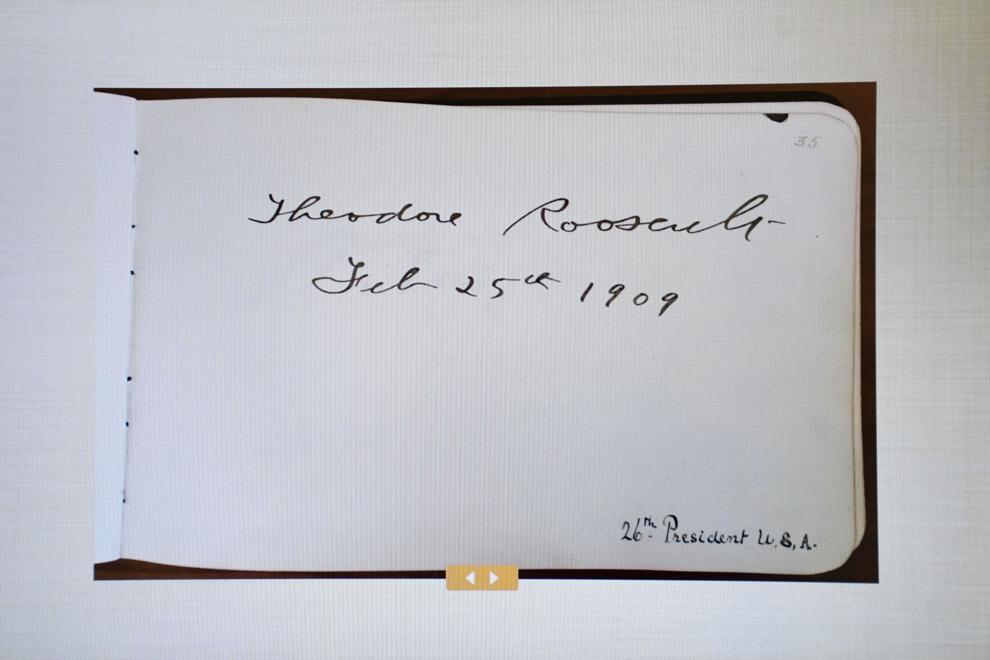 A number of other notable figures wrote on the book's pages, including Booker T. Washington and Mark Twain.
"All sight is of the soul," one page reads, with Helen Keller's name and the signature of her teacher, Anne Sullivan Macy, underneath.
The book also features signatures from two other prominent suffragists — Harriet Beecher Stowe and Julia Ward Howe.
Stowe, who signed the book Feb. 2, 1888, wrote: "Trust in the Lord, and do good. From your friend."
Howe's entry from June 1909 reads: "There is nothing too good for Human Society to attempt."
The exhibit is set to be open through Thanksgiving weekend. "Our hope is to share this exhibit and put it on loan it to other museums, like the Helen Keller [Birthplace & Home] museum, for example," Crossed said.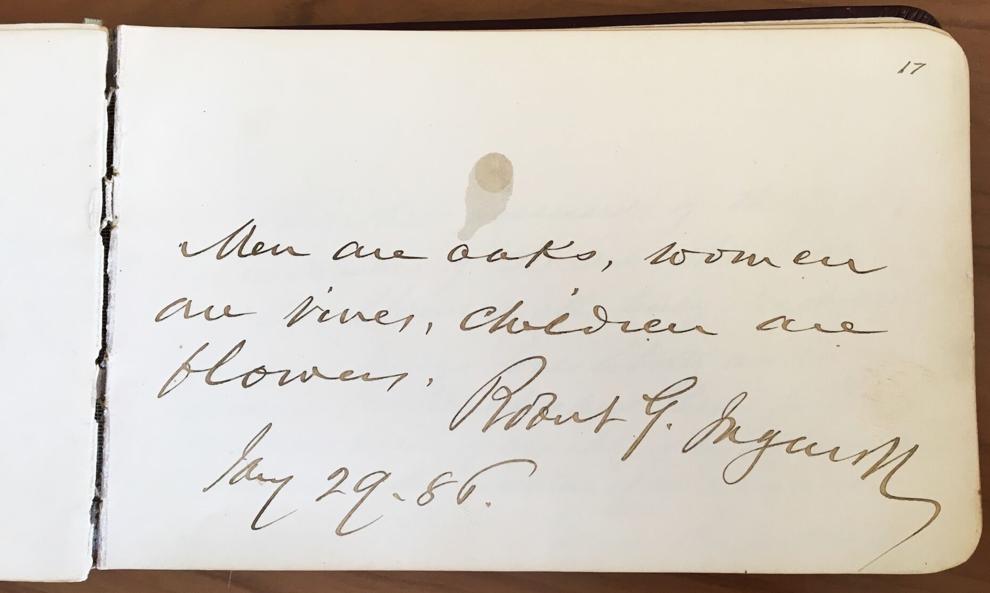 IF YOU GO
What: Autographs and Timeless Wisdom
Where: Susan B. Anthony Birthplace Museum, 67 East Road, Adams
When: Through the end of November
Hours: 10 a.m. to 4 p.m., Thursday through Monday
Tickets: $6, adults; $4, seniors; $3. students; free for children 6 and under.
More information: 413-743-7121; susanbanthonybirthplace.com