GREAT BARRINGTON — Framed photos, 40-year-old graphic T-shirts, show posters, drumheads and a drum kit made of recycled high school bleachers line the walls of The Guthrie Center's lobby. The display, titled "45 years with Arlo," draws from Terry A La Berry's personal collection.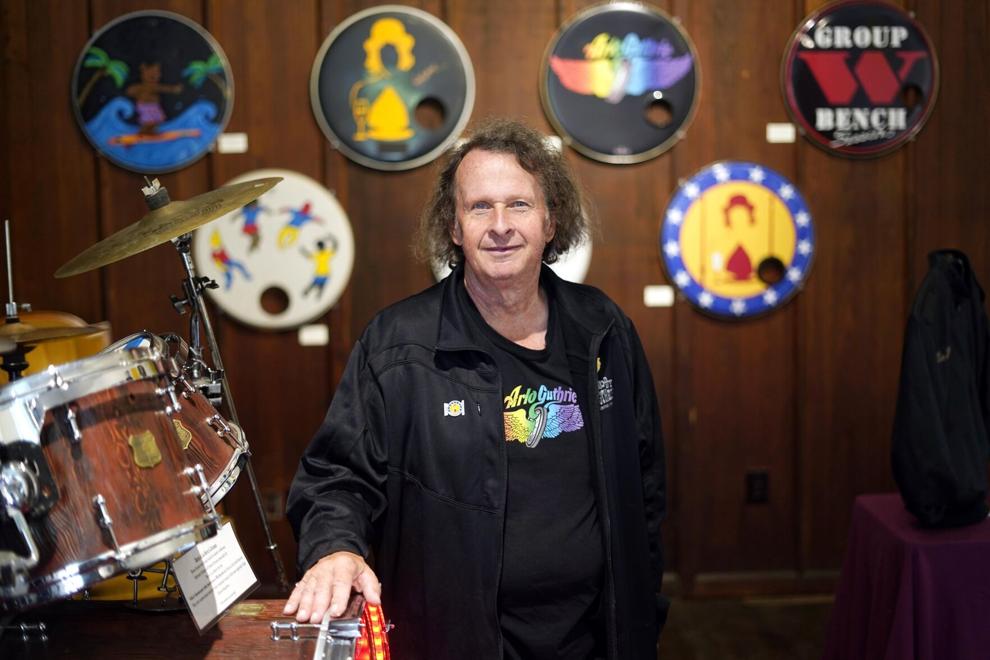 A La Berry, whose given last name is Hall, was Arlo Guthrie's drummer for the better part of 45 years, but his relationship with the Guthries goes beyond that — they're family.
While the exhibit contains only a fraction of his collection, A La Berry said, "it gives an overview of my life on the road." He describes his relationship with Guthrie as "irreplaceable."
"You really get to know somebody when you travel on a 40-foot bus for that long a time," A La Berry said during a recent interview at The Guthrie Center. "He's been a part of my life. He's been a really, really good part of my life."
Annie Guthrie, the executive director of the Center and Arlo's daughter, approached A La Barry with the idea and, with the help of her daughter, Jacklyn Guthrie, sifted through his collection to decide which items to include.
"Because Terry is family, because we grew up with him, I thought that that was the perfect fit to start off this new display at The Guthrie Center," Annie Guthrie said. She added that she plans to put together an exhibit on her father at some point, using materials from the Arlo and Jackie Family Archive.
"45 years with Arlo," she said, furthers the center's mission of historical and cultural preservation. It also allows people to be together in a safe way, which, though essential to the center's identity, was impossible during the past year-and-a-half.
On opening weekend, "I felt like we got a good amount of people through the building without it ever feeling overcrowded," Annie Guthrie said. "It felt really good to have people in the building again."
The display begins with a photo of A La Berry's band, Quarry, playing at The Music Inn in 1973. In his self-published autobiography, "Just a Berkshire Kid," A La Berry wrote that the Berkshires in the 1960s through 1980s saw a flourishing music scene.
"Bands would form or be added to another at a breakneck pace," he wrote. "It was hard to even keep track of who was playing with who but the odd thing was they were all really good. I would go on to work and stay friends with many of these people later in life like David Grover, John Sauer and Rob Putnam."
Quarry eventually transformed into Shenandoah, which, starting Oct. 5, 1975, worked with Arlo Guthrie until 1988. A La Berry was the only original member of the band who remained by 1988.
A La Berry's favorite photo from the collection is him wearing a sousaphone during a news conference. Arlo Guthrie "just said to me, right before the press conference, 'Get your sousaphone, sit next to me, don't say anything, and don't tell them why you're wearing the sousaphone,'" A La Berry said.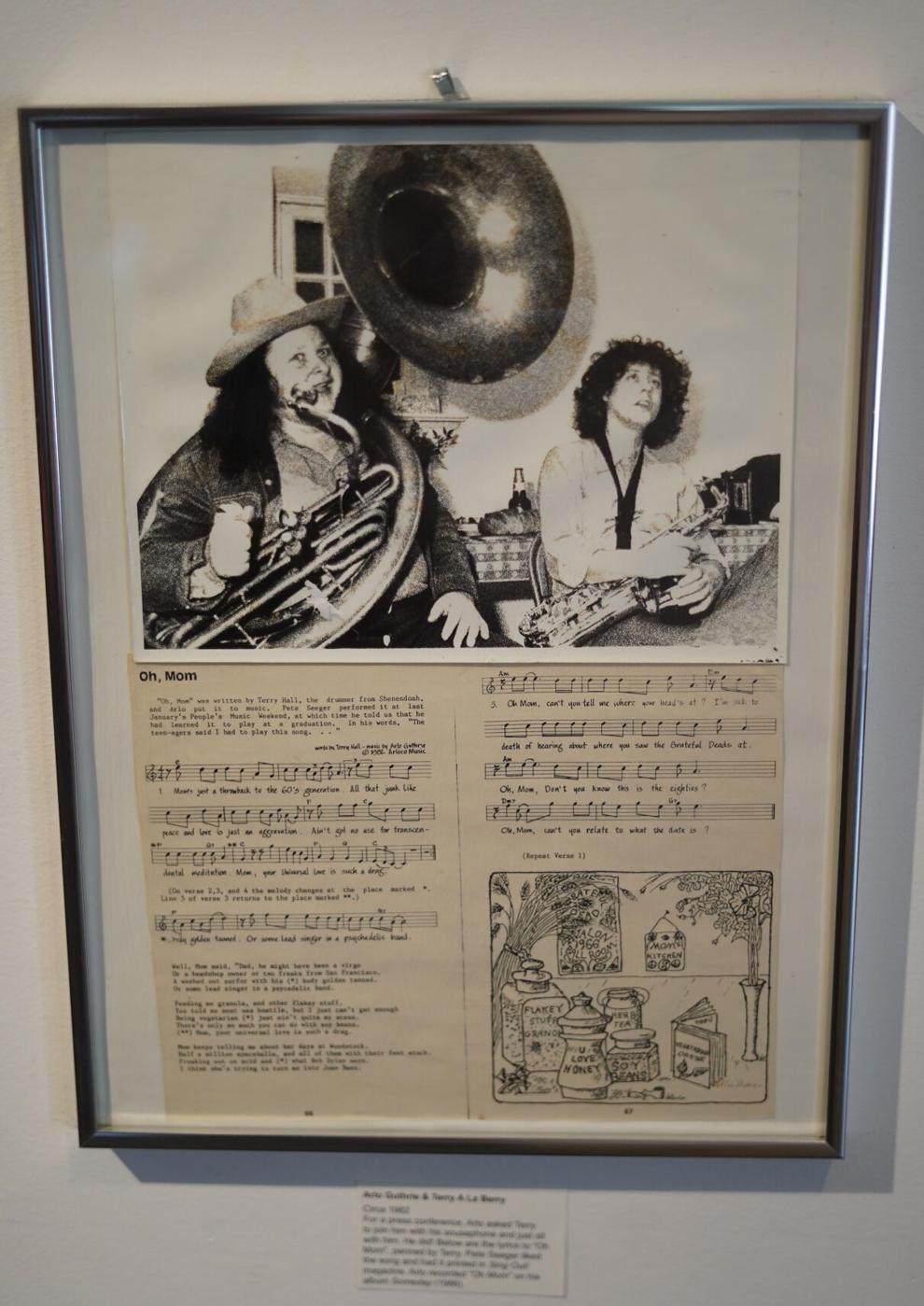 Though it is not directly related to Arlo Guthrie, the exhibit includes a photo of A La Berry as part of David Grover & The Big Bear Band, playing at the White House while President Bill Clinton was in office. After Shenandoah stopped working with Arlo Guthrie in 1988, A La Berry's career began as the frontman for kids bands.
Annie Guthrie explained that the photo represents an important aspect of Arlo and A La Berry's story.
"Just because he was playing with [David] Grover and was in the Big Bear Band, they were still working together in those days," Annie Guthrie said. "Terry was still doing archives back then for Arlo. He was also working in the office doing mail order. Their relationship has really had 45 years. Even if he wasn't on the road, he was still involved."
Describing his work as a musician for children and as a drummer for Arlo Guthrie, A La Berry said "they're so separate that I think of them as two different lives."
According to "Just a Berkshire Kid," once A La Berry stopped playing for the Big Bear Band, he wasn't sure what to do next. Then, Annie Guthrie gave him a call, and Arlo Guthrie once again became an important element of his musical life.
They toured together for the next 12 years, traveling across the country and the world. All the while, A La Berry has continued his work as a children's musician, starting his own kids band with Erin Laundry and Tish Merwin.
"We're only there so that they can express themselves, and so that they can have a good time, and sing and jump around," A La Berry said of playing music for children.
Since Arlo Guthrie stopped touring in 2020, after suffering multiple strokes, A La Berry has been trying to find other things to do in his career as a drummer.
"I'm looking for other musical options … but nobody can replace Arlo for me because he's been so much a part of my life, not just musically, but the whole family," he said. He added that he is looking for opportunities to play "grown-up music" with other members of the family.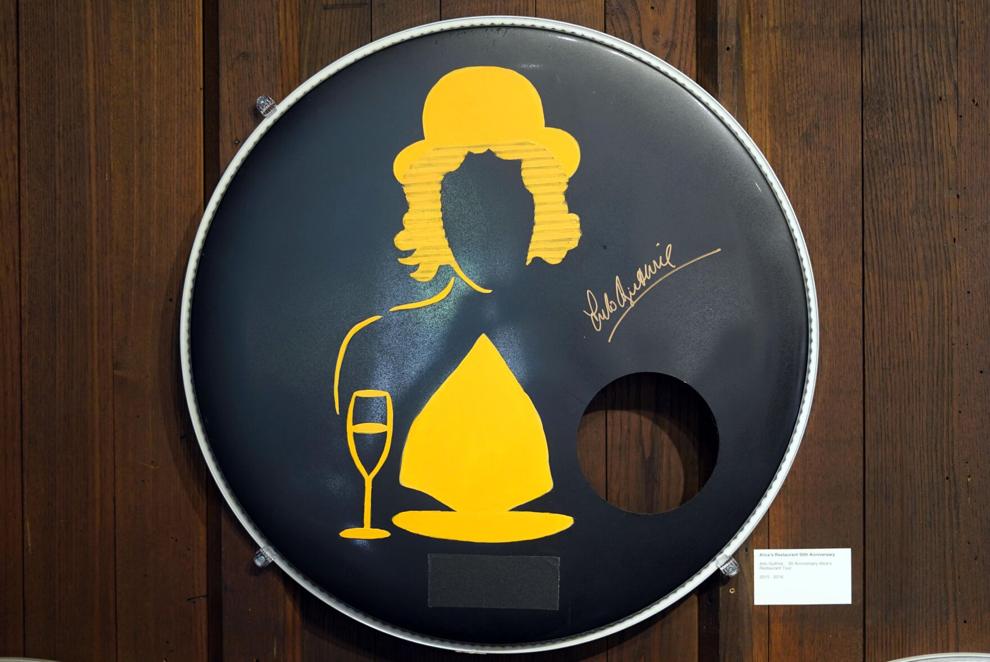 Chronologically, the show concludes with the Guthrie Family Reunion Tours. "We took all the kids and the grandkids and everybody — there were 24 of us on the buses, going around the country doing concerts, and it was great," A La Berry said. "The 2-year-olds were hysterical, of course. Those are great memories."
Looking back on the past 45 years, A La Berry is glad they never "made it."
"Our life on the road was really spectacular for 45 years," he said. "It wasn't high-end rock and roll star kinds of things and crazy parties and driving cars into swimming pools. It's a lot more normal, but to get to see the entire country over and over again and to visit places year after year, where we've been and where we've developed friends, not just fans.
"It's just a great way to see the world with a bunch of friends," he added.
Working with Arlo Guthrie for so long just felt normal for A La Berry. In the same way, The Guthrie Center feels like home.
"It's a celebration of the Guthrie family," A La Berry said of the center. "It's part Woody. It's part Arlo. It's part Annie and Abe. It's really an extension of [Arlo's] personality. And it's his way of bringing everything in a circle ... I feel very at home here. Like it's the place we're supposed to come to."
Terry A La Berry reflects on '45 years with Arlo'
Terry A La Berry poses in front of custom drum covers at the "45 years with Arlo" exhibit at the Guthrie Center in Great Barrington. Photos from this gallery can be purchased at https://mng-neni.smugmug.com/Terry-A-La-Berry-061721/