LENOX — Augustus Martin's photo "The Farewell" is the kind of old, weird image you can get lost in. It's a group of friends, including the photographer himself, with his handlebar moustache and debonair gaze, sitting in front of a banjo player handing something to the woman beside him. Unlike many of Martin's images of everyday life in Lenox Dale, this one has a specific date — March 11, 1901 — right before he briefly moved away from the Berkshires only to return after a few months. The question of just what is going on here hangs in the air.
For Molly Rideout, the 2021 Edith Wharton writer-in-residence at The Mount, the image is an opportunity and a challenge. There are things that can be learned about these peoples' lives and what brought them together, but there remains that shadow of unknowability over every ordinary person's life in the past. There is an invitation to fill in the story, and to explore why we feel we have to do so.
"I really fell in love with him as a character," Rideout said about Augustus. "This is a strange guy I wanted to know more about."
That curiosity spurred months of research in local archives, and an essay that explores how and why we tell these stories. And this weekend, part of it will manifest as a public art project, when she will affix vinyl cutouts to a pair of old French windows that will be installed in the Stable at the Mount, with another selection to appear in the window of The Bookstore in downtown Lenox.
Her interest began with the small exhibit of Augustus' photos that has been on display on the third floor of Edith Wharton's estate since 2017. Martin was the child of German immigrants, and lived most of his life in Lenox Dale working as a housepainter, barber, innkeeper and other trades. And, for years, he was a passionate amateur photographer, and about 200 of his glass-plate photos were collected by the Lenox Historical Society after his death in 1961.
"Through the lens of Augustus Martin seemed like a perfect way to show how people lived in Lenox Dale," said Anne Schuyler, The Mount's director of visitor services, who helped curate the exhibit.
The images are as eccentric as the artist himself seems to have been. He takes his camera around town — showing the bartenders at a popular tavern, two workers at a slaughterhouse, a group of young boys with music instruments each radiating a different kind of mischief, a very handsome chicken. And parties, with friends from his close small-town circle reappearing over and over again in different formations.
"That's part of the fun," Schuyler said. "You're not quite sure what's going on in a lot of the photos."
And there was often the man himself. One image is basically a selfie, taken with a mirror around which are pasted prints of his photos.
"The faces have such personality, which didn't feel as common in turn-of-the-century photos," Rideout said. "They weren't all posed in the studio. They were candid."
From there, she started to dig into the story, with the help of Amy Lafave, the local history librarian at the Lenox Library, finding town documents and microfilm of newspapers, like The Valley Gleaner. A portrait began to emerge about Augustus: that he painted houses, and worked as a barber, and suffered a nasty dog bite while riding his bicycle. And, as his pictures suggest, he had a busy social life — one time he threw a surprise party for a friend, and apparently, he threw the same party six months later.
"This was clearly a person who had fun with his life," Rideout said. "That was the start of the rabbit hole."
But one thing that seemed just out of reach was his relationship with one woman, the one in the photo being handed something. That was Minnie Avery, a young woman whose father owned a dry goods store, where Augustus had worked for awhile. The idea that maybe, maybe, they were more than just friends hangs there, especially as Augustus was already married, to a local girl named Rita.
"There are all these interesting bits, but never a complete story," Rideout said.
There were other specific frustrations. She couldn't find Minnie's marriage certificate, for instance. And one page of the microfilm of the Gleaner crops too close, chopping off a word from each line. Including the tantalizing description of a menagerie Augustus kept at his barbershop, which included a [BLANK] cat that he charged [BLANK] cents to see.
"There's so many loose ends," she said. "It's all loose ends."
Rideout defines the finished essay as "nonfiction, with some imagining," and that it is clear where the line is between the record and her own ideas. But telling the definitive story isn't the point.
"When you are talking about everyday people, who don't have a biographer, it is always imperfect," she said. "Sometimes whether you know the whole story isn't the important part, but rather, how does what you know affect you as a person today learning these things?"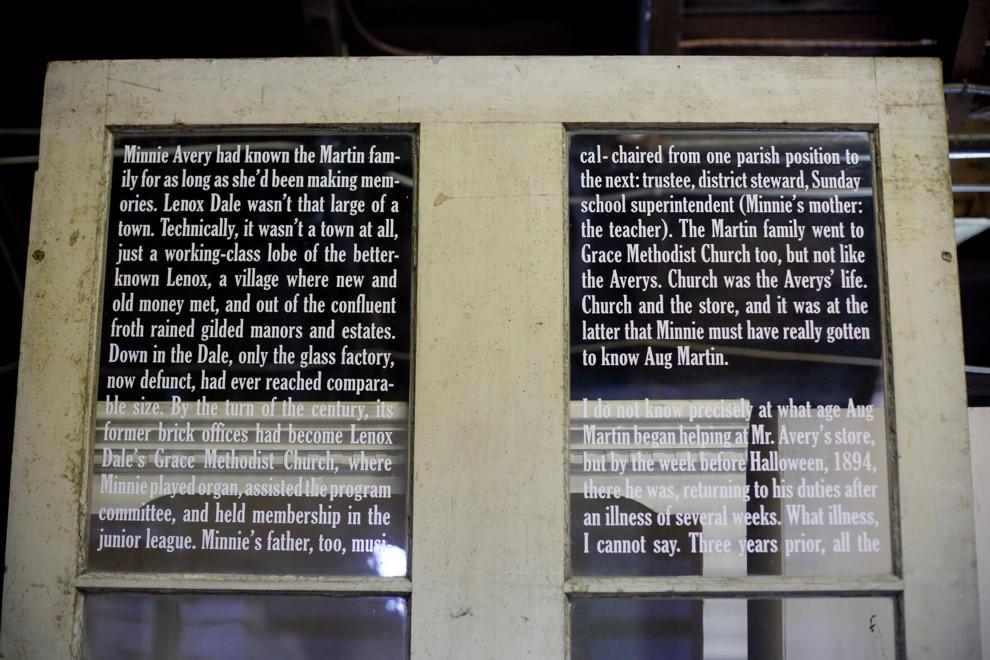 From that story of long ago, the essay moves into a more personal meditation, about her own experience as a young woman who had just graduated from college and found herself drawn to an older man and the arts collective he had created. It is about the enduring cultural idea of older men and younger women, and the feeling of finding herself drawn into a similar story.
The final essay is about 8,000 words, but she hasn't left it at that. Another part of her practice is to post words on glass, in this case a pair of never-used French doors that had been sitting in storage at The Mount since Wharton's time. On Saturday, May 29, she'll affix the vinyl letters to the windows for display in the Stable, two roughly 900-word selections. On Friday, another selection of the essay will be posted on the window at The Bookstore in downtown Lenox.
Rideout did similar work in recent years when she lived in Iowa, including a project that brought different writer's words to library windows around the state. For her, it is a response to the often too-closed literary world of today, where writers struggle to get their work into tiny literary magazines that are only read by other aspiring writers.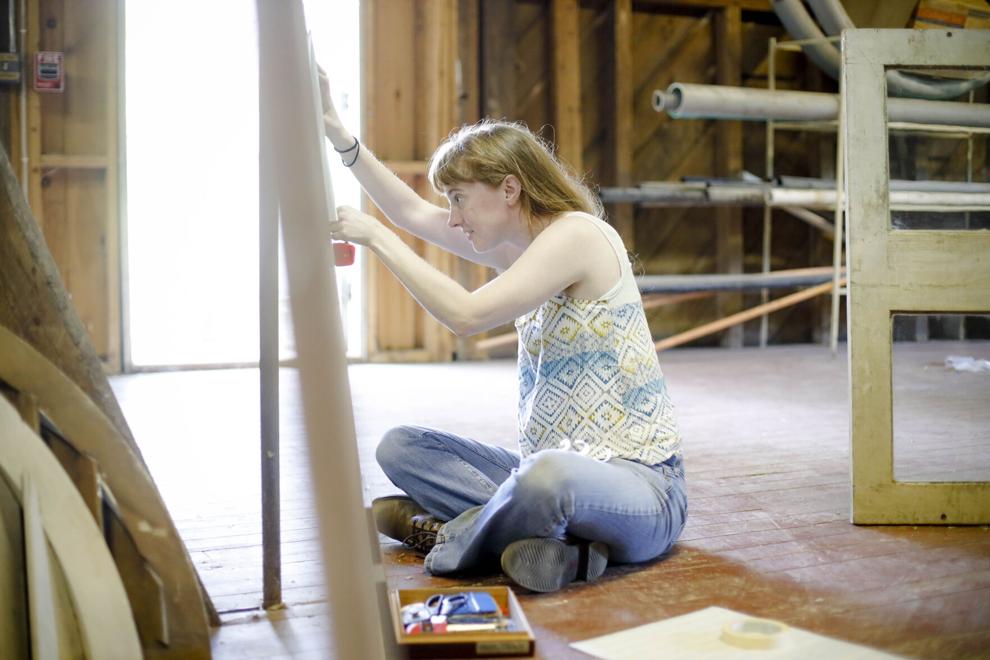 "These are ways of writing for my community and getting my work to them," she said. "It is a way to allow people to stumble upon new writing the way they would stumble upon public art."
And later in the summer, she'll put her skills as a bookmaker to use with an original handmade edition of the essay. Preorders are currently available, and there will be a public reading at The Mount in September.
Rideout only moved to the region about two years ago, and described how this local research and weaving these stories with her own, through her own skill sets and interests, is part of being an outsider seeking to grow into a new place.
"Learning is my way of creating those roots," she said.