PITTSFIELD — Are you tired of ordering clothes online, only to get them and find they don't fit? Or when they do, find the quality to be lacking? There are alternatives. Why not peruse the racks at local thrift shops to find "new-to-you" looks?
Three Eagle reporters each set out with a goal: Greta was looking for a dress or jumpsuit for her cousin's wedding this April; Emma was searching for a semi-casual outfit that could be worn both at the office and the bar; Aina was looking for pants, but was open to anything that fits her ever-changing tastes. With goals in mind and locations scouted, the trio set out on their Berkshire County Thrift Crawl.
NORTH ADAMS: SAVVY HIVE AND TERRA
After getting adequately caffeinated at Bailey's Bakery on Main Street — we recommend caffeine for peak alertness to spot good deals — we walked to Savvy Hive, at 53 Main St.
We were greeted by owner Jess Sweeney, who opened the shop about a year ago.
"I want anyone to walk in here and say 'I've found myself,'" Sweeney said.
All clothes are organized by style, not by gender, a sign near the door says. About 60-70 percent of the stock is donated. "It's like the community's closet in a way," she said. Donors get a half-off coupon in exchange for the clothing. Sweeney also buys clothes on consignment from vendors and tries to get a range of styles and sizes.
What she doesn't think she can sell she gives to WallaSauce, the nearby clothing store that turns the fabric into one-of-a-kind pieces.
Community is a word always on Sweeney's lips. She is determined to create a space for people to meet. With the store being only one-year-old, it's exciting to think about how it will develop and change in the years to come.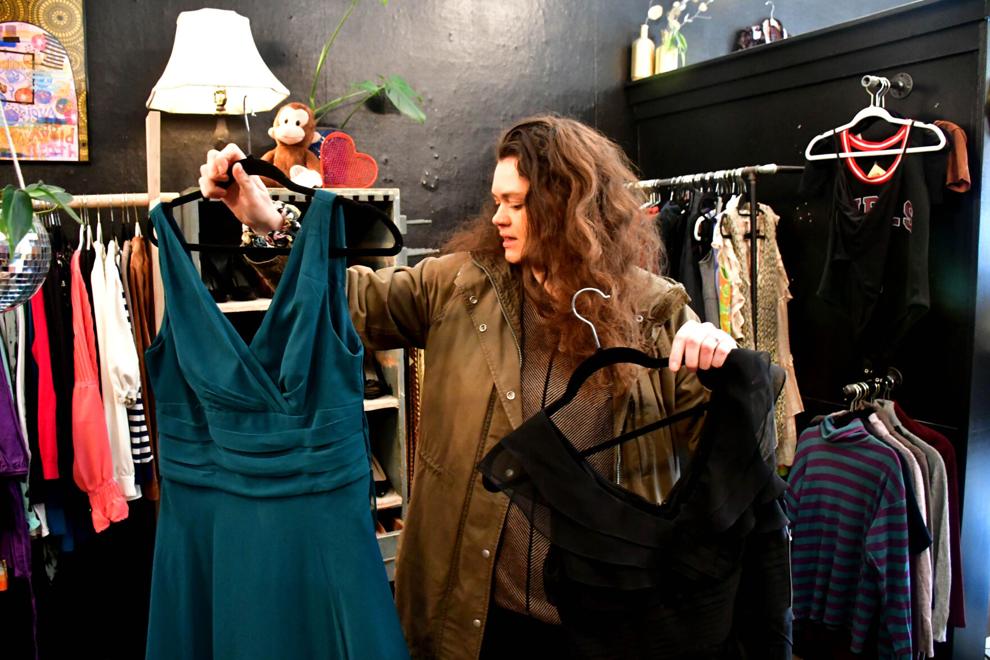 Greta: After getting distracted looking at a sweatshirt, I returned to my goal: browsing through racks of dresses. I pulled a black mid-length dress, thinking black dresses are the sort of easily-reusable, "classic," item to have in one's closet, and I really want to avoid buying an item I'll only wear once. I also pulled a floor-length dark green chiffon dress that I knew was too fancy but I had to try anyway. I groaned when Emma and Aina asked how it was going from outside the dressing room.
Aina: I quickly spotted a gray sweater. Even wearing it backwards, I immediately love it.
I tried on three pants, but none seem to really work out for me.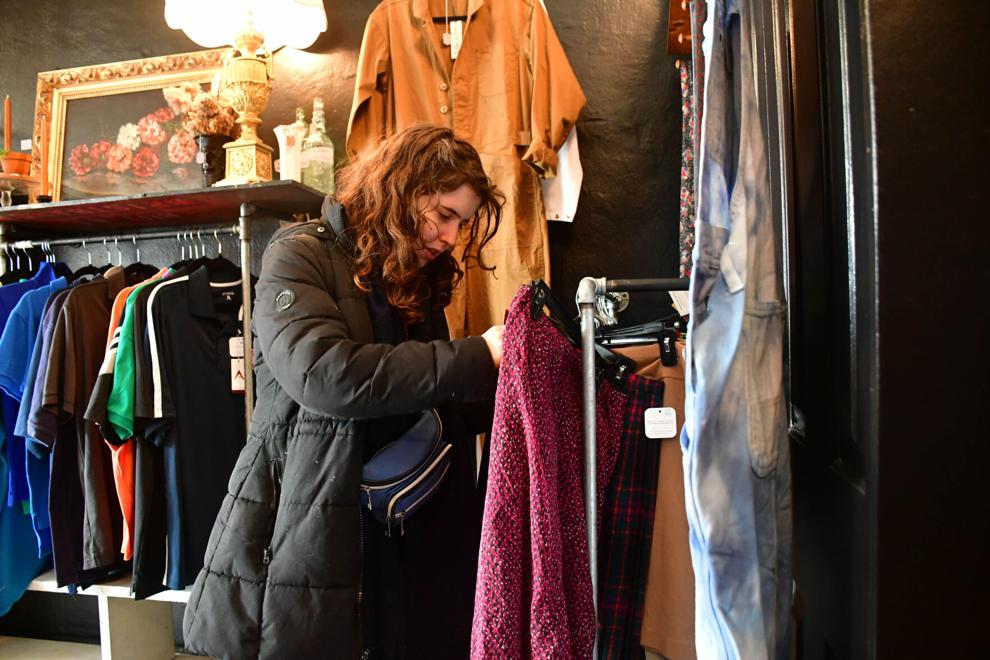 Emma: While Greta and Aina interviewed Sweeney, I dove headfirst into the pants rack looking for something to wear for the rest of this cold and windy winter. Somehow, I've managed to accumulate 10 skirts in my closet compared to my two pairs of trousers I can wear outside. In under five minutes, I found the perfect thing — a pair of houndstooth pattern bell bottoms softer than cotton. They're a statement piece to be sure, but they're no louder than I am already. For only $14, they became mine.
Just a block away from Savvy Hive is Terra on Ashland Street. The store is in the process of moving to 11 Eagle St. on April 1, and in the meantime, everything was 30 percent off.
Samantha White opened the shop in July 2021, describing it as "Anthropologie meets Goodwill." The well-curated space primarily stocks vintage items, White told us. Among its treasures are an eye-catching velvet cape, a red-and-white letterman jacket, bright pink corduroy pants, fur-covered hats, and a sparkly flapper dress. It's also got a retro vibe to match, with decor like a gumball machine.
Greta: Although I'd love to wear a sparkly flapper dress to my cousin's wedding, I wouldn't want to upstage the bride. I like browsing, but vintage isn't my style. I gravitated toward a rack of hairclips, and picked up a funky rose-shaped clip. With encouragement from Emma and Aina, I bought it — $8 well spent.
Aina: Here is the thing about vintage stores. I like to think I'm the person who buys clothes from there, but I rarely end up doing so. They are still fun to visit.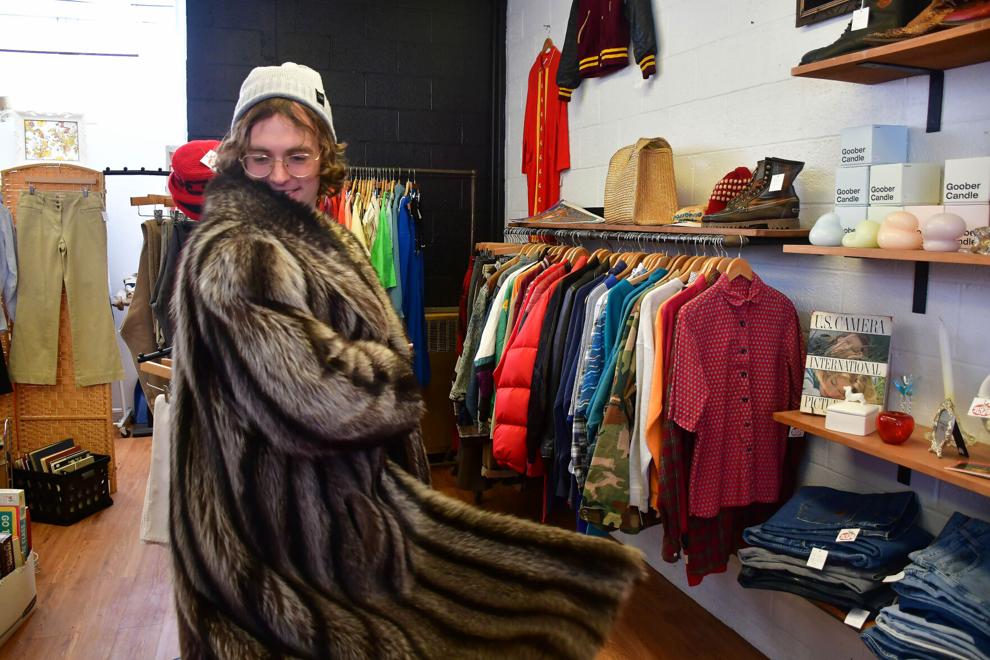 Emma: I tried on a few shawls and other outerwear, but nothing seemed to click. I did find a fur coat that made me feel like a Russian heiress, but unfortunately I could not afford it. Even thrifted and discounted, it had a $275 price tag. I suppose I'll have to wait before I can live out my Anastasia fantasy.
PITTSFIELD: DESIGNER CONSIGNER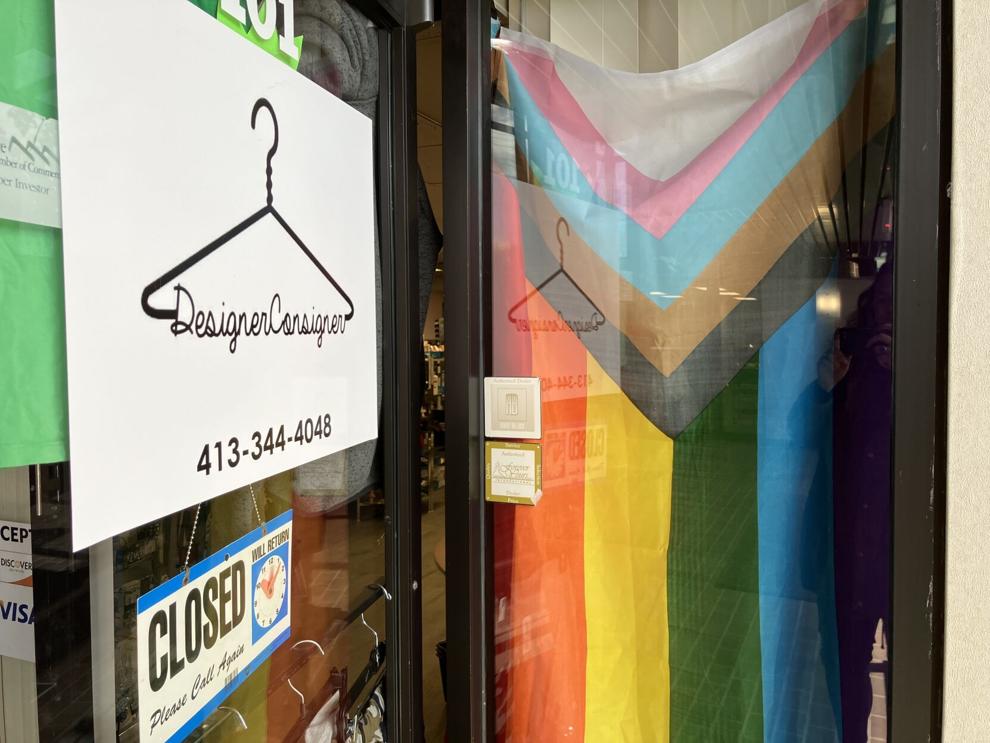 The shop is in the Allendale underground, but don't let the subterranean exterior of Designer Consigner deter you. The small shop is packed with clothing, and stocks brands like Banana Republic, Talbots, Anne Taylor, Free People and Anthropologie.
Greta: Over "Tubthumping," by Chumbawamba playing through the speakers, the clerk informed us certain colored tags are 25 and 50 percent off. It's worth checking when you go to a second hand shop for daily deals like that. I picked up a Mountain Hardwear sweatshirt on sale for $8, a steal for a brand that usually goes for $50. I tried on a floor-length green v-neck dress, the third dress attempt of the day so far, and it went back on the rack. On the way out, I noticed some green dinosaur-shaped earrings. For $3.99, I go for it. Weird earrings are always good.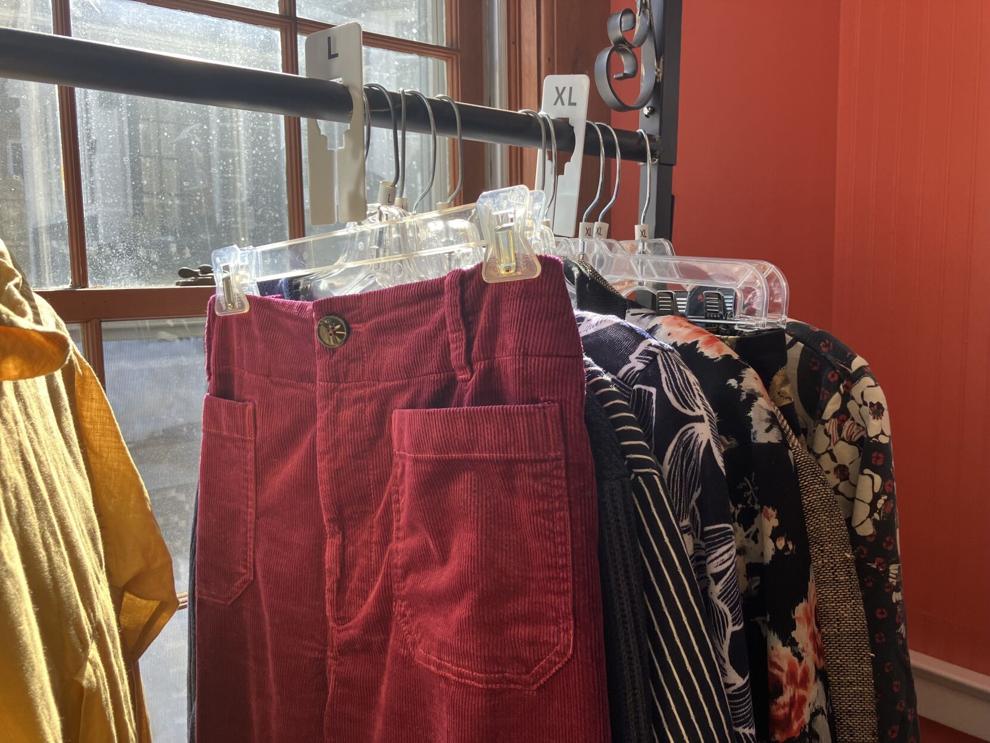 LENOX: CATWALK BOUTIQUE
The well-organized shop at 51 Church St. is filled with upscale brands like Eileen Fisher, Armani, and Brooks Brothers, plus proceeds go to the Berkshire Humane Society, an animal shelter. The shop has another larger location in Great Barrington at 325 Stockbridge Road.
Greta: Toward the back of the shop is a rack of formal wear — jackpot. I grabbed two dresses and a black and white floral jumpsuit. When I put the jumpsuit on, it felt great. Comfortable and stylish with a floral pattern, it's perfect for the early spring wedding, and for $28, it was a deal.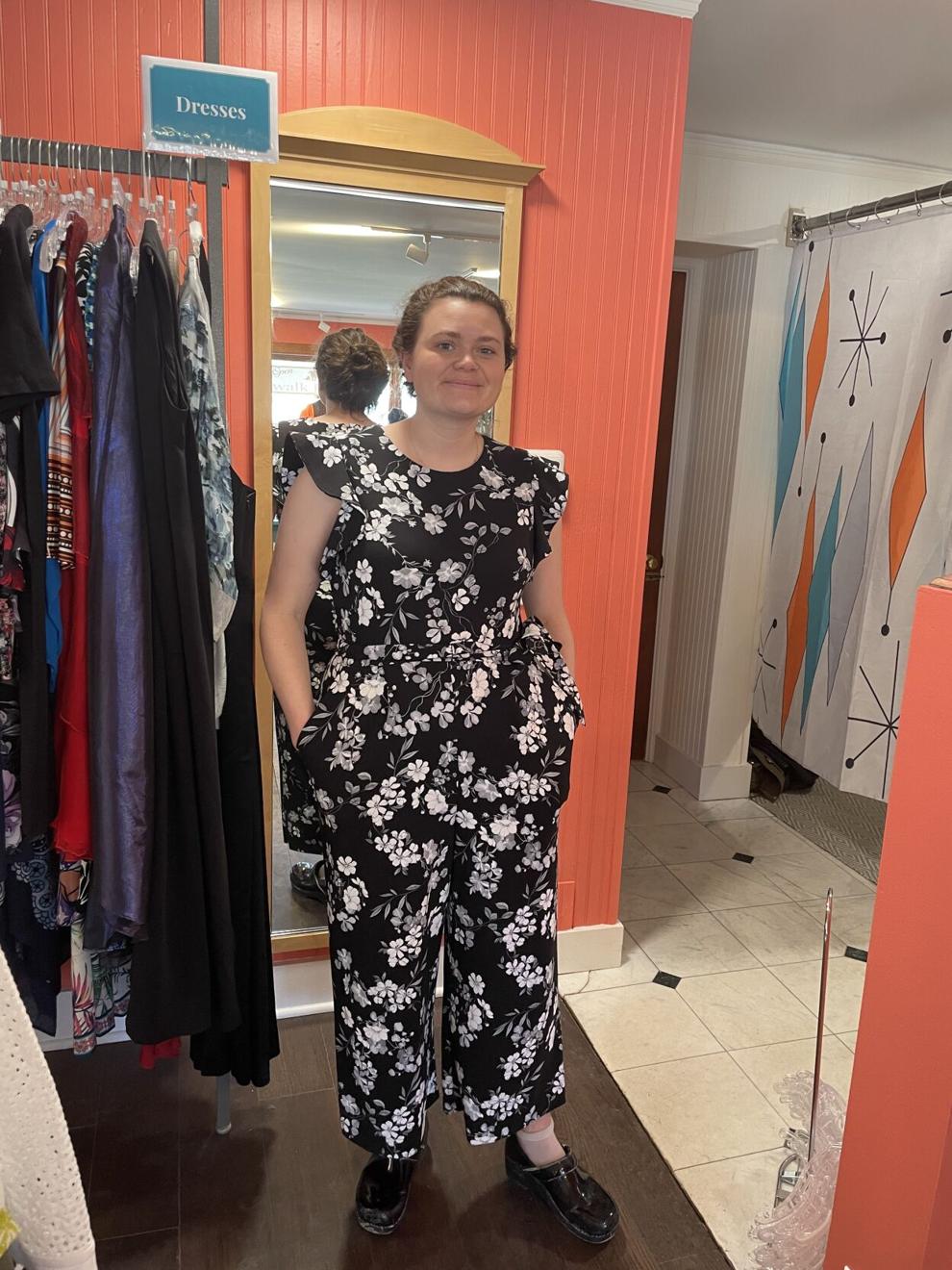 Aina: Catwalk, in Lenox, did not seem like a thrifting store. Clothes on the racks look new and heavily curated. Their website says they only take new or lightly-worn clothes. The two volunteers running the store have the impeccably polished style of two flight attendants, which makes me think I will find great clothes.
I found a dress from BCBG, priced a black jacket with a lace back and comfortable Free People pants with muted white, blue, red and green stripes. The pants are 60 percent linen and 40 percent cotton, which makes me think they will be great for the summer. These are both natural fiber which is better for the environment, plus vertical stripes in bottoms are always a winner. Should I buy everything? I do.
Emma: Catwalk was by far the most expensive of the stores we visited, which was justified by its impressive selection and its charitable mission. Expensive is relative though – Catwalk's clothes averaged between $15 and $50, which is pricey compared to Goodwill but a steal compared to department stores.
I managed to find a loose-fitting collared shirt with vertical beach stripes for less than $20. While trying it on in the changing room, I overheard one of the store clerks talking to a customer. Because of its name and connections to the Berkshire Humane Society, the clerk told the customer, "Some people hear 'Catwalk' and they think we have cats for adoption here!"
GREAT BARRINGTON: BOHO EXCHANGE AND GOODWILL
A handwritten sign on the door of Boho Exchange said it was closed for the day for spring cleaning. It was disappointing, but perhaps emblematic of thrifting: you never know what to expect.
We hopped back in the car for the ultimate you-never-know-what-you'll-find store, Goodwill.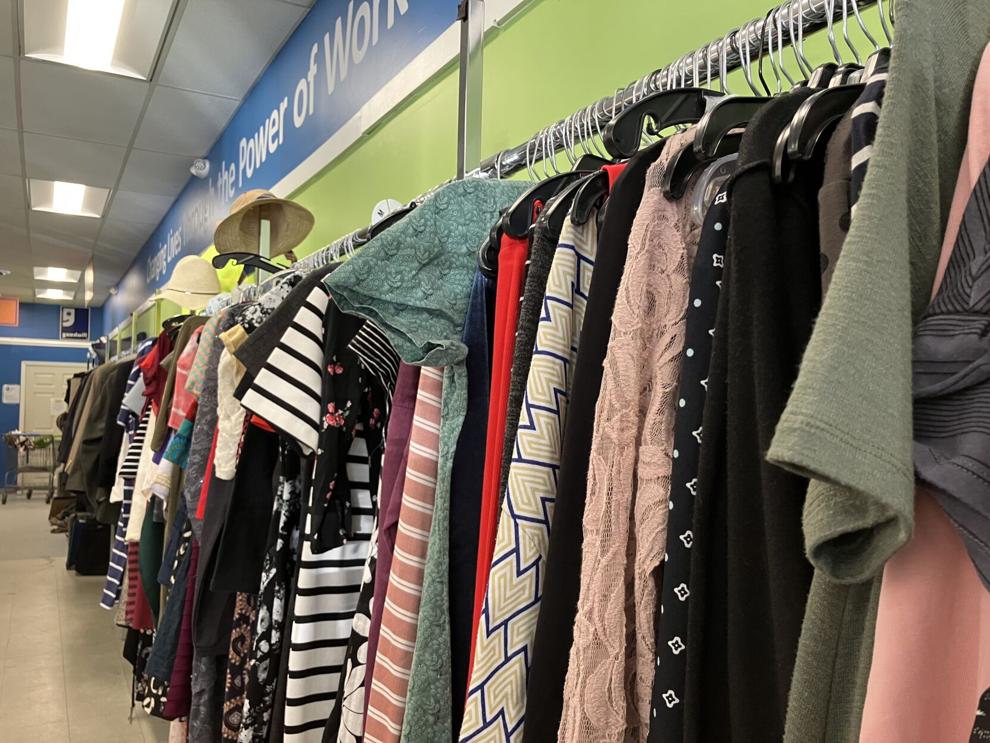 Greta: This may be one of the nicest Goodwills I've ever visited. There were seemingly brand new Tom's wedges ($3.99) and Nine West heels ($7.99). Goodwill can be an overwhelming place — it's much larger than the well-curated shops we visited earlier in the day — but when you do find a piece it's often a steal.
Aina: Before entering the store, I made an outloud promise that I will not buy anything else. But some promises are meant to be broken. I try on some green cargo pants that are really comfortable, but alas, have a stain on them. It's really a pity but not knowing for how long the stain has been there I can't risk it. I spot a LOFT black blouse with glittering polka dots. Feels formal and festive. For $6 I don't hesitate. There seems to be a 50 percent off sale, that's even better.
Emma: I won't lie by saying I was excited to go to Goodwill. Their stores never have much that suits my taste, and when they do the garments are a little too well-loved for a second life. The one Great Barrington was different though. I managed to find a really preppy blouse — the kind Lea Michelle's character in "Glee" might wear — for $4 that I immediately snatched off the rack. It paired perfectly with the pants I got in North Adams, creating the ultimate business-casual but still chic look. I accomplished my mission!
Where to donate clothing in the Berkshires
Before donating them, make sure you wash the clothes. Also, if possible, call ahead to check if these organizations are accepting donations.
WILLIAMSTOWN
ABC Clothing, 76 Spring St.: Donations can be dropped during opening hours which are from Wednesday to Saturday from 11 a.m. to 4 p.m. and Sundays from 1 to 4 p.m.
NORTH ADAMS
Savvy Hive, 53 Main St.: Donations can be dropped during opening hours.
LANESBOROUGH
St Luke's Episcopal Church, 20 South Main St.: Accepts clothing and also other fabric. It's a yellow shed behind the church.
PITTSFIELD
Manos Unidas grassroots organization, 5 Melville St.: Donations can be dropped off on Thursday 1 to 5 p.m. or Saturday 3-5 p.m. Text 413-310-8944
Berkshire Dream Center, 475 Tyler St.: Donations can be dropped on Friday 9-11 a.m. Text or call ahead 413-522-3495 to make sure they are in need of the item that you have.
Berkshire Humane Society/Catwalk: only new or gently used women's clothes. If they're closed you can leave the clothes by the door. Leave at 214 Barker Road. For more information, visit their website.
Christian Center, 193 Robbins Ave.: They accept seasonally-appropriate clothing and shoes for men women and children, as well as socks, underwear (preferably new). They are open weekdays from 8:30 a.m. to 2:00 p.m. and donations can be dropped off during those hours.
GREAT BARRINGTON
CHP Berkshires, 442 Stockbridge Road: New or gently used children's clothing (up to size 7).
THROUGHOUT THE COUNTY
Hartsprings Foundation: Accepts clothing, shoes, linen and other cloth items. Check their Facebook page for their residential pickup schedules
FACEBOOK GROUPS
Buy Nothing Pittsfield Facebook Group
Buy Nothing Lenox, MA & Surrounding Area