The Details: Café Triskele Kitchen and Pantry is the latest offering from chef Franck Tessier and pastry chef Rachel Portnoy. The couple, opened the restaurant's previous incarnation, Chez Nous, a casual French bistro in the same location, shortly after getting married in 2005. During 2020, they took time to reflect on just what they wanted to offer the public — a place for family and friends to gather, as well as a restaurant that reflects the food they love to eat, with a menu inspired by the seasons.
The menu emphasizes plates with smaller portions and prices under $20 — perfect for sharing and for exploring several menu items at once. As a bonus, many items are, or can be, made gluten-free. Service includes indoor and outdoor dining, with take-out available (the menu was designed to travel.). Pantry items, such as house-made pâté in 4-ounce jars, chutney, preserves and pantry staples (einkorn flour, locally-sourced honey and Hosta Hill fermented hot sauce) can be ordered online and picked up curbside during operating hours.
What we dined on: My husband, Rob, and I recently visited Café Triskele during a night out sans teens. Having only spoken to Portney over the phone, I decided that since the restaurant recently rebranded and reopened, now was the perfect time to visit and eat the food I had only seen in photographs. We were not disappointed. We began with an order of Warm Berkshire Mountain Baguette & Butter/Oil ($4) that arrived with our drinks. As lover of all things pâté, I chose the Pâté Maison, also known as Franck's Country Pork Pâté of the Moment, served with cornichons (tiny pickles), chutney and Berkshire Mountain Peasant Bread ($13). Rob chose the Grilled Vegetable Ravioli, served with Parmesan, spinach, sun-dried tomatoes and a drizzle of extra virgin olive oil ($16.50). While the menu encourages sharing, Rob's dislike of pâté allowed me to dine on my order alone, spreading the pâté and chutney on the warm bread. Rob fully enjoyed his ravioli. While the portions are small, we thought they were just right for one and just filling enough to leave room for dessert.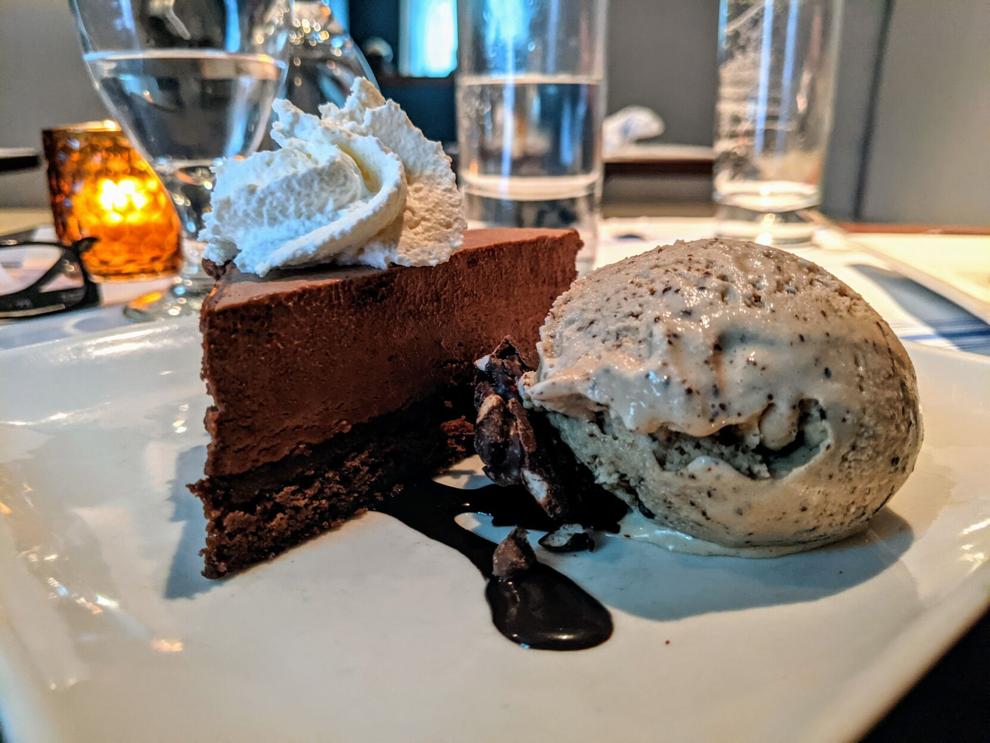 Other items we love: We both highly recommend leaving room for dessert. The "sweet" menu is full of delectable options. I opted for a special on the dessert menu that evening, a dark chocolate mousse torte with ice cream from High Lawn Farms ($11), which was so light and airy. Rob opted for the frozen key lime cheesecake with blueberry compote ($11), which he liked very much, but insists the cheesecake is so delicious it can stand on its own without the compote.
Final bite: We enjoyed the food and service so much, we plan to make the drive from Adams to Lee, more often. We can't wait to see what the menu has to offer on a seasonal basis.