NORTH ADAMS — For Hideyo Okamura, abstract artwork works similarly to classical music. Neither aim to represent something concrete, yet both give rise to an emotional response through composition — either of sound and rhythm or colors and brushstrokes.
Okamura, an abstract artist, aims for his pieces to remain open to interpretation.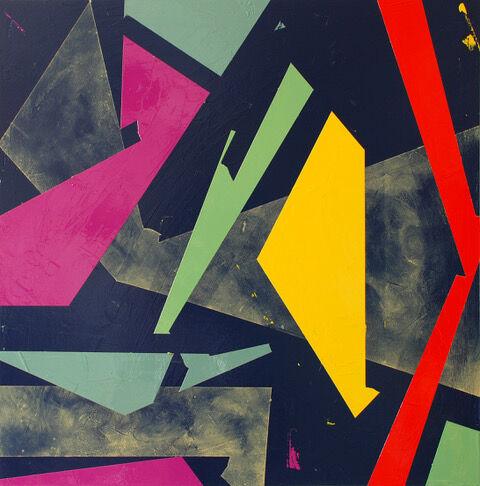 "I'm not interested in dictating [that] this painting is about this," he said. "People can feel it and, with their knowledge and background, they can respond to my painting. Art is a communication between you and others."
Born and raised in Japan, Okamura has spent his entire adult life in the United States. After finishing an undergraduate degree in art, he attended the School of the Museum of Fine Arts at Tufts University.
He and his wife, Sara Farrell Okamura, now live in North Adams, after moving to the Berkshires from Chicago 26 years ago. He said he retired early from his job as manager of exhibition design and planning at the Williams College Museum of Art, and is now a full-time artist. His work was recently on display at Bernay Fine Arts as part of "Lines and Colors" and can currently be seen in the Poker Flats exhibit "Feelings are Facts" in Williamstown.
Okamura recently took the time to answer a couple of our questions.
1 Why are you drawn to abstraction?
Basically, I'm not interested in representational artwork. So my painting isn't about something. It's not like a painting of flowers as such, which is nice, too. But I'm more interested in the physical property of that material, like paint itself — lines, shapes. If anything, I'd like them to represent themselves, so to speak, not another image. I'm a very visual person, obviously, and I love seeing things, but my interest, when I do paintings, [is that] I want the lines to be lines, brushstrokes to be brushstrokes, nothing other than that. I understand, also, that the way I paint has to do with the way I think and the way I'm influenced by seeing my surroundings.
2 What inspires you to draw a certain line or make a certain shape?
[It's] intuitive like jazz improvisation is. I don't have a pre-planned idea of what it's gonna be like. I might have some vague idea, but it doesn't necessarily end up that way. I respond to what I just put down on the canvas ... Sort of like jazz improvisation — you're listening to the other musicians playing something, and you respond to it. So, it's like a call and response.
3 What's a day in the life for you?
Being an artist, a lot of people don't think about it, but there's a lot of things to do besides painting. You have to deal with a website, you have to post on social media. It is great to get the image out so people can see and respond to it, so I post on Instagram a lot … Besides dealing with everyday life ... you're a one person-business. You have to promote yourself, and go to the openings, and see the other shows.
The one thing about the pandemic was, I think it didn't bother a lot of artists because you're usually at home painting, doing artwork. So, it's not like you miss going out somewhere. Artists are usually in the studio just making things. So that wasn't hard in that sense. But I was going to be in a show, and that got cancelled, and we couldn't have studio visits because of the pandemic, so that was hard in terms of [finances].
4 How many hours in a day does that leave for actual painting?
The thing about art as an artist is it's always in your head. It's [a] 24/7 kind of work because you're always thinking about it. You might not be actually making it, but you're thinking about seeing things outside, you're thinking about the kind of relationship you have with that visual experience, and how that can be translated into your artwork ... But you have to be disciplined because it's so easy not to do it if you don't feel like it …
There's something nice about [cleaning] sometimes. Not that I like cleaning, but you can accomplish something, where artwork is — you might finish one painting, [but] that doesn't mean you accomplish something in that sense.
5 Have you ever talked to people about their interpretations of your paintings?
My wife mentioned, sometimes she looks at my paintings, and she thinks they're realistic, so that's something very interesting to me. I don't have anything that recognizable other than just the shape and the brushstrokes, but nothing really recognizable. And I do find it's like that on Instagram, too. People who like my work, I look at their page, and a lot of them are portrait artists or realistic still life [artists].