When the Great Barrington Historical Commission decided that a comprehensive study was needed to determine what the town had lost with the goal of determining what it could keep and how it could keep it, the group knew to whom to turn: historian, writer and longtime resident Bernard A. Drew.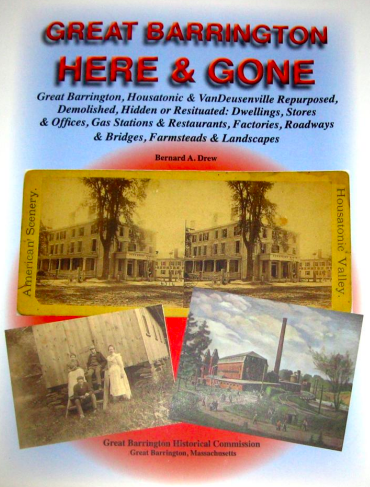 The result is "Great Barrington Here & Gone," an impressively detailed and illustrated history that, to paraphrase the book's subtitle, looks at what has been "repurposed, demolished, hidden, or resituated." Much is indeed gone, but as Drew said in a recent interview, it is surprising how much is still there.
"In your mind, you can reassemble much of what Main Street looked like 120 years ago," Drew said.
The nearly 200-page book is comprised of many small chapters with names like Barns, Bridges, Flames, Lost Details and Storefronts. The longtime Berkshire Eagle Our Berkshires columnist said his goal was to "go beyond the historical side to the human side and find little stories to tell."
As good an example as any of this approach is the detailed section devoted to author, educator, civil rights icon and native son W.E.B. Du Bois. Drew writes that while none of the houses Du Bois lived in remain, buildings that shaped his development as a youth still exist, and the Clinton A.M.E. Zion Church where he lectured at the age of 18 in 1886 is being restored.
Photos of the lost buildings are in the book, including a poignant one from 1961 of Du Bois and his second wife Shirley Graham Du Bois gazing at the chimney and cellarhole that are all that remains of his homesite. The photos and the background and timely quotes offered by Drew that accompany the photos offer a capsule history of Du Bois and his Great Barrington links while providing a sobering reminder of how much of that history was lost when the buildings connected to Du Bois were lost.
The electrical pioneer William Stanley and his local links are included in the book, and it is ironic that much of the Church Street neighborhood where Du Bois spent his early years was razed in 1896 to make room for the Stanley Instrument Factory. That attests to Drew's point that much can be lost in a community as it evolves, and if "you can make a connection you care about," a goal of the commission and the book, it is easier to preserve historic sites and buildings.
Stanley, a pioneer in high voltage alternating current technology, famously electrified Great Barrington's Main Street as a demonstration of his prototype transformer designed to make AC practical. His Maple Street mansion, now a nursing home, his West Avenue home and the Berkshire Heights bungalow where he died in 1916 are pictured and their histories provided. The Stanley Electric Manufacturing Co. begun in Pittsfield in 1890 was purchased by General Electric in 1903.
Drew's past research provided him with a foundation for the book and the ready availability of digitized information enabled him to find whatever else was needed. The digitized Berkshire Eagle and Berkshire Courier were valuable sources as were the online records of the Berkshire Middle and Southern Berkshire Registry of Deeds. Drew said a tip from Berkshire Probate and Family Court enabled him to find wills on line and track properties as they were passed down by families.
The veteran historian said this process "takes some of the fun out of researching through old books" but the online information proved to be invaluable in fulfilling his goal and that of the commission.
On Saturday from noon to 2, Drew will be signing copies of "Great Barrington Here & Gone" in the Great Barrington Historical Society's Museum Wagon House at 17 South Main St.