Author and historian Bob Thompson maintains that Americans don't know enough about our Revolutionary War. It could be argued that Americans don't know enough about their nation's history in general much before the Chinese spy balloon commotion, but his point is valid.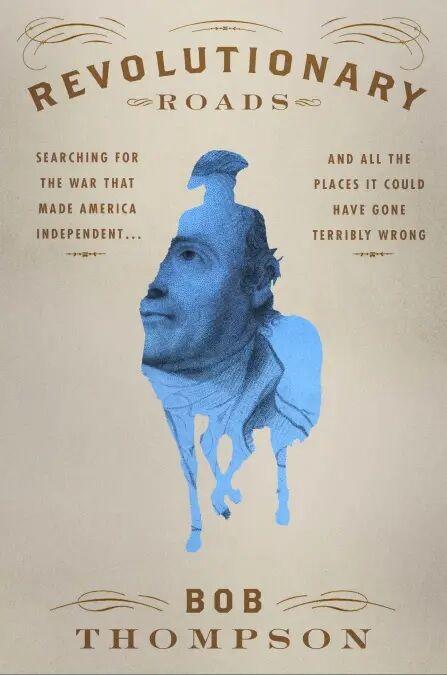 We in the Berkshires may be reasonably well-informed because so much of the war took place just east, west and north of us, and even passed through here. Given that the War Of Independence defined America in its infancy, we all could know more. It helps that the eight-year war from 1775 to 1783 makes for such a fascinating subject.
In the newly released "Revolutionary Roads: Searching For The War That Made America Independent … And All The Places It Could Have Gone Terribly Wrong," Thompson brings contemporary context to the war by visiting the sites where it happened. This, of course, meant going to Lexington and Saratoga, but it also involved walking through shopping centers in New Jersey and auto dealerships in Eastern Massachusetts in search of rusted historic markers that recalled the events — with varying degrees of accuracy — that enabled the nation to begin its grand democratic experiment.
Lexington and Concord, outside of Boston, are must-stops on the revolutionary road and Concord provides an example of a recurring theme of the book. When the British let a bonfire of confiscated weapons get out of control, the patriots thought they were burning Concord and attacked. It is remarkable — and disconcerting — how many battles turned on luck, misunderstandings and coincidences.
(Thompson also noted that troops marching to Boston at 3 mph were going as fast as he was while attempting to follow their route through modern day traffic.)
Thompson's following of the Knox Trail, along which Col. Henry Knox and his men hauled 60 tons of cannon from Fort Ticonderoga in New York State to Boston to rescue a beleaguered George Washington, brought the author to the Berkshires. Driving along Route 23 in Otis, Thompson observed the peaceful rolling hills that Knox's biographer regarded as an "ominous confusion of mountains, precipices, chasms and deep valleys." In Egremont, he admired a modern Knox Trail plaque that also pays tribute to those who died on 9/11.
The Saratoga campaign, just west of here, involved British forces sweeping south from Canada and north from New York with the goal of squashing the rebellion in Albany. Its failure was a major turning point in America's favor and Thompson visits the battlefield to explore its complexities. In the process he explains that Benedict Arnold, seen by history as a "traitorous scumbag," was first a savvy and courageous American officer "whose fingerprints are all over Saratoga" and other key campaigns.
Thompson's scholarship is impressive: He seems to have read everything written about the war no matter how obscure. He relies extensively on, and pays tribute to, the knowledgeable battlefield guides and amateur historians who keep the history of the Revolutionary War alive. It is with their assistance that he is able to chronicle the contributions of Black soldiers, some of whom fought for a nation that enslaved them while many understandably sided with the British, and the critical role of the Deep South in the war.
Readers soured on history by leaden textbooks will appreciate Thompson's breezy style and dry humor. He is wonderfully sardonic, if not caustic, about the foibles and blunders of the Great Men on both sides whose actions and — quite often — inactions determined the course of the war and of history.
Thompson describes the Revolutionary War as a great story, and "Revolutionary Roads" tells the story well from a unique perspective. Readers may want to visit some of the sites explored by the author. Saratoga would be an excellent choice — the traffic jams of north New Jersey are probably best avoided.
READ IT
"Revolutionary Roads: Searching For The War That Made America Independent…And All The Places It Could Have Gone Terribly Wrong" by Bob Thompson
Published by: Twelve Books
448 pages
$32