What does depression look like? Can it look like a 30-something woman from a privileged past with a mortgage, a husband, a healthy child and a published novel?
Berkshire-based writer Courtney Maum's memoir, "The Year of the Horses," newly available in paperback, answers that question with brutal honesty. And I'm sorry that it took me so long to get around to reading it.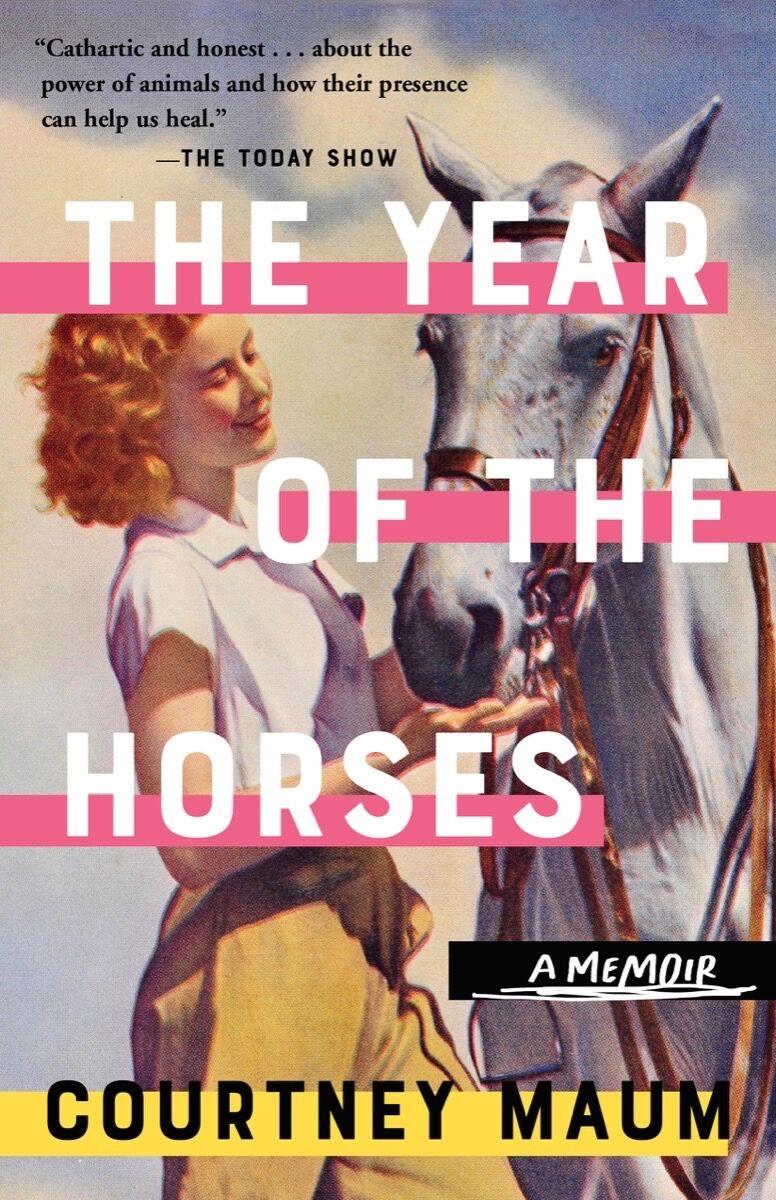 Memoirs have never been a genre I've purposely sought out. But over the last two years, I've consumed more than I ever thought possible.
There was a memoir by Cecily Strong, penned from her Hudson Valley retreat-turned-home during the pandemic; several related to the nearby NXIVM cult led by Keith Raniere, one filled with tales of Edie Sedgewick and Andy Warhol, as told by Alice Wohl in "As It Turns Out," one about a friendship with the fake socialite Anna Delvy; two related to living at the Playboy mansion and another by a certain "Tiger King." More recently, I devoured Michelle Zauner's "Crying in H Mart."
But when a colleague asked me if I'd read Maum's most recent book, her memoir, "The Year of Horses," all I could do was shake my head no. Later, when a copy from her publisher arrived on my desk, I tossed it in a bag and carried it home, where I promptly plopped it into my "tbr" pile. There it sat, as I plucked away at other books and new ones came: "The House in the Pines" and "Hidden Demons."
Maum's book sat, patiently waiting for me to pick it up, as it was shuffled in my pile, as I switched between reading for work and reading for pleasure. I reviewed three self-help guides, Celeste Ng's "Our Missing Hearts" (a Christmas present) and Grady Hendrix's "The Final Girl Support Group." During that time, I kept looking at "The Year of the Horses" from across the room, finding myself more and more attracted to its dust jacket with its midcentury modern illustration of a woman and a horse, broken up by bold black bars bearing the title.
I didn't know what to expect when I finally picked it up, but I'm glad that I finally did. It was if this memoir had been waiting patiently, so it could tell me a secret that I so desperately needed to hear.
Of all the memoirs I've read, Maum's is the one that spoke to me directly, in all of the ways that I identify — mother, wife, writer, daughter, and artist. In it, I recognized similar struggles — depression, a loss of self-identity and of creativity.
It begins with Maum, then 37, in an indoor arena in Connecticut, about to take her first riding lesson since childhood. She's getting back in the saddle in more ways then one; its an attempt to reclaim her identity and her life, which are drowning under the weight of the sadness, of depression.
Early on in the book, I connected with Maum's words because she spoke the same language as me. Her movies, game and television references were shared. It turns out, we were born in the same year, 1978 — the year of the horse in the Chinese zodiac.
Also, similar to me was her yearning to be noticed, to regain her identity after having a child and to find a space that belonged only to her, until she was ready to share it. I had felt all of these things when my children, now young adults, were younger.
All too often, we, as a society, forget that with motherhood comes a loss of self, as we shift our focus entirely to the care of our new child. When we finally come up for air, our former self is no longer visible to those around us. I recognized myself in many of her struggles — impatience with her toddler, her husband, her struggle to focus, to be creative.
I remember my own battle with depression, the struggle to admit that I had an issue and needed to attend therapy. I had to find time for myself, my therapist said, even if it was just listening to a podcast while in the car or on the treadmill. I needed a space that was mine, that wasn't shared.
I found myself cheering on Maum as she sought out a place to ride horses, to rekindle her childhood love for the sport and eventually challenged herself by learning to play polo. I applaud her aplomb and her ability to push herself to keep going, even when there are roadblocks that seem insurmountable.
Maum's journey has been inspiring, a reminder to me that we all need to allow ourselves to fail, to have self-doubt and to push on, despite not wanting to. It was a reminder that mental health is not a straight line, and there is no one-size-fits-all cure.
And perhaps what I needed most, was a successful woman, the same age as me, to tell me that it's ok to be broken, to be less than perfect, and to feel like you're failing both professionally and personally. And that it is alright to ask for help; that having depression doesn't make you less of a person and that it can be beaten but it takes work and time and compromise.
READ IT
"The Year Of The Horses" by Courtney Maum
Published by: Tin House
280 pages
$17.95