STOCKBRIDGE — When Jim Edgerton, a dairy farmer in Arlington, Vt., stood up at town meeting to voice his opposition to building a new school and advocate instead for the town to bus students to a neighboring district, he was alone in his opinion.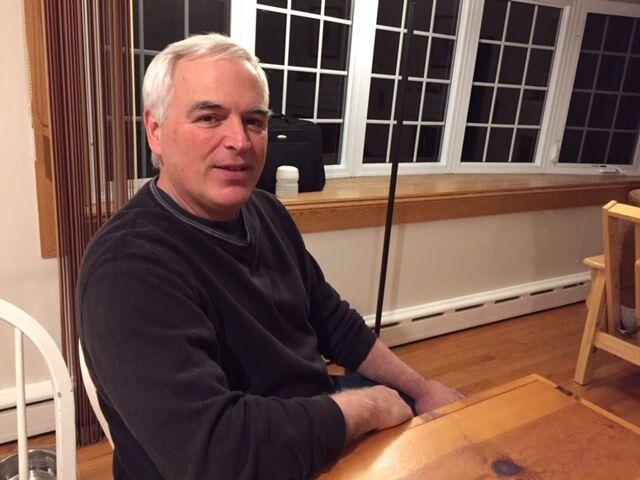 The fact that he could do so, without jeers or interruption from his fellow townspeople, would leave a lasting impression on his neighbor and friend, Norman Rockwell, who a few years later, in 1942, would use that moment as the inspiration for his painting, "Freedom of Speech."
But he didn't use Edgerton, a frequent model for his paintings in "Freedom of Speech." Instead, he enlisted Carl Hess, who owned a gas station and repair shop about a mile down the road from his house. Hess was chosen for his "noble head," which Rockwell's assistant, Gene Pelham, suggested would look just right as this man stood up in the middle of a town meeting. Pelham's jacket, which he wore to do outdoor chores, was leant to Hess for the portrait — giving the man a more rural, salt-of-the-earth feel.
Completed in 1943, the painting is still considered one of the best examples of rural American life.
Rockwell is best known for his illustrations of small-town life, but the artist didn't really begin to find his quintessential style until moving to rural Vermont in 1939.
There, in Arlington, the artist, his wife, Mary, and their three sons, Jarvis, Tom and Peter, would become part of the close-knit community that would soon become the fodder of his iconic Saturday Evening Post covers. His sons, their friends, and a vast majority of his neighbors would appear again and again as the typical American — from marble champs to Boy Scouts to soldiers returning home — until the artist moved to Stockbridge in 1953.
His models, from his days in Arlington, are the subject of a newly released book, "Norman Rockwell's Models: In and Out of the Studio" by S.T. Haggerty.
Haggerty grew up spending his summers in Arlington, swimming in the river under the covered bridge in front of Norman Rockwell's former studio. His friends and neighbors, he'd learn, were the models for the illustrator's iconic paintings.
Little did he know, decades later he'd find himself on the phone with his friend, Don Trachte, a former Rockwell model, who, with his siblings, had just sold their original Rockwell painting "Breaking Home Times" for $16 million and was organizing the Vermont Rockwell Models Association. He wanted Haggerty to document the models' stories, thus began several years of interviews with friends and former neighbors.
The result is an intriguing peek into the studio and a deep dive into the relationships Rockwell and his family developed with their neighbors and his models during their time in Arlington. What's more, is its an homage the residents of Arlington, who for 14 years provided the wholesome American look immortalized in his paintings.
Haggerty was able to track down some of Rockwell's most recognizable models, including Ruth McLenithan Skellie, the redhead with pigtails who is forever in position to claim the last marble, much to the chagrin of her two male opponents (Jarvis Rockwell in a red cap, his friend, Winston, kneeling) in "Marbles Champion." Skellie, Haggerty relates, delighted in the fact that Rockwell didn't need to pose her for the painting, that she actually knew how to play marbles and was quite good at it.
But the reader also learns that Rockwell hadn't picked the child for her prowess at marbles, but because she fit the look he was after — a redhead with brown eyes. Red, we learn, popped on the cover of the magazines. But we also learn that he was looking for a redheaded child with brown eyes, not hazel or blue. Ruthie, as she was known, fit the bill. Her ability to play marbles was an added bonus. She earned $5 for her modeling that day, about $107 today.
Thomas Paquin posed for several of Rockwell's Boy Scout illustrations, but the one he's probably best remembered for is "Trumpet Practice, 1950," in which a pudgy redhead with glasses, one leg slung over the arm of the chair, his face strained in the act of playing the trumpet. Paquin remembers having to return time and time again to the studio for that portrait, as Rockwell wanted to get the reds of the chair — with its Grandma Moses print — just right. By then, Rockwell was paying his models with $10 bills and Paquin remembers buying a pair of skis with his earnings. But he remarks, more exciting was the letter he received from Lucille Ball after "Trumpet Practice" was published — it was a signed letter and certificate appointing him a lifetime member of the Redheads of America Club.
Peppered with such anecdotes, Haggerty brings both the models and the Rockwells to life. Included are interviews with Jarvis and Tom Rockwell, who were constant models for their father. Although, Jarvis Rockwell says he "never felt like a model," despite appearing in numerous paintings.
There are many touching moments, when many of those interviewed speak of Mary Rockwell, whom was an integral part of her husband's career, but eventually succumbed to depression and alcoholism. But she's remembered as a busy woman, who was always running some part of the household or assisting with the models. One anecdote even mentions that Rockwell painted "The Gossips" (1948) after rumors about his wife spread around town.
Rockwell would leave Arlington in 1953, moving to Stockbridge to be closer to Mary, who at that time was in residential treatment at the Austen Riggs Center. He made an Irish exit, leaving without a word to anyone, including his assistant.
Haggerty weaves together a portrait of Rockwell, but more importantly gives life to his models — the shopgirl exhausted by the Christmas rush, a woman and boy praying over the dinner, a girl with a black eye outside the principal's office, a marine returning home from war and the family that greets him. Haggerty not only introduces you to the models, but also allows you to get to know them, as individuals beyond the Rockwellian avatars that America loves so dearly.
READ IT
"Norman Rockwell's Models: In and Out of the Studio": by S.T. Haggerty
Published by: Rowman & Littlefield
312 pages
$45
IF YOU GO
Author Talk with S.T. Haggerty
What: Talk and PowerPoint presentation by S.T. Haggerty, author of "Norman Rockwell's Models In and Out of the Studio."
When: 3 p.m. April 23
Where: Stockbridge Library, Museum & Archives, 46 Main St., Stockbridge
Information: 413-298-5501, stockbridgelibrary.org