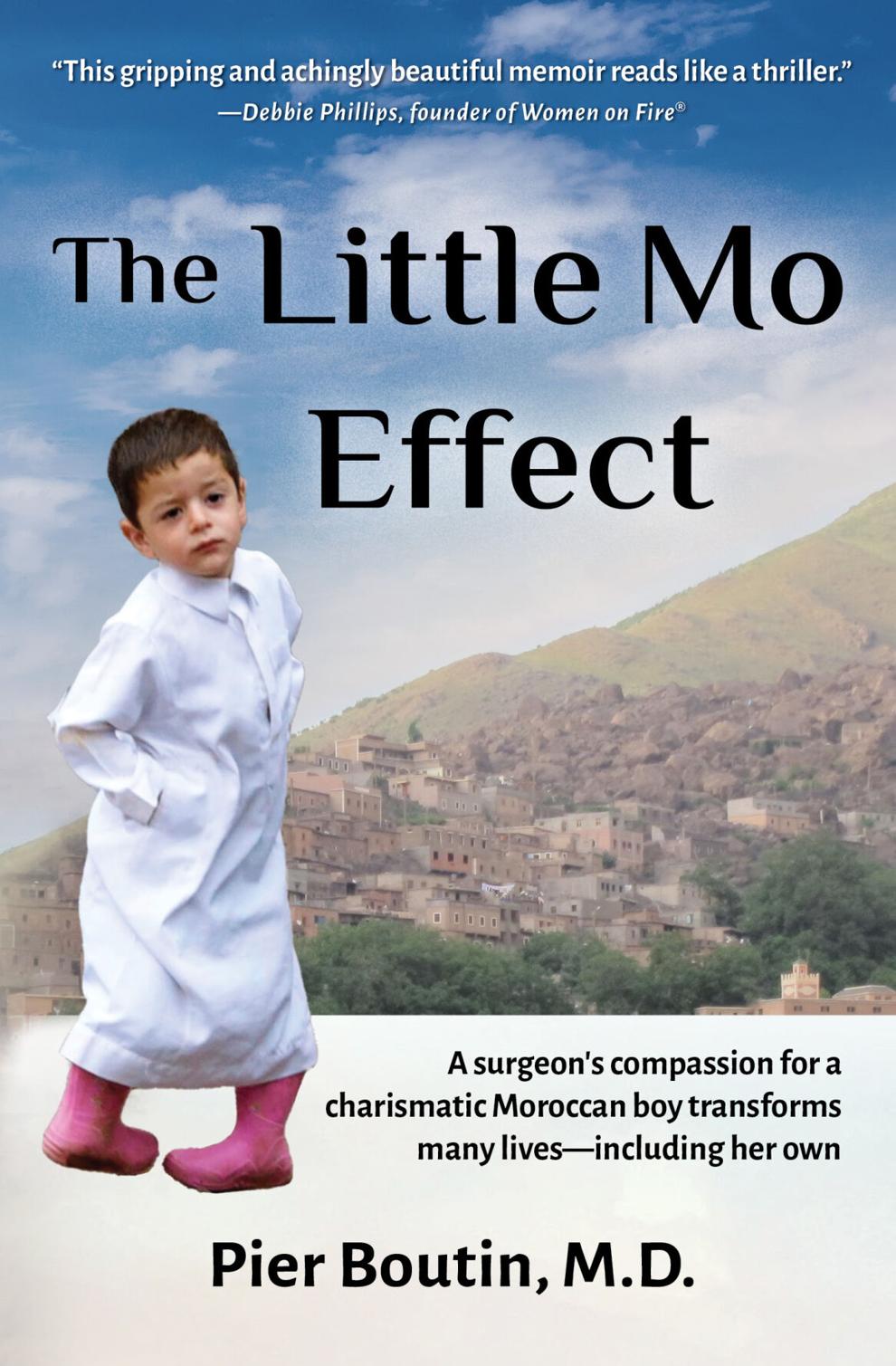 Little Mo of "The Little Mo Effect" is a boy from the isolated mountains of Morocco whose club feet threaten to doom him to a harsh and unfulfilling life. The "Effect" of the title is the impact this charming, resilient boy had on all of those who were determined to protect him from that fate.
That begins with the author, Dr. Pier Boutin, a Great Barrington-based orthopedic surgeon who led the complex effort to get Little Mo to the United States where his feet could be healed. This is her story of healing as well, a mending of her soul, as she describes it, along with Little Mo's feet.
When we meet Boutin, she is suffering from an existential crisis born of her crumbling marriage and health problems that had caused her to give up the orthopedic practice that defined her. Boutin's work in Haiti following the catastrophic 2010 earthquake had given her renewed purpose, but Post Traumatic Stress Syndrome had followed her home to the Berkshires.
A vacation trip to Morocco with three girlfriends buoyed her spirits — and changed her life. While they and their guide were walking into the village of Armed, in the Atlas Mountains, word came that a young disabled boy had taken a fall. This was nearly four-year-old Mohamed — soon to be Little Mo — who had regained his tenuous footing with the help of his older sister, and seeing the distress in Boutin's face, smiled and mugged for her. Walking on the sides of his ankles in oversized pink boots he hobbled over to greet her.
Charmed by the boy, and realizing as an orthopedic surgeon that as he grew he would soon be unable to walk, Boutin decided that she would find a way to get him to the United States and have his clubfeet corrected. The monumental task would give the dedicated healer the sense of purpose she had lost.
Little Mo's mother, Aicha, is receptive to the plan but women in the patriarchal society don't make such decisions. The boy's reserved father, Rachid, appears skeptical but is won over with the help of his large extended family. The logistics of bringing Little Mo to the U.S. are intimidating, and even when that is accomplished via a flight from Casablanca to New York along with Rachid in April of 2011, Boutin has to establish a family dynamic in which her son, Thor, and daughter, Ace, get a younger brother for the duration of his treatment.
Even though Boutin is an experienced orthopedic surgeon, she knows that her role must be that of Little Mo's temporary Mom. This is where Shriners Hospital, in Springfield, steps in. The hospital, largely through the behind-the-scenes magic of intake coordinator Jody Hall, agrees to treat the boy free-of-charge. Dr. David Drvaric, the chief of the pediatric orthopedic department, undertakes the difficult work of reorienting Little Mo's feet through months of casts and splints.
There are disappointments and setbacks, and Little Mo's decaying teeth emerge as a serious problem. (The soft drink industry has corrupted the Berber society, which has roots in Morocco for 20,000 years, steering them away from their healthy dietary habits.) Little Mo has his difficult moments, but the youngster always returns to his default position of humor and optimism.
Boutin is frank about her dismay with the patriarchal society she confronts in Morocco, a society that has become more rigid under an increasing Muslim influence. Along with Mo, she takes a keen interest in the fate of his older sister Soumya, an intelligent and personable girl who faces an early end to her education and marriage at an alarmingly young age.
Boutin, a native of Quebec who grew up speaking French, has an easy flow to her writing that keeps the pages turning. Her description of the night rescue flight into a darkened Port-au-Prince following the Haitian earthquake is particularly riveting. Boutin's openness about her own struggles is admirable.
The cruelty and unfairness of the world are readily apparent in "The Little Mo Effect." But the ability of family and selfless individuals to brighten that world by teaming to make one life better becomes apparent too. And the healing effect, from Morocco to Western Massachusetts, extends well beyond one charismatic little boy.
Read It
"The Little Mo Effect": by Pier Boutin, M.D.
Published by: Green Fire Press
290 pages