PITTSFIELD — "He told me, 'Do everything I say and everything will be all right.'"
The 12-year-old girl thought otherwise. Her gut told her if she did as he said, she'd never see her mother again.
Her actions would not only save her, but set off a series of events that would capture a child serial killer.
That fateful morning, Jan. 7, 1994, began like any other for Rebecca Savarese, who, just moments before the man came up behind her, was making her daily trek, up West Street towards Park Square, on her way to Notre Dame Middle School.
The speaker, a "scruffy" man wearing wire-framed glasses, had a gun and a firm grip on her backpack. He told her to get into his black GMC pickup truck. Instead, she said she needed to sit for a moment, feigned an asthma attack and wiggled out of her backpack. She bolted down West Street, toward the nearest adult, a man snowblowing the sidewalk in front of KB Toys' headquarters.
Nearby observers, stopped at the intersection of North and West streets, initially thought they were witnessing an argument between a father and daughter. But, when the girl ran, they quickly realized it was something more. One memorized what he could of the truck's license plate and even attempted to pursue the truck as it sped off.
Later that day, the Pittsfield Police Department would begin questioning Lewis Lent Jr., 43, an out-of-work handyman and former janitor at a Pittsfield cinema, whom one officer thought could be the break in the unsolved kidnapping and murder of another 12-year-old from Pittsfield — Jimmy Bernardo.
It's a story most Berkshire County residents are familiar with, but not the story Margery Metzger, author of "Hidden Demons: Evil Visits A Small New England Town," originally intended to write. Instead, her original focus was on Owen Boyington, the police officer who brought Lent in for questioning, and his daughter, Amy — then a college student — who caught her own criminal that same day.
"Years ago, Owen and Amy had told me a story about how they both nabbed a criminal on the same day. Owen nabbed Lewis Lent. Amy nabbed Nicholas Mangiardi," Metzger, a retired social worker and mediator who lives in Pittsfield, said during an interview with The Eagle.
Owen Boyington, a Pittsfield Police detective, was in Lanesborough providing officers there with details about the attempted abduction in Pittsfield earlier that day. Before leaving town, he glanced up a side road and saw a truck matching the description he was looking for. An inquiry at the truck owner's home turned up Lent, who had borrowed it. Lent willingly went back to Pittsfield with Boyington to give a statement about his whereabouts earlier in the day. (Lent would later plead guilty to the murders of Bernardo, in 1990, and Sara Anne Wood, who disappeared from Frankfort, N.Y. in 1993. In 2013, Lent confessed to the murder of Jamie Lusher, of Westfield, who went missing in 1992.)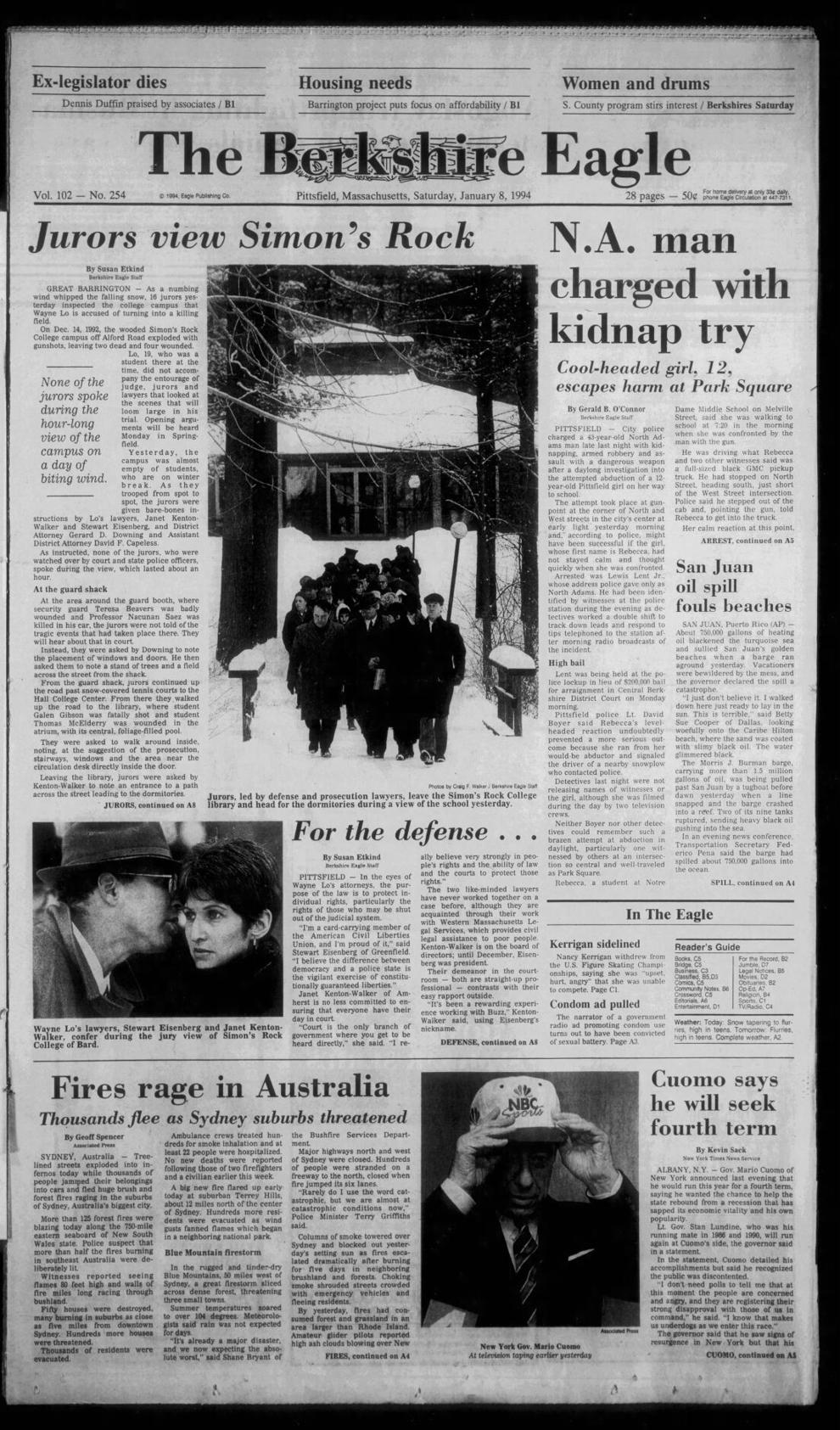 Amy Boyington was working as a lifeguard at Girls Inc. when two of her young charges reported a man was in the locker room. The well-dressed man, who appeared to be masturbating in one of the stalls, fled the locker room after Amy entered and raced out of the building. She pursued him, catching up and knocking him to the ground. She held him down until the police arrived. (Mangiardi was later convicted of lewd and lascivious behavior and sentenced to six months in the House of Corrections.)
"I was friendly with the Boyingtons. Amy and Allyson babysat my children," Metzger said. "I wanted to write about a father and daughter who had major things happen on the same day. I wasn't thinking in terms of all the terrible incidences, with Jimmy and Sarah Anne, and all that. I was thinking more in terms of a father/daughter kind of story and that's what led me to do this, because I'm really not a true crime buff. I've never written before."
What changed? When Metzger talked with Owen Boyington, she learned of how he had glanced up and noticed the truck. He spoke of the Shallies family, who had befriended Lent, and how, because of their association with him, had endured decades of scrutiny from the police, media and the public. Metzger visited Phil Shallies, who would let Lent borrow his truck, and spoke with him about the friendship that had formed — Lent performed odd jobs for the family in exchange for work on his van.
Shallies "was very, very nice about talking to me and he said, 'You know, my sister has all these scrapbooks of all these newspaper articles about what happened, Would you like to read them?' I said that would be great. So he brings down two big tubs filled with nine different scrapbooks, filled with newspaper articles," she said. "That's what really got me started in my research. It gave me the jump off and from there it just took off."
It was during an interview with retired Berkshire District Attorney David Capeless, then first assistant district attorney to Berkshire District Attorney Gerard Downing, that Jan. 7, 1994, was the second day of their biggest trial at the time, that of Wayne Lo. Lo, two years earlier, on Dec. 14, 1992, murdered two people and wounded four others at Bard College of Simon's Rock before surrendering to police.
"Once I heard that, I said this is a story I have to tell. It's history, but it's our history and it's really connecting people," Metzger said.
Through her research of newspaper articles, television interviews and court documents and through her interviews with individuals involved in the cases, Metzger paints a vivid picture of Lent, a man who presented himself to the public as a person of little interest. He was a God-fearing Christian, who donated his time to his church, volunteered to drive friends to appointments, helped out those in need and had a good work ethic. But he was also a man who had a multi-point plan to abduct and keep young girls in a hidden room, who told police he was always "on the hunt" and who kept detailed records of young girls and boys he was interested in.
"I called the book 'Hidden Demons' because it seems as if [people with] these personality disorders — I'm calling it a personality disorder, but he's a psychopath — they are chameleon. They can look like one thing, act like one thing, hide under the radar. You never suspect them. I mean, you think of Lewis Lent, hew was kind of a little odd, a little slobbish, and kind of nebbish."
Lent, Lo and Mangiardi were all people who flew under the radar. But, she said, there is a difference between Lo and Lent.
"There's a big difference between a psychopath and somebody, like Lo, who we don't know what happened with him. Wayne Lo, however, has shown remorse. Lewis Lent is about survival, doing whatever he has to do to survive," she said.
In the book, she details how Lent uses information to bargain with the police, the most recent being his confession to the murder of Lusher — a confession she posits happened when Florida police were looking to bring to the southern state for questioning in relation to a murder that happened in a town he lived in around that time.
Metzger said she did not interview the Bernardos or Savarese as part of her research.
"I live down the street from the Bernardos. I see Jimmy's father walking all the time. I never mentioned to his parents that I was writing this book until I finished writing it and then I had to talk to them. So I saw him one day. I said, may, I sit down with you and your wife and talk to you about this. He said, 'You don't have to do that. It happened 30 years ago. We can't talk about it, so whatever you have to do, you do but, we just don't want to talk about it,'" Metzger said, noting that Savarese has left this part of her life in the past.
Metzger said she could not leave this story in the past, because Lent changed the way the Berkshires felt, he took away a sense of freedom. Back in 1994, she said, very few people in the Berkshires would think their neighbor could do something like this.
"This is just very wicked. The whole thing is so evil," she said.
But she also wanted to tell the story of those involved on the other side of the case, of Boyington, and others — Judge Daniel Ford, Police Chief Gerald Lee, Pittsfield Detectives Thomas Bowler and Anthony Riello, State Police Lts. Robert Scott and Jack Flaherty, among others.
READ IT
"Hidden Demons: Evil Visits A Small New England Town" by Margery B. Metzger
Published by Wild Blue Press
290 pages
$25.99
IF YOU GO
What: Book signing and discussion by Margery B. Metzger, author of "Hidden Demons"
When: 1 p.m. Feb. 18
Where: Barnes and Noble, 555 Hubbard Ave., Pittsfield
More information: 413-496-9051