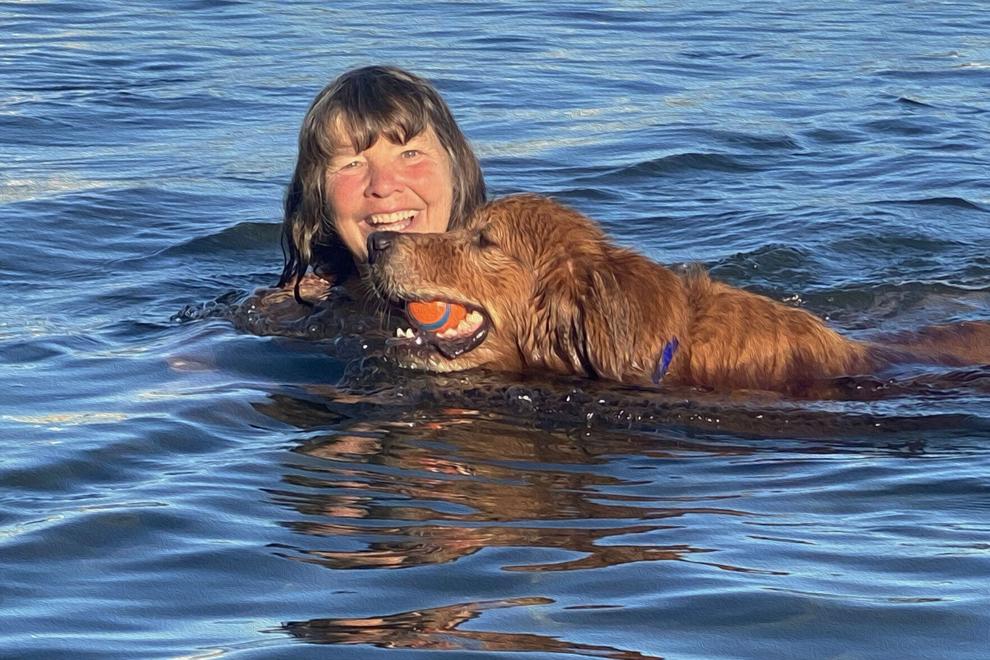 STOCKBRIDGE — When she was 7, long before Lynne Cox became an internationally known long-distance swimming champ, she was vacationing with her family at Snow Pond near Waterville, Maine, bonding with Beth, their 3-month old Dalmatian.
As she writes in her new book, "Beth dog-paddled beside me, her head even with mine. We raced between the dock and shore, swam around my grandparents' property to neighboring camps … Because of her, I fell in love with swimming and with dogs."
As part of her book tour promoting "Tales of Al: The Water Rescue Dog," Cox will be in the author's spotlight at the Stockbridge Library at 3 p.m., Saturday, June 11, to share her experience witnessing the rigorous training of a playful, unruly Newfoundland puppy at an elite training academy on Lake Idroscalo in Milan, Italy.
The book, subtitled "The Making of a Super Athlete," describes how Al's trainer, Donatella Pasquale, attempted against great odds to transform her into a water rescue dog jumping from helicopters to save swimmers in distress.
That subtitle applies equally to Cox, who broke the world record for swimming the English Channel when she was 15 and went on to be the first woman to swim across Cook Strait separating the islands of New Zealand, and the first person to swim the Strait of Magellan linking the Atlantic and the Pacific in southern Chile. She also circumnavigated the Cape of Good Hope off Cape Town, South Africa, crossed the Bering Strait separating Alaska and the Soviet Union in 1987, and swam more than a mile in the icy waters of Antarctica.
The Eagle caught up with Cox, 65, a Boston native who lives in Long Beach, Calif., on a book tour stopover in Santa Barbara. The phone conversation is lightly edited for length and clarity: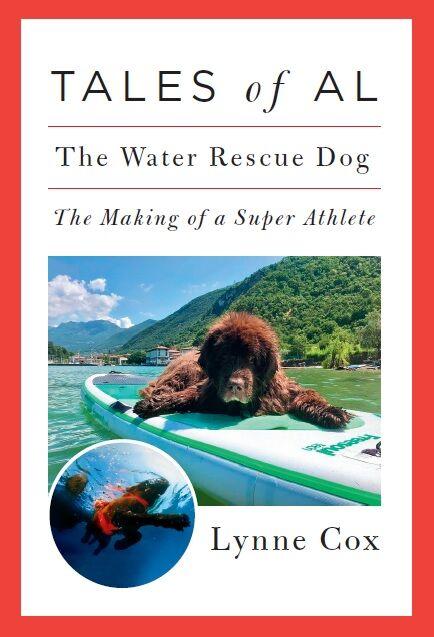 Q: How did your remarkable skill as a swimmer first emerge during your childhood?
A: My parents wanted to make sure my brother, sisters and I could swim, so it became a family sport, and when we wound up getting Beth, she was part of the family so she was taught to swim just like we were. I had always loved dogs and through my lifetime, with so many different breeds of dogs we've had, there's always been a special relationship — a family is a family if you have a dog in it.
Q: What was it about swimming that captivated you?
A: It was just about being out in nature, immersed in the lake, going as far as your arms could pull you. It was a time to have fun, exercise and enjoy the scenery around me. There were no limits, no confinement, it was free, being able to explore this amazingly different environment. My parents saw that all of us had potential as swimmers. So when I was 12, we all decided as a family that we wanted to move to California and start training with Don Gambril, who became the four-time Olympics swim coach. He suggested a rough-water swim when I was 14. Then I swam with a group of friends on the channel from Catalina Island to the mainland, it took 12 hours, 36 minutes, about 30 miles. That evening, I decided I wanted to swim the English Channel, and I did it twice, England to France.
Q: When did you first become aware of Al's training to be an official water-rescue dog?
A: A friend who's a swimmer, dog-lover and lifeguard told me about the Italian School for Water Rescue Dogs, and an amazing video online about a Newfoundland that leaps out of a helicopter into a lake in northern Italy, so my curiosity was piqued. I had to open doors through networking and connections. Donatella Pasquale, the vice-president of the school, invited me to come to Italy to watch the dogs train. Now, after 10 years, the story had just simmered and finally I was able to sit down and write the book. I'd wake up at 3 in the morning, it just came to me and flowed.
Q: You wrote how difficult it was to train Al, so how did Donatella handle the challenge?
A: Donatella was very patient and consistent with her, she would reinforce positively, never shouted, screamed or hit the dog. Al was rewarded for doing well, and if she didn't do well, she would be ignored.
Q: What are the life lessons you hope readers will take away from this inspirational story?
A: A lot of it is really about trust, having confidence and faith in a dog. The canine search and rescue teams work voluntarily and train constantly as extra sets of eyes on the water. It's about caring for other people, making the world a little safer in a way for everybody and it's about courage. With Donatella and Al, there's an incredible partnership that's developed through all these years. She can just glance at Al, and Al will know what it is that Donatella wants, or Al can look at Donatella in a certain way, and she'll know what Al wants. An incredible bond is created, it's very much a team, the dogs are learning from the people but also from the other dogs. It's also about swimming, overcoming fear and it's about the joy of being in the water.