NORTH ADAMS — What is deflective whiteness? Hannah Noel, associate professor of interdisciplinary studies at the Massachusetts College of Liberal Arts, dives into that in a new book, "Deflective Whiteness: Co-opting Black and Latinx Identity Politics."
Released in November by Ohio State University Press, the book talks about white supremacy and how it co-opts language from marginalized group. "Analyzing a wide-ranging collection of cultural objects — memes, oration, music, advertisements and news coverage — Noel shows how white deflection sustains and reproduces structures of inequality and injustice," reads the book's description.
Noel, who grew up in the Berkshires, graduated from Williams College before earning her Ph.D. in American Culture from the University of Michigan. At MCLA, she is a founding director of the critical ethnic studies minor, co-director of the honors program and president of the MCLA Faculty Association. In addition, she is a member of the American Studies Association and the Latinx Studies Association.
She studies, among other issues, media, race and ethnicity. Noel recently spoke with The Eagle about her new book and her work.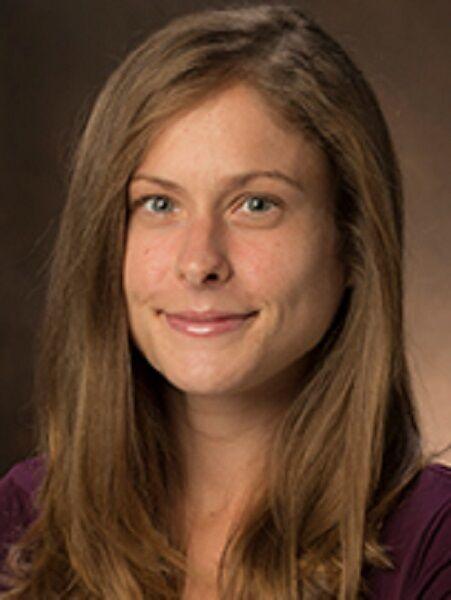 Editor's note: The following interview has been edited for length and clarity.
Q: What made you want to study race?
HANNAH NOEL: It's one of the most important and timely questions of our time. And I think it's important, at least for me, to understand why people think the way they do. For me, it was important to study race, because, Black Lives Matter, George Floyd ... Charlottesville. I can go on and on. And I think that this is a really important discussion for particularly for whites — I'm white — to take on. I think that oftentimes the burden of kind of having these difficult conversations and sitting with discomfort is put on historically minoritized groups to educate [others] that this is what race is about. But I think that it's important, too, for white people to try to do that work as well.
Q: I'm wondering if you could talk about "deflective whiteness." What does that mean and what does that look like?
HANNAH NOEL: Deflective whiteness is a two-step dialectic that I study in my book. It involves claims of white victimhood, followed by the appropriation of social justice rhetoric. I begin with talking about Nazi slogans. ... [like] "Blut und Boden" which means blood and soil. I trace that in Charlottesville, Va., in 2017 and the white supremacist march where mostly white cis[gender] men were carrying tiki torches at night. They were saying things like, "white lives matter," "Jews will not replace us," "our blood, our soil." They were appropriating these claims. They were claiming victimhood. They were claiming this idea that whites were the aggrieved social status, that they were facing displacement because of demographic shifts or whatever. But in actuality, the reality that they were able to protest, not fear police violence, claim space, and do so in a relatively confrontational way, was demonstrating the privileges of their whiteness.
Q: How you've seen deflective whiteness play out in the Berkshires or in Massachusetts?
HANNAH NOEL: I'm a native of the Berkshires, like seventh or eighth generation, from Florida mountain. I grew up right off of Route 2. The symbol of Route 2 is a an indigenous person, [the statue] Hail to the Sunrise … It is a tribute to the Mohawk Indian. This is not Mohawk territory. [Originally a footpath, the trade route connected the indigenous groups of the Atlantic with those of upstate New York, mainly the Mohawk.] But [the statue was] created by a white fraternal organization — the Society of Red Men [known today as The Improved Order of Red Men] ... This is an old, old organization that appropriates indigenous iconography in all parts of its fraternal organization. First of all, this is Mohican territory, no? ... It is an appropriation of indigenous imagery, indigenous iconography. It's shown as 'Look, we want to honor these people.' Is that really honor?
I think another example is our Massachusetts state flag. It has disembodied arm [above text] translated to "by the sword we seek peace" and above it is an indigenous person — which is not modeled after one particular indigenous person. But parts of their wardrobe are modeled after King Philip or Metacom, whose head was put on a spike outside of a Puritan village after King Philip's War ... There's this image, this disembodied arm, "by the sword you seek peace." My classes will research the different imagery, we'll think about it. You think, 'Oh, this is like paying homage. This is honoring them.' But [my students will] actually look deeper into the symbology. To me, it's a symbol of white supremacy. [People think] it's like, 'this is this really great symbol' and 'Massachusetts is so liberal they would have an indigenous person be on our flag, this is great.' When you actually look into the symbology when you look to what it represents, when you look into the history of settler colonialism, it's a much more complicated story.
Q: I saw one of the chapters is called "Trash Music: A Third-Wave Whiteness Approach to Bro-Country and Country-Rap." I am curious to hear more about that. Could you expand on that?
HANNAH NOEL: Third wave whiteness is an approach to whiteness studies. You can focus on many different things, but what I do is focus on the difference between whites, the difference between whites and how whites discriminate against one another to highlight the constructive nature of whiteness. What do I mean by that? I mean, white trash. I mean, redneck. I mean, these different ways that people disparage whites, or view racism as something that's Southern, rural, poor, as a way to show that whiteness itself is no monolith — that it is in itself a social construction. In that chapter, I start off with the controversy around Lil Nas X and his "Old Town Road" being barred from the the [country] charts. I talk about the history and the whitewashing of contemporary [country] — what I term bro-country — and then country rap or country trap, the whitewashing of this music by the Nashville establishment. ... Aaron Neville and Tina Turner have released country albums. As early as the 1940s, you have rhythm and blues and country music in country musicians playing songs back and forth being recorded. There's always this kind of willful forgetting, of the Black roots of country music and even that Cowboy Troy was having hits — [country rap songs] — in 2005, on the charts that Lil Nas X was taken off of.
There have been, for a very long time, discussions of what is the difference between the country and the city. There's racialized dimensions to this. This has been one of the main preoccupations — I talk about it throughout my book — with either romanticizing or vilifying the rural, but then also comparing it against the urban. In that section, I look at the representation of the term 'country' in a lot of different songs. I talk about how country is often romanticized as sometimes unbound by geography so it can be wherever, but frequently, is a white space. For example, similar to rap music and other types of music, there's a lot of callbacks in country music, but you don't hear them calling back to Aaron Neville. You don't hear them calling back to Tina Turner. You don't hear them calling back to Petrella Ann Bonner, these Black important country artists. You hear them calling back to Merle Haggard. You hear them calling back to Joe Diffie. You hear them calling back to Hank Williams Jr.
It's one of my favorite chapters because my research for that was listening to lots of music for a very long time and, also, going back into hard country. You have to listen to a lot to be able to understand the rhetorical references.
READ IT
"Deflective Whiteness: Co-opting Black and Latinx Identity Politics" by Hannah Noel
Published by Ohio State University Press
234 pages
$32.95