Mindfulness — is it just a buzzword or an intentional practice? Ancient wellness tool or a multibillion industry?
Google the term mindfulness and you'll come back with mixed results.
By definition, according to its Wikipedia entry, it "is the practice of purposely bringing one's attention to the present-moment experience without evaluation, a skill one develops through meditation or other training." On the other hand, mindfulness also is one of the fastest growing wellness industries, with the meditation industry in the U.S. valued at $1 billion according to Fitt Insider,
That's a lot of mindfulness meditation apps and products. But then again, there's an increased interest in both mindfulness and self care, with a whole industry of influencers on social media. Head over to TikTok and you'll find the videos using the hashtag #mindfulnesspractice have a combined 35.4 million views. On Instagram, the hashtag #mindulness has 35.3 million posts, while #selfcare has over 66.7 million posts. And, that's just two social media sites, with a minimal look at the hashtags. Take a deeper dive and you'll find everything from #selfcaretips to #mindfulnessforkids.
For those of the opinion that it is an intentional practice, there's The Modern Nirvana Oracle, a 50-card oracle deck that purposes questions and answers aimed at providing self-introspection and reaching the goal of being present in the moment.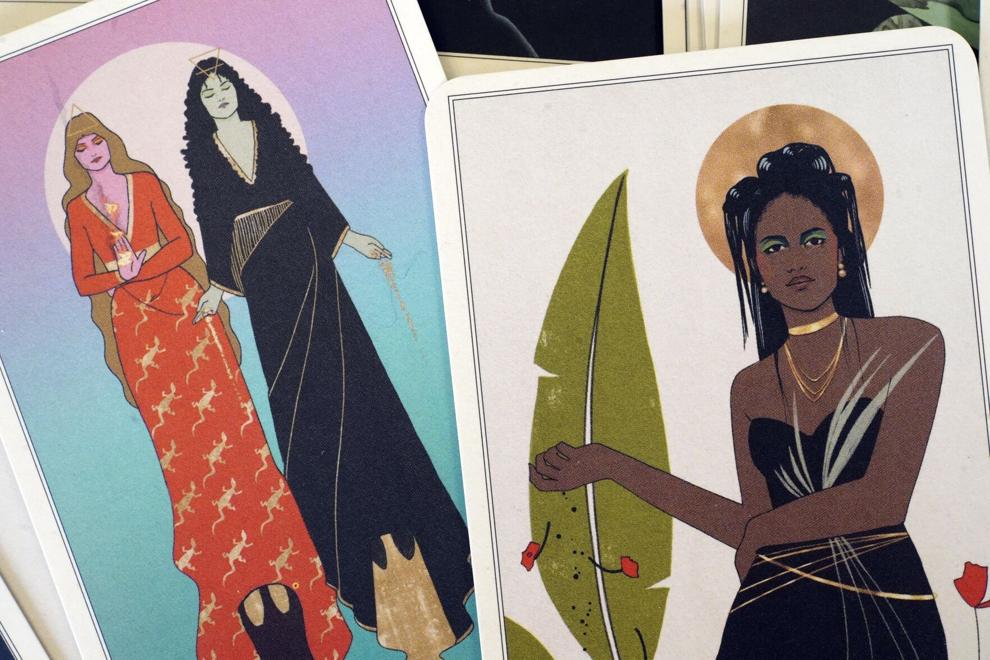 MODERN NIRVANA
When I was offered the opportunity to sample The Modern Nivana Oracle Deck, my curiosity was piqued. Instead of promising to give you a glimpse into your future, the deck's marketing tagline simply reads: "Awaken your intuition and deepen your awareness." A quick look at the associated wellness platform of the same name, ModernNirvana.com provided information on the deck's creators, an associated conference, Modern Nirvana, now in its third year in Austin, Texas; and an embedded Tweet from Deepak Chopra from 2020 that reads, "Grateful to Modern Nirvana for sharing the power of conscious creation with the world."
Modern Nirvana's creators include United Nations Ambassador Kat Graham, an American actress and singer best known for her role on "The Vampire Diaries," Frank Elaridi, an Emmy-winning journalist and energy healer, and Bryant Wood, a master breathwork instructor who you might recognize from season 2 of "The Circle." Together they make up the force behind Modern Nirvana's platform, which includes a YouTube channel featuring everything from a cooking show to information on how to open your "third eye." The trio collaborated on the deck with Jennifer Sodini, author of the Amenti Oracle and "Everyday Amenti" and artist Natalee Miller.
THE ORACLE DECK
I'm no stranger to the "spiritual journey" or as some call it "new age" philosophy. I've participated in seances with Salem witches on two occasions; attended private and public group readings by psychic and spiritual mediums; had my fortune told by psychics and tarot card readers and had a past life regression session or two. In recent years, I've reviewed several self care and mindfulness books.
Oracle cards should not be confused with the more traditional tarot card deck. While both can be used for divination purposes, tarot decks are comprised of 78 cards, all of which have very specific meanings, forward and reverse. Oracle decks can be used for fortune telling, but the free flowing cards are most often used for more intuitive and self-reflective guidance.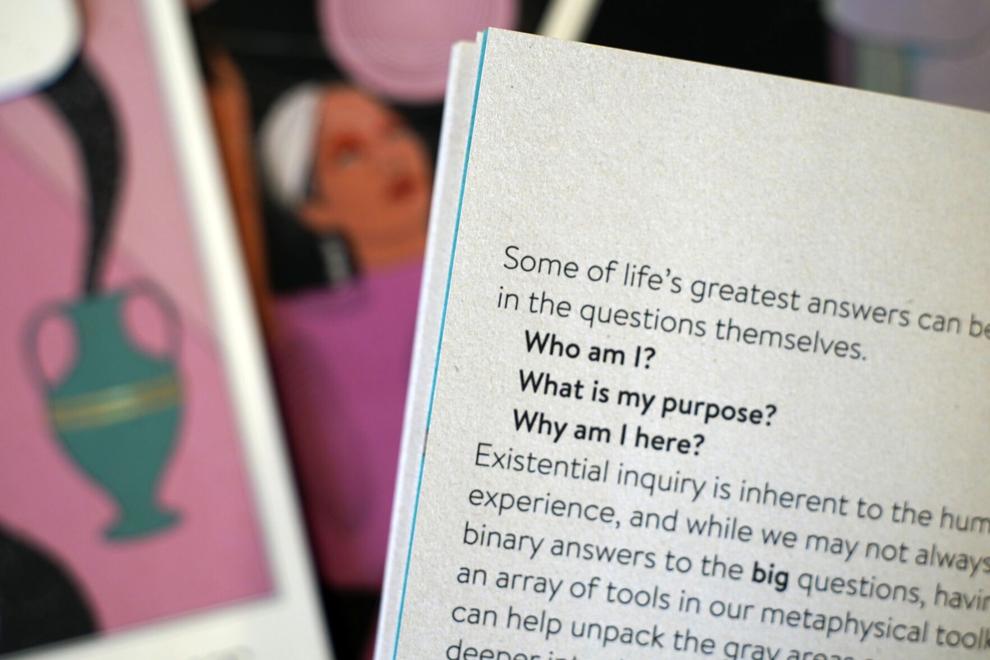 That's the case with this 50-card deck, which touts its purpose as being "a catalyst for transformation in people's lives, to inspire them to take control of their spiritual and physical well-being, by sharing both ancient practices and modern bio-hacks" as well as "a tool of self-inquiry and empowerment through life's transitions." The guidebook is a mix of ancient wisdom and pop culture references, including a nod to the Oracle in "The Matrix," and quotes from Lewis Carroll and L. Frank Baum, with the emphasis being that the seeker does not need an outside conduit, medium or oracle to tap into the power of their own consciousness.
The best way to review an oracle deck is to try it out. I tried all three spreads — The Three Jewels, Noble Truth and The Fifth Element — all of which have specific questions to think about while shuffling the deck and laying out the cards. To begin, I followed the basic instructions of clearing my energy, clearing the cards and shuffling/pulling cards.
THE THREE JEWELS
The simplest spread is The Three Jewels, a three-card spread inspired by Buddhism's "Three Acts of Refuge," meant in this context to be metaphors for self-inquiry. I drew three cards each answering a single question:
What is preventing me from connecting me with my own Buddha Nature?
What is the most important action for me to take in my daily life so that I can be of service to others?
How can I find a deeper connection to my community at this moment in time?
The cards I drew and a basic summary of their meaning:
Maktoub: "In Arabic it translates to 'it is written,' and it is the idea of predestination or destiny." In other words, "go with the flow."
Liberation: "This card is a gentle nudge to take a step into the unknown, away from your usual choices so you can get closer to freedom."
Perception: "Perception is not reality, but rather our projection onto reality."
What it means? It's up to your own interpretation. In my opinion, which is what matters, I came to this conclusion: I'm a creature of habit and like to be in control of things. In order to "blossom," to become my higher self, I need to accept that I can't control every little detail of my life. And, until I can do this, "liberate" myself from my need to control things, I'm failing myself and others. And, my fear of how others perceive me holds me back from better connecting with others.
What I do with this reading, this introspective look, is now up to me. Do I meditate and focus on the mantras for each card? Do I do nothing? Try another tool kit or app?
Right now, I'm thinking I'll just try to "go with the flow."
TRY IT YOURSELF
"The Modern Nivarana Oracle" by Kat Graham, Jennifer Sodini, Frank Elaridi and Bryant Wood. Illustrated by Natalee Miller
Published by Chronicle Prism
50 cards and guidebook
$24.95