What does celebrating yourself look like to you?
A good night's sleep? Unplugging from the world? Journaling?
Taking time to focus on your emotional, mental and physical wellbeing isn't selfish, it's self care. Prioritizing that self care, if even for a few minutes a day can make the difference. And despite what the latest social media influencer is telling you, the path to your "healthiest self" doesn't come in a "one-size-fits-all package."
"Each person's 'healthiest self' is different. We have different bodies, minds, living situations and people influencing our lives. Each area can impact your overall health. This means we each have a unique set of health needs," emphasizes the National Institutes for Health on its website, which offers "wellness toolkits" that break down areas you can focus on to improve your life.
Want to focus on your emotional health? The National Institutes of Health Emotional Wellness Toolkit suggests six strategies for improving it: building resilience, reducing stress, getting quality sleep, strengthening social connections, learning to cope with loss and being mindful (living in the present).
To start you on your personal journey, here are three books that will help you focus on your emotional, mental and physical wellbeing.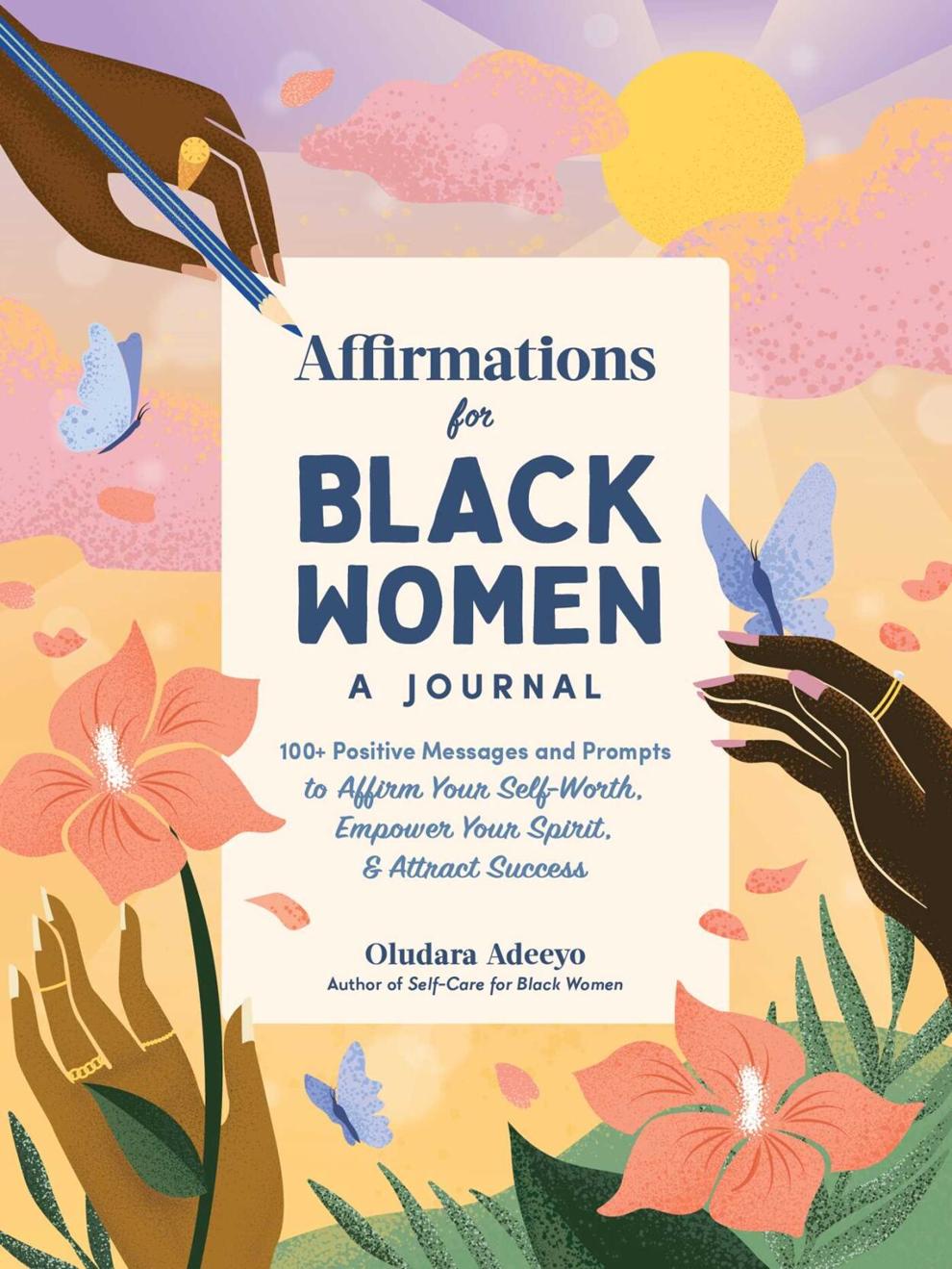 'AFFIRMATIONS FOR BLACK WOMEN: A JOURNAL'
By Oludara Adeeyo, author of "Self-Care for Black Women"
Published by Adams Media, an imprint of Simon & Schuster
224 pages
$15.99
"Affirmations are powerful, positive statements that you use to speak over your life. Not only will they change the way you think, but they will also transform your living experience," writes author Oludara Adeeyo, author of "'Self-Care for Black Women: 150 Ways to Radically Accept & Prioritize Your Mind, Body & Soul" in her companion book, "Affirmations for Black Women: A Journal — 100+ Positive Messages and Prompts to Affirm Your Self-Worth, Empower Your Spirit & Attract Success."
Adeeyo, a psychotherapist and clinical social worker who spent over seven years as a writer and editor (as an associate web editor for Cosmopolitan and managing editor of XXL), continues, "As Black women, we tend to internalize the racist and sexist ideologies that are spewed about us in society — meaning we take hold of the the negative energy from things like microaggressive experiences and let them live in our mind, body and soul. You begin to believe the derogatory messages about Black women. This then causes you to create false beliefs about yourself, which lead to things like self-doubt, self-sabotage and low self-worth."
An affirmation, according to wellspringprevention.org, is a "phrase or quote you say to yourself in order to combat or challenge overwhelming thoughts." Some may even see it as a form of manifestation — putting positive thoughts out into the universe.
Whatever you believe, there has been evidence that daily affirmations can improve mood, decrease stress and help us linger less on our negative thoughts.
Adeeyo takes it a step further, offering a writing prompt with each affirmation, making it personal, specific and in the present.
Examples of the daily affirmations include:
I am allowed to be my authentic self.
My value is not wrapped up in my job.
I am allowed to experience joy in the middle of pain.
I am breaking generational curses by healing myself.
My failures are not a reflection of my work.
I don't have to be a strong Black woman.
I attract healthy relationships with Black women.
I embrace movement as a form of healing.
Similar to her previous book, "Self-Care for Black Women," putting oneself — mind, body and soul — first, and learning to do that without guilt, is the central focus of the book, and that includes working through feelings of burnout and ways to process and navigate microaggressions, healthcare inequities and societal beauty standards. However, in this book, she's providing tools to help us change our mindsets, to believe we deserve better things.
As Adeeyo reminds readers, "Sis, you are more than enough and deserving of a life filled with love, peace and joy … A life full of abundance is calling you."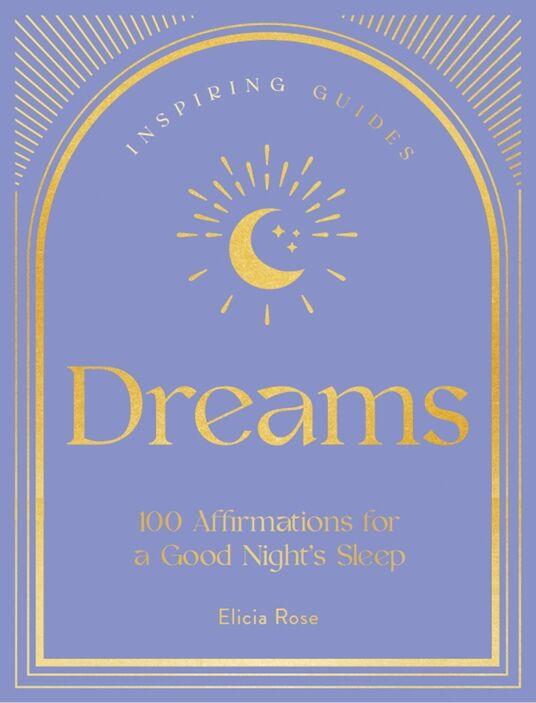 'Dreams: 100 Affirmations for a Good Night's Sleep'
By Elicia Rose Trewick
Published by Rock Point, an imprint of Quarto Publishing
160 pages
$13.99
Google the benefits of sleep and the results are many. According to the U.S. Department of Health and Human Services, benefits include: a stronger immune system, reduced stress, improved mood, better concentration, a lowered risk for serious health problems, like diabetes and heart disease and the ability to main a healthy weight.
So why do so many of us struggle to with sleep and waking up feeling refreshed?
"I believe our ability to sleep well is directly linked to our ability to rest, relax and switch off from the outside world," writes Elicia Rose Trewick in "Dreams: 100 Affirmations for a Good Night's Sleep." "When our minds are constantly in overdrive, we struggle to fully let go and rest deeply. I also believe its helpful to examine our current beliefs around being worthy of deep, replenishing rest and sleep. If deep down, you believe you don't deserve to put your needs first and prioritize self care, then a a full eight hours in bed might seem like a luxury, rather than a necessity."
Trewick is a believer in positive affirmations, as a tool to help "rewire our consciousness and subconscious parts of our mind." The key, she says is repetition — saying them aloud, writing them in a journal, posting them where you will see them throughout the day.
The book is split into four themes — Worthiness, Habit Changes, Switch Off & Relax, and Release Pressure & Expectations — filled with beautiful, calming bloom filled illustrations by the author.
Positive affirmations found within the book include:
I allow myself to switch off and drift into a deep and relaxing sleep.
I did my best today and now I am ready to recharge.
I release what I cannot control and trust that all is well.
As I climb into bed tonight, I leave the past behind me.
Every night is an opportunity for me to move in a better direction.
While positive affirmations alone won't guarantee you'll sleep better, they are a step in the right direction, as they help you cultivate and embrace a healthier, positive mindset.
'Moon Meditations: 365 Nighttime Reflections for a Peaceful Sleep'
By Jenna Calabro
Published by Rock Point, an imprint of Quarto Publishing
208 pages
$19.99
While positive affirmations use positive thinking to push out negative thoughts, they shouldn't be confused with meditation, although the two can be used together. Affirmations are a process of thinking positively, believing in yourself and focusing on future goals. Meditation, on the other hand, is the process of thinking deeply, of being mindful and focusing on the present.
"Meditation can wipe away the day's stress, bringing with it inner peace," says the Mayo Clinic, which has an entire part of its website dedicated to the practice. "You can also use it to relax and cope with stress by refocusing your attention on something calming. Meditation can help you learn to stay centered and keep inner peace.
"And these benefits don't end when your meditation session ends. Meditation can help carry you more calmly through your day. And meditation may help you manage symptoms of certain medical conditions."
Choosing the right form of meditation for you — guided, mantra, mindfulness, Qi gong, tai chi, transcendental, yoga — may sound like a daunting task. If you're not willing to commit just to a practice yet (and who would blame you), "Moon Meditations: 365 Nighttime Reflections for a Peaceful Sleep," could be an easy way to dip your toes into the pool of meditation choices.
"The external world loves to keep us busy and distracted, constantly pulling us out of alignment with our inner self. This book is here to realign you with your center and spark a deeper connection with your mind, body and soul," writes author Jenna R. Calabro in the book's introduction. "The meditations and images within these pages are created to bring you nightly peace and inspiration along your path of self-discovery and spiritual growth."
So, why moon meditation?
"Meditating during this time, when the moon is shining, is a reminder of the infinite nature of the universe and of your conscious place in it," Calabro says. "If you allow it, the magic and gentle pull of the moon's power can guide you into a state of peace, comfort and openness. Combined with the quiet and stillness that naturally comes at night, you have the perfect recipe for meditation."
The book offers 365 meditations — one for every day of the year. But, as Calabro states, the book does not have to be used in order or matched to the current day. Instead, she encourages the user to pick a meditation that aligns with how they feel, if the one offered for the specific day doesn't feel right.
Here's a sampling of the meditations you'll find inside this book. Each is accompanied by a short thought to focus on during meditation:
Empowerment is not always loud.
You are your own authority
You are already perfect.
Nature does not hurry.
You know you best.