CHESTER — Daniel Elihu Kramer has been Chester Theatre Company's producing artistic director since the fall of 2015. After four years as associate artistic director, he succeeded Byam Stevens, who stepped down as artistic director after 18 seasons.
A playwright as well as a director, Kramer is on the faculty of the theater department at Smith College in Northampton, where he teaches acting and directing, and classes in the film studies program.
Based in the 130-seat Town Hall Theatre at Chester Town Hall, Chester Theatre Company was founded in 1990 as The Miniature Theatre of Chester by Vincent Dowling and H. Newman Marsh. The name was changed in 2007.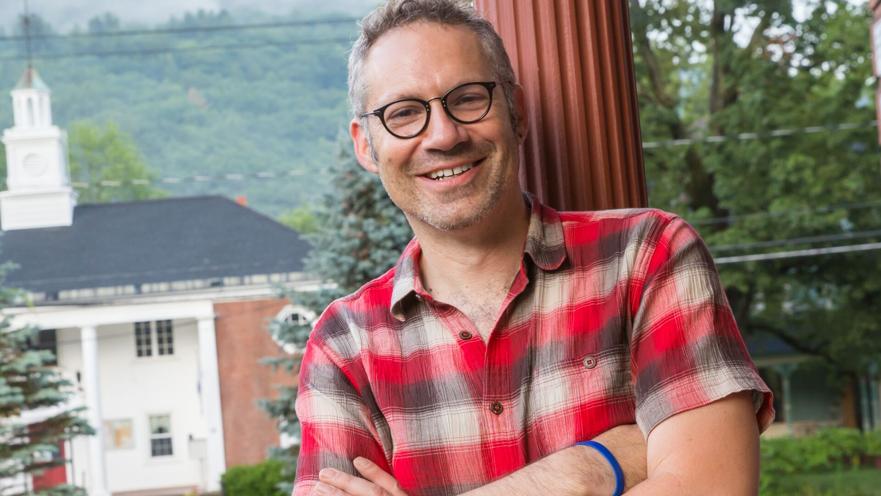 Chester Theatre Company typically produces a summer season of four small-cast contemporary plays — "usually 12 or 13 actors for a whole season," Kramer said. Many of the plays are regional or American premieres, or commissions.
Kramer says he wants to give theatergoers "a lot to think about," he told an Osher Lifelong Learning Institute (OLLI) Zoom gathering in June; "plays that won't leave your head ... also your heart, your soul ... (that will stay with you) long afterward. If on your drive home (after a performance) you are thinking about what to have for dinner that night or making plans for the next weekend, I've chosen the wrong play."
In addition, CTC runs a theater-supported summer intern program; a variety of educational programs through the school year; and one-week theater trips to London in March and a North American city in the fall.
With live performance in limbo last summer due to COVID-19, rather than produce its own virtual productions, CTC provided online links to performances from theaters in London and Chicago. "[We told] people where they could see [the performance] and how they could join in a Zoom conversation [afterward]," Kramer said. The one exception was a virtual performance of "The Story of Lear," a 50-minute retelling of Shakespeare's towering tragedy, adapted and directed by Kramer and featuring in the cast Michael Potts, Shelley Fort, James Barry and Tara Franklin
Q: How would you characterize 2020?
A: 2020 smashed a lot of illusions. It shone a light on our continuing history of racist oppression and violence, our inability to come together to fight the pandemic, and the willingness of our leaders to place preserving their power above preserving citizens' lives.
This was a year of so much loss. When we are frightened, angry, or sad, we want to turn to each other. We want to come together and find sustenance in community. And of course, that's exactly what has been so difficult to do. In sadness or joy, theater is one of the ways we come together as humans: we gather in person and we watch other people embody stories of our world and our lives, and in that strange and wonderful act we find pleasure, healing, connection, meaning.
Q: What were the most formidable challenges you faced? What strategies did you devise to deal with them?
A: What is a theater company that doesn't make theater? How do we stay in conversation when we cannot come together in person? How do we remain true to our mission?
How do we remain financially viable, and preserve our ability to make theater in the future? How do we maintain our commitments to our staff, our artists, our audience?
One of the first steps we took was to cancel a trip we were going to be taking with around 30 of our patrons to see a week of theater in London. This was the first of a number of decisions that we agonized over at the time, and that in retrospect were entirely inevitable.
At the time we canceled, some of our travelers were unsure whether we'd made the right decision. Many others thanked us for making the decision. Amazingly, a number of travelers donated back a portion or all of the refund we were able to offer them.
Next we had to look at whether we would have a season. We worked through multiple iterations of plans: half a season, one show, no season. Again, the choices that felt most difficult soon became the choices we saw we had to make.
Our staff and our board worked together to adjust, to adapt, and to respond to events. We learned that we had to talk early and often, to be open to changing our plans then changing them again, to make decisions that were simultaneously thoughtful and timely, and to be as communicative as possible with everyone: artists, audiences, our town of Chester.
Q: What would you say were your most satisfying or rewarding accomplishments in 2020?
A: I was proud of our online production, "The Story of King Lear." We brought together returning artists — actors Tara Franklin (our associate artistic director), James Barry and Shelley Fort, and designer Ed Check; and folks new to the company like actor Michael Potts (currently featured in the film "Ma Rainey's Black Bottom") and two wonderful remote interns to make a production that was powerful, entertaining, and right for its time and medium. In four days of streaming, we drew over 600 viewers and received enthusiastic feedback. We found ways to come together online for the conversations that are such an integral part of Chester Theatre Company.
We watched and discussed productions of "Twelfth Night," "A Streetcar Named Desire," "Pass Over," "Twilight: Los Angeles," and more. We heard from Matt Wolf — London theater critic for The New York Times — and from Chicago theater critics. We learned about the work being done by the COVID-19 Theatre Think-Tank.
We also took the time to mourn together not only the ravages of the pandemic, but also the violence that continues against Black lives in our country. We gathered in silence to mark and think on the 8 minutes and 46 seconds that a police officer pressed his knee into the neck of George Floyd. Eight minutes and 46 seconds is a long time.
Throughout these months, our audience sustained us, and I hope we did our small part to sustain them in return. The plays and conversations we shared kept us connected. People reached out with vital contributions and words of encouragement. We are grateful for all of it.
Q: What are the most significant lessons you learned and/or discussions you had in 2020 and how are those lessons and discussions shaping your thinking about 2021 and perhaps beyond?
A: As a staff, we worked together to understand better American racism and our role in it. We worked to identify concrete steps to make Chester Theatre Company an increasingly anti-racist organization. We have taken strides diversifying the stories we tell and the artists who tell them, but there is much more to be done. Our board worked to diversify its membership, and to bring new voices and perspectives to our future conversations. I'm enormously excited to learn where those conversations will take us.
Just before the pandemic we revised our mission statement, and it has provided a touchstone throughout. It concludes: "We are committed to theatre as a means to explore and celebrate our shared humanity." That commitment drives every decision we make.
Q: What is/are your hope(s) for 2021?
A: Broadly, I hope we can move forward together as a country that holds shared truths, that admits its wrongs and works to set them right. I hope we can overcome the pandemic and create a truer equality.
Personally, I hope I can see my mother in 2021. I hope my son can start college. I hope my students at Smith and everywhere can return to the classroom.
For Chester Theatre Company, I look forward to seeing our audiences and artists again safely, and to the conversations we will share.