LENOX — If you didn't have the opportunity to try chef Daniel Boulud's acclaimed French-inspired cuisine at Café Boulud last summer, don't fret. You'll have plenty of opportunities to try it this summer and beyond.
The Michelin-starred chef's team has returned to Blantyre and the Berkshires on a permanent basis.
Boulud's return is only one of several new offerings at the Gilded Age mansion this season. Blantyre recently launched a Resort Club Membership program, aimed at allowing residents access to Blantyre's many amenities. Also on tap is a new Dom Pérignon Salon and a onsite boutique.
HAUTE CUISINE
Café Boulud's permanent residency, a partnership between Boulud's Dinex Group and Blantyre Country Estate, a Relais and Châteaux property, was announced at the end of April.
"What began as a temporary partnership and much-needed bright spot last year has transformed into an enduring relationship with a true culinary professional, Daniel Boulud," Linda S. Law, owner and steward of Blantyre, said in a prepared statement. "I know we will build upon the success of what Daniel and his team have created at Blantyre, and we are thrilled to be able to offer this world-famous dining experience to guests, neighbors and community members for many years to come."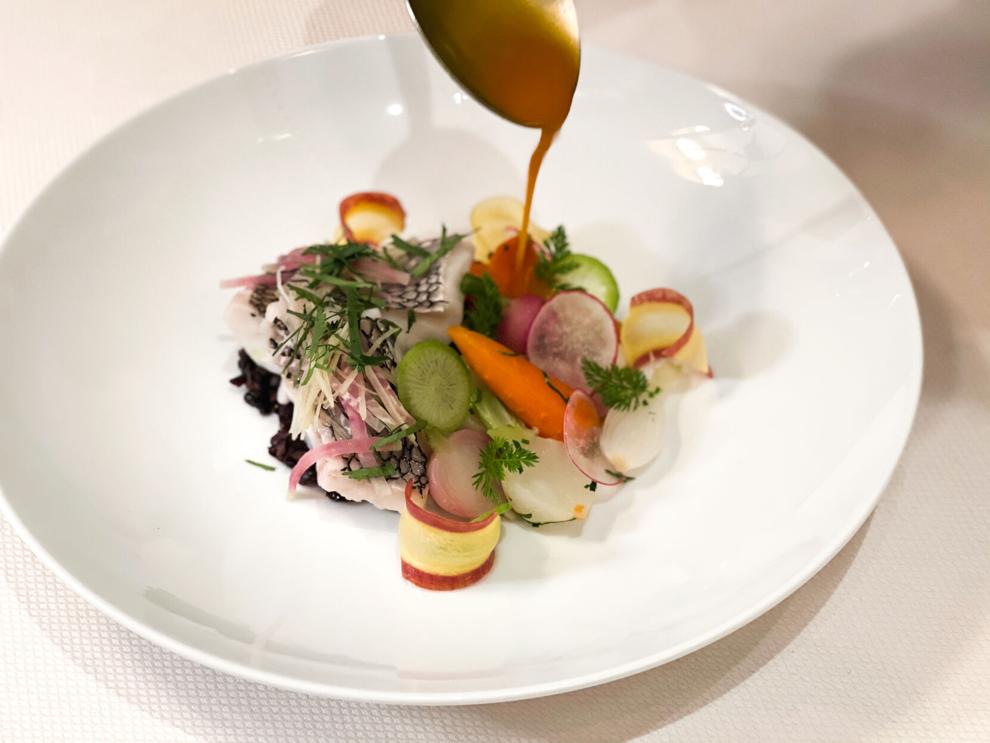 Café Boulud began as a pop-up restaurant within the historic mansion in July 2020. Currently, dinner is being offered 5 to 9 p.m., Wednesday through Sunday, along with brunch from 11:30 a.m. to 2 p.m. on Saturday and Sunday. Beginning May 28 through Labor day, breakfast, lunch and dinner will be served daily, in addition to weekend brunch. Executive chef Ethan Koelbel, who led the pop-up café's culinary team last summer, returns with the restaurant. Koelbel and executive pastry chef Diana Dover will oversee the property's entire culinary operations.
Main course offerings, available during a preview, included a Shrimp Risotto, with English peas, mascarpone, saffron and lemon olive oil; Grilled Swordfish with sprouted black chickpeas, zucchini, green onion and sauce sambhar; Steamed Black Sea Bass with baby spring vegetables, wild rice, and carrot ginger emulsion; Rack of Lamb "En Persillade" with artichoke, Spanish subric, barley, oven-dried tomatoes, garlic jus; Crescent Farms Duck Breast with marble potatoes, baby swiss chard, rhubarb, duck pastilla and grain mustard jus; Filet Mignon with baby carrots, roasted trumpet mushrooms, cipollini onion, bone marrow and bordelaise sauce.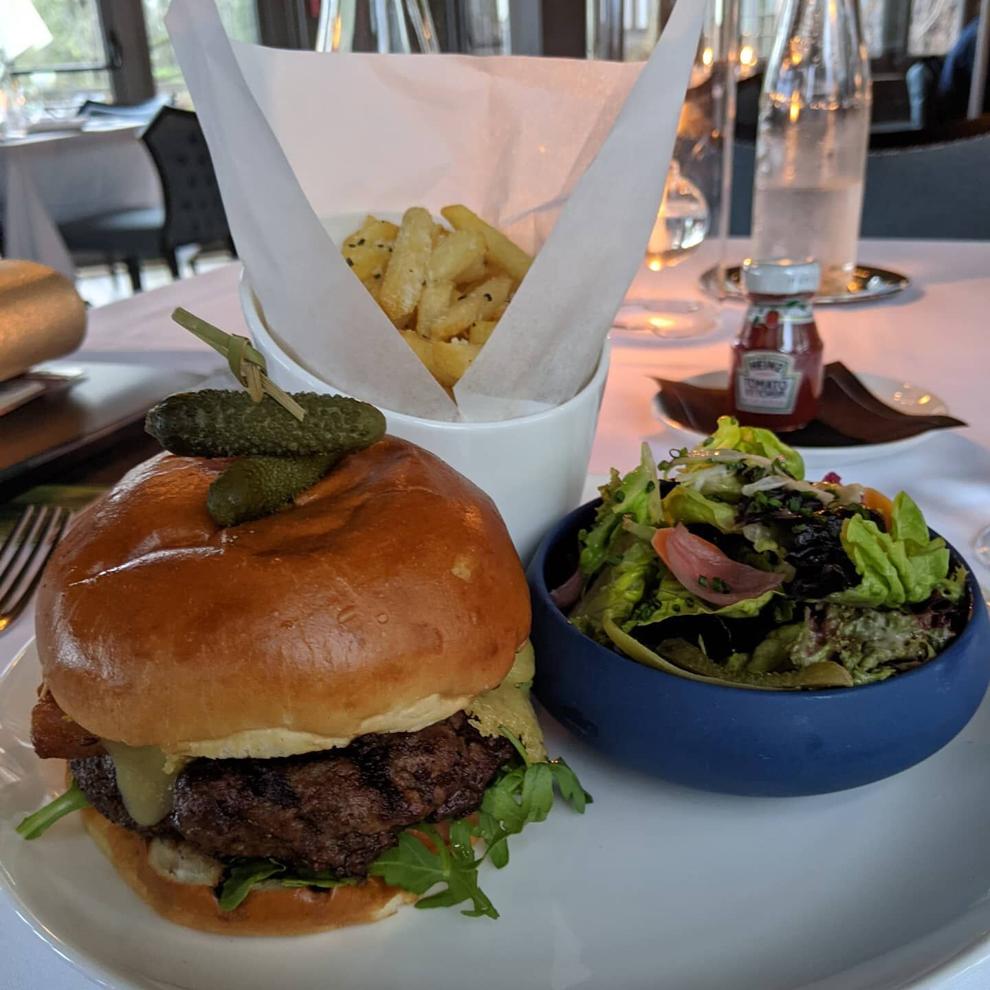 Those looking for a burger will not be disappointed. Café Boulud's menu includes "The Frenchie Burger," made with confit pork belly, topped with raclette cheese, tomato-onion jam and cornichons and served with pommes frites and mesclun salad.
The three-course prix fixe dinner is $84. Dinner and dessert menus can be found online at blantyre.com. Reservations are required and can be made online or by calling 413-637-3556.
With the permanent residency, the restaurant, also will offer lunch poolside, and its culinary team will oversee weddings, private parties and all event planning at the property.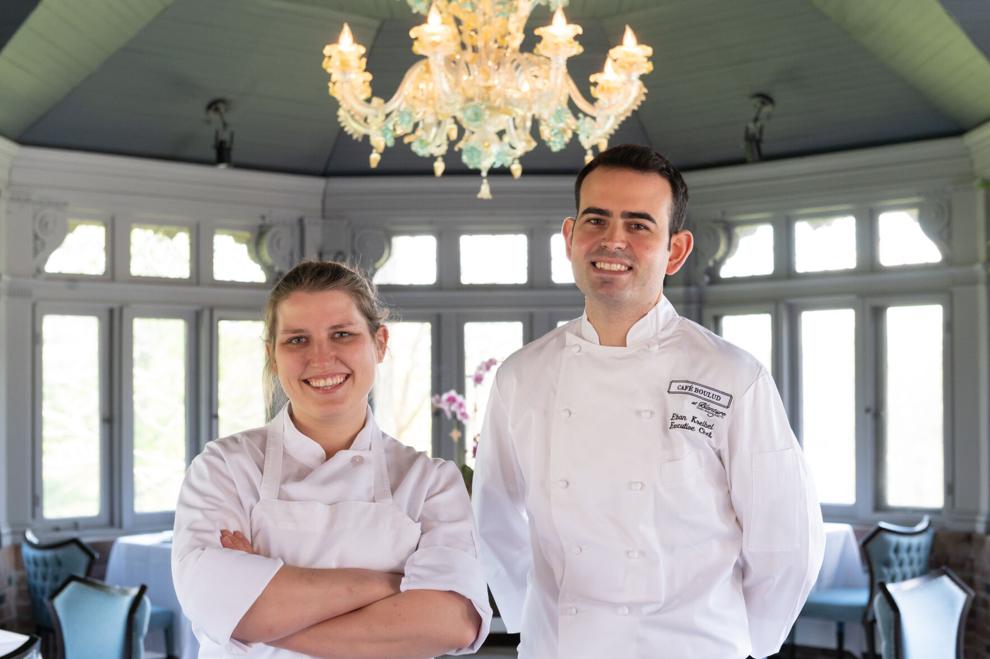 "It's been a wonderful marriage," said David L. Pupo, Blantyre's director of operations, during a recent interview. "Café Boulud has reinvigorated the Berkshires and, certainly, Blantyre. We're really thriving with Café Boulud on site and our guests are really drawn to it. We're very happy to welcome everyone back."
RESORT CLUB MEMBERSHIP
In an effort to offer year-round residents and second-home owners alike the opportunity to enjoy the estate, its spa and its other offerings, a new Resort Club Membership program is available for 2021.
"It's an ideal way to enjoy the property," Pupo said. "It grants local community members all the rights and privileges or our house guests with added incentives."
The membership, running May 1 to Oct. 31, is $3,500 for an individual and spouse/designated partner and up to 2 children, over 12, of the same household. The program is limited to 40 memberships for 2021.
Membership incentives include a 10-percent discount on overnight stays and at the spa, as well as on all food and beverages, including Café Boulud and Boulud poolside, and on retail purchases.
"The membership opens up all 110 acres of the estate to the community," Pupo said. "That includes our fitness center, pool, spa, tennis courts, shuffleboard courts, croquet lawn, badminton and hiking trails. There's countless places to picnic and we have bicycles available too."
Members also have access to concierge services, to assist with the purchase of tickets for Tanglewood, Jacob's Pillow and other local venues, and to Blantyre's BMW Test Drive Experience.
"We have two house BMWs available for excursions in the Berkshires. Guests and members can reserve the BMWs through concierge services. They can enjoy the Berkshires while enjoying one of the newer models of BMW," he said.
Members also have access to the resort's complimentary activity programs, which include culinary and wellness classes, wine tastings and lectures.
"For our culinary classes, our chefs will prepare a menu item. Our bar staff will run a mixology course, showing guests and members how to set up a bar for home entertainment," Pupo said, listing examples of upcoming classes.
The new "Boutique at Blantyre," he said, will offer a curated selection of specialty items including William Yeoward crystal, Christofle silver, fine jewelry, clothing, collectibles and gifts.
DOM PERIGNON SALON
A new Dom Pérignon Salon, showcasing rare specialty vintages from Blantyre's award-winning wine cellar, will open in the Morié Room, on the main floor of the Tudor-style mansion, later this spring.
"The Morié Room was the receiving room of the Patersons [who built the mansion in 1902]. Guests would arrive and wait in the Adam-style room until the Patersons arrived, so it has a tradition of welcoming people and being a receiving room," said Pupo, who also serves as the estate's unofficial historian and tour guide.
Complete with a vintage Baccarat crystal chandelier, an ornate wood-burning fireplace and antique mirrors, the salon offers lounge-style seating for up to 10 is offered indoors or on the patio.
"Guests of the salon will be able to enjoy a glass of Dom Pérignon with a selection from the canapés menu or petit fours [prepared by Café Boulud]," Pupo said.
The salon also will be available to rent for private dinners and events.