Traditionally, the first blast of dry, crisp autumn-like weather brings about "soup season" in my kitchen.
It's no secret that I love a creamy bowl of soup made with winter squash or potatoes and leeks. So, it should come as no surprise that soup season, in our home, began mid-August with the arrival of the first winter squash from our CSA — a kabocha, also known as a Japanese pumpkin.
I eyed this hard, knobby dark green, squat squash with suspicion. I wasn't quite sure what to do with it. Luckily, Lisa Attaway, the vegetable manager at Square Roots Farm in Lanesborough, sends out links to recipes for the more unusual of each week's featured vegetables in her weekly newsletter.
It was one of those links that led me to read about all the wonderful attributes of the kabocha squash, which cookinglight.com assured me, would soon become my "new best friend" and my new go-to winter squash, as it can be swapped into recipes calling for butternut or acorn squash.
Besides being very versatile — you can roast, simmer, puree, bake or grate it for a variety of recipes — it's also packed with healthy benefits. Not only is this squash low in carbohydrates, it's also high in the anti-oxidant beta-carotene and vitamin A. It's skin is a good source of fiber and it adds sweetness to dishes without adding extra sugar.
But, I still wasn't sure. I opted to make a roasted kabocha soup after reading several articles about its flavor, which is akin to a mixture of sweet potatoes and pumpkin. The first thing I had to do was learn how to cut it open, which it turned out, is similar to cutting open a butternut or acorn squash. After slicing it in half, I scooped out the seeds and then split each half again. Roasting the kabocha is also the same as roasting a butternut or acorn squash. I rubbed avocado oil, maple syrup and brown sugar into each quarter and sprinkled them with salt before turning them skin side-up and putting the parchment-lined pan in the oven for about 45 minutes. After cooling the squash, I easily peeled off the skin.
Although the recipes that I read online called for the soup to be cooked on the stove, I improvised and made my soup in my Instant Pot, first sauteing the onions and garlic in the pot, for about 3 to 4 minutes. Next, I added in the squash, vegetable stock, ground ginger, cumin and salt, setting the Instant Pot to pressure cook on high for 8 minutes. When finished, I "quick released" the steam. You can add the coconut milk to the pot at this point, or add it in while blending. (Feel free to substitute heavy cream here.) The result is a creamy, sweet and nutty soup, that you'll want to add to your fall and winter soup list.
Squash-based soups not on your list of fall favorites? Not to worry. More recently, our weekly CSA share included a small bag of potatoes and a few leeks. I make my potato leek soup with my Instant Pot, because I find it to be a big time-saver (about 26 minutes from start to finish). The recipe isn't much different from a traditional potato leek soup, except, instead of using heavy cream and a traditional vegetable stock, I prefer to use coconut milk and a vegan protein broth — a creamy legume and vegetable broth mix. The vegan protein broth offers 9 grams of plant-based protein in every serving and makes the soup extra creamy. Serve it alone, with a crusty bread or as a side.
It's hard to go wrong with a warm, creamy soup on a chilly fall day.
INSTANT POT ROASTED KABOCHA SQUASH SOUP
(Recipe inspired by omnivorescookbook.com and drivemehungry.com)
INGREDIENTS: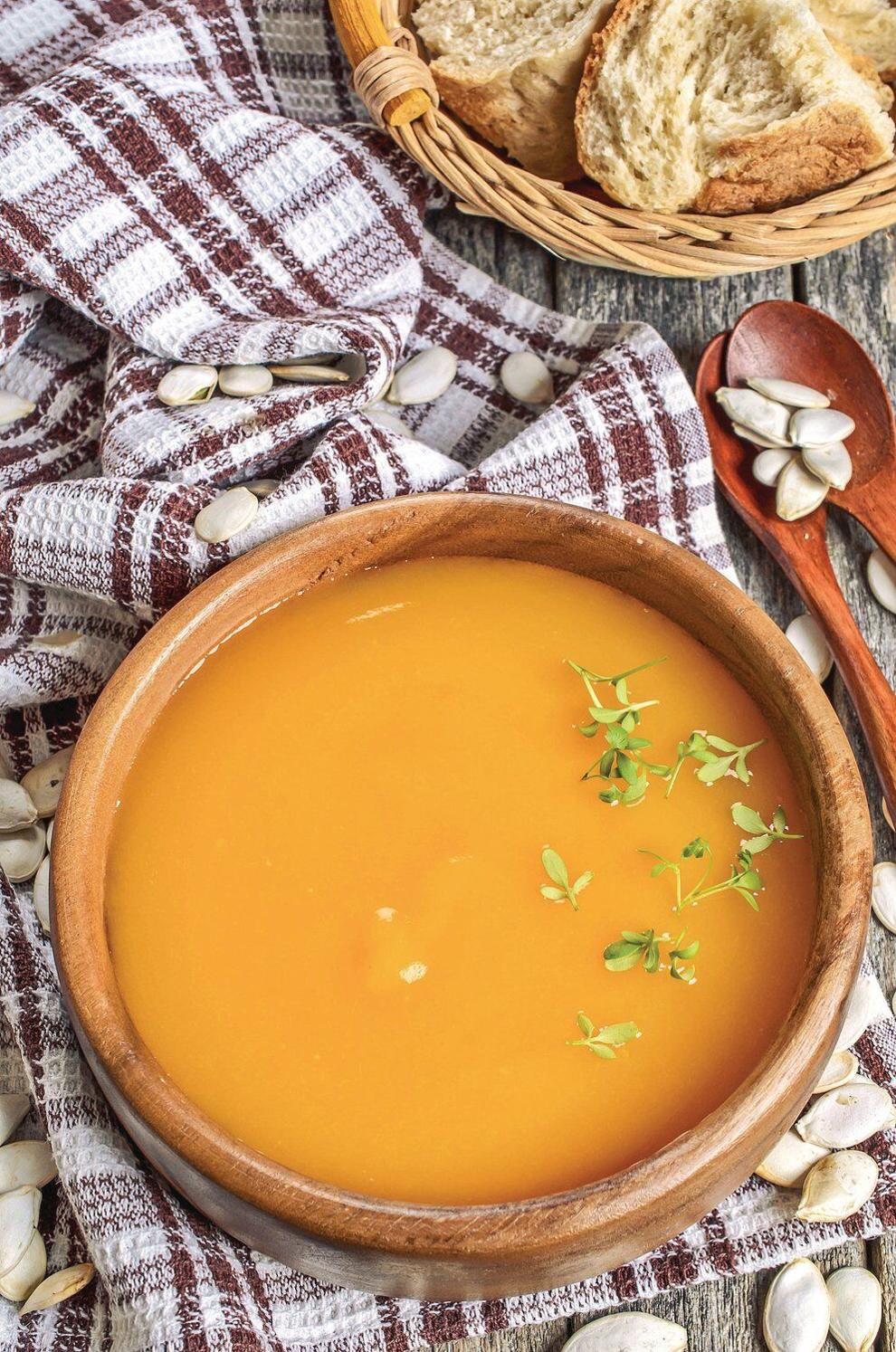 1 medium kabocha squash, about 2 pounds
1 tablespoon avocado oil (can substitute olive oil)
1 tablespoon maple syrup
1 tablespoon brown sugar
1 1/2 teaspoons salt, separated
1 tablespoon olive oil
1 medium onion, chopped
2 cloves garlic, chopped
1 cup vegetable stock
1 teaspoon ground ginger or 1.5 inches ginger, roughly chopped
1/2 teaspoon cumin powder
1 cup coconut milk, reserve 1/4 cup to drizzle on top (or heavy cream)
black pepper, to taste
fresh herbs to garnish (optional)
DIRECTIONS:
Preheat oven to 425 degrees F. Cut the kabocha squash into quarters, leaving the skin on. Line a baking tray with parchment paper and place the kabocha squash on it. Drizzle 1 tablespoon of maple syrup, avocado oil and brown sugar over the squash quarters. Rub into the squash evenly. Sprinkle 1/2 teaspoon of salt over squash. Turn squash to be skin side-up. Roast for 35 to 45 minutes or until surface becomes golden brown. Let the squash cool for 5 to 10 minutes before using a knife to peel off skin.
While the squash cools, set Instant Pot to saute. Add 1 tablespoon olive oil, onions and garlic. Saute until onions are translucent. Cancel saute. Add roasted squash, vegetable stock, ginger, cumin and remaining salt. Close lid and steam release valve to "sealing" position. Set Instant Pot to pressure cook on high for 8 minutes. When done, use the "quick release" venting feature, waiting until all of the steam has released and the valve has dropped before removing the lid. Use an immersion blender to puree the soup until smooth, adding in the coconut milk as you go. (This allows you to control how thick or thin your soup is.) Season with black pepper and salt, to taste. Serve warm, with optional garnishes and coconut milk drizzled on top.
---
INSTANT POT POTATO LEEK SOUP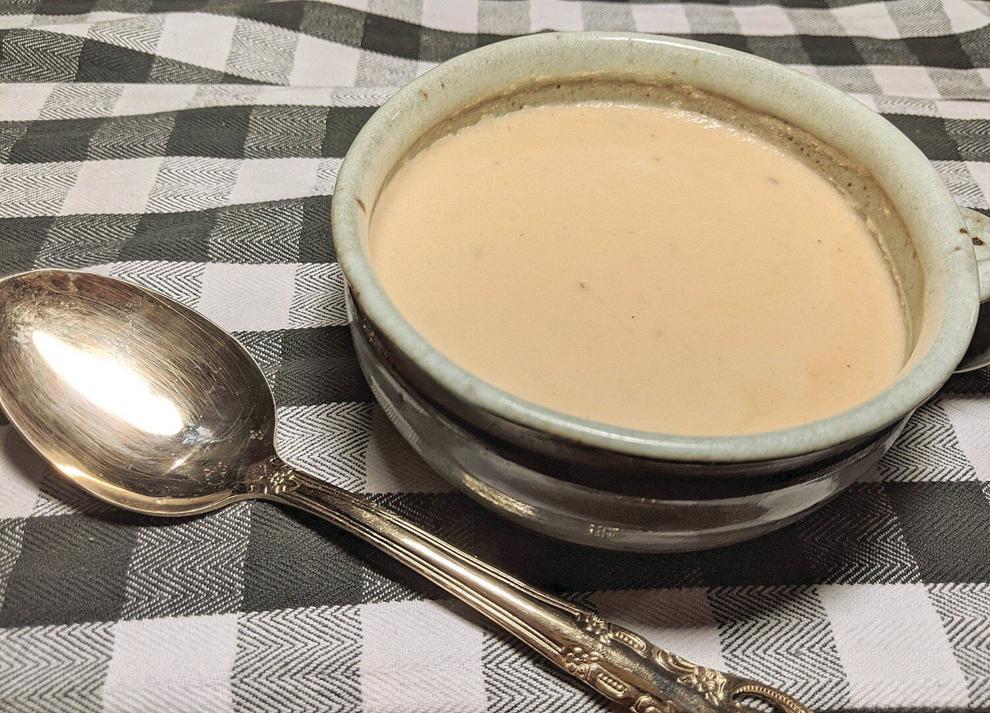 (Recipe courtesy veganhuggs.com)
Yield: 5 servings
INGREDIENTS:
2 tablespoons preferred oil or butter
1/2 medium onion, diced
3 medium leeks, cleaned and sliced (white and light green parts only)
3 to 4 cloves garlic, minced
3/4 teaspoon dried thyme
1/2 teaspoon dried rosemary
1/2 teaspoon dried coriander, optional
2 pounds potatoes, peeled and chopped
4 cups vegetable broth (or vegan protein broth)
1 teaspoon salt
fresh ground pepper, to taste
1 cup canned coconut milk, shaken well
DIRECTIONS:
Set Instant Pot to saute. Add oil. When heated, add the leeks and onions, sauteing until softened, about 4 to 6 minutes. Add the garlic, thyme, rosemary and coriander. Saute until fragrant, about 30 to 60 seconds. Cancel the saute function. Add potatoes, vegetable broth and salt. Close and secure the lid. Turn the steam release handle to the "sealing" position. Set Instant Pot to pressure cook on high for 6 minutes. When done, use the "quick release" venting feature, waiting until all of the steam has released and the valve has dropped before removing the lid. Add coconut milk. Use an immersion blender until creamy and smooth. Taste for seasoning and add more if needed. If the soup is too thick, add a small amount of vegetable broth to thin it out. Serve warm.