WEST SPRINGFIELD — What's better than a milkshake? How about one topped with a slice of cotton candy cheesecake on top? Or one topped with chicken and waffles?
You can get both and more when The Big E returns. This year the fun runs Sept. 16 through Oct. 2.
"We don't do anything small. We go as extra as we possibly can," said Gina Luari, owner of The Place 2 Be, one of 16 new food vendors showcased during a recent Media Taste Test and Food Preview at the Storrowton Carriage House Pavilion.
The milkshakes were the wildest concoction of the day, a change from years past when food previews offered up bacon cheeseburgers with grilled glazed doughnuts for buns, "barbeque splits" made with layers of pulled pork and beef brisket, mashed potatoes, creamy coleslaw and two St. Louis-style ribs or deep-fried upside down pineapple cake on a stick.
There seems to be a healthier set of offerings this day, with a variety of vegetarian and vegan options offered up as well as traditional comfort foods — grilled cheese sandwiches and chicken pot pie bread bowls.
Don't worry, you'll still be able to find deep-fried Oreos and other non-healthy fair foods. Guaranteed, you'll be able to grab favorites from years past: Chomper's deep-fried cheese balls (there's a new chicken pot pie ball this year), Chocolate Moonshine's frozen teas and sipping chocolates, barbeque waffles or mac and cheese waffles at Ultimate BBQ and a Reuben hot dog or hamburger from the West Springfield Lion's Club.
Returning for its 16th year is V-One Vodka, which will once again be in the Speakeasy Bar in the Young Building, this year offering a new lineup of signature martinis and cocktails. This year, there's a focus on a double espresso martini, an infusion of its new V-One Double Espresso Vodka, coffee liquor and Irish cream. The new cocktail? The "Dirty Shirley," a blend of V-One Original Vodka, lemon-lime soda, grenadine and cherries.
The Eastern States Exposition, home of The Big E, had to cancel the fair in 2020 due to the COVID-19 pandemic. It returned in 2021 with a slate of fun food offerings, ending its 17-day run with an attendance of 1,498,774 visitors, earning it the title of the third largest fair in North America, based on attendance. The ranking is announced annually by Carnival Warehouse's Top 50 Fairs list. In 2019, The Big E ranked the fifth.
"Astoundingly, we beat Minnesota this year!" Gene Cassidy, president and CEO of the Eastern States Exposition said in a news release in December. "The Minnesota State Fair is a benchmark in our industry and attracts visitors from all over the state and beyond. We have waited 105 years for this."
Cassidy hopes to "top Minnesota again in 2022."
For more information and a complete schedule of events, visit thebige.com.
While you wait for the Big E to open on Sept. 16, here's a preview of what's new in food this year:
Coolin' On The Ranch Grilled Cheese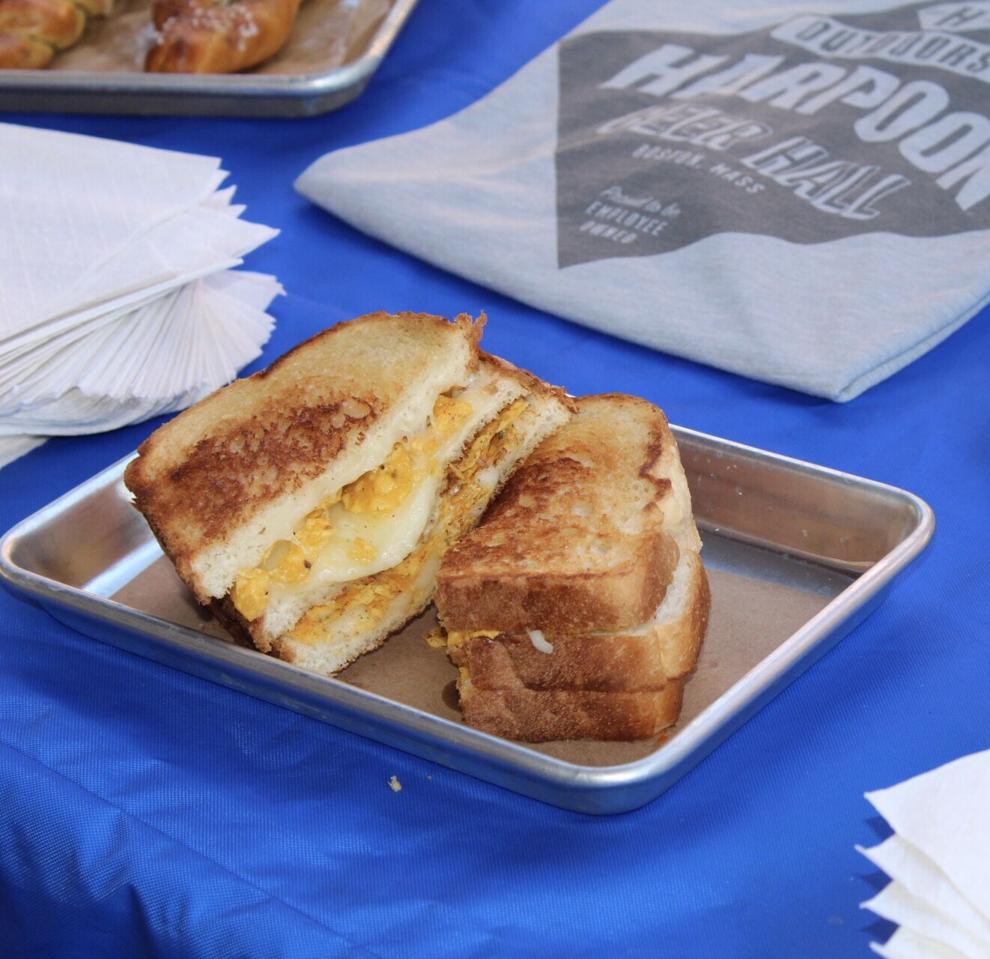 Harpoon Beer Hall | New England Avenue
What is it?: A triple-decker grilled cheese sandwich stuffed with a blend of cheeses and Cool Ranch Doritos and ranch dressing.
Our take: Does ranch dressing really make everything taste better? And could it make me stand in line for a grilled cheese sandwich at The Big E? I had my doubts as I took a bite of the "Coolin' On The Ranch." I was wrong.
The ranch dressing provides a small kick of unexpected coolness, that's pleasantly surprising. There's also a great crunch that comes when you bite down on these perfectly made sandwiches.
Cotton Candy Milkshake/Chicken and Waffle Milkshake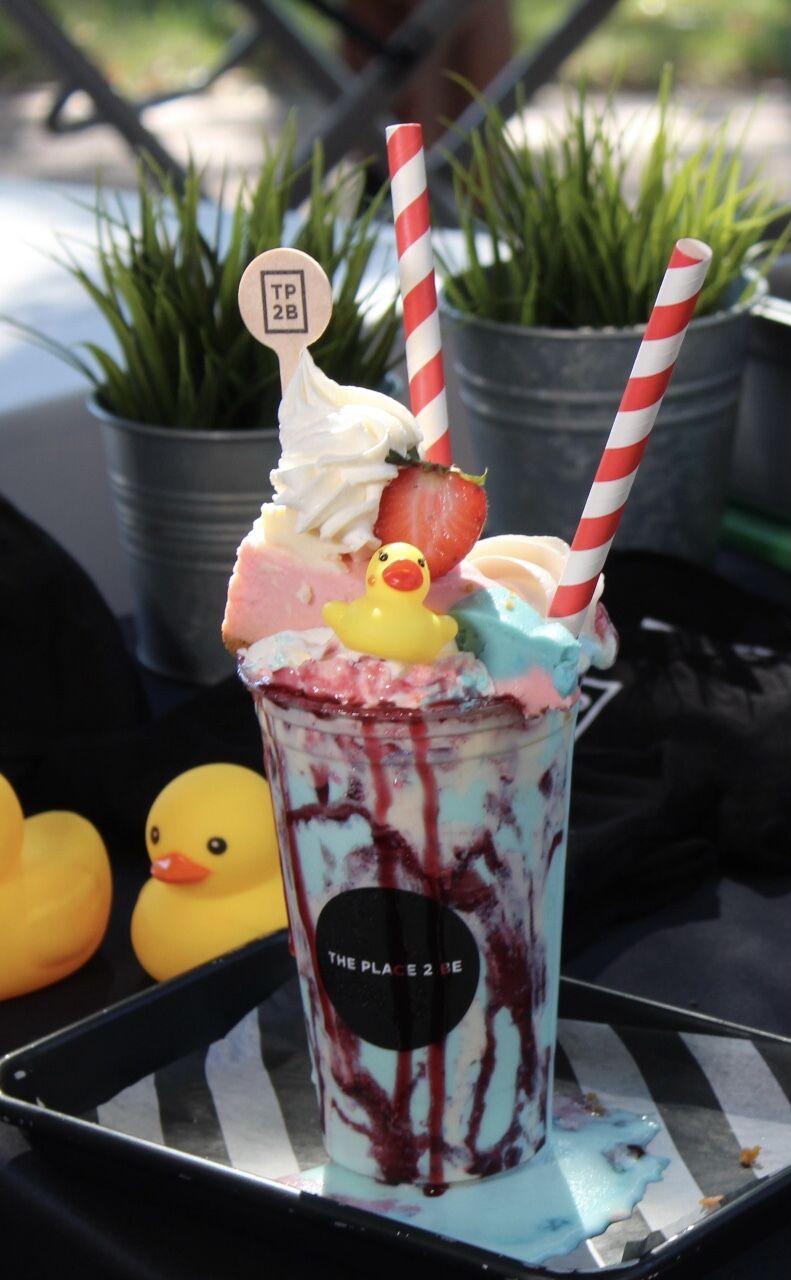 The Place 2 Be | The Front Porch
What is it?: The names say it all. The Cotton Candy Milkshake is a cotton candy-flavored milkshake topped with a slice of cotton candy cheesecake. The Chicken and Waffle Milkshake is a maple vanilla milkshake base topped with chicken nuggets and waffles.
The inspiration?
"Honestly, whatever takes us back to our childhood; all the fun things we couldn't have, we take and put on top of a milkshake. That's how we came up with all the flavors we have here today," Luari said.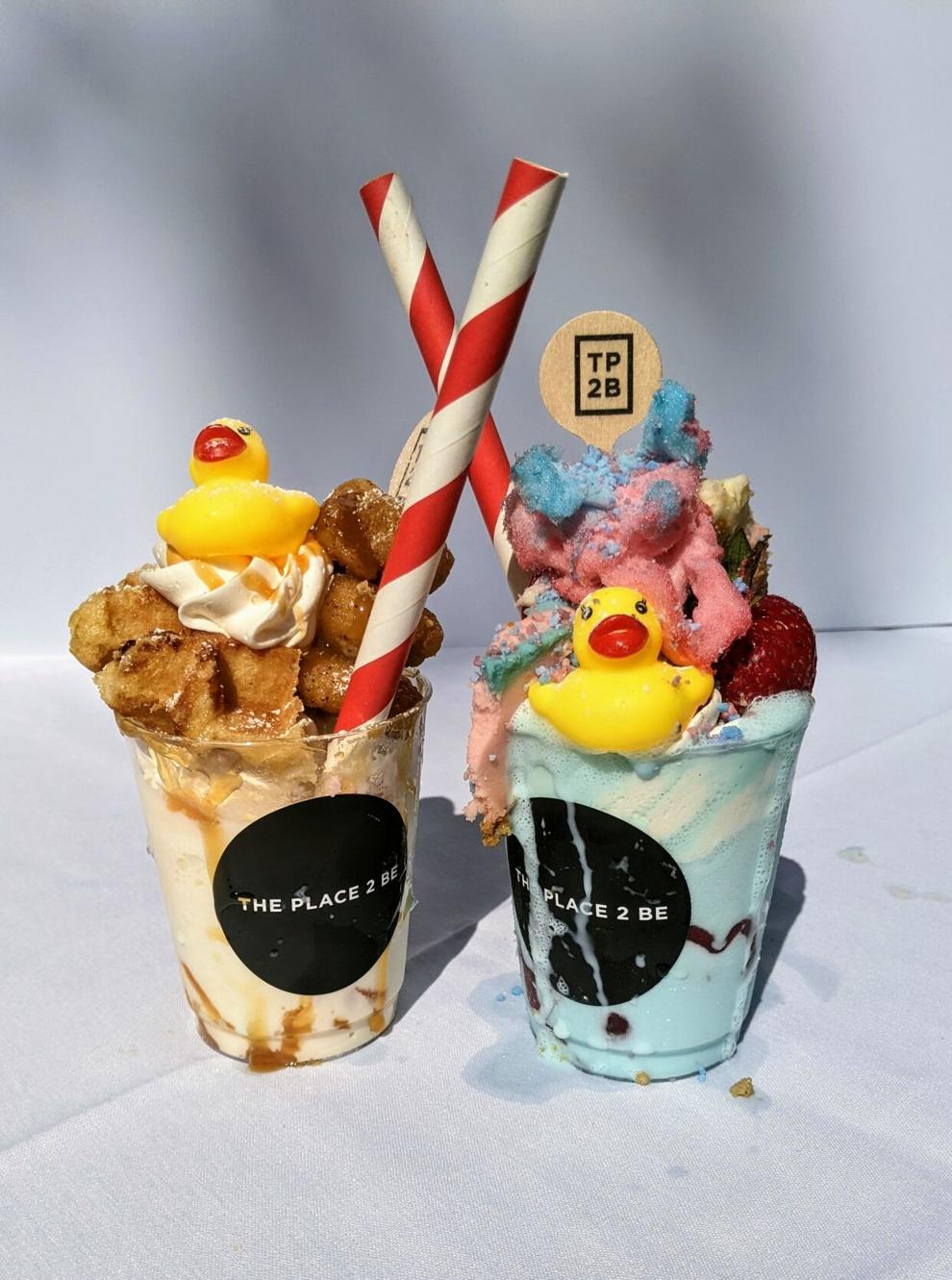 Our take: This is extravagance at its finest. If you want to indulge in absolute decadence, pick up one of these milkshakes. Luari isn't joking about going the extra mile.
Our samples were small, nothing compared to the size being offered to the public, and they were a little too much to handle. You'll need both hands to "drink" these treats, which are extra sweet and a little sticky.
Sweet Potato Tacos and The Cape Codder
Sassy's Sweet Potatoes | East Road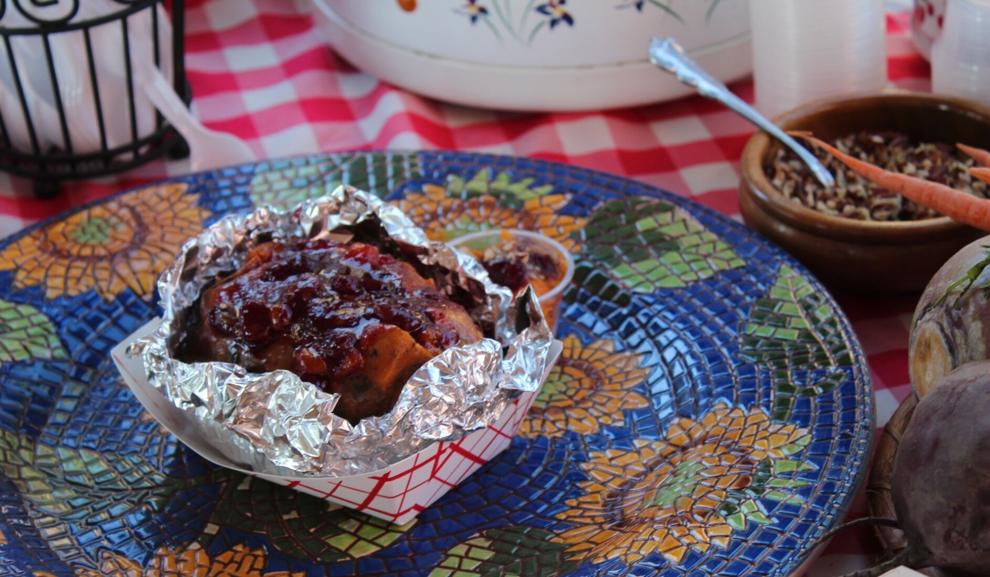 What is it?: Sassy's Sweet Potatoes, out of Thorndike, is offering their signature loaded baked sweet potatoes and sweet potato tacos. The Cape Codder is a baked sweet potato topped with homemade cranberry orange compote and chopped pecans. The tacos are made with yellow rice and beans, topped with mashed sweet potatoes and other root vegetables, tortilla chips and more.
Why sweet potatoes and root vegetables? Owner Mary Beth Caldwell says the idea came to her years ago when she attended a similar fair with her niece, a stage-four cancer survivor.
"She couldn't eat a thing," Caldwell said.
She decided she'd be the one to offer up a healthy alternative for fairgoers and has been offering her signature sweet potatoes ever since.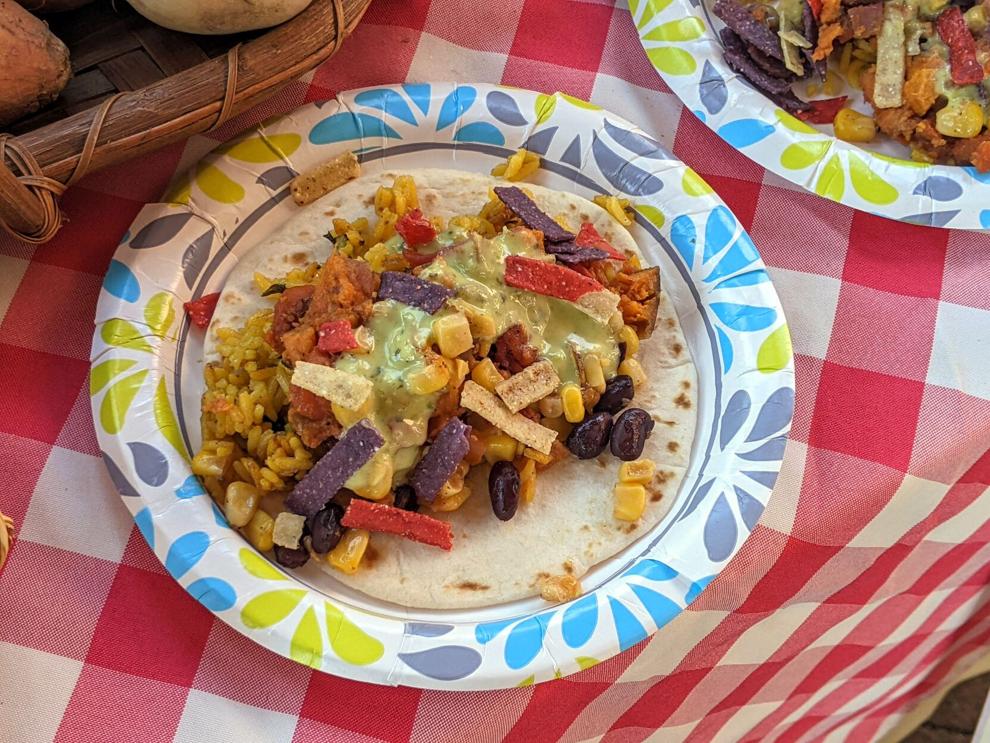 Our take: Who knew sweet potatoes could taste so good? And be so versatile? I loved the Cape Codder, but the real winners were the tacos! They were the perfect vegetarian alternative to a meat-filled soft-shell taco. It's also a great way to get in some veggies after having a few other fair treats.
Soulful Burger/Spicy PB&J
Soulfully Vegan | The Front Porch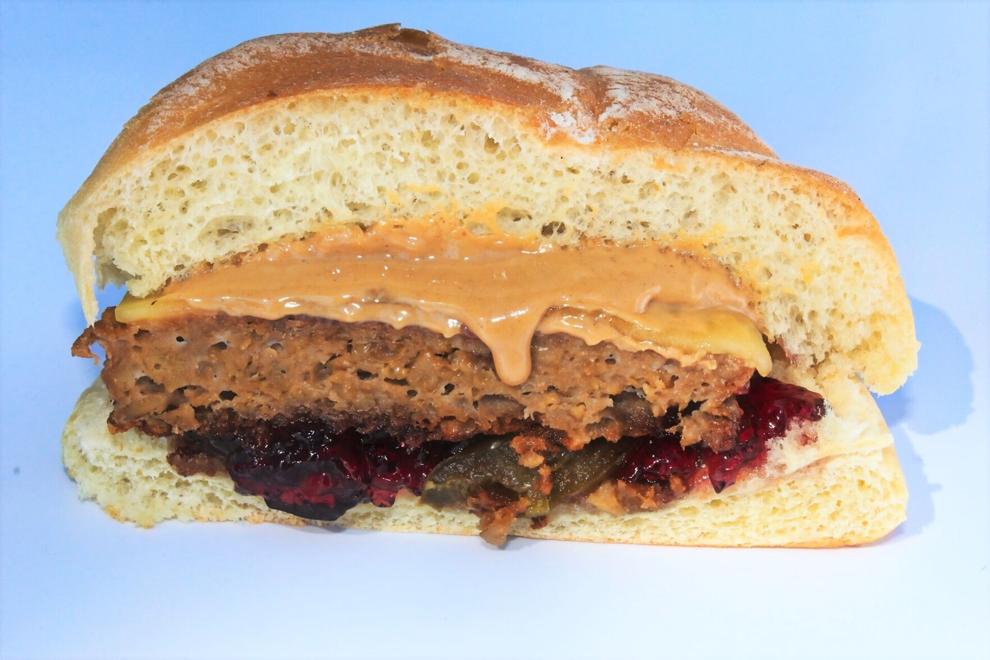 What is it?: "It's a party in your mouth," said Allison Vaughn, co-owner of Soulfully Vegan, of the Middleton, Conn., food truck's Spicy PB&J burger.
It starts with jelly and jalapenos on the bottom bun for some sweet and salty action. On top, there's peanut butter paired with hot, melted vegan cheese for some gooeyness. In the middle? A Beyond Burger. The Soulful Burger is a Beyond Burger topped with jerk sauce and plantains
Our take: The Spicy PB&J is everything it promises to be. There's a sweet and salty flavor mixed with the creamy gooey goodness of the peanut butter and cheese. My initial reaction: "I never knew a vegan burger could be so good."
I also was seriously surprised by the Soulful Burger. In each bite, as promised, you get the heat and spiciness of the jerk sauce, but almost instantly, the plantains cool everything down. It's delicious.
Arroz Con Gandules and Pernil al Horno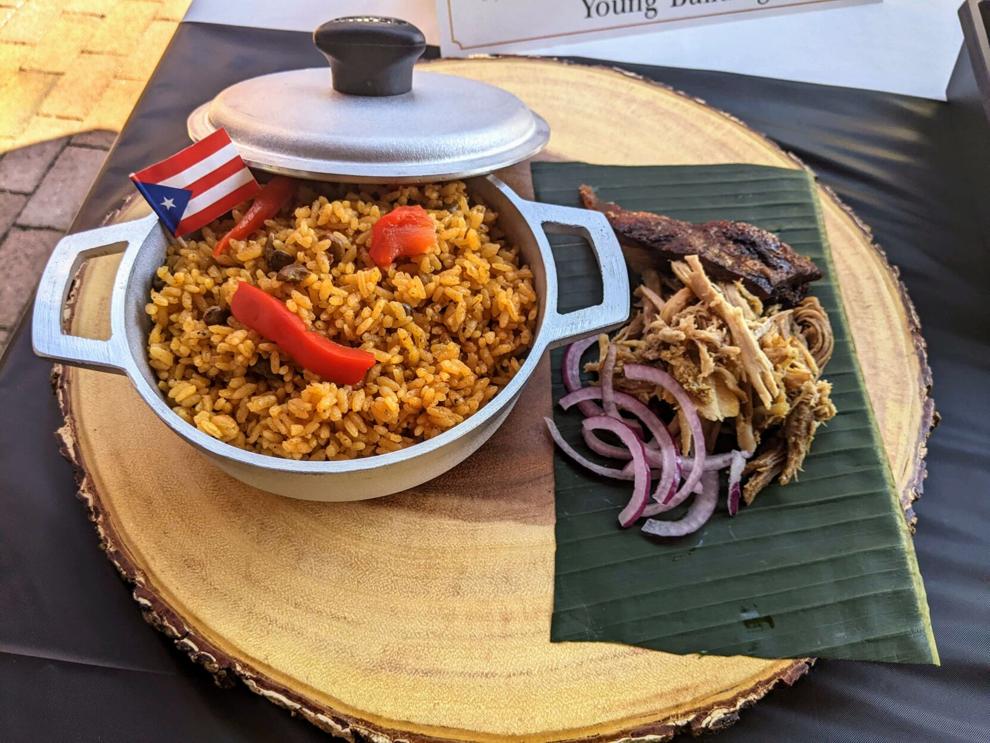 Las Kangris | Young Building
What is it?: The owners of Las Kangris, a food truck on Boylston St., Springfield, are proud to bring the first Puerto Rican concession stand to The Big E. Among the dishes they'll be offering are arroz con gandules (yellow rice with pigeon peas) and pernil al horno (baked pork).
"We wanted to bring Puerto Rican flavors, Puerto Rican traditions to The Big E," said Daleris Torrales. "Yellow rice with pigeon peas is very traditional in Puerto Rico, the same with baked pork.
Our take: If you've had too much traditional "fair food" or are just searching for some good old-fashioned home cooking after a day at the fair, seek out this concession stand. The baked pork practically melts in your mouth and the yellow rice and pigeon peas are phenomenal. Together it's a delicious option.
Pumpkin Fritters/Apple Bacon Fritters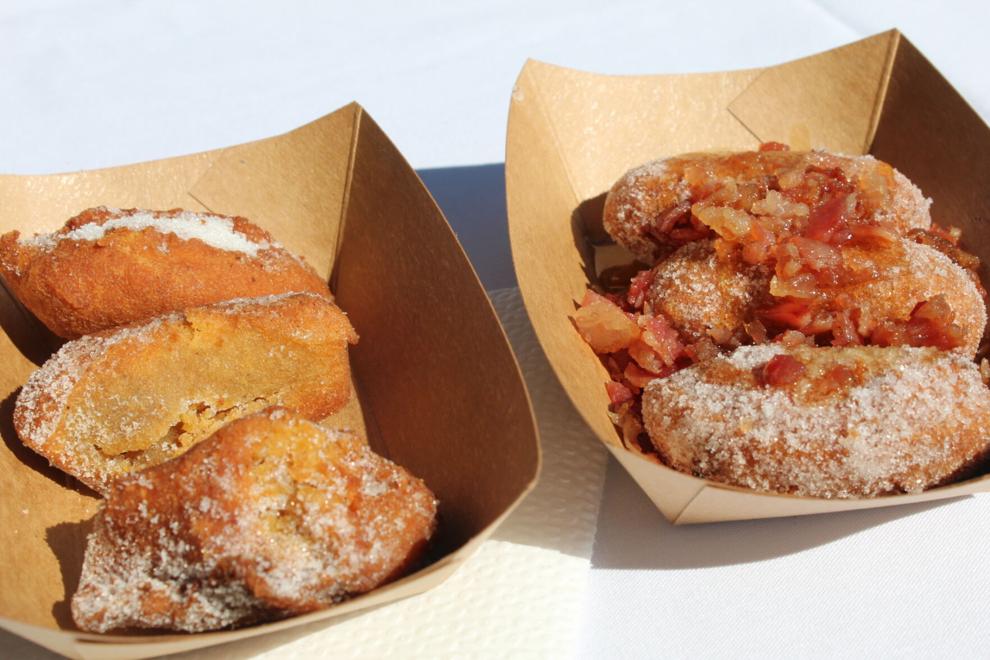 Bakery on Brewer | New England Avenue
What is it?: Angelo Alduini and Hector Maldonado, of Bakery on Brewer, out of Torrington, Conn., have been in business since 2005 as Leo's Lunch. A decade ago, they began a food stand, specializing in apple cider doughnuts. After a few years of making doughnuts, they decided to branch out and experiment with fritters. Their first year at the Big E, they're offering two types: a pumpkin fritter rolled in cinnamon sugar and an apple bacon fritter — an apple fritter topped with honey and bacon pieces.
Our take: Simply put, I'd stand in line for a chance to get ahold of these fritters. They're crunchy on the outside and soft and chewy on the inside. For apple cider/pumpkin doughnut lovers, the fritters provide all the goodness of these fall favorites in just a few bites.
Big E Cream Puff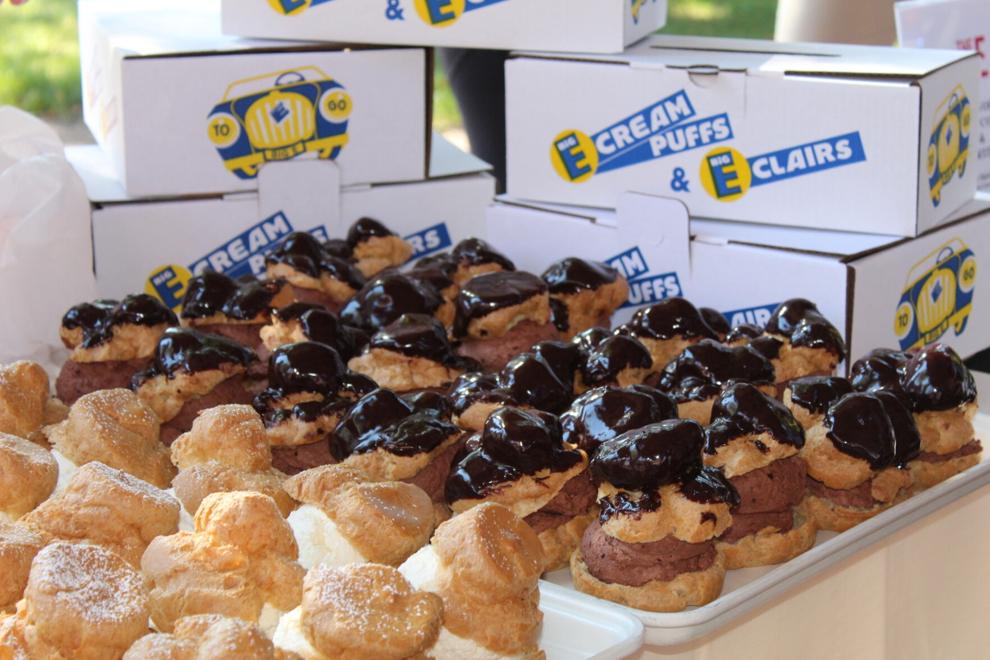 The Big E Bakery | New England Avenue, The Food Court, and The Avenue Showplace
What is it?: If you've never tried a Big E cream puff, then you've been missing out. This extra-large treat pairs a delectable cream filling with a crunchy, airy pastry. This year, you can get the traditional cream puff or the cream puff flavor of the year — chocolate. There's also an "ultimate version —"The Chocaholic" — a chocolate cream-filled puff topped with chocolate ganache.
"We're introducing chocolate, which everyone loves. It's decadent, it's sweet, it's delicious," said E.J. Dean of The Big E Bakery. "What we did last year, when we introduced the pumpkin, was introduce a flavor of the year. We'll put them into a rotation. Based on the high demand, we'll always have the traditional cream puff. We can't have too many varieties in stock at all times, so this year we decided to feature chocolate because it's such a hot item."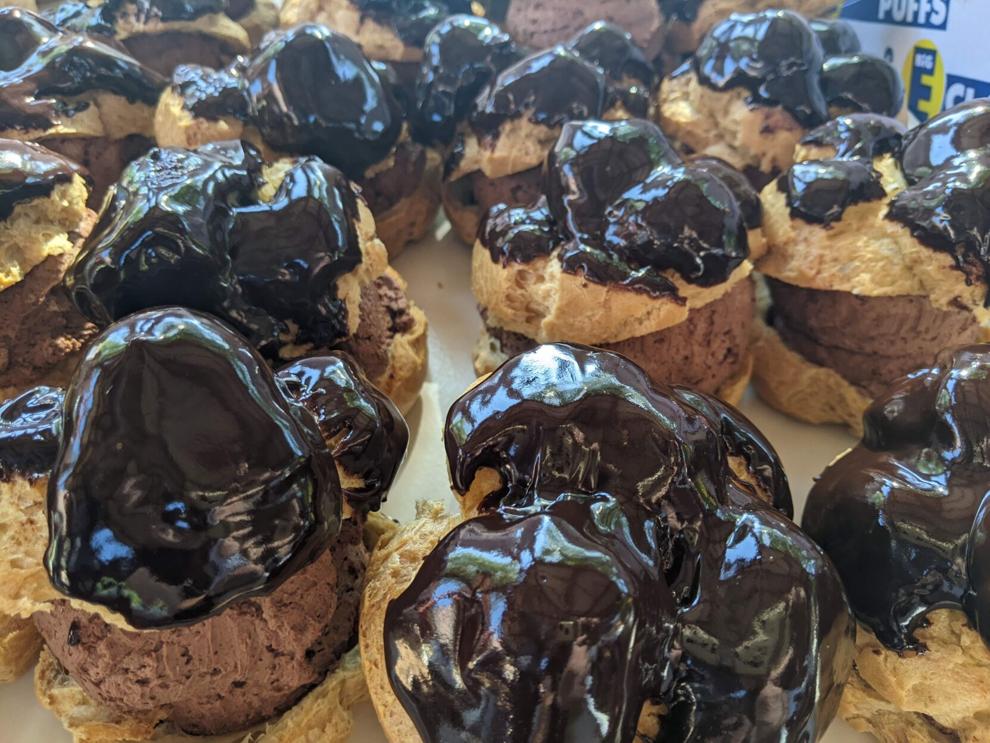 The traditional cream puff remains the best seller, with 25 percent of those going out with a ganache topping.
"Certainly there are traditionalists, and we respect that, but there are a lot of people who just love the product and want more. We want to give them options," Dean said.
Our take: What's not to love when it comes to a cream puff filled with chocolate cream and topped with ganache? The entire puff, from its flaky crust to its filling, are light and airy. The treat is so light, airy and delicious you're not thinking about the calories you're consuming, just enjoying this delectable treat.
Homemade Chicken Pot Pie in a Bread Bowl and Cake Ball Dessert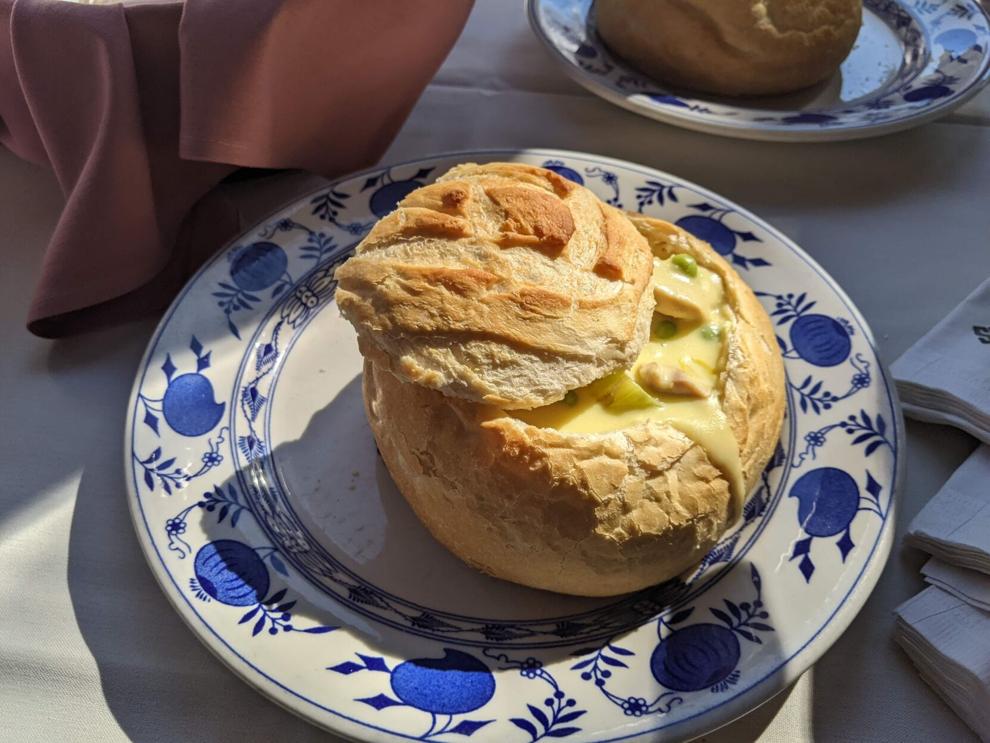 Storrowton Tavern Soup Shack | Avenue of States
What is it?: Storrowton Tavern's Soup Shack never ceases to put a new spin on its offerings. In 2019, it offered a cheeseburger chowder that was a huge hit. This year, the soup shack is offering up a new comfort food.
"The bread bowls are fairly new to the Soup Shack," said chef Vincent Calvanese. "Chicken pot pie is always on our menu and a customer favorite. We thought, why not put them together?"
A version of the tavern's most popular dessert, the fudge nut cake ball, is making its way into the soup shack this year.
"It's a scoop of vanilla ice cream, we mix it with the crumbs of Oreos, Heath bars and many other candies. Then we form it into a ball, pour hot fudge over it, add whipped cream on each side and top it off with a cherry."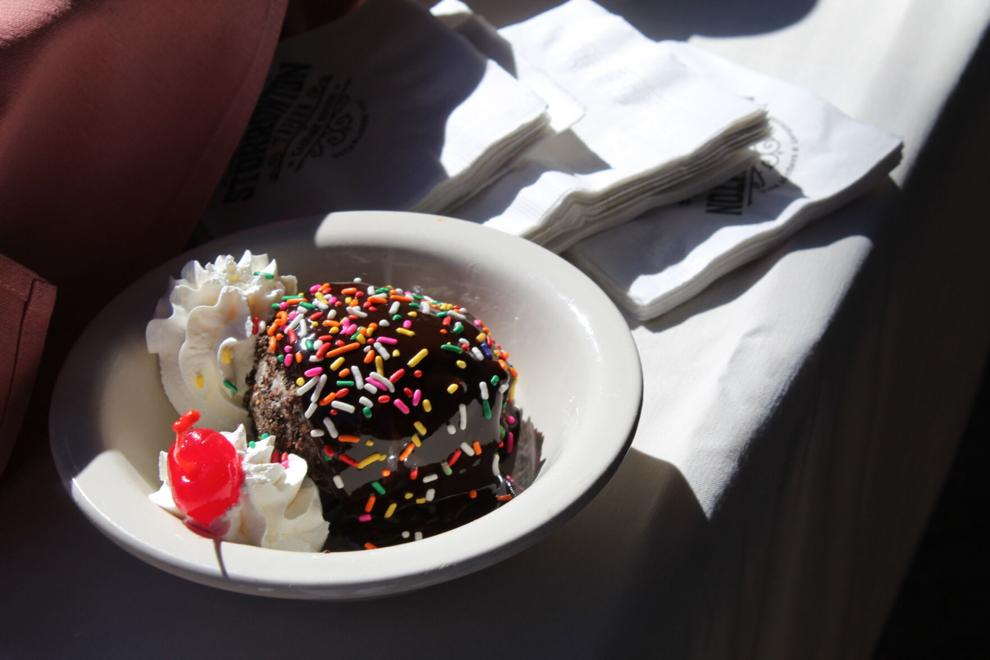 Our take: I could eat this fall comfort food all day. This combination is amazing, as it's all the goodness of a chicken pot pie without the flaky crust. And, when you're done, you get to eat what's left of the bread bowl.
And, I can definitely say I know why many of the tavern's customers finish off their meals with a cake ball. Despite not being made of cake, it definitely tastes like you're eating a brownie sundae in every bite.
Hummus, Rice, Chicken Shawarma and More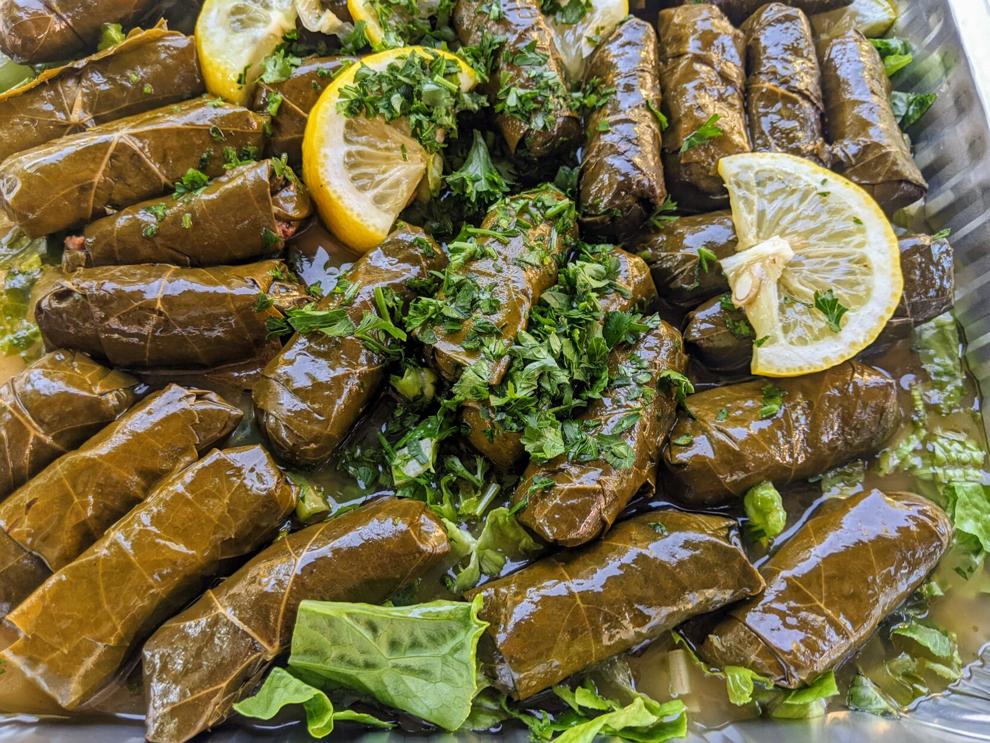 Villa of Lebanon | Young Building
What is it?: Villa of Lebanon, out of South Windsor, Conn., specializes in traditional Lebanese dishes. Owner Ali Alhusseini piled our plates with hearty and healthy offerings — fattoush salad, falafel, stuffed grape leaves, butter kidney bean salad, hummus and baklava.
Our take: After a day of indulging in the more extravagant fair foods, a plate from Villa of Lebanon will be a welcome sight and a delicious, wholesome treat.
West Side Big Slide New England IPA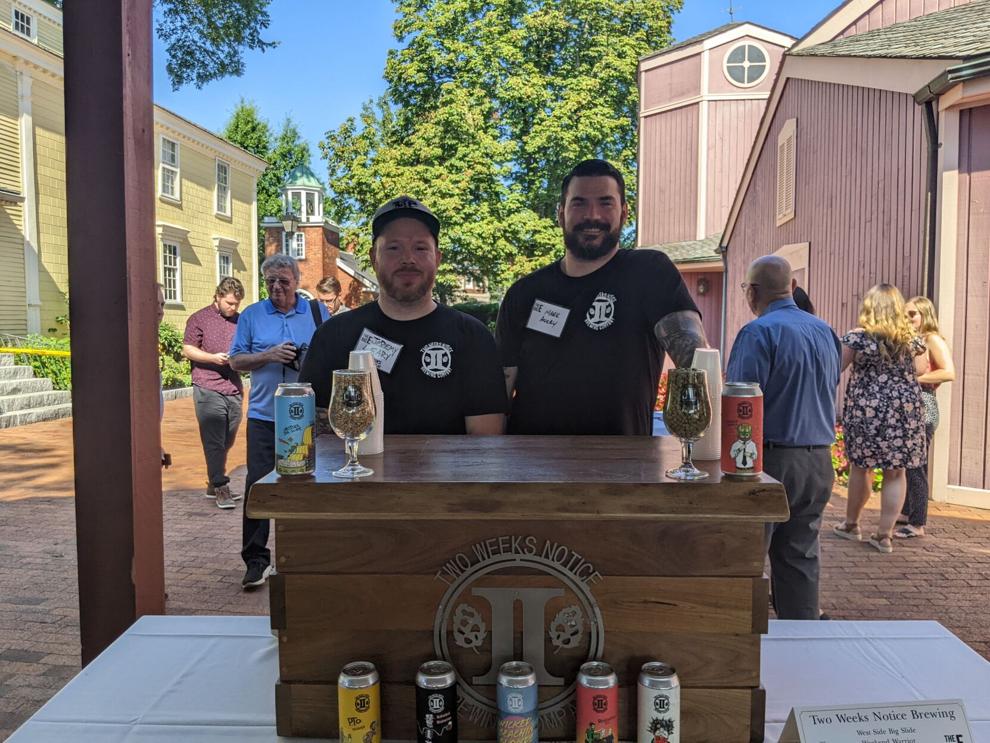 Two Weeks Notice Brewing Company | Local Brewers Showcase
What is it?: Two Weeks Notice Brewing Co. head brewer and founder Mark Avery and assistant brewer Jeremy Leary were handing out samples of two brews, West Side Big Slide, a New England IPA, named after the big slide at The Big E, and Weekend Warrior, a Mexican-style lager.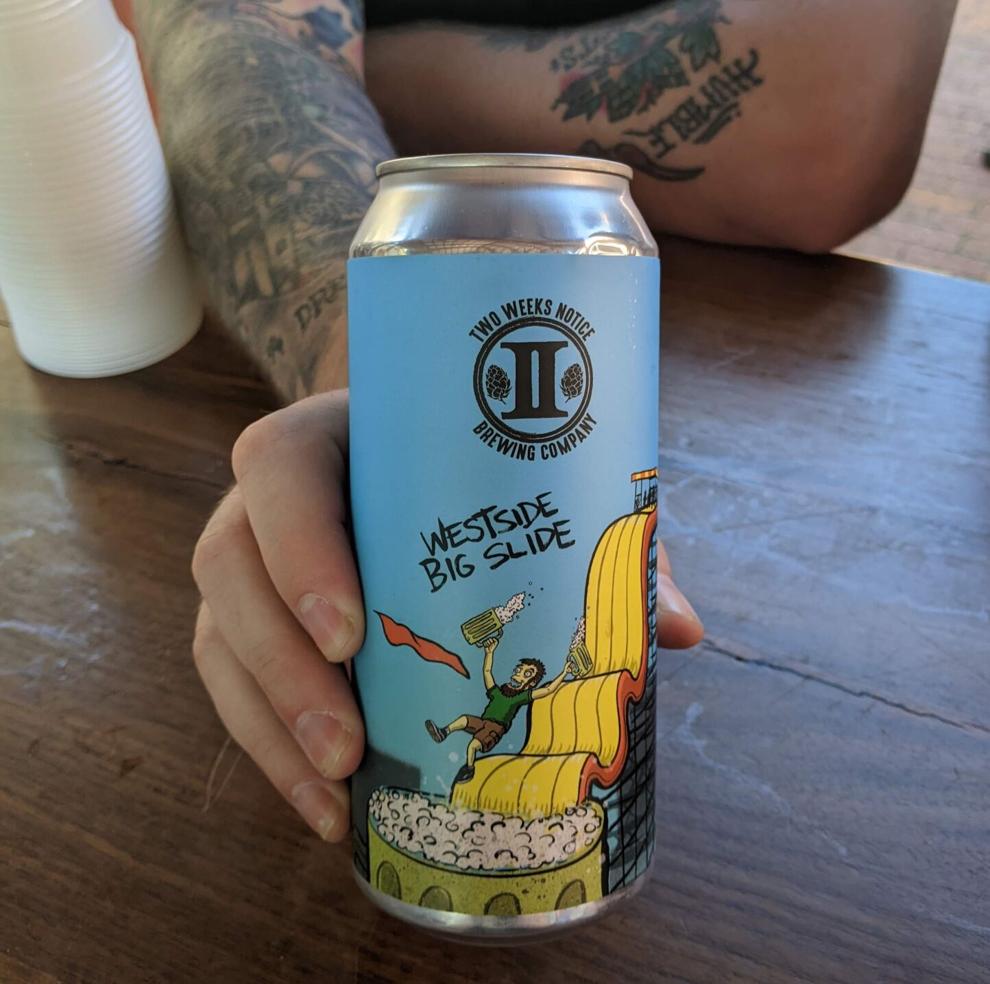 The brewery, located nearby on Bosworth St., will be closed during The Big E, as the staff will be serving their beers at the fair.
Our take: West Side Big Slide, a New England IPA hopped with Vic Secret and Citra to give it big flavors of pineapple and citrus, goes down smooth. While I'm not a huge fan of IPAs in general because of their natural hoppy finish (I prefer brown ales, porters and stouts), this is one that I'd go back for more of.