We here at the Eagle believe one thing to be true: You can never have too much pie.
In honor of National Pi Day (celebrated on March 14 since 3, 1, and 4 are the first three digits of the mathematical constant known as Pi or π) we hosted our second-annual pie contest. Back in 2017, we first introduced the idea of everyone baking a pie for fun, and Opinion Editor Dave Coffey's smoothly sweet and delicious raspberry oatmeal cream pie won with Eagle staffers who couldn't get enough of its perfect texture and beautiful appearance.
This year, we had 10 pies (and one cheesecake that was deemed delicious, but not falling within the guidelines of an actual pie per the judges' ruling) baked by staffers hoping to take home the title of best pie in the newsroom. While Digital Producer Jess Gamari's apple pie and Features Editor Jennifer Huberdeau's Scallion Bagel Pie jointly took the title for the most beautiful pies, we all know that when it comes to pie, looks aren't everything. The honor of most delicious pie went to sports reporter Jesse Kolodkin's Key Lime Pie, whose thick graham cracker crust was hard to cut, but had our discerning taste testers (a hoard of hungry reporters) raving.
If you're looking for an excuse to eat mounds of pie, host your own pie contest at work or with your friends. All you need is a few bakers, or bakers-in-training, willing to make one pie. Provide plates, forks, napkins — and maybe some milk to wash it all down.
KEY LIME PIE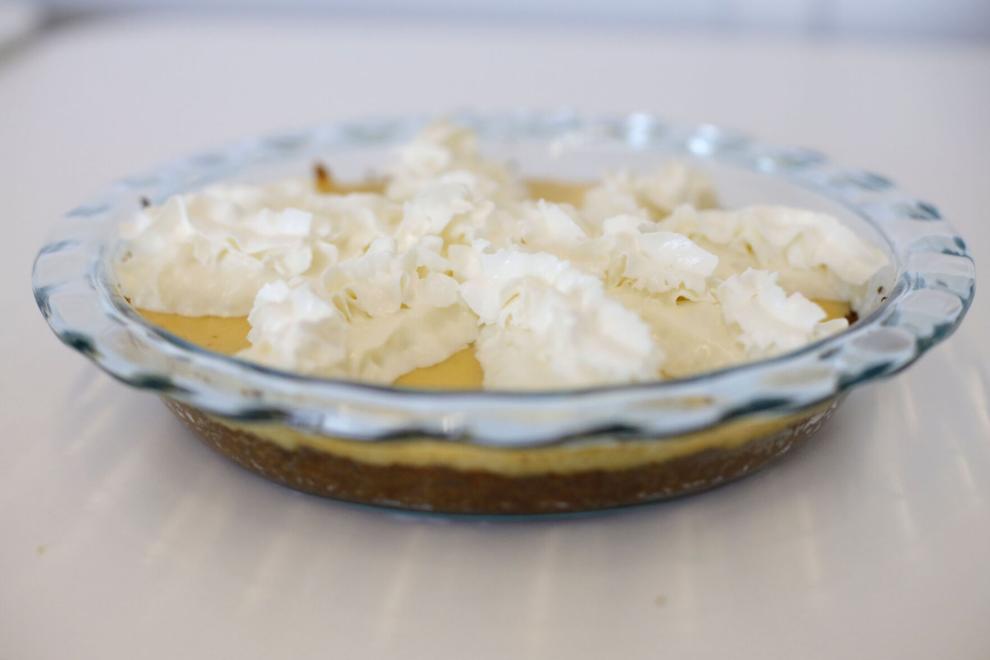 INGREDIENTS
Graham Cracker Crust:
2 cups crushed graham crackers
1/3 cup brown sugar
3/4 teaspoon teaspoon fine sea salt
3/4 cup unsalted, melted butter
Filling:
4 egg yolks
1 tablespoon fresh key lime zest, roughly chopped
14 ounces sweetened condensed milk
1/2 cup key lime juice
DIRECTIONS
In a medium-size bowl add 4 egg yolks and whisk in key lime zest that has been roughly chopped.
Add sweetened condensed milk and whisk in key lime juice. Once thoroughly combined, cover with plastic wrap and let sit at room temperature while preparing the crust.
Place the graham crackers into a plastic bag and crush using a rolling pin until it is mostly fine crumbs.
Place fine crumbs into a medium-size bowl along with brown sugar, fine sea salt and whisk together before adding melted unsalted butter mixing together until a wet sand mixture is reached.
Press into a 9-inch pie mold evenly, using the bottom of a flat cup. Bake the crust at 350°F for 10 minutes. Set aside to cool completely.
Once cooled, pour in the key lime pie filling and bake at 350 F for 15-17 minutes or until set, but still slightly jiggly.
Pull it out of the oven and let it cool most of the way, then place it in the fridge to let it cool completely, at least 3 hours but ideally overnight.
After completely cooled, slice and serve with a dollop of whip cream and fresh grated lime.
---
SCALLION BAGEL PIE WITH LOX, ONION AND THINLY SLICED LEMON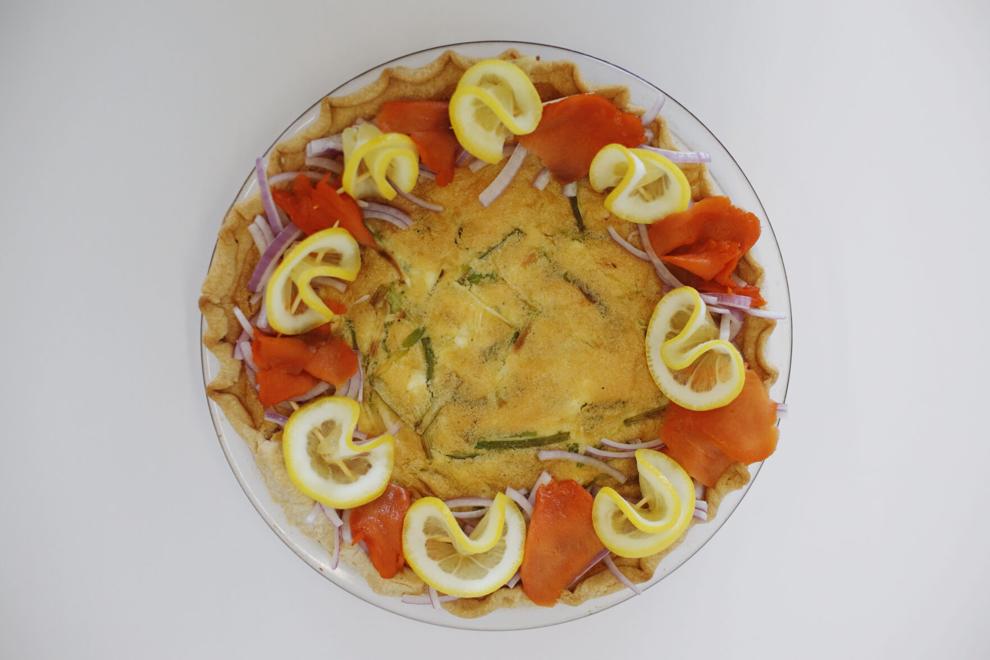 (Recipe excerpted from of "50 Pies, 50 States: An Immigrant's Love Letter to the United States Through Pie" by Stacey Mei Yan Fong " Copyright © 2023 by Stacey Mei Yan Fong. Courtesy of Voracious, an imprint of Little, Brown and Company.)
INGREDIENTS
10-inch pie crust, preferably an all-butter poppy seed crust
Filling:
6 large eggs
3/4 cup heavy cream
6 ounces cream cheese, softened
2 teaspoons kosher salt
3/4 teaspoon freshly ground black pepper
8 whole scallions, thinly sliced (both greens and whites)
Toppings:
10 ounces smoked salmon
1/2 red onion, thinly sliced
1 medium lemon, thinly sliced
Freshly ground black pepper
DIRECTIONS
Blind bake the pie crust.
Make the filling: In a large mixing bowl, whisk the eggs, heavy cream, cream cheese, salt and pepper to combine. Add the scallions and whisk to incorporate.
Assemble and bake the pie: Preheat oven to 300 F. Place the fully baked pie crust on a baking sheet and pour in the filling. Bake on center rack for 80 to 90 minutes, until the filling is just set. Let cool for at least an hour.
Top the pie: Top the cooled pie with ribbons of smoked salmon, red onion, lemon and a little fresh black pepper.
---
SHOO-FLY PIE
(Adapted from the New York Times)
A new experience for many of the taste testers, this pie received a lot of buzz!
INGREDIENTS
9-inch pie crust
1 1/2 cup flour
3/4 cup dark brown sugar
1 stick cold butter, cut into 1/2-inch cubes
1 tsp cinnamon
1/2 tsp nutmeg
1/8 tsp salt
3/4 cup molasses
1/2 cup boiling water
1/2 tsp baking soda
DIRECTIONS
Preheat oven to 450 F. Prepare a raw pie crust according to your favorite recipe or use a ready-made crust.
In a large bowl or electric mixer, combine flour, brown sugar, butter, salt and spices until mixture forms a crumb-like texture. Set aside.
In a separate bowl, pour in molasses and baking soda, then add boiling water, whisking briskly until the molasses dissolves.
Pour molasses mixture into pie crust, then spoon on crumb mixture so it floats on top. Be sure to cover any molasses to the edge of the pie, and use all the crumb mixture — it will seem too thick but it isn't.
Place pie dish on a baking sheet (the molasses is liable to drip a lot) and bake at 450 for 10-15 minutes, then lower heat to 350 and bake 15-20 minutes further. Pie should not jiggle when shaken, and crumb mixture should be a light golden brown.
---
DULCE DE LECHE CHEESECAKE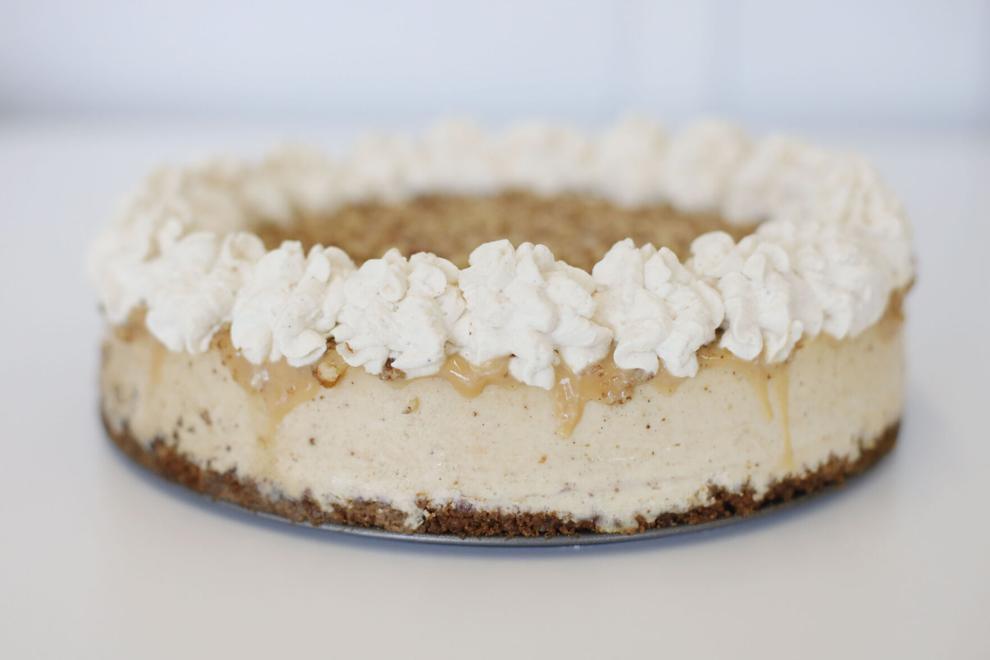 Creamy and mild, this cheesecake was no less decadent. If only it were a pie!
INGREDIENTS
Two 14-oucnce cans of sweetened condensed milk
1 package of cinnamon graham crackers (approximately 8 rectangles)
1 1/4 cup of finely chopped pecans
1 cup and 3 tablespoons of brown sugar
1/2 cup of white sugar
6 tablespoon of melted butter
Five 8-ounce packages of cream cheese
3 tablespoons of flour
2 tablespoons of vanilla extract
2 teaspoons of cinnamon
1 cup of heavy whipping cream
2 large eggs
5 egg yolks
DIRECTIONS
For the dulce de leche: Preheat the oven to 425 F. Pour two cans of sweetened condensed milk into a medium glass baking dish and cover the pan tightly with foil. Put the medium dish in a larger baking dish filled with an inch of warm water. Bake for a half hour, and then stir.
Continue baking and stirring every 15 minutes for another hour and a half or until the desired caramel color is achieved. Set aside for later.
For the cinnamon pecan crust: Preheat the oven to 350 F. Grind a package of cinnamon graham crackers and chopped pecans in a food processor until finely chopped. Add six tablespoons of melted butter and fold in until the mixture is evenly wet. Line the bottom of a 9-inch springform pan with the mixture, and blind bake for 10 minutes. Let the crust cool while you prep the filling.
For the New York-style cheesecake: Preheat the oven to 425 F. Cream 5 packages of cream cheese, one cup of brown sugar and 1/2 cup of white sugar in a large bowl. Add three tablespoons of flour, a tablespoon of vanilla extract, and half a cup of whipping cream until mixture is smooth. Mix in eggs one at a time thoroughly blending before adding the next egg. Pour the filling into your springform pan, and smooth out the top with a baking spatula.
Spoon a thin layer of dulce de leche over the top of the cheesecake mixture. Use a spatula or toothpick to drag or swirl the dulce de leche into the cheesecake mixture. Wrap the bottom of the springform pan with foil, and place the pan in a larger baking pan filled with one inch of water.
Bake for 10 minutes, and then reduce the baking temperature to 250 F and continue baking for another hour. DO NOT OPEN THE OVEN! To avoid cracking, let the cheesecake cool completely before removing it from the oven. Cooling for 2-4 hours is suggested.
Once cooled, remove the cheesecake from the oven and top it with a thin layer of dulce de leche and sprinkle the remaining quarter cup of pecans over the top.
Refrigerate for at least 6 hours before adding whipped cream and serving.
Cinnamon whipped cream: Whip 1/2 cup of heavy whipping cream, 2 teaspoons of cinnamon, a tablespoon of brown sugar, and a tablespoon of vanilla extract together in a medium bowl until cream is stiff and can be shaped. Place the cream in a piping bag, and pipe a border around the top outside edge of the cheesecake.
Remove springform from the cheesecake and serve.
---
HEATH* BLUEBERRY PIE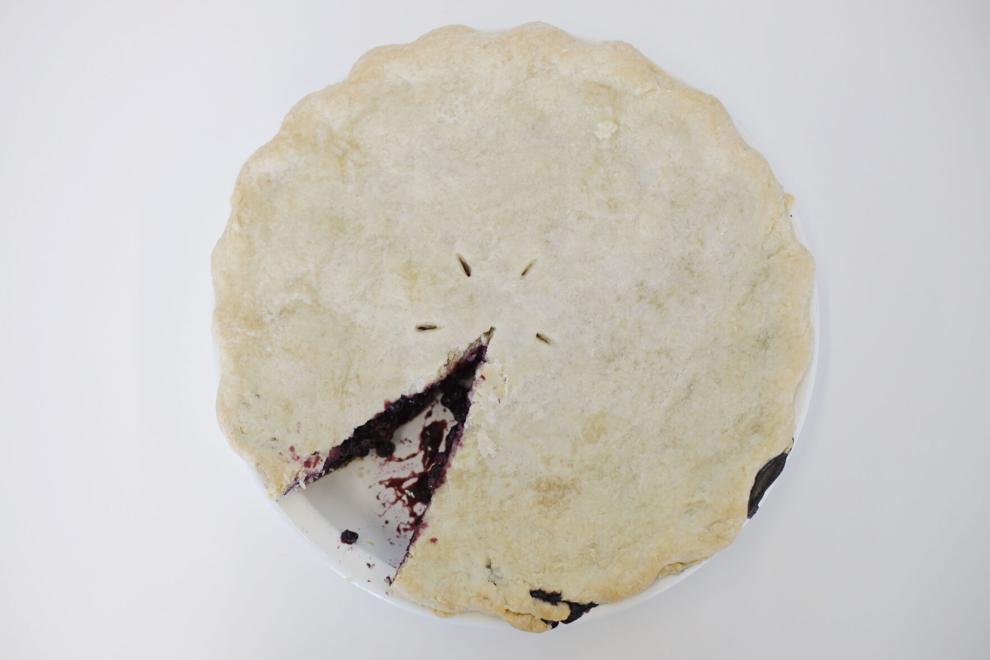 *Heath refers Heath, Mass., where Community Voices Editor Jane Kaufman picked the blueberries for this pie.
INGREDIENTS
Crust:
2 sticks cold, unsweetened butter
2 1/2 cups flour
a few grounds of sea salt
1/3 cup water
Filling
6-8 cups of frozen low-bush, tiny blueberries. Larger blueberries can be used, but because they aren't as sweet, more brown sugar will be needed.
2 tablespoons brown sugar, or to taste
2 tablespoons all-purpose flour
1/2 teaspoon cinnamon
pinch of cloves
dash of allspice (a bit more allspice than cloves)
DIRECTIONS
Preheat oven to 375 F.
For the crust: Dump flour into large mixing bowl. Grind in sea salt. Grate cold butter into the flour and salt. Mix by hand or with dough cutter until the largest pieces are smaller than peas and the mixture is sandy. Add about 1/3 cup of water. Mix by hand. Dough should develop flakes. Add a little more cold water if needed so that dough just begins to come together in larger pieces.
If you have time, divide dough into two slightly unequal discs and wrap in plastic wrap refrigerating for about 30 minutes to relax the gluten. This optional step may lead to a more tender crust.
Roll the larger piece of dough from the center toward the edges on a lightly floured board, better yet a stainless steel or ideally a granite countertop. Stainless steel or granite surfaces are preferable because they stay cold. When rolling dough out, turn the crust frequently. Continue until the crust is about 1/4 inch thick. Place rolled disc onto rolling pin and turn out into pan. Trim edges and crimp. Roll top crust in the same fashion.
For the filling: In a 2-quart sauce pan dump frozen berries over medium high heat, stirring occasionally. Strain after they've expressed juice. Strain out juice.
To the berries add brown sugar, flour, cinnamon, allspice and cloves. For best results, if you have time, chill this mixture. I didn't this time. It'll still work.
Add filling to pie dish. Fold top crust over. Trim, crimp. Stab crust to let out steam. Bake until filling bubbles and edges are brown, about 45 minutes. Check after 35 minutes.
---
BLUEBERRY-GINGER PIE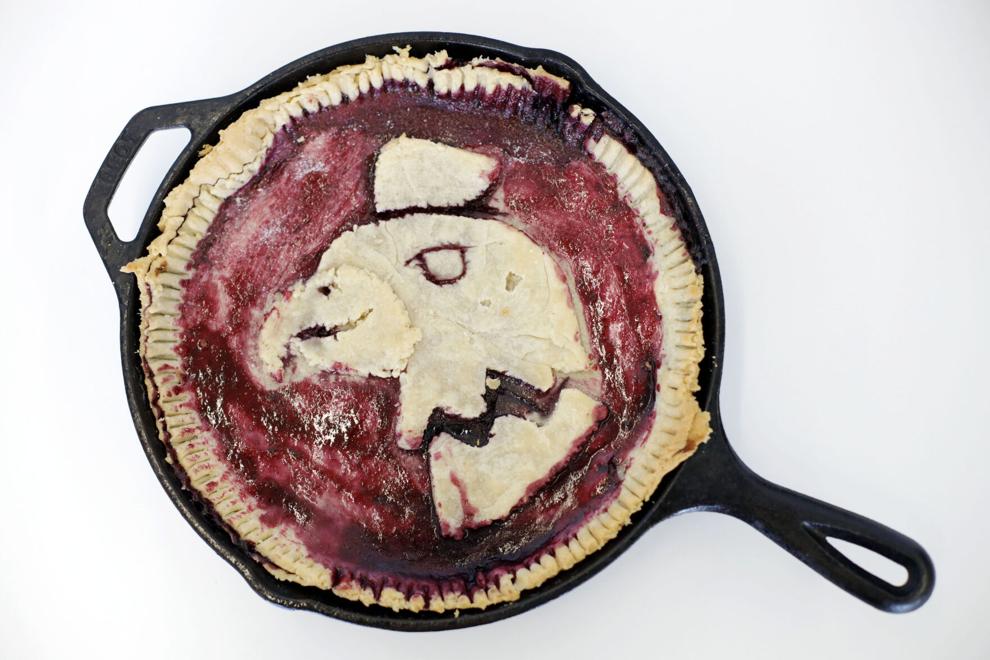 (Recipe courtesy of "The Cast-Iron Pie Skillet Cookbook" by Dominique DeVito)
The addition of ginger to a blueberry pie is a game-changer, especially in the winter when blueberries can seem to lose some of their summer tartness.
INGREDIENTS
For the flaky pastry crust (a family recipe):
2 1/2 cup flour
6 tablespoons butter, chilled and cubed
130 grams shortening/lard, chilled
120 milliliters ice water
For the filling:
5 cups fresh or thawed blueberries
1/2 cup sugar
1 tablespoon finely chopped or grated fresh ginger
2 tablespoons quick-cooking tapioca/ corn starch
1 tablespoon grated lemon peel
1 tablespoon fresh squeezed lemon juice
1 tablespoon butter
1 teaspoon half-and-half
1/4 cup sugar
DIRECTIONS:
For the crust: In a large bowl, combine shortening or lard, butter and flour. Using a pastry cutter or two forks, mash the butter and shortening/lard into the flour until it forms granules about the size of small peas. Slowly add ice water, one tablespoon at the time. Mix until fully incorporated. Repeat until you have a smooth and slightly sticky dough.
Turn out onto a lightly floured work surface and knead for about 5 minutes. Split the crust 60/40. This is because a cast-iron is deeper and you'll need more crust for the bottom.
For the pie: Preheat the oven to 400 F.
In a large bowl, toss the blueberries with the sugar, ginger, tapioca, lemon peel, and lemon juice.
Place 1 of the pie crusts in the skillet. Fill with blueberry mix, and place the other crust over the fruit, crimping the edges together. Trim excess dough from pie crust. Optional: Make a design, like the Eagle's logo, with remaining dough
Brush the top crust with the half-and-half, and sprinkle the sugar over it. Cut 4 or 5 slits in the middle
Place foil or cookie sheet on the oven rack below the middle rack to catch any spills. Put the skillet in the oven and bake for 35 to 40 minutes until golden brown and bubbly. Cover the outermost edge with aluminum foil in the last 10 minutes of baking to prevent it from burning.
Cool at least 2 hours before serving. Serve warm or cold