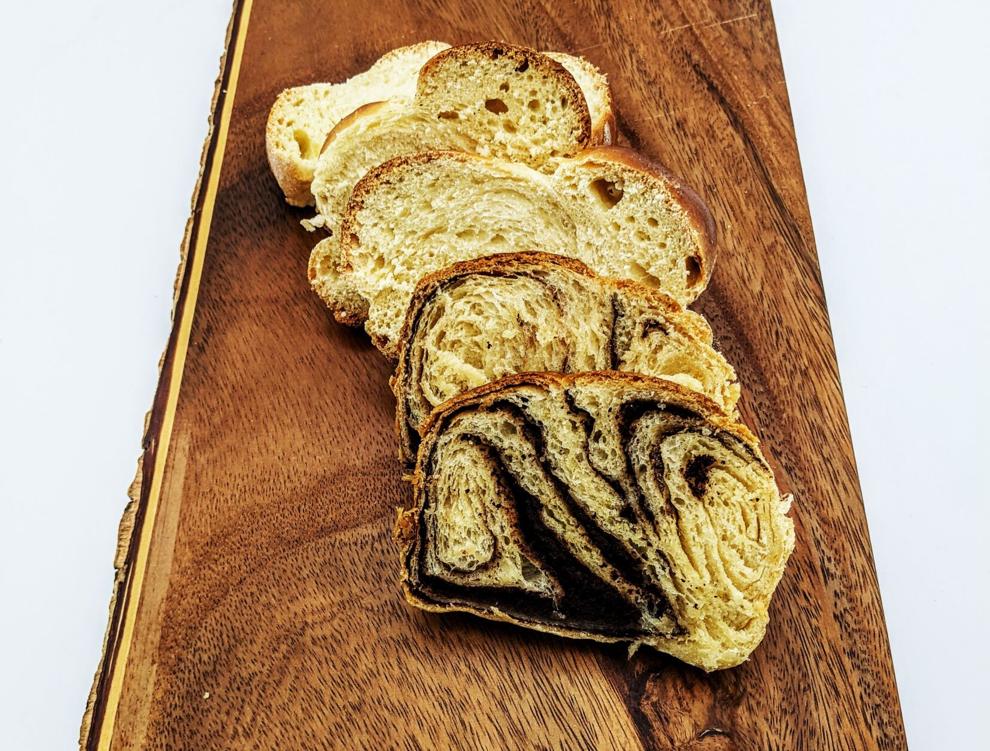 When America's Test Kitchen sent me a review copy of "The Complete Autumn and Winter Cookbook: 550+ Recipes for Warming Dinners, Holiday Roasts, Seasonal Desserts, Breads, Food Gifts and More" this summer, I casually flipped through the pages, made a mental note of some recipes I'd like to try and tucked it away to look at when the weather turned colder.
Recently, I picked up the cookbook and began thumbing through the pages, pausing twice, for a chocolate babka recipe and on another for challah bread that promised a dough that isn't sticky. I imagined eating the chocolate babka at a holiday brunch and could imagine the challah smeared with butter or made into a delectable French toast.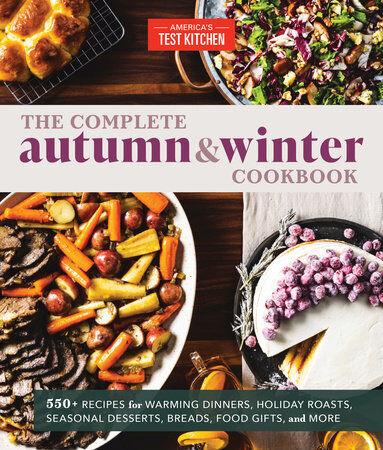 I made both breads, to test them out. They were better than I could imagine. If making the babka, you'll need to plan ahead as the recipe calls for milk and eggs at room temperature and softened butter. The challah bread recipe is divine, with a dry dough that is easy to roll (no floured surface needed) and the braiding method, using four dough strands instead of three, is easy to follow and results in a beautiful finished product.
CHOCOLATE BABKA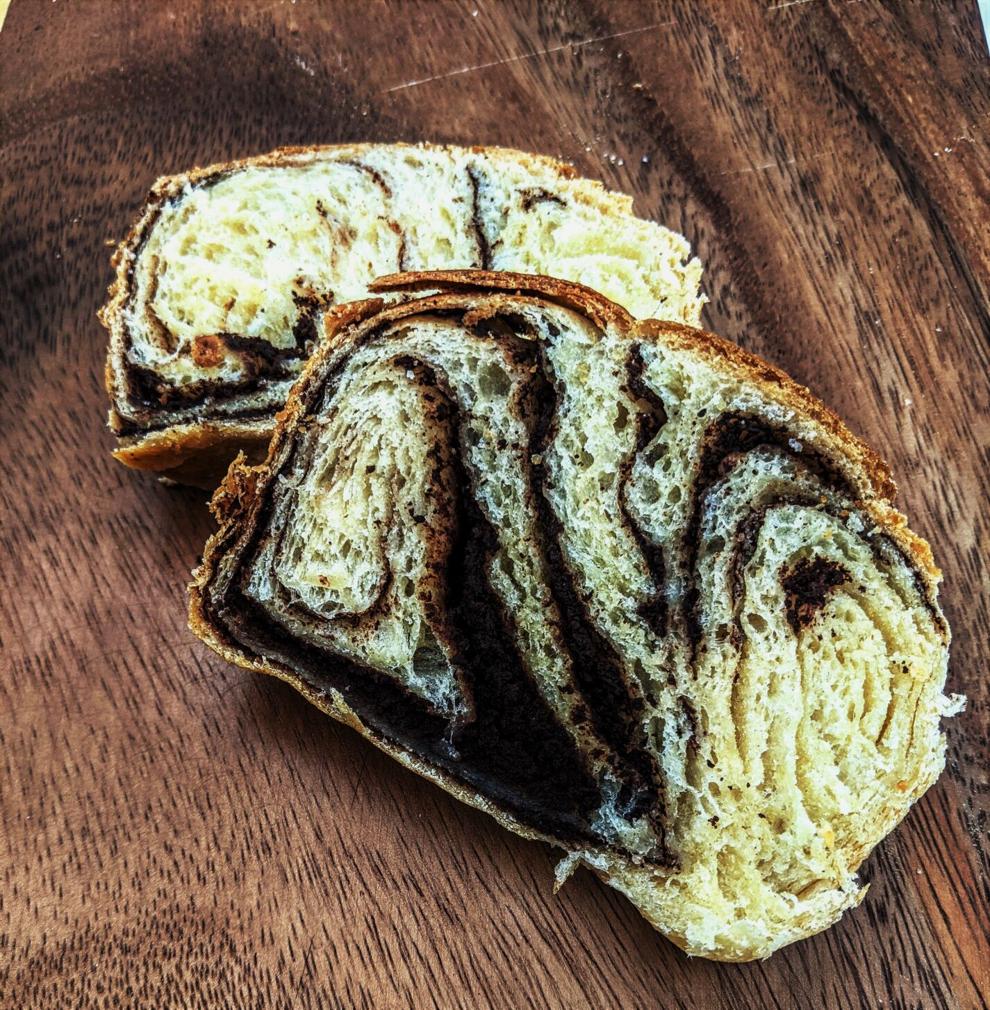 (Recipe courtesy of America's Test Kitchen)
Yield: 1 loaf
Total time: 1 1/2 hours, plus 7 1/2 to 8 1/2 hours rising and cooling
INGREDIENTS
DOUGH:
2 cups all-purpose flour
1 1/2 teaspoons instant yeast
1/2 teaspoon kosher salt
1/2 cup (4 ounces) whole milk, room temperature
1/4 cup sugar
2 large egg yolks, room temperature
1 teaspoon vanilla extract
8 tablespoons unsalted butter, softened
CHOCOLATE FILLNG:
2 ounces bittersweet chocolate, chopped
4 tablespoons, unsalted butter
3 tablespoons unsweetened cocoa powder
1/4 cup powdered sugar
1 large egg white
EGG WASH:
1 large egg with 1 tablespoon water and a pinch table salt
DIRECTIONS
DOUGH:
Whisk together flour, instant yeast, and salt in bowl of a stand mixer. Whisk together milk, sugar, yolks, and vanilla in a 4-cup liquid measuring cup until sugar has dissolved.
Attach dough hook to stand mixer and mix on low speed, slowly adding milk mixture to flour mixture until cohesive dough starts to form and no dry flour remains, about 2 minutes, scraping down bowl as needed.
Increase speed to medium-low; add butter, 1 tablespoon at a time and knead until the butter is fully incorporated, about 4 minutes. Continue to knead until the dough is smooth and elastic and clears sides of bowl, 10 to 12 minutes.
Transfer dough to lightly floured counter and knead by hand to form a smooth, round ball, about 30 seconds. Place ball, seam side down in lightly greased bowl or container. Cover with plastic wrap and rise until dough increases by half, 1 1/2 to 2 hours. Place in the refrigerator until dough is firm, at least 1 hour. (Dough can be refrigerated for up to 24 hours; if dough is chilled longer than an hour, let rest at room temperature for 15 minutes before rolling out.
FILLING:
Microwave chocolate, butter, and cocoa powder in a microwave-safe bowl at 50-percent power, stirring occasionally, until melted and smooth, about 1 minute. Stir in sugar until combined. Let cool to room temperature. Whisk in egg white until mixture is shiny and glossy. Reserve one tablespoon of filling for later use.
Grease 8 1/2-by-4 1/2-inch loaf pan. Press down on dough to deflate, then transfer to a lightly floured work surface. Press and roll into a 18-by-14-inch rectangle, with the long end parallel to counter. Spread filling all over rolled dough, leaving a 1/2-inch boarder around the edges.
Roll dough away from you into a tight cylinder, keeping roll taut by tucking it under itself as you go. Pinch seams closed. With the roll seam side up, spread the reserved tablespoon filling over seam. Fold roll on top of itself. Pinch ends to seal.
With your hands on both sides of the roll, gently twist to form double figure eight. Place twisted roll in pan, pressing dough to fill the edges of the pan. Loosely cover with plastic wrap and let rise until dough is level with the lip of the loaf pan, about 1 1/2 to 2 hours.
EGG WASH: Whisk together egg, water, and salt until well combined.
BAKE:
Adjust oven rack to lower-middle position. Preheat oven to 350 F.
Lightly brush the top of risen dough with egg wash. Bake for 40 to 45 minutes, rotating loaf midway through baking. Bake until the top of bread is deep golden brown and the internal temperature of bread registers at least 190 - 195 F. Allow bread in cool in pan for 15 minutes. Remove bread from pan and allow to cool to room temperature on wire rack. Allow bread to cool completely, about 3 hours, before serving.
CHALLAH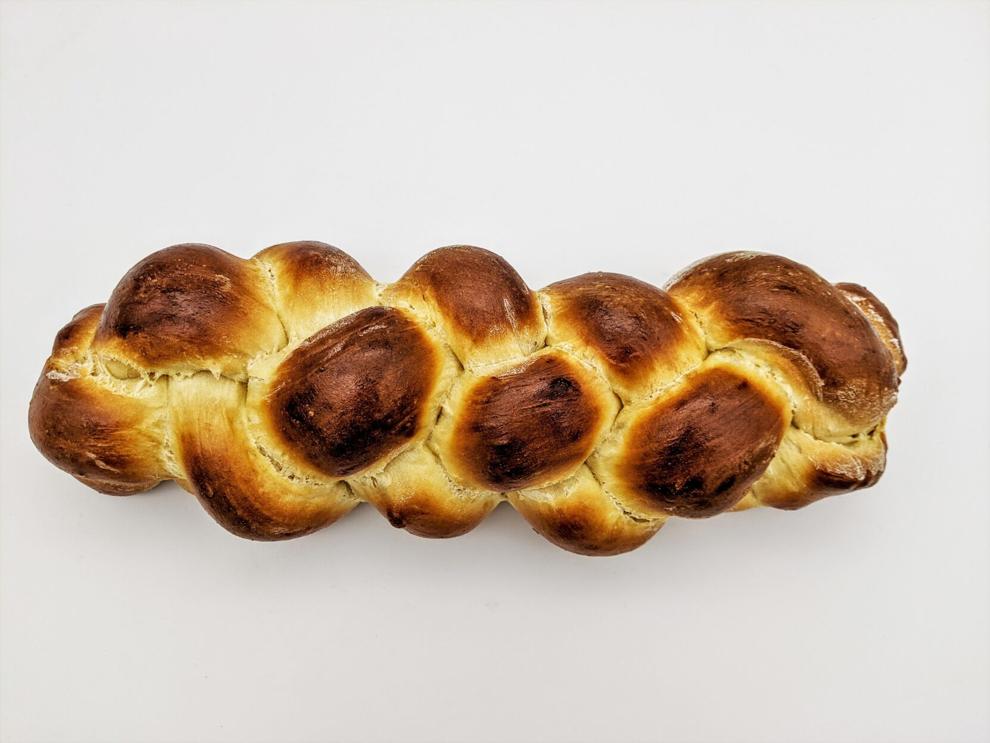 (Recipe courtesy of America's Test Kitchen)
Yield: 1 loaf
Total time: 2 hours, plus 6 1/2 hours rising and cooling.
INGREDIENTS
FLOUR PASTE:
1/2 cup water
3 tablespoons bread flour
DOUGH:
1 large egg
2 large egg yolks
1/4 cup water
2 tablespoons vegetable oil
2 3/4cups bread flour
1 1/4 teaspoons instant yeast or rapid-rise yeast
1/4 cup granulated sugar
1 teaspoon kosher salt
Vegetable oil spray
EGG WASH:
1 large egg
1 pinch kosher salt
DIRECTIONS
FLOUR PASTE:
Whisk water and flour in bowl until no lumps remain. Microwave, whisking every 20 seconds, until mixture thickens to stiff, smooth, pudding-like consistency that forms a mound when dropped from the end of a whisk into the bowl, about 40 to 80 seconds.
DOUGH:
In the bowl of a stand mixer, whisk the flour paste, egg and yolks, water, and oil until well combined.
Add flour and yeast. Fit mixer with dough hook and mix on low speed until all flour is moistened, 3 to 4 minutes. Let stand for 20 minutes.
Add the sugar and salt to the bowl and mix on medium speed for 9 minutes (dough will be quite firm and dry).
Transfer dough to counter and lightly spray now-empty mixer bowl with vegetable oil spray. Knead the dough briefly to form a ball and return it to the oiled bowl. Lightly spray the dough with vegetable oil spray and cover the bowl with plastic wrap. Let dough rise until about doubled in volume, about 1 1/2 hours.
Line a rimmed baking sheet with parchment paper and nest in a second rimmed baking sheet to prevent the bottom of the bread from getting too browned or burnt. Transfer the dough to a clean counter and press into an 8-inch square, expelling as much air as possible.
Cut the dough in half lengthwise to form 2 rectangles. Cut each rectangle in half lengthwise to form 4 equal strips of dough. Roll 1 strip of dough into a 16-inch rope. Continue rolling, tapering ends, until rope is 18 inches long. Repeat with remaining dough strips.
BRAID DOUGH:
Arrange ropes in plus-sign shape, with the end ends overlapping in the center by ½ inch. Firmly press the center of the plus sign in the center to seal the ropes to each other and to the counter.
Lift the rope at 12 o'clock, bring over the center, and place in the 5 o'clock position. Lift the rope at 6 o'clock, bring over the center, and place in the 12 o'clock position. Lift the rope at 9 o'clock, bring over the center, and place in the 4 o'clock position. Life the rope at 3 o'clock and, working toward yourself, bring over the braid and place in the 8 o'clock position. Adjust ropes so they are at 12, 3, 6, and 9 o'clock positions.
Repeat these steps, working toward yourself, until you can no longer braid. The loaf will naturally list to one side. Pinch the ends of the rope together and tuck both ends under the braid. Carefully transfer the braid to the prepared baking sheet. Cover loosely with plastic wrap and let rise until the dough does not spring back fully when gently pressed with your knuckle, about 3 hours.
EGG WASH:
About 30 minutes before baking, adjust oven rack to the middle position and preheat oven to 350 F. Whisk together egg and salt. Brush the loaf with egg wash.
BAKE:
Bake until the loaf is deep golden brown and registers at least 195 F, 35 to 40 minutes. Let cool on baking sheet for 20 minutes. Transfer baked loaf to a wire rack and let cool completely before slicing, about 2 hours.