When a homesteader/website developer I know posted on Facebook that he had too much rhubarb and was looking to give some away, I was among the few who volunteered to take some off his family's hands. When he asked how much I was looking for, I said 3 to 4 pounds, if that wasn't too much to ask. I had visions of warm strawberry-rhubarb pies and rhubarb scones, and thought that amount would be just about enough.
A few days later, I left his house with two Target shopping bags full of rhubarb. I rinsed the freshly cut stalks, chopped them in half, wrapped them in wet paper towels and placed them in a perforated plastic bag to store in my crisper, as I wasn't able to bake that day. My rhubarb bounty just barely fit in the crisper. It was then I realized I had happily taken home way too much rhubarb, at least double my request.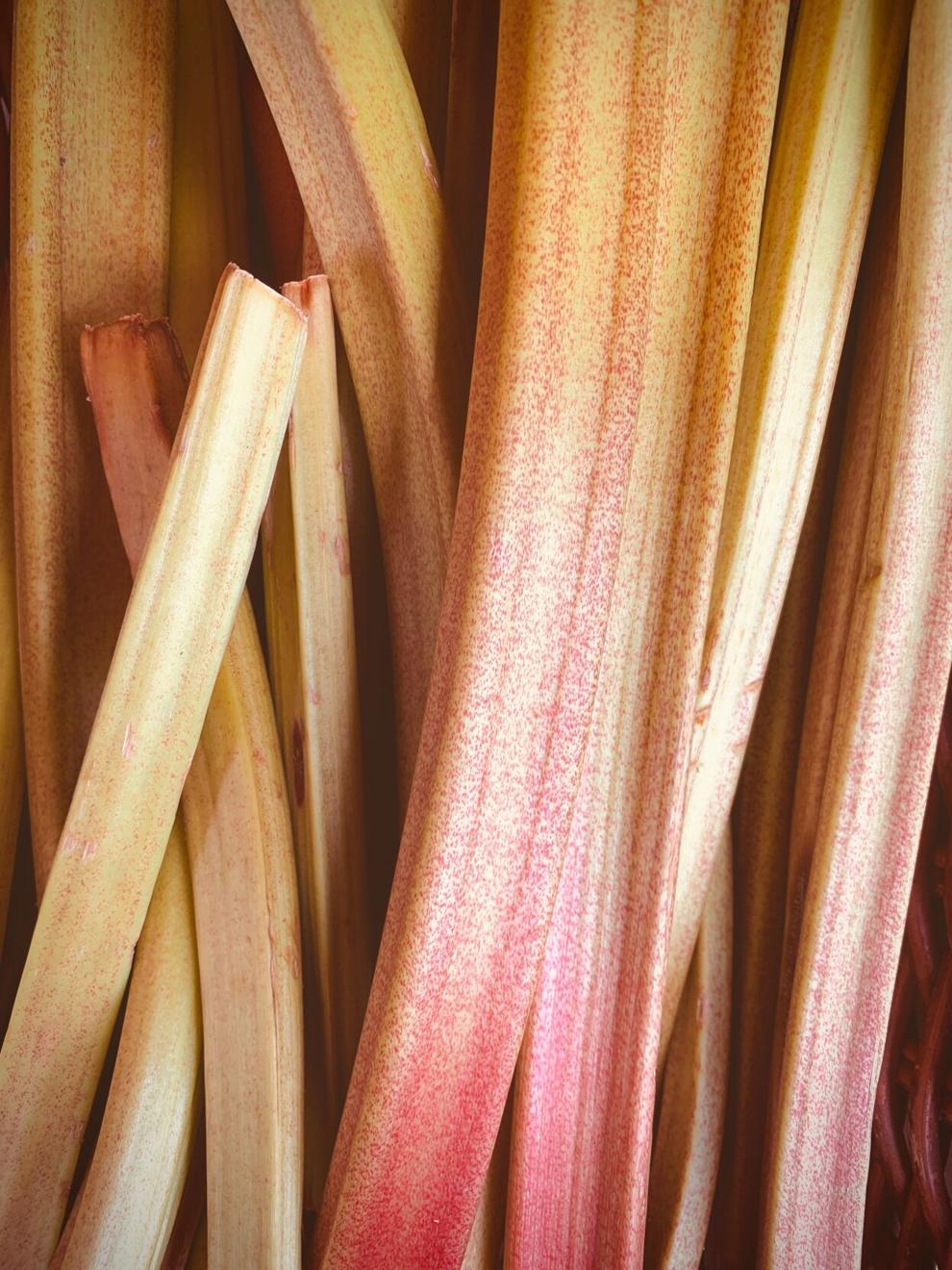 When a 9-inch strawberry-rhubarb pie and a batch of scones didn't put a dent in my rhubarb haul, I began looking for alternative recipes. I decided to seek out savory dishes that my family might enjoy. This is sometimes a chore, as I'm allergic to peppers and my husband is lactose intolerant. (Not all recipes can have the peppers left out or taste the same with alternative milks.)
Having just thawed out some chicken thighs and drumsticks that we purchased from a local butcher, I started looking for savory recipes that use both chicken and rhubarb, and were not too time-consuming. I eventually found a recipe for chicken with rhubarb sauce on the cooking blog Where is My Spoon that I thought had just the right amount of acid to balance out the tart flavor of rhubarb. Bonus: It also uses a whole pound of rhubarb.
Another bonus to this recipe, which uses red onions, garlic, turmeric, ground black pepper, honey, lime juice, diced tomatoes, rhubarb, salt and chicken stock to create a tangy sauce, is that it's all made in one pot. I used my dutch oven, but any similar thick-bottomed pan will do. You can serve this dish on its own or serve it with a side.
As the chicken and sauce simmered on the stove, my husband made a basmati rice that's prepared with cloves, cardamom pods, cumin seeds and a cinnamon stick. The recipe, which we found on allrecipes.com is probably the closest this home cook will come to replicating the taste of basmati rice found in restaurants serving Indian cuisine. The key to this recipe is letting the rice soak for 20 minutes before cooking.
When the chicken and sauce were done, I ladled the sauce over a scoop of rice and served it with one of the pieces of chicken. The dish was met with delight from my family, who really enjoyed how tender and tasty the chicken was from simmering in the sauce for over an hour.
But the real win was that my 16-year-old, Isaac, who does not eat rhubarb (even in pie), not only liked the chicken, but he also liked the sauce. He liked so much that when he went back for a second helping, he returned with not only chicken, but a healthy helping of sauce and rice.
This dish is definitely a keeper in my house. And, I've decided to freeze the majority of rhubarb that's still in the crisper, which will allow us to make this dish and many others throughout the year.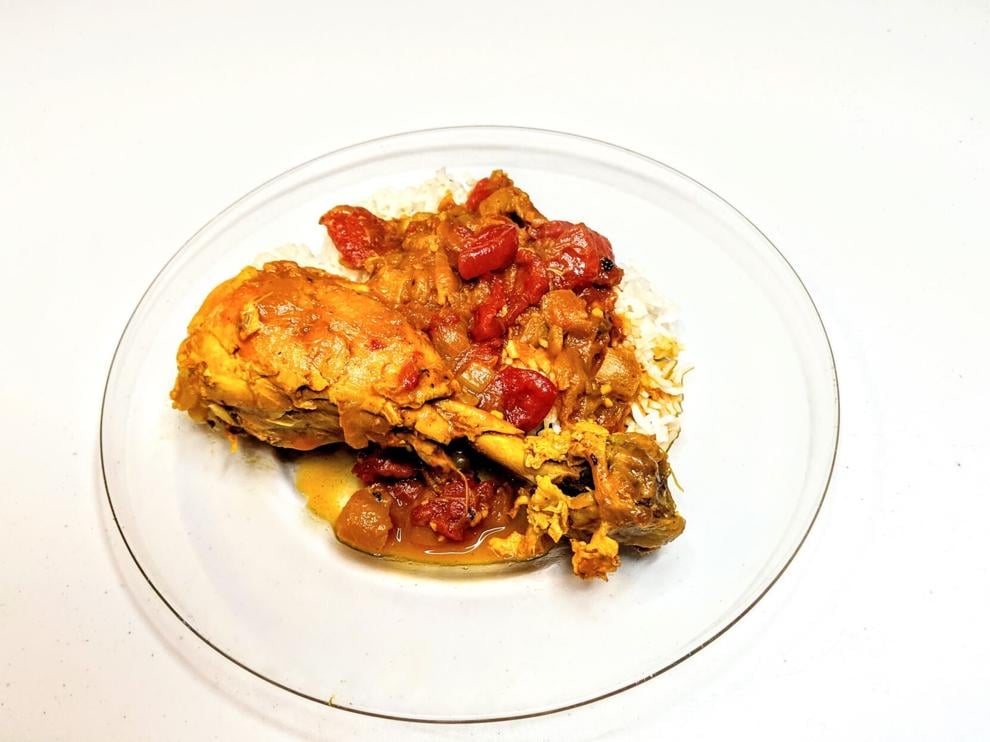 Chicken with Rhubarb Sauce(Recipe from whereismyspoon.co)
Yield: 4-6
Prep time: 20 minute | Cook time: 2 hours | Total time: 2 hours 20 minutes
INGREDIENTS
1 large red onion (10.5 ounces)
5 large garlic cloves
4 skinless chicken thighs
4 skinless chicken drumsticks
2 tablespoons olive oil
1 to 2 tablespoons roughly ground black pepper
2 teaspoons turmeric
One 14 ounce can diced or crushed tomatoes
5 tablespoons honey, more to taste
3 tablespoons fresh lime juice
1 pound rhubarb
3 cups (23.6 fluid ounces) chicken stock
fine sea salt
DIRECTIONS
Halve the red onions and slice them thinly. Slice the garlic cloves thinly as well. Skin the chicken and divide the chicken legs at the joint, if necessary. Clean and peel the rhubarb, then chop it into small pieces.
Heat the olive oil in a thick-bottomed (dutch oven) or nonstick pot, and fry the chicken pieces until golden brown all over, about 5 minutes per side. Don't try to move the chicken pieces during the first 5 minutes, the meat will stick to the pan. Once it is browned, you will be able to turn it easily. Take them out of the pan and set aside.
Fry the onions and garlic without adding any extra oil to the pan for about 5 minutes, stirring often. Add a splash of water, if the onions start to stick.
Add the black pepper and turmeric and fry shortly while stirring all the time. Add the chopped tomatoes and let them cook for 2 to 3 minutes.
Add the honey, lime juice, and chopped rhubarb. Return the chicken back to the pan and add the chicken stock. Bring to a boil, turn the heat down, and simmer on medium-low heat and uncovered for about 1 hour, 15 minutes, stirring from time to time.
Adjust the taste with salt and maybe more honey or lime juice if you find that necessary.