A long time ago, for the winter between college and graduate school, I lived on Nantucket. As someone who had grown up in Manhattan, I used to quip that they were both islands. Of course not much more was similar than that. One might think you can find anything in New York City, but it was on that wind-swept island that I first encountered what was called a Nantucket turnip.
It was a large, white root vegetable, and had a sweetness to it, and was grown at one of the local farms on the island. I cannot even remember how I cooked it — probably steamed and mashed with butter — but I always remembered how much I liked it. Once that winter was over, I visited Nantucket here and there for a while, sometimes in the season of this vegetable, sometimes not, but I never found a Nantucket turnip for sale anywhere else.
And then, some years back, I saw on display at Guido's Fresh Marketplace, tucked in a basket below the more popular vegetables, a large root they labeled as "Cape Cod White Turnip." I immediately bought one, and found it was, indeed, that same root vegetable I had enjoyed all those years ago. I've tried to do a bit of research on them, and it seems they might be a kind of white rutabaga. In Eastham, on the Cape, there's even an annual turnip festival. Yet they still seem to be fairly obscure.
Fortunately, Guido's carries them every year for their short season, about 8 to 10 weeks. I buy one or two weekly during this stretch, as they last pretty well in the refrigerator, and I know I will soon have to wait until next fall to have them again. I still sometimes steam them, or I roast them, peeled and cut into chunks, or mash them, but here I offer something that's a real favorite.
But what if you don't have a source for Cape Cod turnips? I've tried this recipe with regular turnips and even with rutabagas, and all are delicious. The timing can be different with a root that's older and tougher, and the sharp mustardy characteristic of some roots, such as a rutabaga, comes through, but it is wonderfully complemented by the cider-maple glaze. I've also made this using olive oil instead of butter to make the dish vegan. The glaze doesn't emulsify quite as well, but it's just as good.
There are so many varieties of produce that have been lost over the years, as agribusiness took over so much of our diet, and I am so grateful that some farmers still grow, and some stores still carry, these treasures.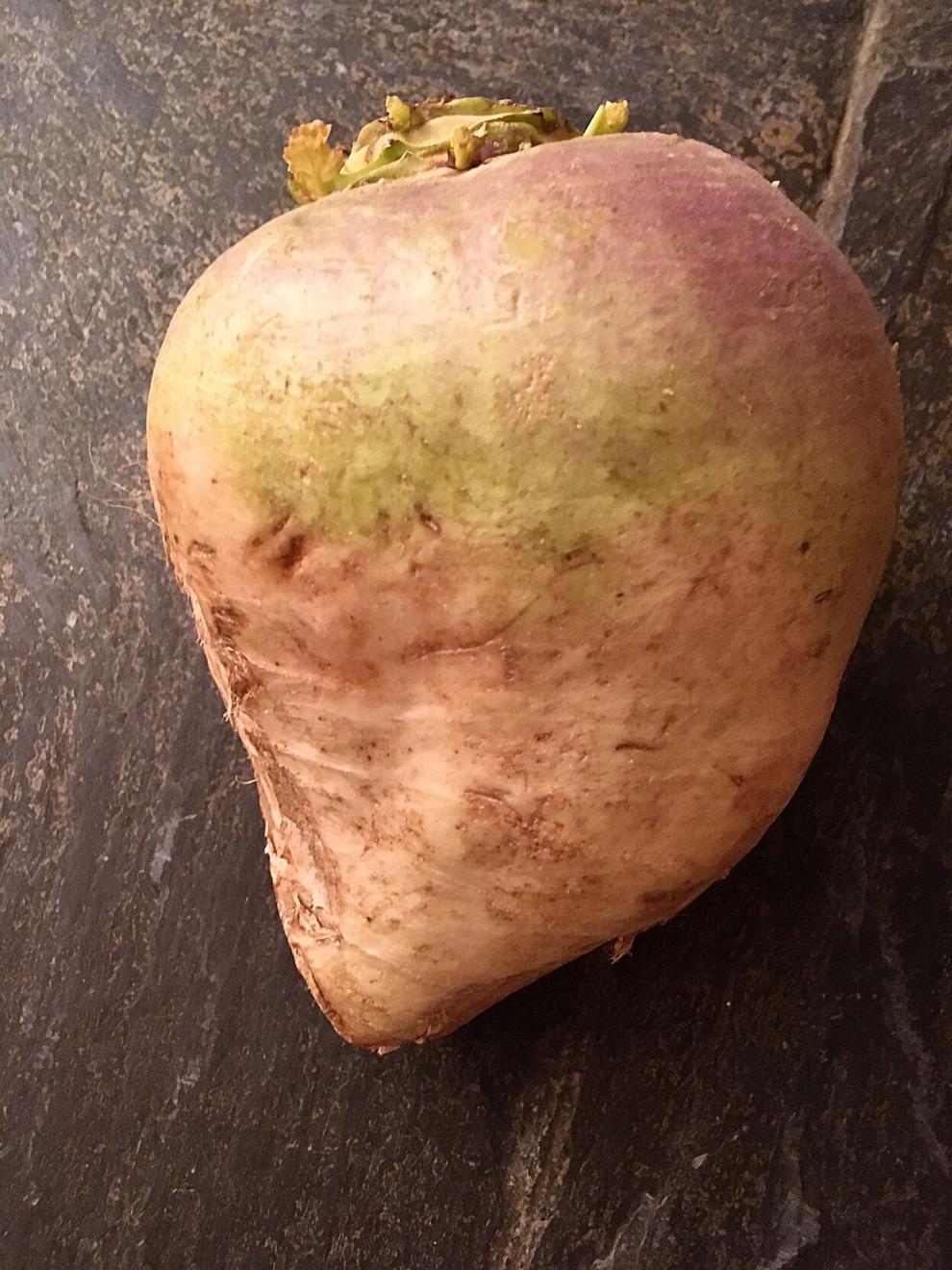 CIDER-MAPLE GLAZED CAPE COD TURNIP (OR OTHER ROOT VEGETABLE)
Serves 4 to 6
INGREDIENTS
1 pound Cape Cod turnip, rutabaga, or other turnips
2 tablespoons unsalted butter or extra virgin olive oil
1/2 teaspoon kosher salt
1/8 teaspoon fresh ground pepper
1/8 teaspoon ground nutmeg
1/4 cup apple cider
1 tablespoon real maple syrup
DIRECTIONS
If using a Cape Cod turnip, rutabaga, or other large turnip, peel and slice into 3/4-inch pieces. Then cut the slices into 6 to 8 wedges per slice, depending on the size of the vegetable. If using baby turnips, clean well, trim and peel off any bad spots. Then cut each into 6 or 8 wedges.
Melt the butter in a large sauté pan over medium heat, or heat the olive oil until shimmering and fragrant. Add the turnip pieces with the larger sides flat in the pan in one layer as much as possible. Sprinkle with the salt, pepper, and nutmeg, and cook, turning occasionally. Allow the turnip to continue cooking for anywhere from 8 to 15 minutes until beginning to brown and the sides are getting softer. The time will be shorter with baby turnips and longer with rutabaga.
Add the cider and maple syrup and stir to combine. Cover and allow to simmer for about 5 minutes until vegetables can be easily pierced with a cake tester or thin knife. If the root is especially large and tough, it may take longer, and if the liquid boils away too much before the vegetables are tender, add a splash or two of water or a bit more cider.
Remove the cover and raise the heat slightly. Allow the remaining liquid to reduce to a glaze stirring to keep the glaze from scorching.