Ahh ... summer! This time of year, whenever I go to a farmers market or pick up my CSA (community supported agriculture) share or even find myself in the grocery store, something new has ripened locally and we can enjoy the bounty from farms in our own backyard.
One of my favorite things to do with almost anything you can find — in this season of plentiful produce, or even with what's available in the winter — is to make ricotta toasts. I like to serve them as a first course or side dish, usually to be eaten with a knife and fork (although many people are known to pick them up and eat them out of hand).
Perhaps you've seen "whipped ricotta" on restaurant menus, which perhaps sounds like something too fussy to make at home, but it's really quite easy and so versatile. Although I have seen recipes that instruct you to use a food processor, it's not at all necessary. A bowl and a whisk will work just fine. (Besides, who wants to clean all the parts of the food processor if you don't have to?!)
There's actually very little about this recipe that's set in stone, so it truly is a palette for whatever suits your fancy! When there's not as much fresh produce, slices of prosciutto can be draped over the ricotta; or perhaps you might use slices of winter squash roasted with nutmeg and sage. For the photo, I used four slices of bread and added four different toppings. Below the recipe for the ricotta toasts I offer guidelines for a variety of toppings.
Even though this is fast and easy, check the ricotta a bit ahead of time in case it needs to drain.
WHIPPED RICOTTA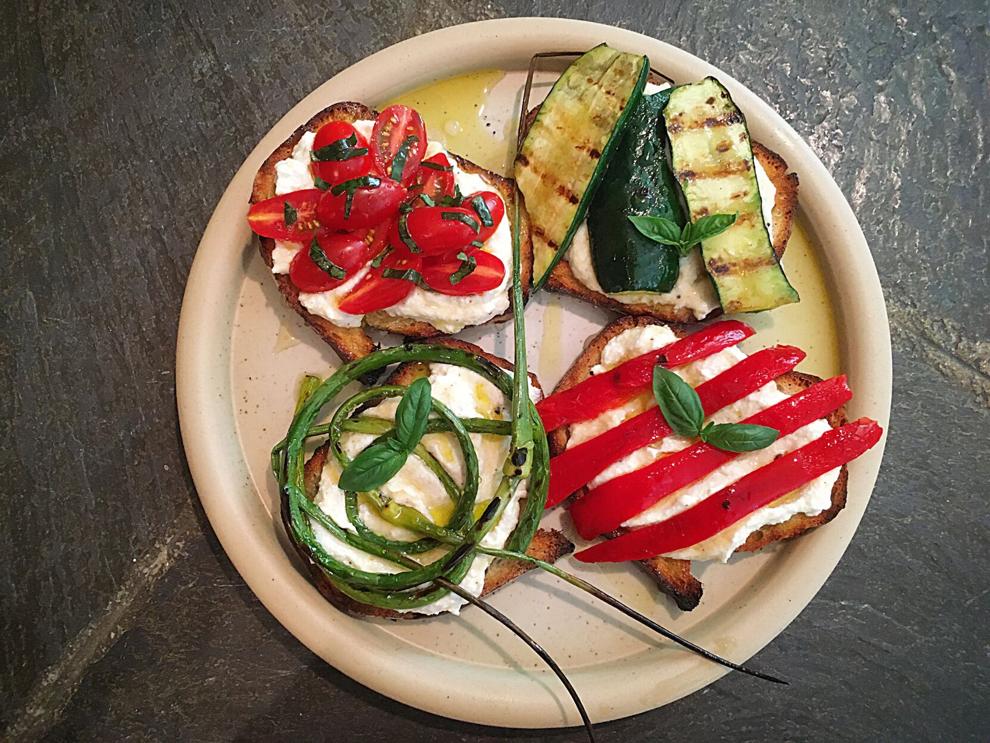 Enough for 4-6 toasts depending on the size of the bread slices; can be doubled
INGREDIENTS:
1 cup ricotta, preferably local
Zest of 1/2 to 1 lemon (about 1/2 to 1 tablespoon), depending on how lemony you like it
1 tablespoon extra virgin olive oil, plus more for drizzling
1 tablespoon chopped fresh herbs, such as basil, thyme, rosemary, etc.
1/2 teaspoon salt
1/4 teaspoon fresh ground pepper
1/8 to 1/4 teaspoon Aleppo or Urfa pepper, or crushed red pepper flakes (optional)
4 to 6 slices hearty bread, about 1/4- to 1/2-inch thick
1 garlic clove, whole
Toppings (see below)
2 teaspoons honey for drizzling, or more as needed
DIRECTIONS:
Open the ricotta cheese to see if there is a lot of excess water. If so, line a small strainer with a quadrupled layer of cheesecloth or a coffee filter or even clean, white paper towel. Place the ricotta in the lined strainer over a bowl to catch any drips and place in the refrigerator. Let sit for 30 to 60 minutes.
Preheat your grill to high. (Instructions for a toaster if you don't have a grill are below. If using a charcoal grill, adjust as needed.) Meanwhile, turn the ricotta out from the strainer into a small bowl. Add the lemon zest, 1 tablespoon olive oil, herbs, salt, pepper, and hot pepper (if using). Whisk to combine.
If you don't have a grill, toast the bread until golden, then drizzle with olive oil. If using a grill, before toasting, drizzle bread slices on one side with olive oil. Place on the grill and toast, turning occasionally, until it begins to darken on both sides.
Once the bread is toasted, cut the garlic clove in half and rub the cut side over the surface of one side of each piece. Top with the ricotta mixture, and then with whatever topping(s) you want (see below). Drizzle over all with the honey and a bit more olive oil.
SOME IDEAS FOR TOPPINGS:
Roasted red pepper: Preheat grill to high. Place on grill without any oil, turning until the skin is blackened on all sides. Alternately you can put it under the broiler turning until the skin is darkened. Place in paper bag and close the top. Put in the sink or on a plate to catch any juices that soak through. When cool the skin should come off easily. Remove stem, seeds, and ribs and slice into strips.
Grilled eggplant or zucchini: Slice lengthwise into 1/4- to 1/2-inch strips. Sprinkle with kosher salt and drizzle with olive oil. Grill until softened with grill marks on both sides. (Also can be sautéed in a pan on the stove.)
Asparagus, scallions, or garlic scapes: Trim the ends. Sprinkle with kosher salt and drizzle with olive oil. Grill until softened turning frequently. (Also can be sautéed in a pan on the stove.)
Tomatoes: Place cherry or grape tomatoes halves in a small bowl, sprinkle with salt, add chopped fresh basil, and drizzle with a bit of olive oil.
Winter squash: Cut into slices and place in a roasting pan or baking dish. Drizzle with olive oil and sprinkle with salt, pepper, nutmeg and dried sage. Roast at 400 degrees F until softened and the edges beginning to brown.
Prosciutto or other cured meat: Sliced thin.