Two all-beef patties, special sauce, lettuce, cheese, pickles, onions — on a glazed doughnut.
Wait, that's not right.
How about — on a cinnamon bun. No? Or sandwiched between two pieces of French toast?
Anyone can make a regular old burger, but how about an extreme burger, the kind state fair food legends are made of?
Recently, six Berkshire Eagle staff members took on the heartburn-inducing task of taste testing four variations on the American burger classic, with a twist. The results varied from "interesting," to "wow, who knew?"
The menu included: the Cinnaburger; the PB&J Burger; the Luther Burger and the French Toast Burger. Each creation was made with a ground beef patty mixture (85 percent lean meat/15 percent fat) as the common base. Here are the surprisingly tasty results:
Cinnaburger
Sandwiched between a sweet, sticky cinnamon bun, this burger, topped with crisp bacon, is inspired by a Dude Foods creation. Towering above the other extreme burgers on the plate, this simple, sweet patty creation met the most skepticism at first.
But the results were surprisingly positive.
"The smokiness of the burger with the sweetness of the cinnamon bun makes the flavor intense all around," said Kevin Moran, regional vice president of news at New England Newspapers.
Eagle reporter Bob Dunn said it tasted like a french toast breakfast with all the fixings in one bite.
Jenn Smith, community engagement editor, could only taste the cinnamon bun at first, but thought the burger smelled really good.
Final verdict: An interesting combination of flavors sure to be a crowd favorite for those who have a refined palate for salty/sweet combinations.
PB&J Burger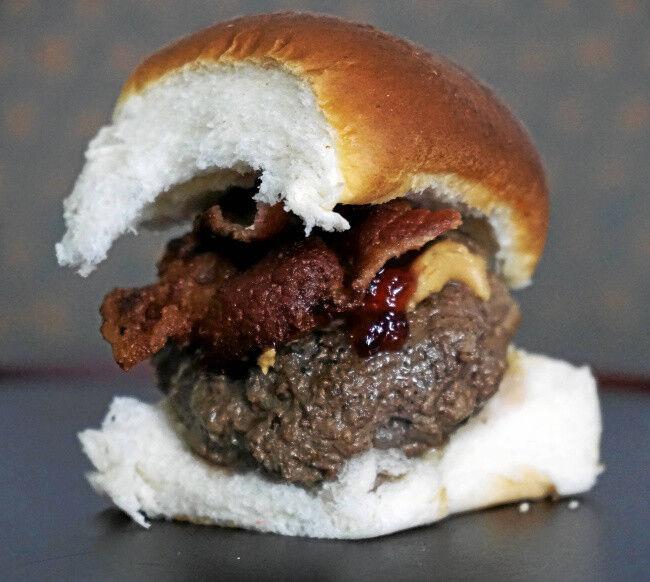 "Peanut butter on hamburg? No way," said Peter Greenberg, senior systems technician.
True to its name, this burger is topped with a healthy slather of creamy peanut butter, strawberry jelly and, of course, crispy bacon.
"This one is surprising," said food columnist and associate editor Margaret Button. "I never thought the two would go together."
Apparently, peanut butter and beef go together like, well, PB&J.
Though described by one tester as "a really dense-tasting peanut butter-and-jelly sandwich," this flavor combination was a winner with four out of the six diners. Online editor Jennifer Huberdeau liked the burger, but could have done without the sweet jelly.
Final verdict: For the die-hard PB&J lovers out there, this burger is for you.
The Luther
Named after singer Luther Vandross — who was said to be a huge fan of this hamburger-doughnut love child — this combination didn't win over any tasters.
"The ingredients inside overpower the doughnut," said Dunn of the burger, topped with cheese, egg and bacon sandwiched between a glazed doughnut cut in half.
Others thought if the doughnut was more crisp — like the Krispy Kreme's often used in this recipe, but unavailable in these parts of New England — it would taste better.
Final verdict: Skip the extra calories and sticky mess by ditching the doughnut. Tasters did like the bacon, egg and cheese combo on the burger, but perhaps with a regular bun next time.
French Toast Burger
This burger was the most complex, but also the most loved.
"It looks really nice and smells really good," Smith said of the burger topped with cheese, a maple glaze, lettuce, tomato, red onion, bacon and a pickle, barely held together between two pieces of french toast.
The maple glaze and the dill pickle came together perfectly in each bite to make this extreme burger a winner.
"This is the most burger-like," said Dunn. "It's the most complex, but doesn't feel quite as decadent as the others."
Final verdict: The extra steps of building this burger from the french toast up is worth the effort. Five out of six panelists picked this mashup as their favorite. (It's sweet cousin, the Cinnaburger, was a close second.)
FRENCH TOAST BURGER
Makes four to five burgers — depending on how big you like your burger
INGREDIENTS:
For the burgers:
1 pound ground beef (85/15)
1/2 teaspoon salt
1/2 teaspoon pepper
1/2 teaspoon garlic powder
1/2 teaspoon onion powder
For the French toast:
4 eggs
A few sprinkles of nutmeg
1/2 teaspoons vanilla
2 tablespoons milk
Four or five rolls of your choice
For maple glaze:
2 tablespoons melted butter
1/2 cup powdered sugar
2 tablespoons pure maple syrup
1 tablespoon milk
Toppings:
Slices of tomato
Lettuce
Red onion slices
Dill pickle slices
Cheddar cheese
1/2 pound cooked, crisp bacon
DIRECTIONS:
Combine burger ingredients well and form into four or five patties, depending on desired size. Fry patties in pan on stove top or cook on grill to desired doneness, topping with cheddar cheese to melt. While cooking burger, combine french toast ingredients. Cut the roll in half and dip both sides of each half in the egg mixture and fry in pan on stovetop until rolls are browned, pushing down on the rolls to flatten while cooking.
For the maple glaze, combine glaze ingredients, mix well and set aside.
Once all components are ready, place cheeseburger on a slice of french toast. Brush maple glaze on cheeseburger, then top with red onion, bacon, tomato slice, lettuce and a slice of dill pickle. Place another piece of french toast on top to sandwich it all together.
Taste it
Host your own extreme burger-tasting panel for your next dinner party. All you need is a little creativity, some brave, hungry friends and these tips:
Sliders: Create mini versions of these burgers to get the big taste with a little bite. For our tasting panel, we made 2 oz. sliders. As the mini ingredients pile on, do yourself and your guests a favor by using skewers to hold it all together.
Clean up: Good burgers can be messy. Provide wet napkins and a judgment-free chow-down zone.
Wash it down: With these burgers, our testers weren't sure if milk or beer would be best with these flavor combinations — serve both.
Be flexible, but firm: Be sensitive to food allergies, but let testers know that they must try every burger — even if it looks completely disgusting. Finding surprising results is part of the fun.