Looking for a fun and filling treat that will turn heads this Halloween?
A platter stacked with skull-shaped calzones is sure to grab anyone's attention, especially if they're stuffed with gooey mozzarella cheese and pepperoni.
This recipe can be made ahead of time and warmed up in the oven or microwave, and can be the bell of your Halloween ball or served before you head out the door for trick or treat. It's also a fun treat to make with the kids on a cold and rainy day.
---
If Halloween is your favorite holiday, like mine, then you're always on the lookout for a new way to celebrate or decorate.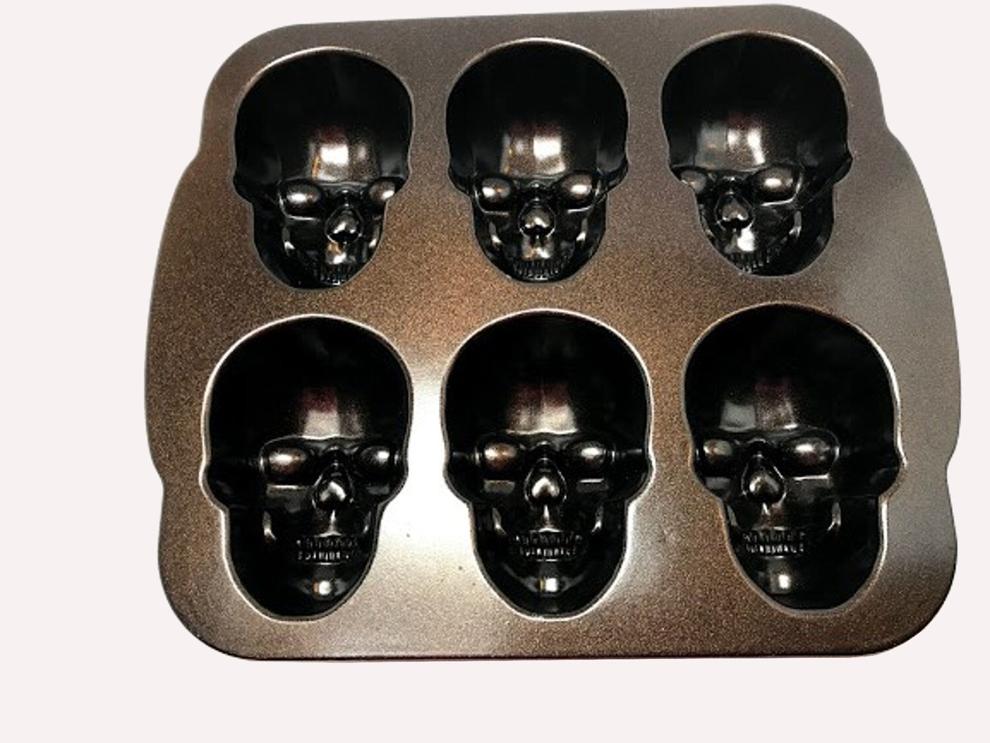 For years, I've been wanting to purchase a skull-shaped cake pan. The pans are only available around Halloween and tend to sell quickly. They come in a variety of sizes, from a two-piece 3D skull to the smaller mini-cake pans, which make six cakelets. But, I had refrained from buying one until this year.
This year, I saw a video for "skulzones," mini-calzones shaped like skulls. The video made it look easy enough to make them, so I ordered a Nordic Ware Haunted Skull Cakelet Pan online and waited patiently for it to arrive. (You can use any Halloween-themed cakelet pan you own to make these, I specifically wanted skulls. I've also seen a variety of skull cakelet pans offered in local stores this season.)
While waiting for the pan to arrive, I discovered there's several websites offering videos and recipes for the skull calzones. I chose to try the recipe from geniuskitchen.com, as the directions were straight forward enough and came with an accompanying video with step-by-step instructions. I set to work, finding the directions easy enough to follow with a minor tweak.
The original recipe calls for a roll of prepared pizza dough (you can find these in the refrigerated section of your supermarket with the rolls of biscuits and cinnamon rolls), cut into six 3 1/2-inch strips. I found the strips to be too thin, so I suggest cutting the unrolled pizza crust into four evenly sized strips. This adds some width to the strips and makes it easier to pinch the dough shut after adding the filling. Two cans of dough will give you eight skull calzones or six calzones and enough left over dough for a mini pizza. For two full pans — an even dozen — I'd suggest picking up three rolls of pizza crust.
I should also warn that you'll most likely have a calzone or two where the marinara will get the best of you, seeping out at the seams as you pinch close the dough. Don't worry, it won't ruin the skull. In fact, it will only enhance the look of the final product.
Don't be afraid to deviate from the recipe when it comes to fillings. After following the recipe, I swapped out the pepperoni in favor of diced mushrooms and onions and traded the shredded mozzarella for a three-cheese blend.
The real test, of course, was serving them to my family. After the initial pause to admire the shape of the calzones, they dug in. They were a hit and filling. My initial fear that I didn't have enough to serve to my husband and two teenagers, one of which is a growing 14-year-old boy, were quelled when they pushed their plates away after eating two each.
This recipe was easy to make and fun to eat. I can't wait to make it again and to try it with other 3D cakelet pans I own.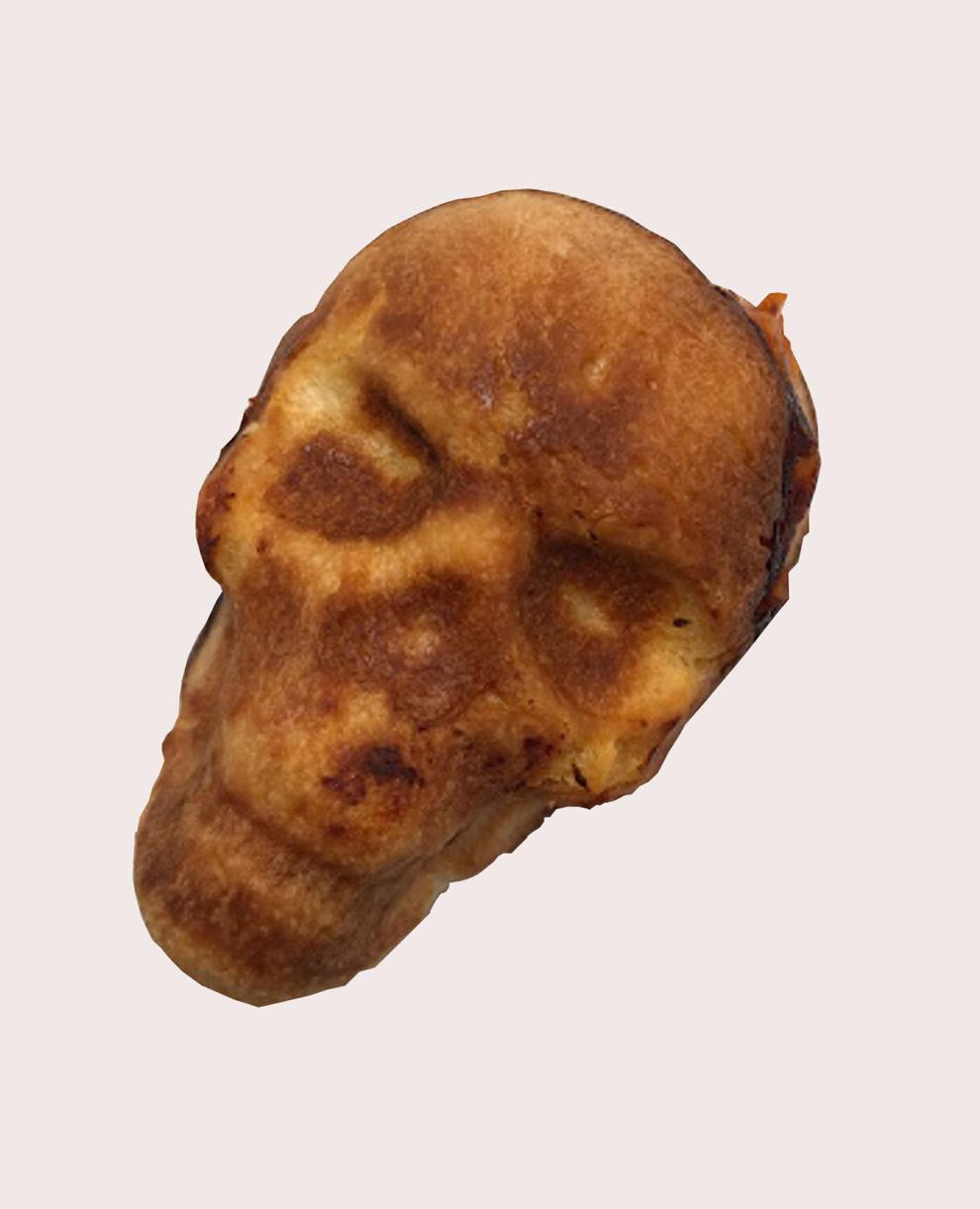 Skull Calzones
(Recipe courtesy of Genius Kitchen)
Prep time: 30 minutes
Bake time: 20 minutes
Total time: 50 minutes
Yield: 6 to 8
INGREDIENTS:
2 cans refrigerated pizza dough
1 1/2 cups shredded mozzarella cheese
6 tablespoons grated Parmesan cheese
3/4 cup marinara sauce, plus more warmed for dipping
18 slices pepperoni
2 teaspoons Italian seasoning
nonstick cooking spray (for pan)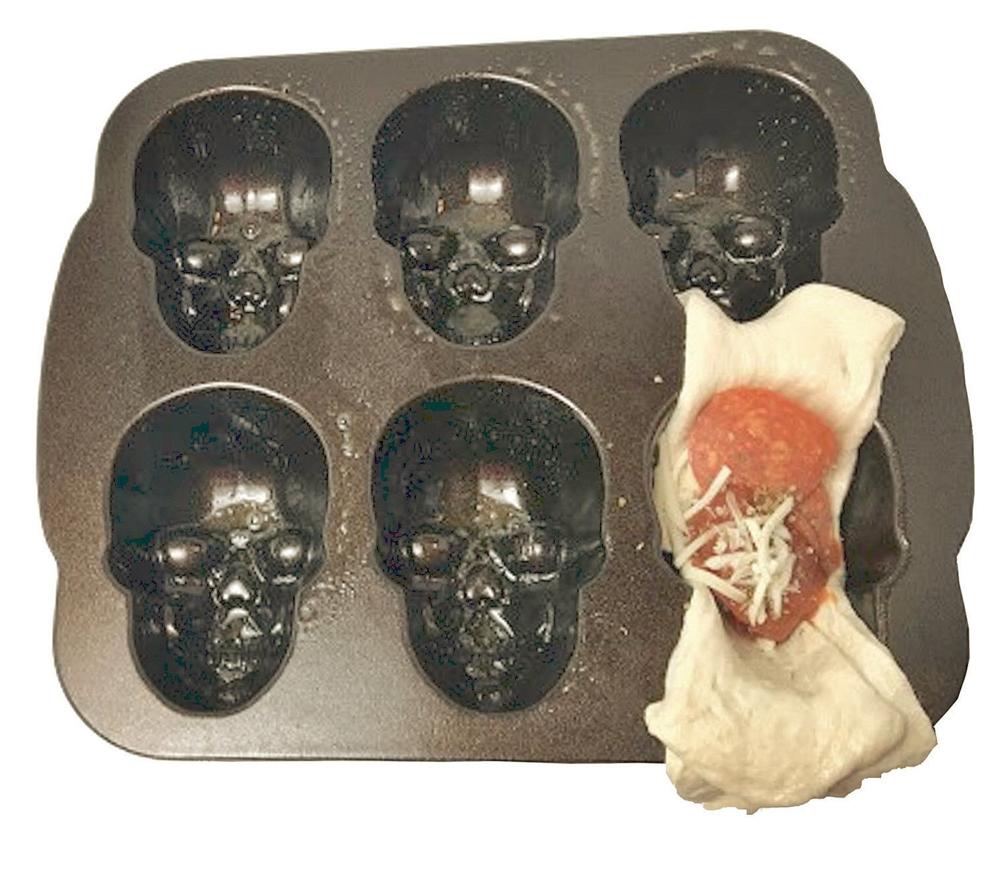 DIRECTIONS:
Preheat oven to 400 F. Spray skull mold with nonstick spray; set aside.
Unroll pizza dough. Cut into 4 to 6 strips. Working one at a time if necessary, lay dough into skull cavities.
Filling:
(Add in layers as follows)
1 tablespoon shredded mozzarella
1 tablespoon of grated Parmesan
1 tablespoon marinara sauce
3 pepperoni
1 tablespoon sauce
1 tablespoon mozzarella
Sprinkle of Italian seasoning.
Fold dough over fillings and pinch dough together to seal. Repeat with remaining ingredients.
Bake for 20 minutes, remove from molds. Serve with extra warm pizza sauce for dipping.