Turn on your Halloween playlist, find your favorite local spirits, and get ready to mix some delectable drinks from the safety of your own kitchen because — with these hauntingly-delicious cocktails — it's easy to embrace the holiday's mysterious, thrilling and chilling roots in style.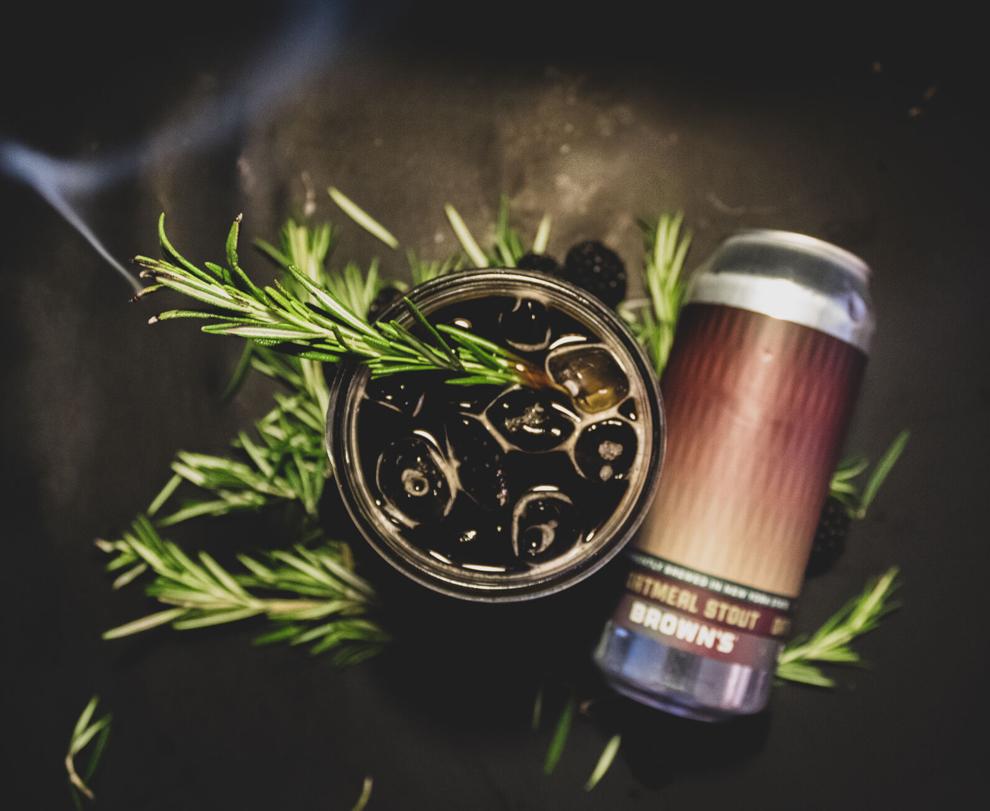 BLACK MAGIC BREW
For a chill yet mysterious vibe this Halloween, find your favorite stout and get ready to brew some bubbling toil-and-trouble at home. The addition of activated charcoal to this classic beer cocktail results in an intriguingly dark hue with detoxifying properties and a subtle herbal-berry twist to boot.
Ingredients:
8 oz Stout of your choice (I used the Oatmeal Stout from Brown's Brewing)
1 oz bourbon
1/2 oz black magic simple syrup
1/2 teaspoon activated charcoal
3-5 Blackberries (fresh or frozen)
Sprig of rosemary
Granulated sugar
Rosemary and blackberries, to garnish
Directions:
Start by mixing your simple syrup using food-grade activated charcoal, an increasingly trendy ingredient that can be found in most health food stores or even the vitamin aisle in your local grocery store. Combine equal parts sugar and water on the stovetop, stirring regularly. Once the sugar has dissolved, slowly mix in the activated charcoal. Add in the blackberries and a sprig of rosemary, and enjoy watching this midnight-black brew bubble away for about 10 minutes, or until thickened. Strain and allow to cool before using.
Pour approximately 8 ounces of your chosen beer over ice and add in both the bourbon and simple syrup. Beer enthusiasts: don't worry. The latter only adds a hint of sweetness that blends perfectly with the bourbon's smooth taste.
Stir to combine, and garnish with a fresh sprig of rosemary. To enhance the spooky atmosphere (and add some aroma) carefully singe the rosemary until it begins to smoke. After one or two of these, you'll be ready to turn up the Fleetwood Mac and find your own inner "Black Magic Woman."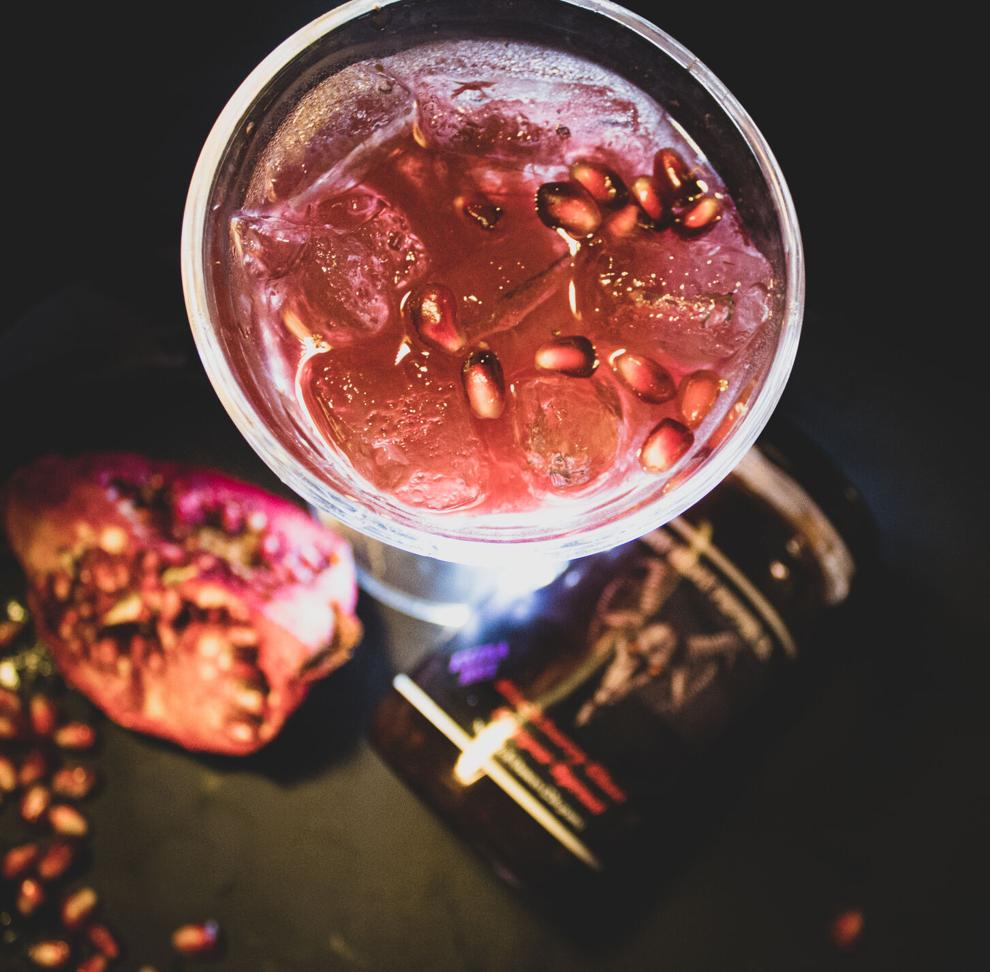 PERSEPHONE'S REVENGE
The Queen of the Underworld herself would be tempted by this pomegranate-infused treat, complete with a ghostly twist for those daring enough. The addition of hot pepper jam — in this case Angry Goat Pepper Co's Blackberry Ghost Pepper variety — elevates the classic gin and jam cocktail to another (scoville scale) level that will both trick and treat the taste buds.
Ingredients:
1 1/2 oz Gin
1 oz Pomegranate juice
1 teaspoon Hot Pepper Jam of your choice
Sparkling water to top
Directions:
Start by squeezing the juice from a quartered pomegranate, saving some seeds to use as a garnish. Combine 1 ounce of pomegranate juice with 1 1/2 ounces of gin in a cocktail shaker and add the hot pepper jam. Shake thoroughly, until the jam is completely combined, and pour over ice. Top with cold, sparkling water for a refreshing yet fiery aperitif that's best enjoyed when laughing with loved ones either virtually or in-person. Depending on the kick from your chosen jam, you won't want to miss their faces!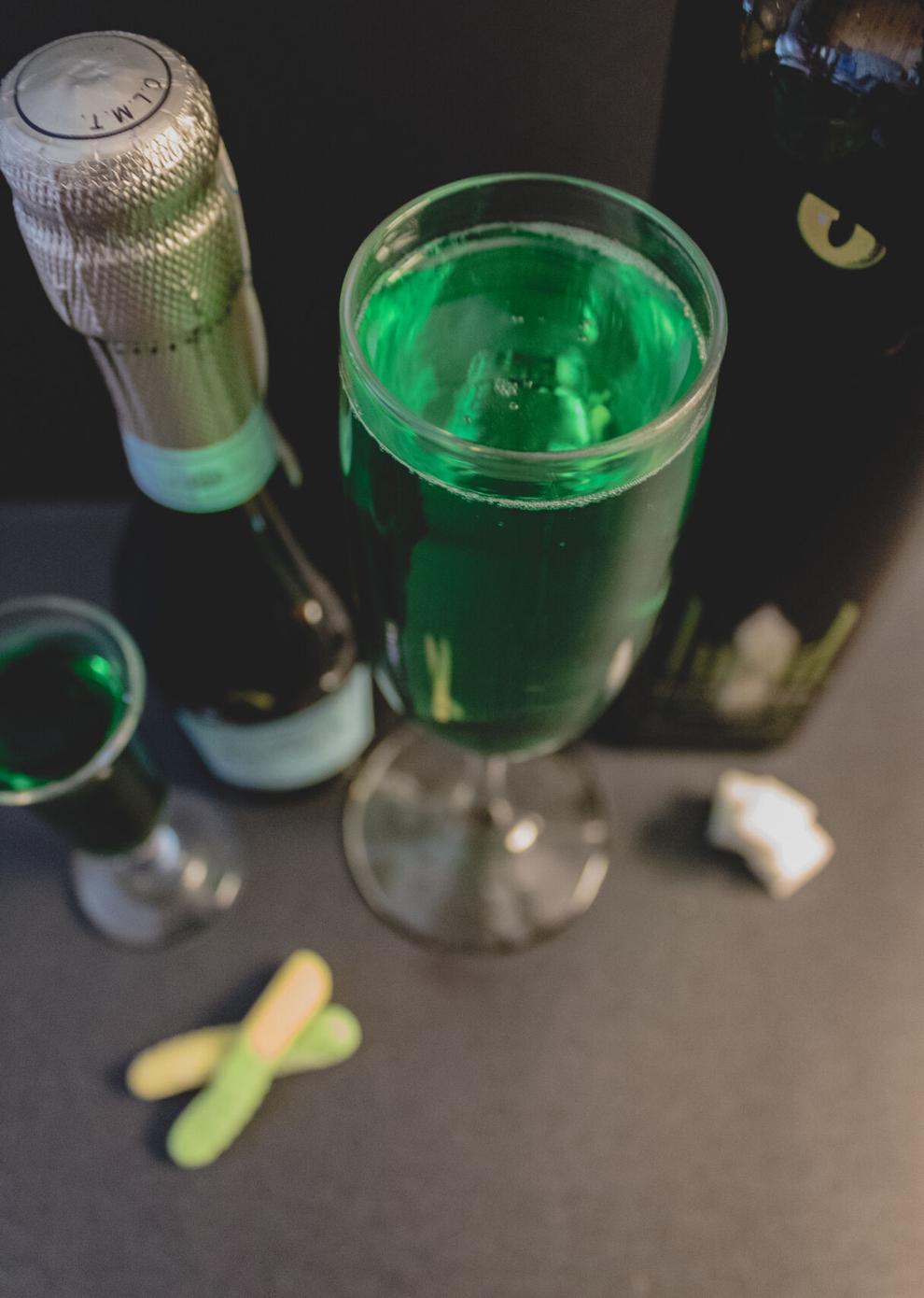 [LIFE AFTER] DEATH IN THE AFTERNOON
Based on Ernest Hemingway's classic cocktail, this licorice-laced twist on the "Death in the Afternoon" is the perfect compliment to candy that's a little sweet, a little sour and plenty colorful. According to the author, the drink is best prepared with chilled ingredients and consumed one-after-the-other in quick succession. Though we may not all have Hemingway's famed tolerance, the ease of mixing and drinking his creation is perfect for a relaxing movie night.
Additionally, the [Life After] Death in the Afternoon's iridescent hue evokes Halloween classics like "Frankenstein" or "Son of Frankenstein," for the comedy-inclined among us. Between it's chilling temperature, bright color, and bubbly opulence, you're halfway to "puttin' on the ritz."
Ingredients:
4 oz Chilled Prosecco, Champagne, or other sparkling wine
1 oz Absinthe
Sour candy or licorice to garnish
Directions:
Pour the absinthe into a chilled glass and top with the Champagne. Garnish with desired sour candy or licorice.