Why make one pie when you can make two galettes?
Impress your family and friends on Thanksgiving with one of these sweet or savory tarts, using either your favorite pie or flaky puff pastry crust, or — shhhhh ... we won't tell anyone — a store-bought crust from your freezer. You'll get extra presentation points for carefully formed patterns on the pleasing open-face style of galettes, exposing the goodness diners are about to enjoy. These are perfect appetizers, or desserts for a smaller crowd looking for something a little sweet after the big meal.
PLUM GALETTE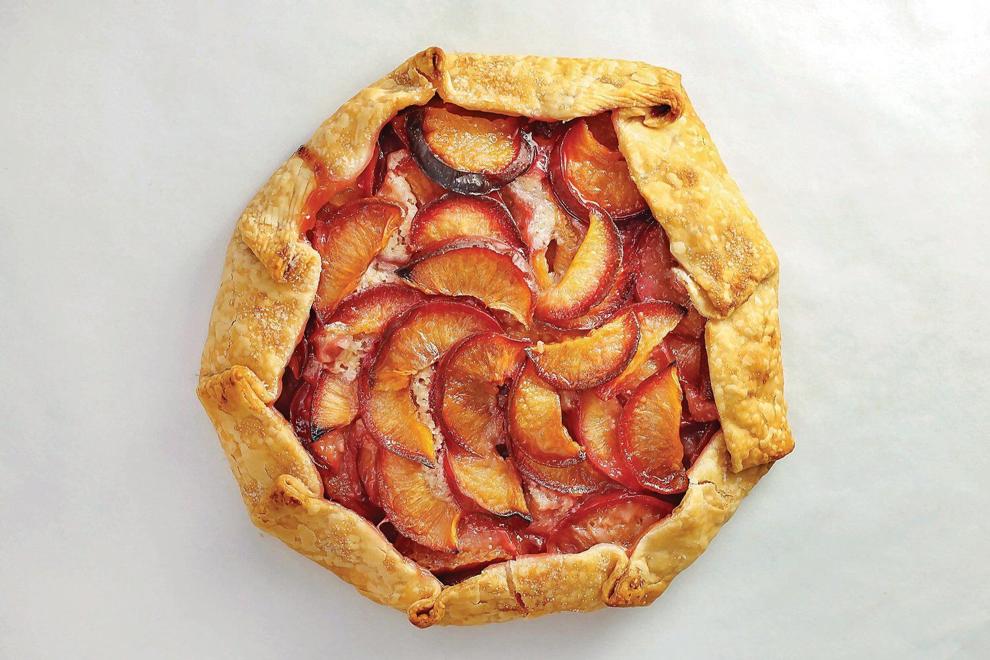 If you are thinking about taking our advice and adding one of these to your table this Thanksgiving, but find yourself uncomfortable or unwilling to take a risk on something new at one of the most important meals of the year, let me reassure you: This galette is fool-proof. I had so many worries going into it: Would leaving the peel on make the galette stringy? Would all of the juice run out of the fruit and turn the whole thing to soup? Without a top crust, would the soup wind up decorating the bottom of my stove?
My first forays into making this beauty featured plum slices that were thick, thin, peeled and with skins still on. The end products, no matter my methods, were exactly the same and exactly right. Leave the skins on, they bake beautifully soft. Slice and dice how you like: the almond-flour combo does an amazing job of containing the escaping juice. The only misstep I took was trying to move it too quickly, causing it to crack and fall apart. Leave to cool entirely before moving off the baking mats!
Note: If you are having trouble locating plums, the recipe can be adapted to any stone fruit.
— Meggie Baker, calendar editor
(From Food and Wine)
Ingredients:
1 premade pie crust, chilled
1/4 cup sugar in filling, another 1/3 cup sugar on top
3 tablespoons ground almonds
3 tablespoons flour
4 to 6 sliced plums
apricot preserves to glaze (optional)
1 egg for an egg wash (optional)
Directions:
Preheat oven to 400 degrees F.
Slice your plums, as thinly or as thickly as you like, leaving the skin on for color.
Combine 1/4 cup sugar, ground almonds and flour.
Roll your dough out into a circle, then cover with mixed dry ingredients, leaving a bare inch of dough around the outside.
Fill with plums, then fold crust up and over. Take care not to break the crust, and to leave a fairly wide rim. Using colder dough helps the galette keep its shape.
Cover with final 1/3 of sugar. If you prefer tarter pies and galettes, you can skimp on the sugar a little bit here.
Bake for 1 hour, on a silicone mat or nonstick paper.
CHOCOLATE-PECAN GALETTE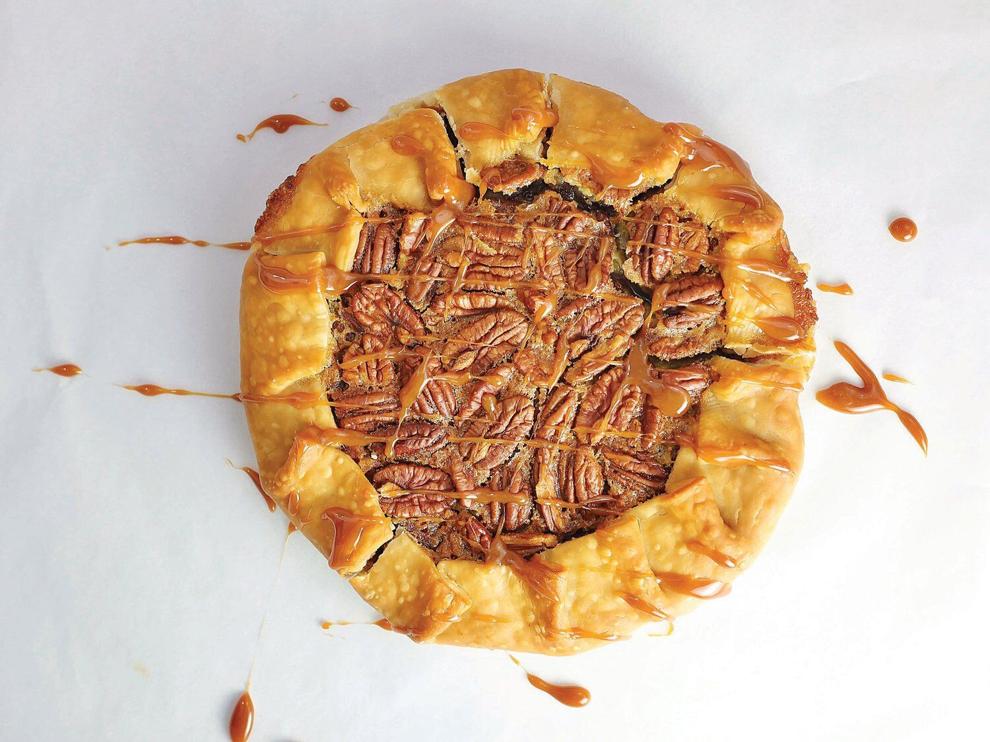 This galette came out great the first time but did make the bottom crust just the slightest bit soggy. I upped the amount of chocolate chips and moved carefully after cooling, and served chilled. While delicious, this galette is on the sweet side, so you're certain to please the chocolate lovers in your family with this creation. — Meggy Baker, calendar editor
(From Martha Stewart's Chocolate-Pecan Tart)
Ingredients:
1 premade pie crust
2/3 cups sugar
4 teaspoons melted butter
2 eggs
1/2 cup light corn syrup
3/4 teaspoon vanilla
1/3 cup semisweet chocolate chips
1 1/3 cups pecan halves
1 tablespoon bourbon (optional)
Caramel topping (optional)
Directions:
Preheat oven to 350 degrees F.
Combine eggs, sugar, corn syrup, melted butter and vanilla.
Roll out chilled pie crust, and layer with chocolate chips, leaving an inch of space around the outside edge. Fold crust over and up.
Pour filling over chocolate, then sprinkle pecans on top.
Bake 45 to 60 minutes on a silicone sheet or nonstick paper.
Note: This recipe uses a wet filling, and I found it useful to shape my galette and bake it inside a large round cake pan.
PEAR AND LEEK GALETTE WITH GOAT CHEESE AND WALNUTS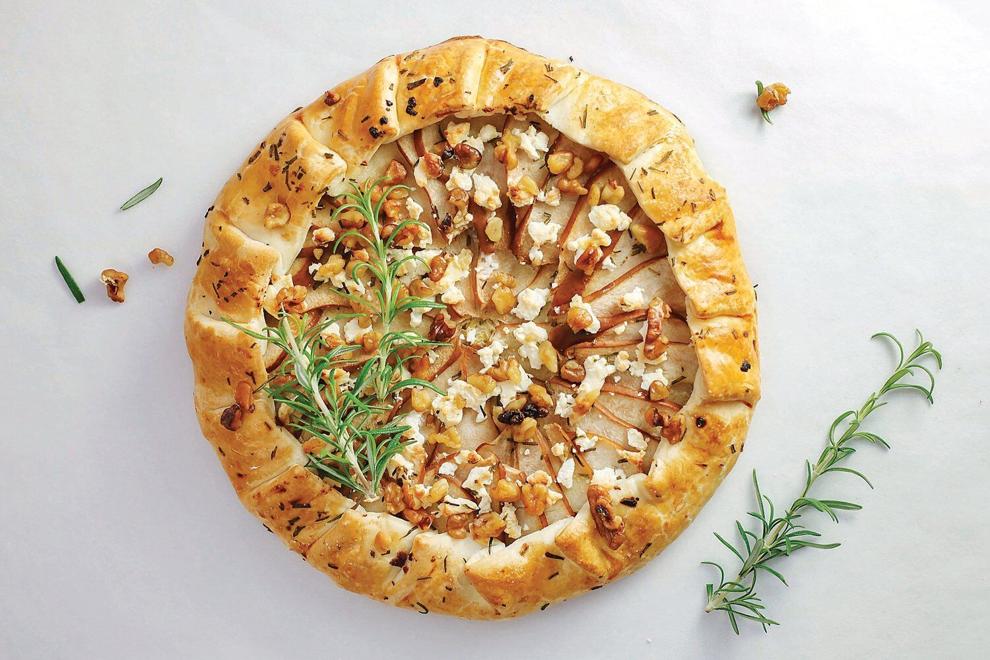 The savory free-form tart celebrates the season with flavors fitting for any Thanksgiving appetizer. The walnuts offer a nice change in texture from the richness of the creamy mixture. — Becky Drees, Features designer
(From ColeyCooks.com)
Ingredients:
1 prepared pie crust
1 tablespoon butter (salted or unsalted is fine)
2 medium leeks, cleaned and thinly sliced, white and light green parts only (about 3 cups)
salt and pepper, to taste
1 tablespoon Dijon mustard
1/2 cup heavy cream
2 teaspoons minced fresh rosemary, divided
6 ounces fresh goat cheese
1 large pear, thinly sliced (you may need 2 pears if small)
1/4 cup chopped walnuts
1 egg beaten with 1 tablespoon water for egg wash (optional)
Directions:
Melt butter in a medium skillet over medium-high heat. Add the leeks and cook, stirring often, until softened, about 6 minutes. Season with salt and pepper, then add Dijon mustard, cream and 1 teaspoon rosemary. Cook until the cream has reduced by half and the mixture is thick, about 5 to 8 minutes. Taste for seasoning and adjust as needed. Let cool completely.
When ready to assemble the galette, preheat the oven to 375 degrees F and line a sheet pan with parchment paper. Roll the dough out on a floured surface until it is about inch thick and 14 to 16 inches around. Gently roll the dough up on to the rolling pin and transfer it to the center of the sheet pan. It may hang off the sides slightly.
Spread the cooled leek mixture evenly around the dough, leaving a 2 inch border on the outside. Crumble goat cheese on top, then arrange the pears in a circular pattern. Sprinkle with remaining teaspoon of rosemary, salt, pepper and chopped walnuts.
Carefully gather the outer border of dough and fold it up and over the filling to form a 1 to 2 inch crust. Brush the outer crust with egg wash if desired (this will produce a prettier, more golden brown crust).
Bake for 30 to 40 minutes or until the crust is golden brown. Let cool for 30 minutes before slicing. Serve warm or at room temperature.
GREEN BEAN GALETTE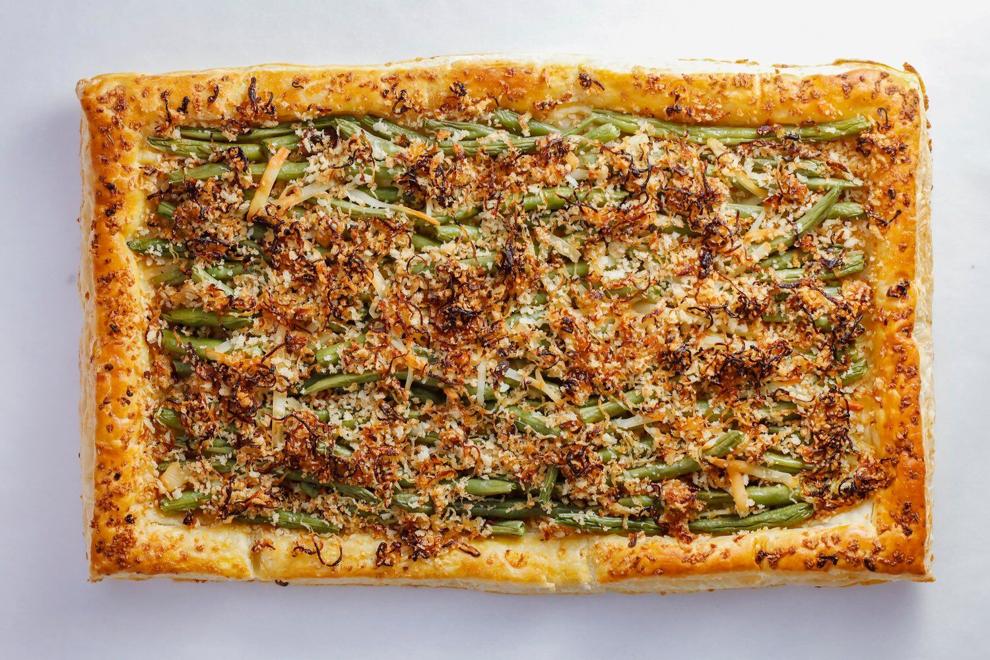 This savory galette earned rave reviews from tasters in the newsroom who said it would absolutely be making an appearance on their Thanksgiving table. Note: There's no need to pre-cook the green beans, but definitely caramelize the onions and toast the breadcrumbs before baking. — Becky Drees, Features designer
(From www.meandthemoose.com)
Ingredients:
1 sheet puff pastry
6 oz gruyere, grated
8 oz fresh green beans, trimmed
large onion, or 3 to 4 large shallots, sliced very, very thin
2 tablespoons butter
1/3 cup whole wheat panko
teaspoon salt
Directions:
Preheat oven to 425 degrees F. After the pastry has thawed completely (either overnight in the refrigerator or for 45 minutes at room temperature), unfold gently and roll out on a piece of parchment into a large rectangle to fit your sheet pan. Set paper and pastry on sheet pan.
Melt butter in a large pan over medium heat and add the onions, cooking until they begin to brown and caramelize. Add the breadcrumbs and salt and saut until fragrant and toasted, about 5 minutes.
Lightly score a 1-inch border around the edge of the pastry using a sharp knife. This will help the border to rise when baked and create a raised edge for the filling in the middle. Sprinkle half the cheese within the order and then arrange the green beans facing the same direction. Sprinkle remaining cheese on top. Spread breadcrumb mixture over the green beans and brush the outside edge with a small amount of butter and crumbs you've left in the pan.
Bake for 18 to 23 minutes until the pastry is golden brown.