With the current, hot, steamy weather, my mind — and stomach — turns to eating something cold and refreshing … Oh, who am I kidding? It can be a below-zero day in mid-January and my mind still turns to ice cream. Ben & Jerry's claims a pint of its ice cream is three servings, but we all know it's really only one, right?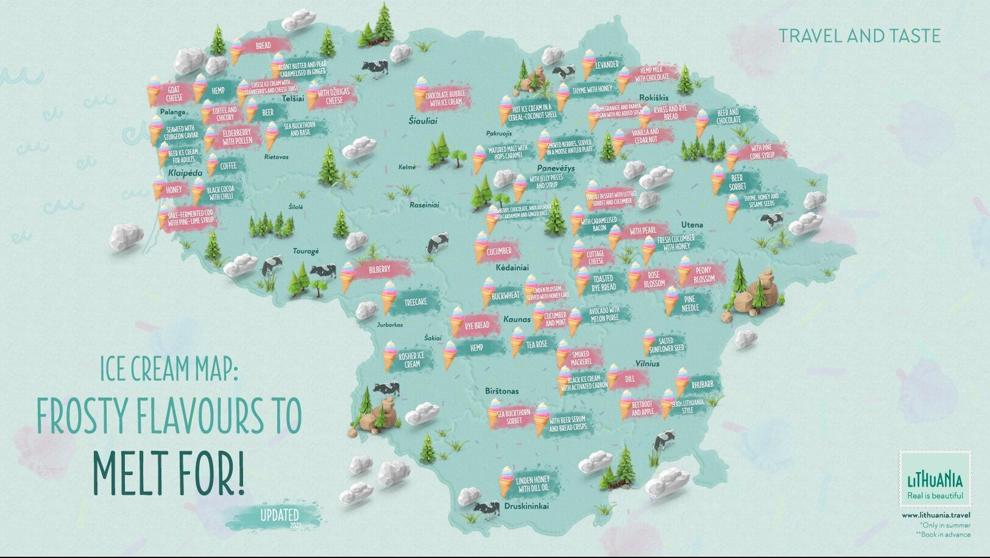 So, I was intrigued when "Lithuania Travel," the official Lithuanian tourist board, sent me a press release listing "9 of the most bizarre Lithuanian ice cream flavors created for the post-quarantine summer in 2021." Personally, I think I'll stick with my usual boring vanilla. Here's the list:
1. Black rye bread flavored ice cream: "A refreshing experience with salty and crunchy bread pieces."
2. Cucumber and honey ice cream: "A classical Lithuanian treat and the ultimate taste of summer."
3. Aged cheese Džiugas and cranberry ice cream: "The piquant flavors of sweet and silky cream made from the most popular Lithuanian hard cheese Džiugas and fresh and tangy cranberries. Served with a crunchy molten cheese biscuit."
4. Moose antler and smoked seasonal berry ice cream: "The mixed flavors of moose antlers powder (which the males in the wild shed each year), smoke-infused seasonal berries, and locally produced aged malt delivers a once-in-a-lifetime frosty experience."
5. Frozen yogurt dessert with salad sorbet and cucumbers: "Frozen white chocolate flavored yogurt is served together with fresh cucumber strips and a frosty green sorbet that is made from fennel, romaine lettuce, fresh mint, and other spice herbs."
6. Pažaislis tea rose ice cream: "Tea roses have adorned the Pažaislis Monastery for centuries. These exceptionally fragrant flowers would make for an outstanding ice cream flavoring reflecting the monastery's floral atmosphere."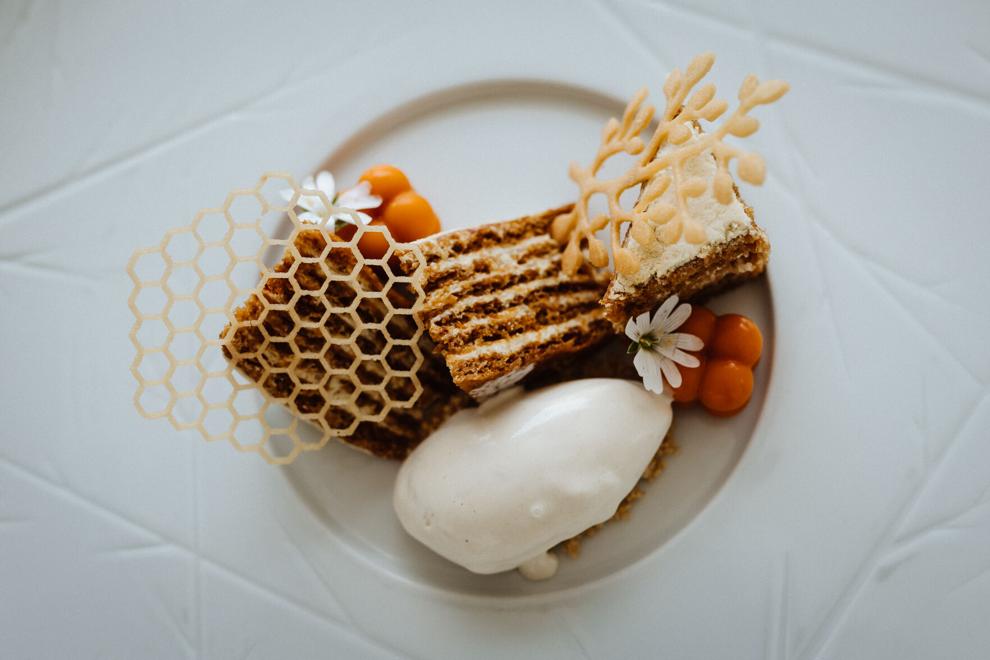 7. Linden blossom ice cream with the Imperial honey cake: "Served with a slice of crunchy honey cake 'Medutis' — a treat inspired by the ancient recipes from the Grand Duchy of Lithuania."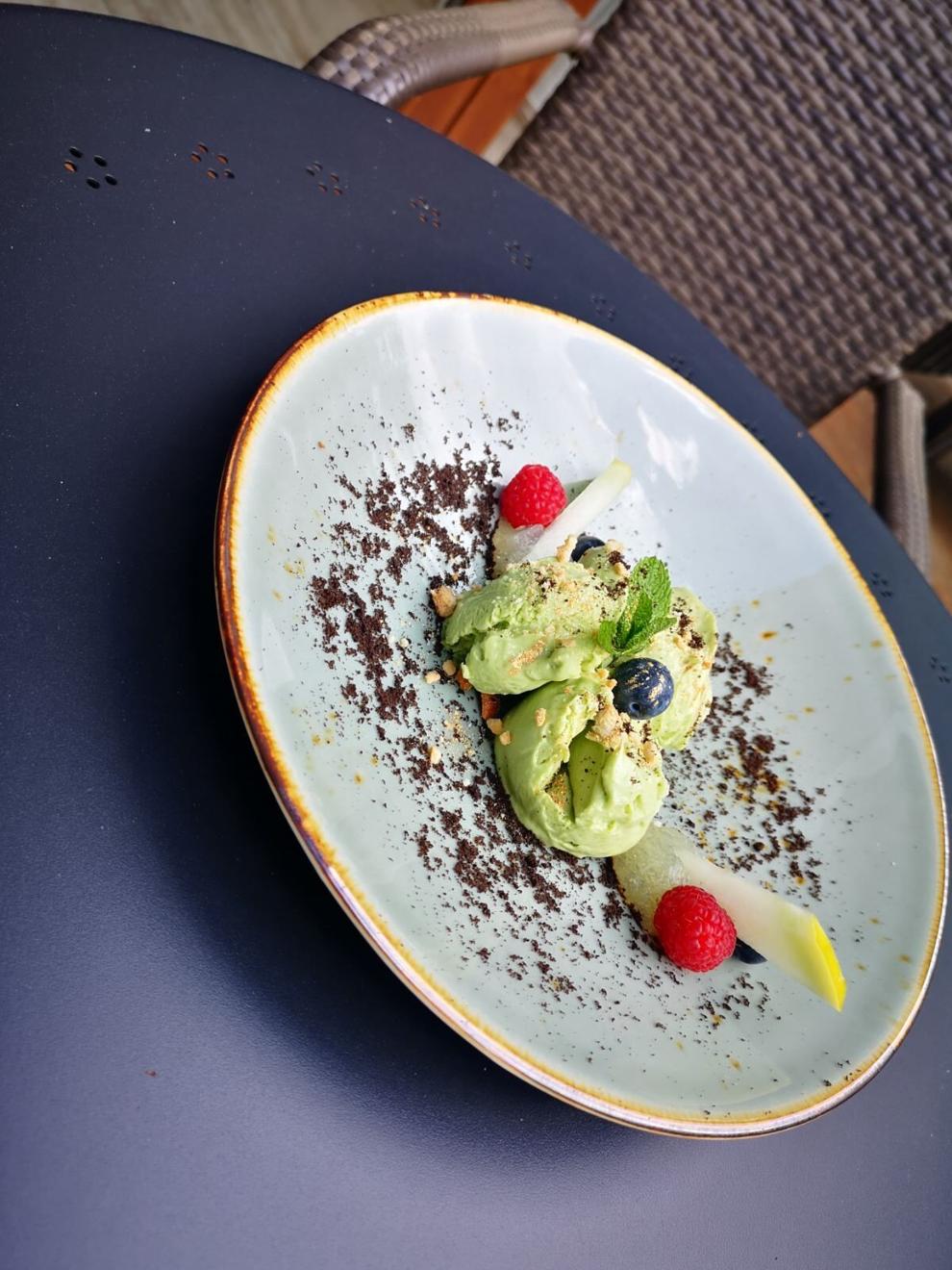 8. Avocado ice cream with melon puree: "The sweet and nutty avocado — a fruit that is successfully conquering the world of food — is also making its way into the land of frozen Lithuanian delights.
9. Browned butter ice cream with caramelized pears: "Sweet browned butter mixed with cool vanilla ice cream freezes instantly, creating crunchy flakes of caramel. Meanwhile, the caramelized pears served on the side balance the flavor and add some fruity freshness."
I love The Pioneer Woman, Ree Drummond's recipe for a simple four ingredient no-churn ice cream. Warning: If you don't like the taste of sweetened condensed milk, this is not for you! It's easy to pull together and easy to modify by changing the mix-in from cookies to mini M&Ms, chopped peanut butter cups or toffee bits.
No-Churn Ice Cream
(From the pioneerwoman.com)
YIELDS: 12 servings
INGREDIENTS:
One 14-ounce can sweetened condensed milk
1 teaspoon vanilla paste (or extract)
10 sandwich cream cookies, crushed
2 cups heavy whipping cream
DIRECTIONS
Place a 6-cup container into the freezer.
In a large bowl, mix to combine sweetened condensed milk, vanilla paste, and crushed sandwich cookies. Set aside.
In another large bowl, use a hand mixer to whip the cream to stiff peaks, taking care not to over-whip the cream.
Fold about 1 cup of the whipped cream into the sweetened condensed milk mixture, to lighten, then fold in the remaining whipped cream. Get the container from the freezer and quickly transfer the ice cream mixture to the container. Freeze for 4 to 5 hours, until firm.