The other night, I took one of those quizzes on Facebook that are so popular. This was was "How Old Are You" and was based on every day items from the 1940s through the 1960s. We won't go into how old I am, but I got a perfect score ...
Included on the quiz was an electric percolator. It was a big deal the day one entered my parents' kitchen — the result of saving and redeeming "green stamps" that were awarded when purchasing groceries or gasoline (also included in the quiz). Previously, they relied on a coffeepot that was set on the stovetop and when the water boiled — I think that was the magical moment — the coffee would start percolating.
I loved watching the water hit the glass knob on the top as it turned from clear water to a dark brown and hearing the sound of the coffee "perking," as they called it. I still don't know how they knew when the coffee was done, maybe years of trial and error.
The electric version was sheer magic — you put the water in, added the coffee grounds to a metal basket that sat atop a hollow tube, put the lid on the pot and plugged it in. When it was done "perking," a red light on the bottom of the pot glowed.
I sometimes think of that percolator as I make a cup of coffee in my Keurig — an appliance my parents could never have imagined. But, as much as I love my Keurig, I miss the smell of the coffee and the sound of that old percolator.
Another item on the quiz was a glass milk bottle — the staple of my childhood. There were milkmen back then, who came a couple of times a week. They carried the milk bottles, which clinked together as they walked, in a wire basket with handles. Some homes had a small insulated metal box near the back door, so the milkman could leave the milk if no one was home. Mom was always home, so we didn't have one.
The milk came in tall, heavy glass bottles that were returned when the next delivery came. At the top of the tapered bottle, there was about two inches of heavy rich cream, which was carefully poured off and used in the coffee during the week.
Leftover coffee was never thrown out, but was used some other way. I found this recipe stuck in one of mom's recipe books and I love the combination of the chocolate, molasses and coffee. Note: Do not substitute margarine or butter for the shortening, they just don't come out right! I also usually put a simple glaze on them after the cookies cool.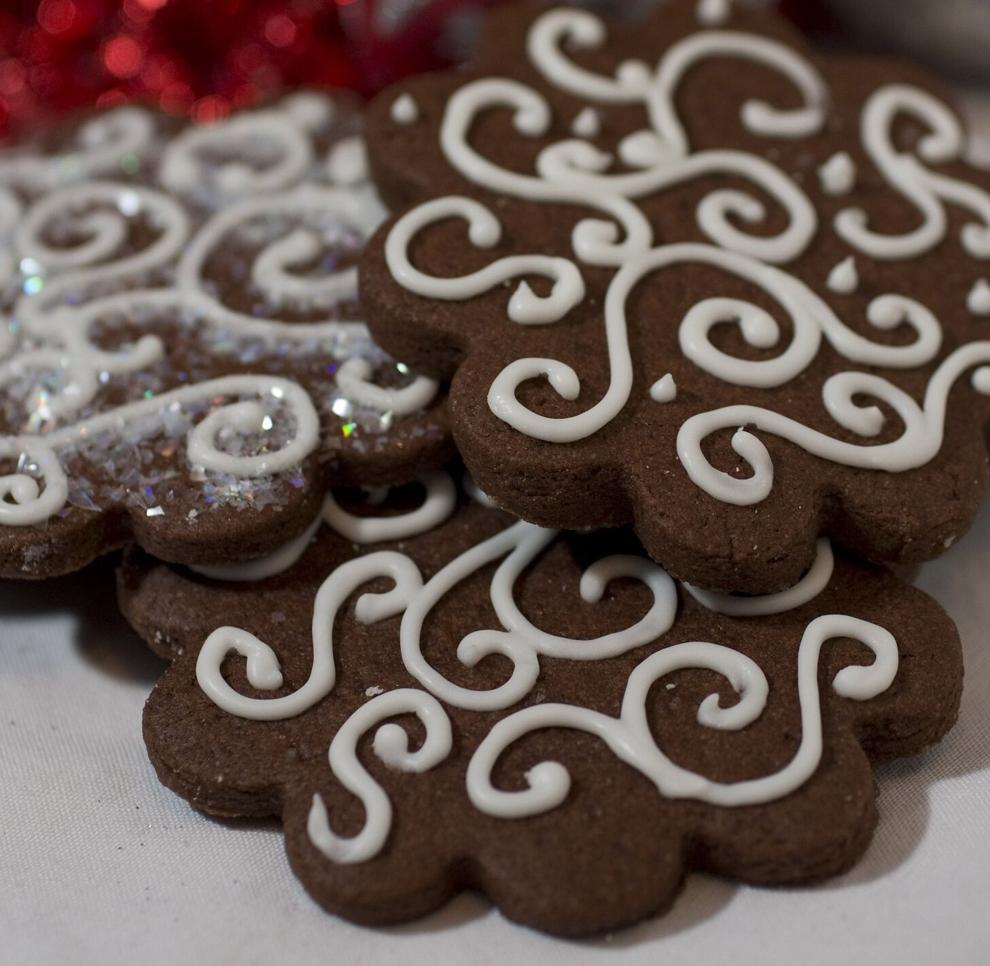 Chocolate cutouts
Makes about 2 dozen
INGREDIENTS:
1 cup shortening, melted
1/2 cup baking cocoa
1 cup molasses
1 cup sugar
2 large eggs
1/2 cup strong brewed coffee
4 cups all-purpose flour
2 teaspoons baking soda
1 teaspoon ground cinnamon
1/2 teaspoon salt
1/2 teaspoon ground cloves
Powdered sugar
DIRECTIONS:
Beat shortening and cocoa until blended. Beat in molasses, sugar and eggs. Beat in coffee.
In another bowl, whisk flour, baking soda, cinnamon, salt and cloves; gradually beat into molasses mixture. Dough will be very soft. Divide dough in half. Shape each into a disk; wrap in plastic. Refrigerate 1 hour or until firm enough to roll.
Preheat oven to 350 degrees. On a well-floured surface, roll each portion of dough to 1/4-inch thickness. Cut with a floured 3 1/2-inch round cookie cutter. Place 2 inches apart on ungreased baking sheets.
Bake until edges are set, 14 to 16 minutes. Cool on baking sheets 2 minutes. Remove to wire racks to cool completely. Decorate as desired with powdered sugar.