One of my favorite things about eating locally-grown vegetables is their supreme freshness. When you eat local, the vegetables arrive on your chopping block within hours of their harvest; they're still alive!
Vegetables harvested at a farm in your region haven't spent any time languishing in a cross-country freight or on a grocery store shelf. A shorter and simpler, locally-based supply chain gives farmers more flexibility to let the fruit ripen on the vine and to harvest when conditions are just right. Fortunately for us, the Berkshire conditions are just right for a huge variety of fruit, vegetables and herbs. These local products hit the online "shelves" at Berkshire Organics as soon as they become available at local farms, and can arrive on Berkshire-Taconic area doorsteps hours later.
The benefits of very fresh produce go beyond cosmetics. Sure, a bunch of locally-grown broccoli looks perkier than one you might see wrapped up in plastic, but it also tastes incredibly good. The moment a vegetable is detached from its roots, the natural sugars begin to turn into starch. The aromas begin to vanish. The vitality fades. Freshly dug carrots are sweet, without bitterness. But did you know carrots you find in a grocery store can be stored for up to nine months? The flavor profile is mostly gone. To boot, vegetables lose their nutritional benefits with each day past harvest as they sit in transit or storage facilities.
If you've ever tended to a backyard garden or sliced a plump tomato still warm from the sun, you know how delicious very fresh produce is. Perhaps more than any nutritional or environmental reasons, taste is what keeps my family coming back to local Berkshire produce meal after meal. Cooking with these high-quality ingredients just makes things easier in the kitchen — you're already starting with something delicious, and don't need to do much else.
To make the most of this Berkshire produce season and to easily incorporate local produce into your meals, I want to offer you one of my go-to recipes: my favorite miso dressing. If you're new to cooking with miso, welcome! Miso is a paste made from fermented grains like rice, barley or soybean. It has played a major role in Japanese cuisine and culture for centuries. Because of its fermented quality, miso offers a complex, sweet, nutty, umami-rich hug to whatever it touches.
Miso comes in many colors and styles, each varying in its sweetness and flavor. A general rule of thumb is the lighter the color of the miso, the more mild the flavor. And, a little goes a long way! Lucky for us, the Berkshire mountains are home to a Christian and Gaella Elwell who have been producing miso locally for over 40 years at South River Farms in Conway. You can snag a jar of their white miso which features "Deep well water, lightly polished organic brown rice, organic soybeans, sun-dried sea salt, organic sea vegetables, and koji culture" directly from Berkshire Organics.
Back to the dressing. We use this sauce on everything — green salads, cabbage slaws, roasted platters of veggies and grilled shrimp. Mix a spoonful with softened butter and it would make a delicious spread for corn on the cob (in season now) or even a grass-fed steak. With just a tiny bit of meal prep and a jar of this dressing in your fridge, you've got easy, nutritionally-dense meals at a moment's notice.
Sound good? Here's the plan:
Batch roast your favorite vegetables in a hot, 425 F oven. Roast like-vegetables together, taking more tender veggies like zucchini and broccoli out before dense delights like potatoes and turnips.
Stock up on some local salad greens. Lettuces as well as bunched greens like kale and spinach are all in season now.
Make a pot of your favorite rice, quinoa, or farro.
Make the miso dressing. Assemble your prepped ingredients in whatever configuration suits you, top with dressing, and enjoy.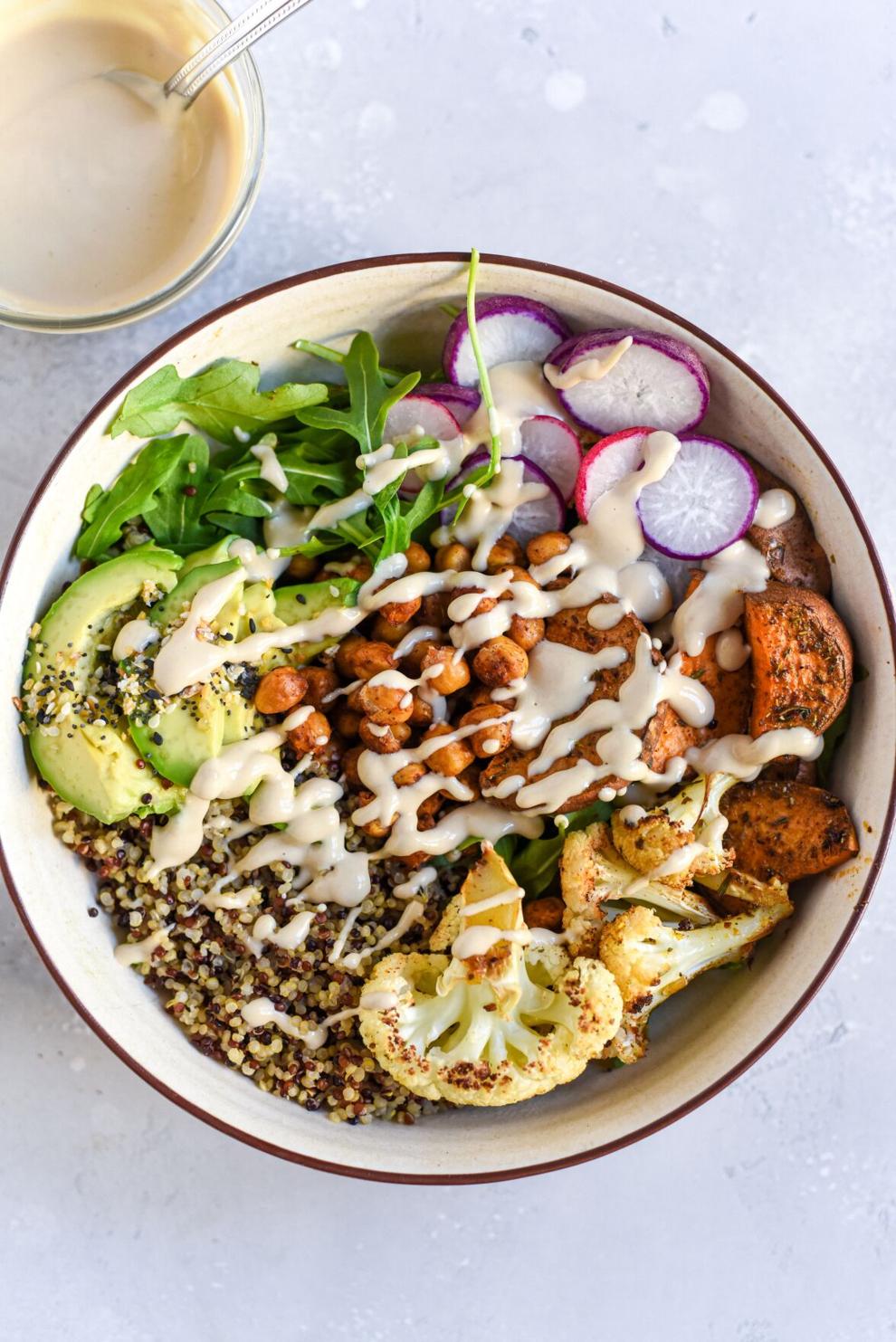 SHAUN'S FAVORITE MISO DRESSING
INGREDIENTS
1/4 cup Bazalion's Extra Virgin Olive Oil
3 tablespoons of sesame oil (extra olive oil also works well)
3 tablespoons lemon or lime juice (rice vinegar also works)
2 1/2 tablespoons Berkshire Organics maple syrup
2 tablespoons South River Farms white miso paste
2 tablespoons water
1 garlic clove, crushed and finely chopped
2 teaspoons fresh ginger, grated
Pinch of Kitchen Garden hot paprika (or red pepper flakes)
Sea salt to taste (2 teaspoons; likely a bit more! Taste, and adjust.)
INSTRUCTIONS
Choose your own adventure: Shake in a mason jar or whisk in a bowl. It keeps in a sealed jar, in the fridge, for at least a week.