Have you ever asked someone where they got the recipe for a great crowd-pleasing dish and they were less-than-specific with the answer? Chances are, they probably got it from the back of a box, or can of something.
(Hint: Anyone who doesn't want to share their chocolate chip cookie recipe is probably afraid you'll recognize the popular Toll House staple that every baker has tried at least once.)
What was once birthed as a marketing ploy to get consumers to buy specific products, back-of-the-box recipes have become the foundation of many American cooks' recipe boxes, and still are today even as many of us are moving away from processed foods. Many family recipes that have been handed down for generations most likely originated on the back of a box or can.
And there's a good reason: Most of these recipes are straightforward, easy and use basic ingredients most of us have in our kitchens. They're also great recipes for anyone who is learning how to cook, and for those of us who have made countless dinners and need trusty favorites to turn to in a pinch when there isn't enough time, or brain power, for an elaborate recipe.
To help get dinner on the table fast this week, a few members of the features department offered up their favorite back-of-the-box recipes and where they found them.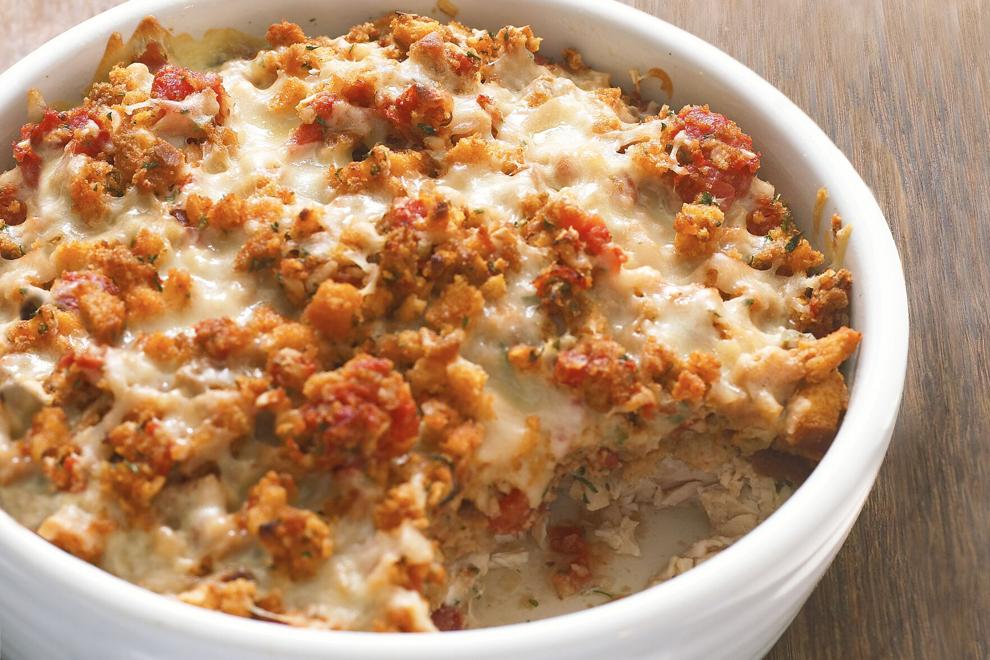 BRUSCHETTA CHICKEN BAKE
"This recipe is one of my husband's favorite weeknight meals and has been since I found it on the back of a Stove Top stuffing box in the first years of our engagement, when I was still learning how to cook some 10 years ago. Every so often I forget about it, and then my husband requests 'that chicken thing.' Luckily, it's made with basic pantry staples that I always have on hand."
— Lindsey Hollenbaugh, managing editor of features
(Recipe courtesy of Stove Top Stuffing)
INGREDIENTS:
1 can (14-1/2 oz.) diced tomatoes, undrained
1 package of Stove Top Stuffing Mix for Chicken
1/2 cup water
2 cloves garlic, minced
1-1/2 lb. boneless skinless chicken breasts, cut into bite-size pieces
1 teaspoon dried basil leaves
1 cup shredded mozzarella cheese
DIRECTIONS:
Heat oven to 400 F. Mix tomatoes, stuffing mix, water and garlic just until stuffing mix is moistened. Place cut up, raw chicken in 3-quart casserole dish sprayed with cooking spray; sprinkle with basil and cheese. Top chicken with stuffing mixture. Bake for 30 minutes or until the chicken is done.
---
GROUND BEEF VEGETABLE SOUP
"This vegetable soup is easy to make and reminds me of the soup my mother-in-law used to make. It's the perfect dinner for a cold fall night and goes great with a crusty bread"
— Margaret Button, associate features editor
(From package of Stop & Shop thin spaghetti)
Serves 6 to 8
INGREDIENTS:
1 pound lean ground beef
1 medium onion, chopped
One 16-ounce package frozen mixed vegetables
4 cups vegetable juice or tomato juice
4 cups hot water
2 tablespoons instant beef bouillon
1 teaspoon basil leaves
1 teaspoon marjoram leaves
1 teaspoon seasoned salt
1/2 teaspoon pepper
1/4 teaspoon garlic powder
1/2 pound thin spaghetti
Grated Parmesan cheese
DIRECTIONS:
In a large pot, brown ground beef and onion; drain excess fat. Stir in the next nine ingredients. Bring to a boiling, reduce heat and simmer 20 minutes. Cook thin spaghetti according to package instructions. Stir into soup, heat through. Serve with Parmesan cheese.
---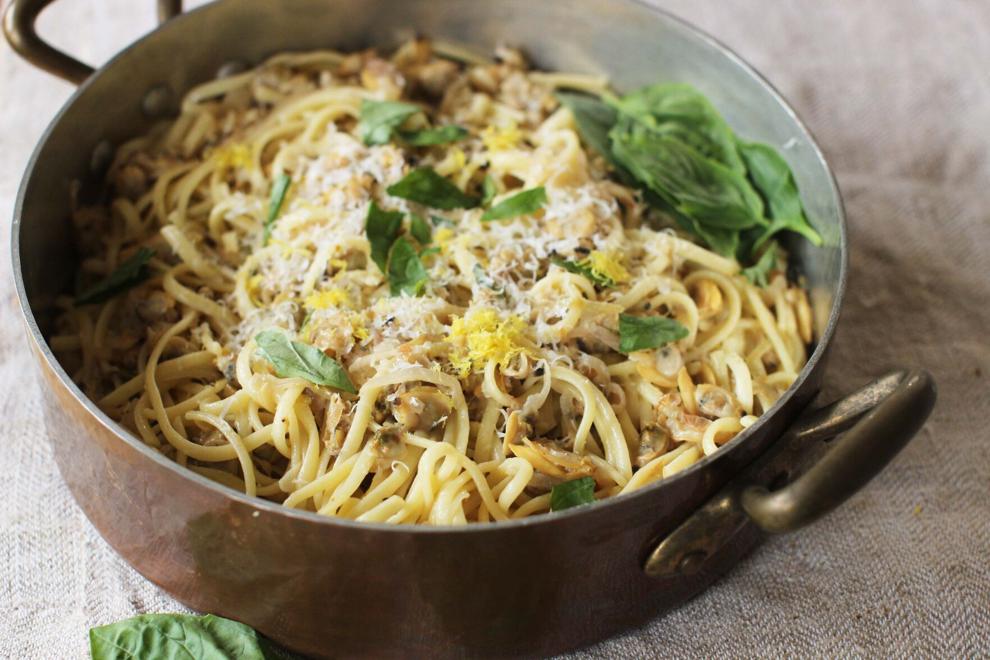 WALNUT AND GARLIC LINGUINE
"I found the recipe for this tasty dish on the back of a package of Diamond walnuts. It's super easy, has ingredients I usually have on hand and especially delicious with fresh herbs."
— Becky Drees, features designer
(Recipe courtesy of Diamond Shelled Walnuts)
INGREDIENTS:
4 to 5 cloves garlic
3/4 cup chopped Diamond walnuts
1/4 cup chopped parsley
2/3 cup grated Parmesan cheese
1/4 cup chopped fresh basil or 1 teaspoon dried basil
3 tablespoons olive oil
12 oz linguine
1/2 teaspoon salt
Directions:
Heat olive oil, garlic and walnuts in a large skillet over medium heat. Stir frequently until walnuts are lightly toasted; about 5 minutes. Remove from heat.
Cook pasta; drain. Add hot pasta, parsley, salt, cheese and basil to walnut mixture; toss and serve immediately.