Cookbook author Phyllis Good wants you to find the adventure in cooking again.
"Especially in the last 14 to 15 months, the way in which we've all been burdened by the need to cook for ourselves [during the pandemic], I believe we can still find such joy and that adventure is still possible in cooking if we come at in a fresh way, by letting the ingredients invite you into the process rather than cracking open the book looking for a recipe, or scrolling through recipes online," she said. "Instead, we come at it in a fresh way; it's timely."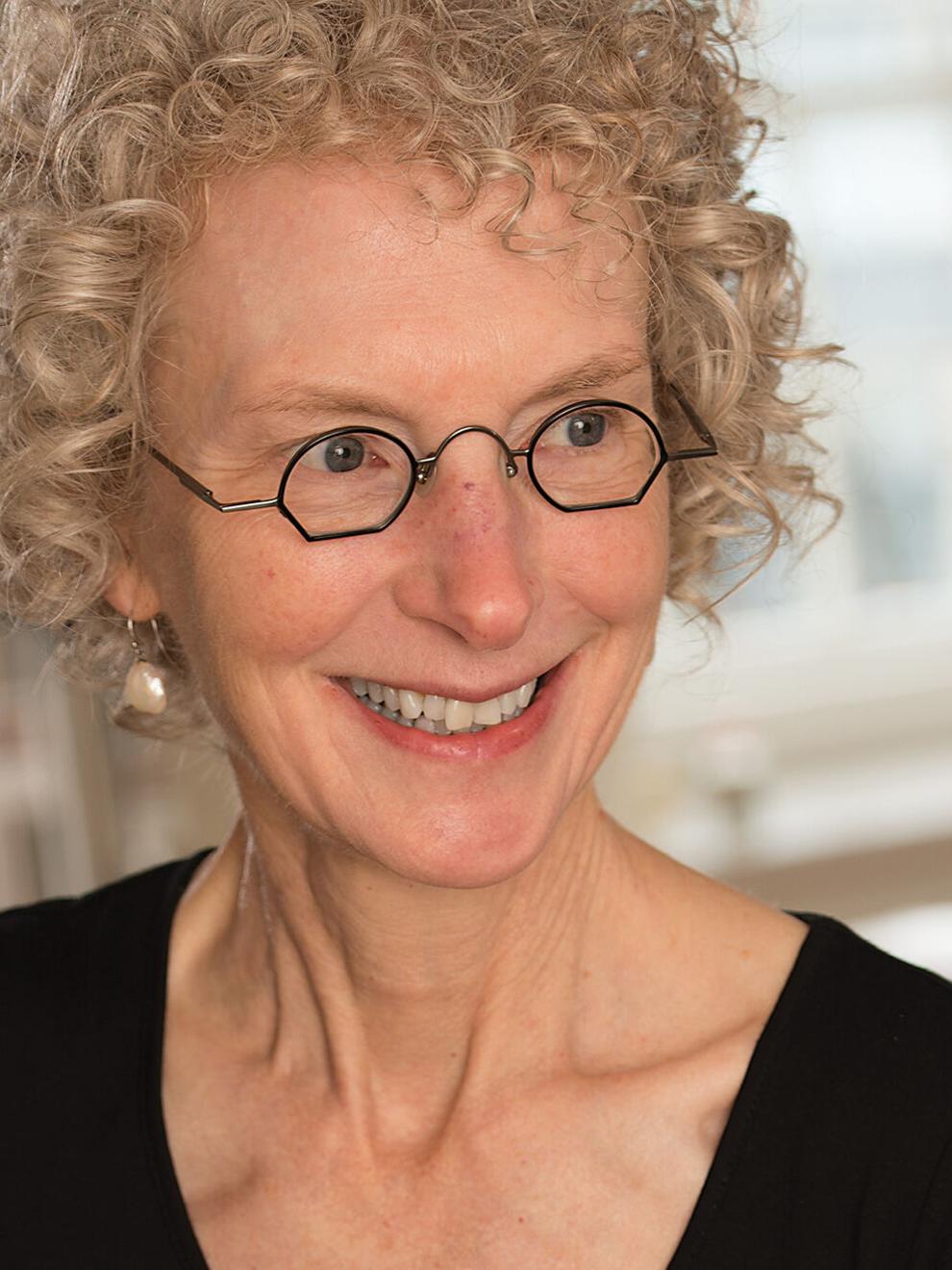 Good is referring to her latest cookbook "No Recipe? No Problem! How to Pull Together Tasty Meals without a Recipe," (Storey Publishing). Good — a New York Times best-selling author and creator of the Fix-It and Forget-It cookbook series, which has more than 14 million copies in print — said she has always admired home cooks, which is why in this cookbook, that isn't necessarily a traditional cookbook, she reached out to 14 "experienced improvisational cooks from across the country," to offer up their tips, tricks for what she calls "freestyle cooking."
"I have always had a great deal of admiration for home cooks," Good said during a phone interview from her home in Lancaster, Pa. "They have the hard job of putting food on the table every day, many times a day, sometimes under great stress. They are the best to learn from. They have all kinds of tricks; they're the ones whose kids bring friends home all the time for dinner."
The book is more of a roadmap for how to get good food on the table and use what you have, and less of a traditional recipe-driven narrative. Instead, the book is broken up by "essential techniques" to help you quickly figure out the best use of your ingredients in the time you have with chapters on sauces, how to create bowls, salads, soups and sheet-pan meals. There's also a whole section on creative pizzas, with step-by-step instructions on "how to wing it" when creating your own savory pizza. The "Cooking Circle," as Good calls her 14 freestyle cooking experts, offer their own tips peppered throughout the book: "I try to be inspired, too, by how generations before us did it. My grandmother canned or froze all kinds of vegetables and fruit ... channeling your inner grandma is not a bad thing," Christina, a democracy advocate from Pennsylvania, writes in the book. Zahra, from Ontario, writes, "The first question I ask myself is, 'What do I have that's already cooked and read to work with?'"
Good said she found her Cooking Circle experts by reaching out to friends she knew who cook in this easy-going, freestyle way of getting dinner on the table every night and networked from there.
"I've found through the years, good home cooks know other good home cooks," she said.
Good — who now cooks mostly for her husband and two adult daughters when they stop over for family dinners — answered a few questions about her own tricks for pulling together a meal without a traditional recipe. (Answers have been lightly edited for clarity.)
Q: What is your favorite freestyle meal/cooking technique?
A: I'm probably drawn most to sautéing and adding fresh ingredients — like herbs — near the end of cooking. I grew up on a farm where we gardened; now I live in a city but we're lucky, we have one of the oldest living famers markets in Lancaster. I go there once or twice a week, so I lean that way [when it comes to ingredients]. I can also really delight in braised meal that I put in the oven for two or three hours at 250 degrees and just watch what happens. It becomes almost a sauce, or more than that like a chunkier stew and we eat it in a soup bowl over a grain of some sort. But I really lean closer to things fresh, like garnishes, making it beautiful to look at but at the same time giving it some body.
Q: What's the most underutilized technique or ingredient that home cooks should use when freestyle cooking?
A: I'll reveal my own learned lesson in putting together this book: the value of acids in cooking; the way they will brighten up a dish. I had discovered this myself, but really never focused on it until now. One time, I was making some stir fry with kale one evening and I had a recipe that wasn't quite tasting right. There was something missing in it, and I thought, "I'll just add a little bit of ketchup." It was what I had that was quick. I couldn't even see it, I put such a small amount in, but it brought life to that dish. It was a simple sauté of kale, with salt, pepper and olive oil, and the addition of the tomato cut through it and brightened it. So often, that is a kind of final hint, tip for your dish: just add a little vinegar; lemon juice can work great too. A great trick is to do it in the corner of your pan, if you're experimenting and not sure it's the right quantity. Put in a little bit and stir it in a small amount and taste it. If it's wrong, you haven't ruined the dish. That was my most "Aha moment!"
Q: What do you always have in your pantry?
A: Olive oil, a couple different kinds of vinegar, good course black pepper, and canned tomatoes. Of course, I prefer fresh tomatoes, but when they're not in season, good canned tomatoes can be used for depth of flavor. I always keep a good stock of pasta and grains, eggs, mustards and some perishables like apples, bananas, milk and butter, of course.
---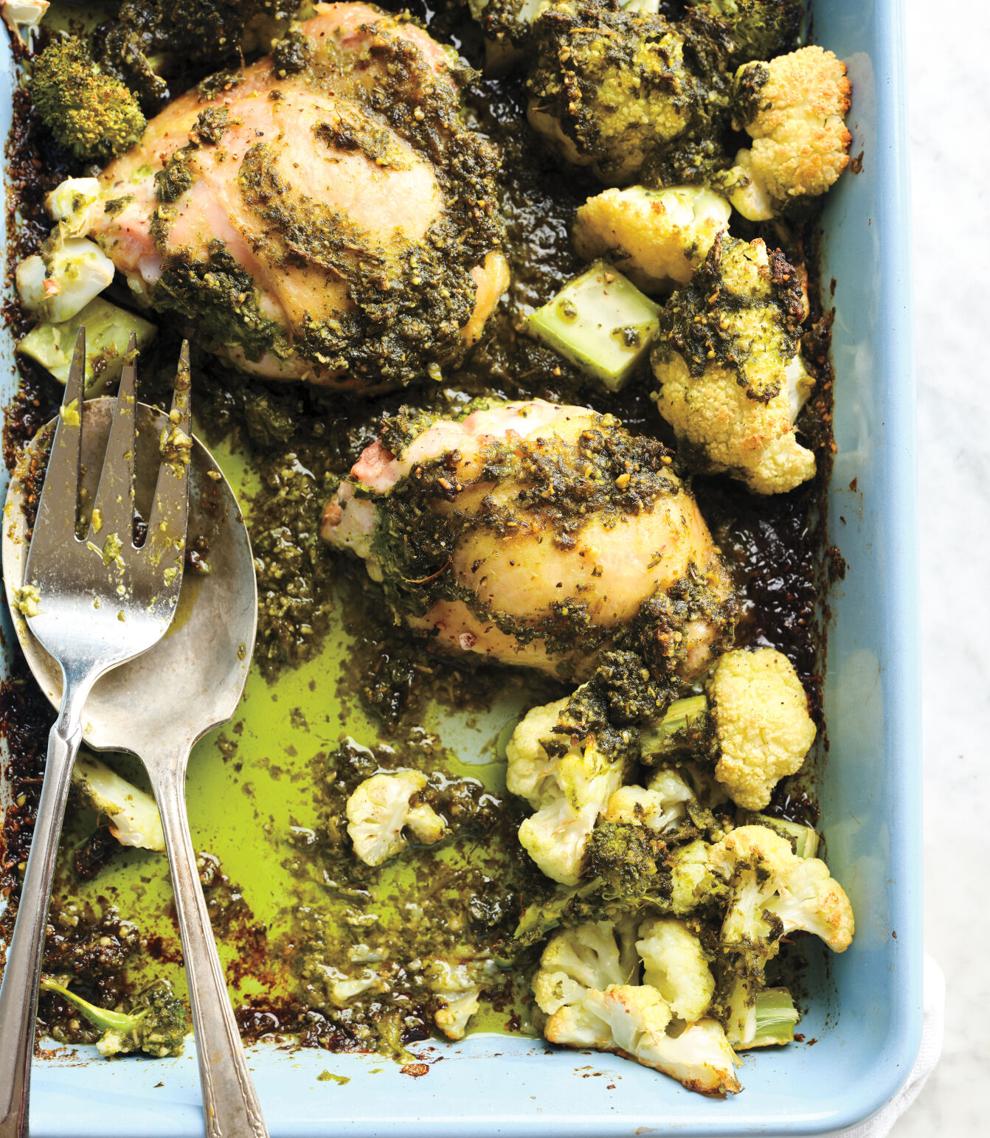 Chicken Thighs with a Global Sauce
(Excerpted from No Recipe? No Problem! ©2021 by Phyllis Good. Used with permission from Storey Publishing)
1. Preheat the oven to 400 degrees.
2. Spread a sheet pan with a sauce  —  curry, creamy, enchilada, pesto, fruity  —  using about half the sauce you have.
3. Lay on the chicken thighs.
4. Place broccoli or cauliflower florets (or both) and chopped stems around the chicken, making sure the sauce is fully covered so it doesn't burn.
5. Season everything.
6. Spoon the remaining sauce over the top.
7. Place the pan on a rack in the top half of the oven. Roast for 35 to 45 minutes, or until the chicken registers 150 degrees (the USDA recommends 165 degrees) on an instant-read meat thermometer.