It's 5:30 p.m. on a Wednesday, you're staring down the empty stomachs of hungry family members and it's just too darn cold out to make that poor pizza delivery driver make a stop at your unshoveled driveway. What's a home cook to do?
Don't panic, just grab your large deep-fry pan or a Dutch oven because that's all you'll need for these one-pot comfort meals that are proven winners at our tables. What's great about these dishes is they're not only easy to make in under 45 minutes with minimal cleanup, but they're also flexible. Swap out proteins, choose a different pasta, add more vegetables — the choice is yours to make.
***
Using only one pan, and under 30 minutes to create, there is nothing to not love about this recipe for sweet-and-sour chicken. I used to make it for tailgating when my son was playing college football. I served the lightly sweet and tangy chicken in sub rolls, making for easy eating while standing up. It works just as well over noodles, wrapped in a flour tortilla or over rice.
For sweet and sour beef or pork, use an equivalent amount of sirloin or pork tenderloin. For a vegetarian version, substitute cubes of extra-firm water-packed tofu.
For a spicier dish, add some additional hot sauce, a pinch of red pepper flakes or some finely diced jalapeno peppers.
— Margaret Button, associate features editor
SWEET AND SOUR CHICKEN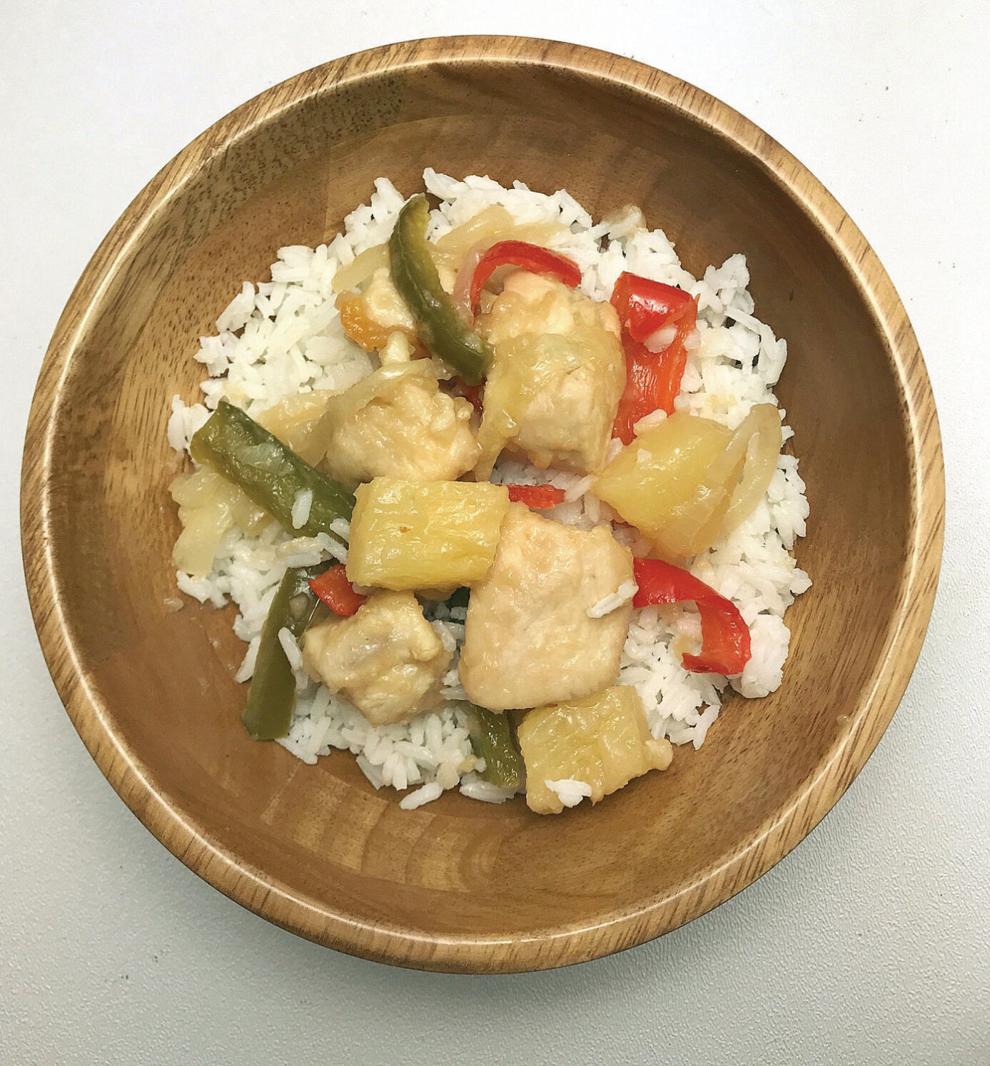 Start to finish: 25 minutes
Servings: 4
INGREDIENTS:
2 tablespoons soy sauce
1 tablespoon seasoned rice vinegar
1 teaspoon hot sauce
2 tablespoons apricot or peach jam
1 tablespoon cornstarch
2 tablespoons all-purpose flour
1 1/2 pounds boneless, skinless chicken breast, cut into 1-inch chunks
2 tablespoons butter
1 tablespoon olive oil
1 large yellow onion, halved and thinly sliced
1 large red bell pepper, cored and thinly sliced
1 large green bell pepper, cored and thinly sliced
1 cup chunk pineapple, and 1/2 cup of the canning juice
Salt and ground black pepper, to taste
DIRECTIONS:
In a small bowl, whisk together the soy sauce, vinegar, hot sauce, jam and cornstarch. Set aside.
In a medium bowl, combine the flour and chicken, tossing to coat. Set aside.
In a large saute pan over medium-high, combine the butter and oil. Heat until the butter has melted. Add the chicken, and brown on all sides, about 5 minutes.
Add the onion, both peppers and the pineapple juice. Saute until the chicken is cooked through and the onions are tender, about another 4 minutes. Add the pineapple, then cook until heated.
Stir in the soy sauce mixture and cook, stirring constantly, until thickened, about 2 minutes. Season with salt and pepper.
Spoon chicken, vegetables and sauce into each sub roll or flour tortilla, or serve over rice or noodles.
***
This one-pot, creamy pasta dish is a winter favorite in our house, where even my non-mushroom loving husband can't get enough. This recipe is simple to make, but does require a lot of layering of flavors, so make sure you season with salt and pepper after each step. The original recipe called for 1 pound of lean beef cut in cubes, but I swapped this out for ground beef, or ground turkey, long ago. My toddler is much more likely to eat the "mini meatballs" of cooked ground beef that stick perfectly to the creamy sauce and pasta. And don't be afraid of the deglazing step with the white wine, — use a dry Chardonnay, or even a Sauvignon Blanc will do — it really takes this everyday weeknight meal up a notch to something flavorful and special. Plus, no one is saying you can't enjoy a glass of the wine while you're cooking.
— Lindsey Hollenbaugh, managing editor of features
ONE-POT BEEF STROGANOFF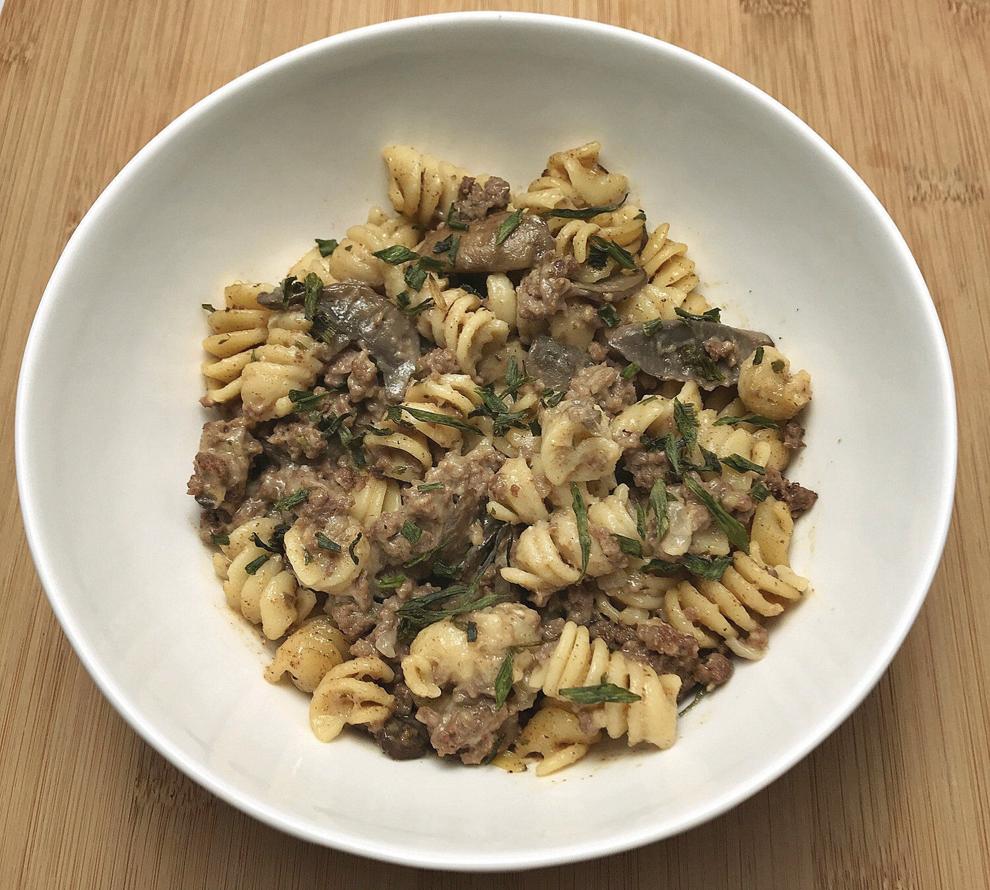 INGREDIENTS:
1 tablespoon olive oil
8 ounces cremini mushrooms stems trimmed and sliced
2 tablespoons unsalted butter
1 onion chopped
2 cloves garlic minced
1 pound ground beef or ground turkey
3 tablespoons all-purpose flour
1 teaspoon paprika
1/4 cup dry white wine
4 cups low-sodium beef broth or stock
Salt and ground black pepper to taste
8 ounces dried pasta (I used rotini)
3/4 cup sour cream
1 tablespoon parsley, chopped
DIRECTIONS:
Heat the olive oil in a large heavy-bottomed pot or Dutch oven over medium-high heat. Add the mushrooms, season with salt and pepper, and cook, stirring occasionally until browned, about 5 minutes. Transfer to a medium bowl and set aside.
Reduce the heat to medium and add the butter. When the butter has melted, add the onion and garlic, season with salt and pepper, and cook, stirring occasionally, until softened, about 4 to 5 minutes. Add the ground beef, season with salt and pepper. Cook beef, until it's just cooked through and no longer pink.
Sprinkle in the flour and paprika, stir to coat the meat, and cook, stirring occasionally, until the raw flavor has cooked off the flour, about 1 to 2 minutes. Add the wine and cook, stirring occasionally and scraping up any browned bits that have accumulated on the bottom of the pot, until almost evaporated about 1 to 2 minutes. Add the broth and stir to combine. Increase the heat to medium-high and bring to a simmer.
Add the pasta and reserved mushrooms, along with their accumulated juices, and stir to combine. Reduce the heat to medium-low and simmer, stirring occasionally, until the noodles are just cooked through, about 6 to 8 minutes.
Remove from the heat and stir in the sour cream. Taste and season with salt and pepper as needed. Sprinkle with the parsley and serve.
***
I found this recipe after a bored "what's for dinner" Google search last week and it was such a hit we've had it three times since. The recipe is fast and easy, with a lot of wiggle room for ingredients that aren't exactly what's on the list. I replaced the fire-roasted tomatoes the first time with a can of whatever I had in the cupboard; it didn't taste any different when I used the fancy organic fire-roasted tomatoes when I made it again. And my first try was gluten-free as well, and amazing — it truly wasn't any more enjoyable when I switched from red lentil pasta the next time. This has officially replaced spaghetti night as our easy pasta-tomato combo dinner of the week.
— Meggie Baker, calendar clerk
ONE-POT CREAMY CAJUN CHICKEN PASTA
(Courtesy budgetbytes.com)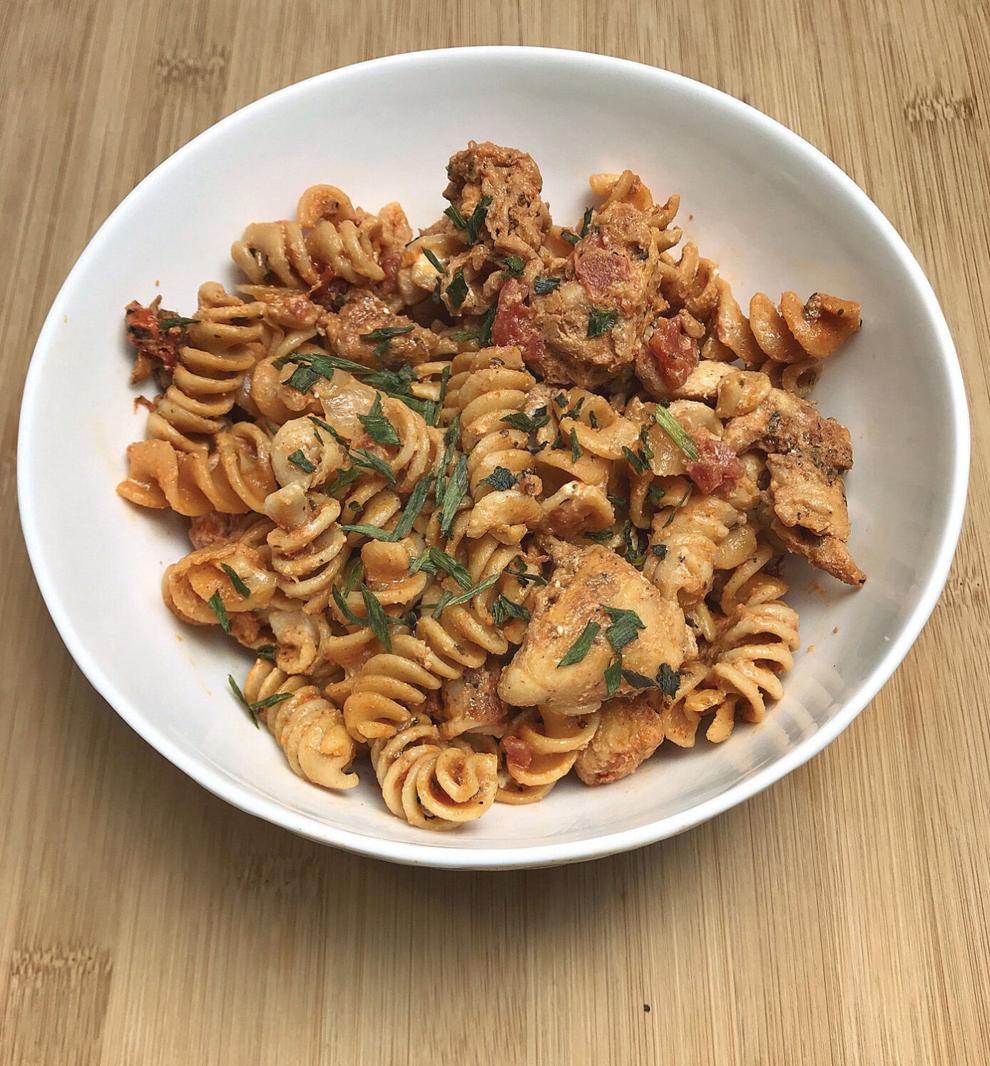 INGREDIENTS:
Cajun seasoning:
2 teaspoons smoked paprika
1 teaspoon oregano
1 teaspoon thyme
1/2 teaspoon garlic powder
1/2 teaspoon onion powder
1/4 teaspoon cayenne pepper
1/4 teaspoon black pepper
1/4 teaspoon salt
Chicken pasta:
1 tablespoon olive oil
1 tablespoon butter
1 pound boneless, skinless chicken breast, cubed
1 yellow onion, diced
1/2 pound penne (or really any short pasta)
One 15-ounce can fire-roasted diced tomatoes
2 cups chicken broth
2 ounces cream cheese
3 green onions or chives
DIRECTIONS:
Combine the ingredients for the Cajun seasoning, then dredge the chicken. Add the olive oil and butter to a large deep skillet (I recommend nonstick for this recipe.) Heat oil and butter over medium-high until the skillet is very hot and the butter is melted and foamy. Add the chicken and cook for a couple minutes on each side, or just until the outside gets some color, not cooked through.
Add the onion and continue to saute until the onion begins to soften. Next, add the pasta, fire-roasted diced tomatoes (with the juices), and chicken broth to the skillet. Cover and bring to a boil.
Turn the heat down to medium-low and let the pasta simmer for about 10 minutes, or until the pasta is tender and the liquid is thick and saucy, stirring every couple of minutes.
Add the cream cheese to the skillet in chunks, then stir until it has melted into the sauce. Top the pasta with sliced green onions and serve.