For more years than I can count, New Year's Eve has been celebrated with a large party at the home of dear friends. The hors d'oeuvres are endless, the buffet dinner filled with myriad offerings, the dessert table laden with rich treats. Of course, not this year.
Still, it seems that we should do something to celebrate the end of this challenging year, to ring in 2021 with hopes and dreams for better days ahead.
It's been almost a year of smaller holidays and celebrations, and it looks like we will have to stick it out for a bit longer. But that doesn't mean we can't do something special to celebrate!
For dinner on New Year's Eve, whether it's a smaller group or even just one or two, duck breast feels elegant and special. I adore duck, and while making it at home doesn't happen all that often, it's really manageable. Here, I've made a sauce with perry — a fermented drink like hard cider, but made with pears – and wedges of fresh pears because I always receive a box from my sister during this season, as a sweet memory of my father who always used to send them. If you can't find perry, hard cider and apples would also be delicious, or you could even use champagne for the sauce. Duck goes well with fruit, so feel free to experiment.
Frozen puff pastry provides a shortcut for any number of dishes, and because they usually come two sheets to a package, I decided to use one sheet for a New Year's Eve dessert, and the other as a quiche crust for brunch on New Year's Day.
For the dessert purses, there are so many possible fun fillings! If you bake them on a piece of parchment paper, everyone can choose a different filling and you can write in pencil near each one what's inside.
You can also adapt the quiche filling to your liking. Follow the proportions for the custard and pour over whatever cheese-meat-vegetable/fruit combination strikes your fancy! For a cozy breakfast version, I like a filling inspired by an apple and cheddar omelet I once had at the iconic Lou Mitchell's in Chicago, adding some sausage and onion. If you don't feel like sautéing the sausage first, buy a few thin slices of prosciutto or other good deli ham and cut into ribbons instead.
No matter what you decide to cook or what variations you may try, be sure to ring in the New Year with something delicious, and raise a toast to renewed hopes for a better world in 2021!
PAN-SEARED AND ROASTED DUCK BREAST WITH PEAR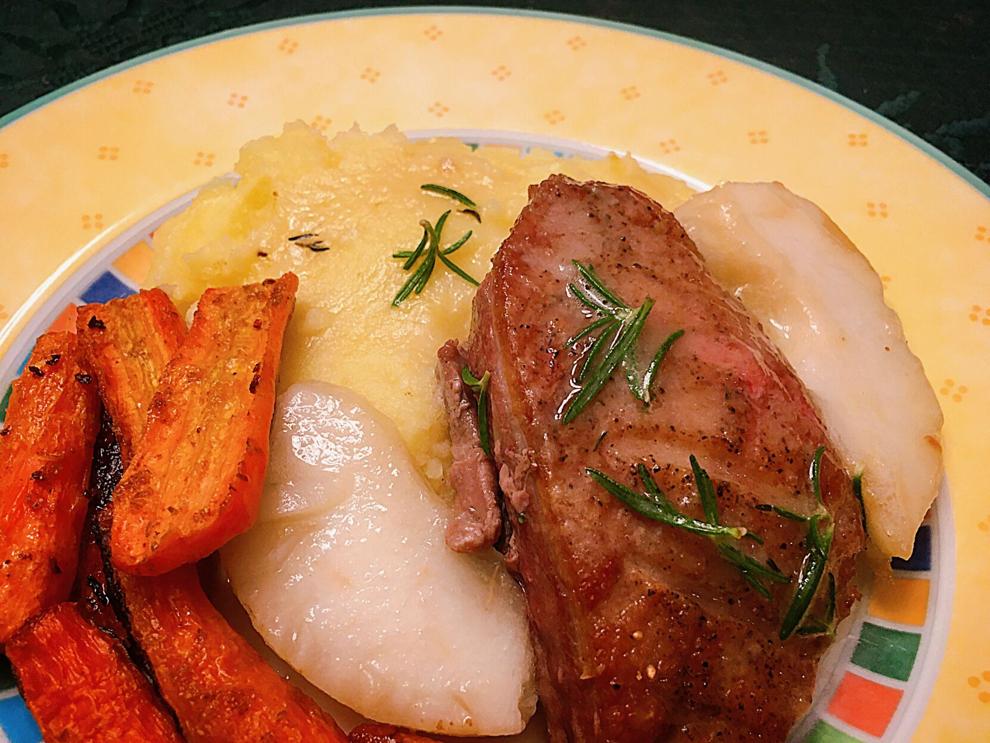 Serves 2-4
INGREDIENTS:
Four 6-ounce petite duck breasts or 2 regular 12-ounce duck breasts
1/2 teaspoon salt
1/4 teaspoon fresh ground pepper
2 tablespoons all-purpose flour
1 tablespoon fresh rosemary
1/2 teaspoon dried thyme or leaves from 1 sprig fresh thyme
1 1/2 cup perry (hard pear cider) or hard cider or champagne
1 large pear, peeled, cored, and cut in 12 wedges or 2 small pears, or 2 apples if using hard cider
DIRECTIONS:
Preheat oven to 400 F and turn on the fan over the stove.
Cut a crosshatch pattern into the skin and fat of the duck breasts, taking care not to cut into the meat. Heat an oven-safe sauté pan over medium-high heat. Sprinkle salt and pepper over both sides of the duck and place skin side down in the hot pan. Allow to sear without moving for 5 minutes, allowing the fat to render out from under the skin.
Turn the meat over and sear for 1 minute.
Place the pan into the oven and roast for 5 minutes for small duck breasts or 7 to 9 minutes for the larger ones. If using an instant-read thermometer, the meat should register to 135 F.
Remove the pan from the oven, place a pot holder on the handle to remind you it's hot, and remove the duck breasts to a platter to rest.
If necessary, pour off some of the rendered fat, leaving about 2 tablespoons in the pan. Place the pan over medium-high heat, add the flour and herbs, and whisk to combine with the fat. Reduce heat and add the perry, cider, or champagne to deglaze, and whisk to make gravy, simmering until thickened. Add the pear wedges and return duck back to the pan for 1 to 2 minutes to warm through.
Serve with something to soak up the gravy, such as mashed potatoes.
DESSERT PURSES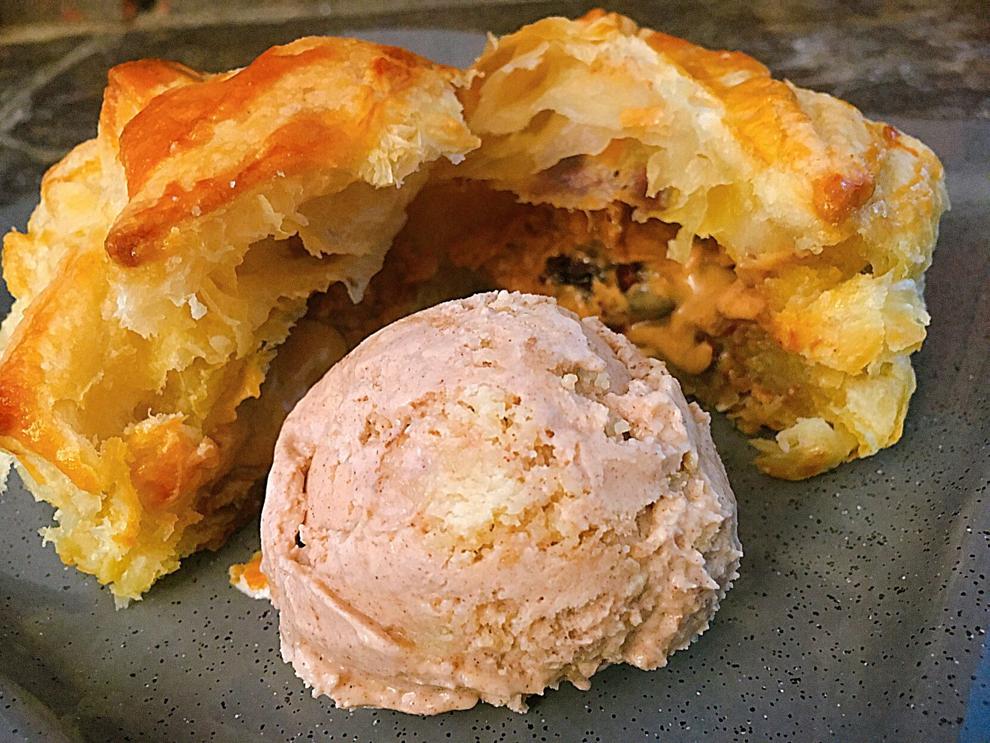 Serves 4
INGREDIENTS:
1 sheet frozen puff pastry
1 egg, beaten
Filling ideas (amount needed for each 'purse'):
11/2 tablespoons chocolate-hazelnut spread
11/2 tablespoons peanut butter and 10 chocolate chips
1 tablespoon blueberry jam and 8 to 10 blueberries
DIRECTIONS:
Thaw puff pastry sheet according to package directions.
Preheat oven to 400 F. Line half sheet pan with parchment or foil.
On a lightly-floured surface, unfold the puff pastry and, with a lightly-floured rolling pin, roll until smooth, trying to make the sheet as close to a 10-inch square as possible. Cut the pastry sheet into four squares. For each square, place onto the parchment or foil and spoon your chosen filling on the center. Brush all edges with the beaten egg and draw the corners together. Press the dough together above the filling and twist as if creating a pouch. The egg will help hold it together. Repeat with the three remaining pieces of dough. Brush the pouches gently all over with more egg wash.
Bake for 20 to 25 minutes, until puffed and golden. Allow to cool for a few minutes, and serve warm with ice cream, whipped cream, or chocolate or caramel sauce.
BRUNCH QUICHE WITH SAUSAGE, APPLE & CHEDDAR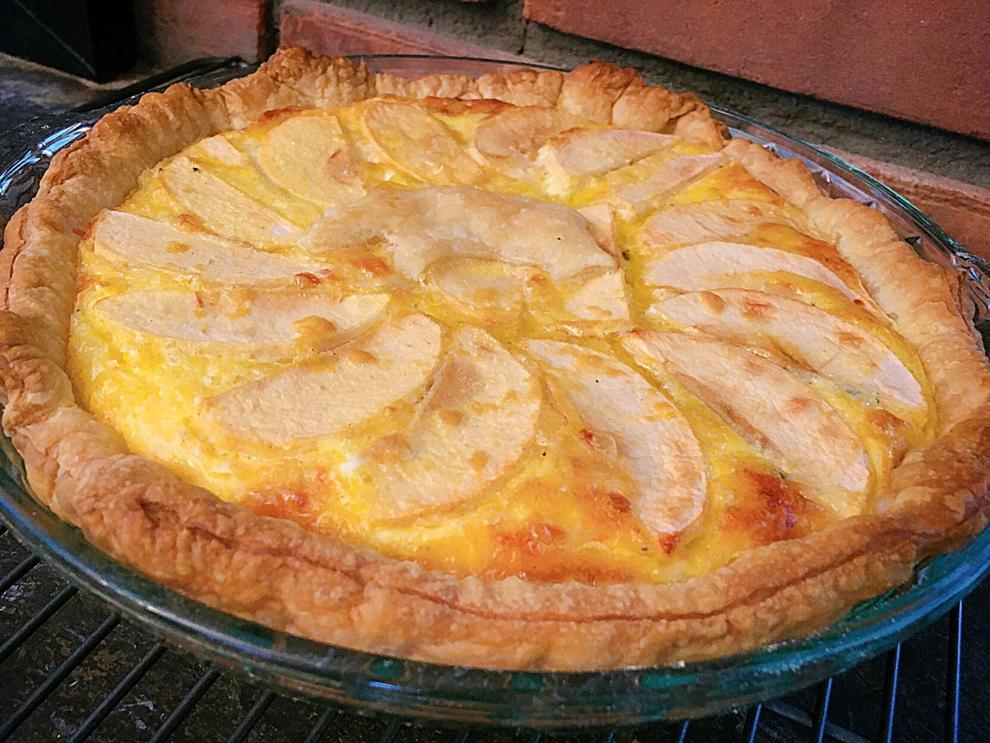 Serves 4-6
INGREDIENTS:
1 sheet frozen puff pastry
1 tablespoon olive oil
1/2 small onion, chopped
8 ounces loose sausage (about 2 full-size links or 4 to 5 small breakfast sausage), omit for vegetarian and add a second apple
1 teaspoon dried sage (optional)
4 ounces sharp cheddar cheese, shredded
1 medium apple, peeled, cored, and sliced
3/4 cup milk
3/4 cup heavy cream
3 eggs
1 tablespoon Dijon mustard (optional)
1/4 teaspoon kosher salt
1/8 teaspoon ground nutmeg
Pinch ground white pepper, or a few grinds of fresh black pepper
DIRECTIONS:
Thaw puff pastry sheet according to package directions.
Preheat oven to 400 F. Line a half sheet pan with foil in case of drips.
Heat the olive oil in a medium sauté pan over medium heat. Add the onion and sauté until softened. Add the sausage and sauté, breaking up the meat, until fully cooked. Stir in the sage (if using).
On a lightly-floured surface, unfold the puff pastry and roll with a lightly-floured rolling pin until big enough to cover the bottom and sides of a pie or tart pan. Place the pastry into the pan, pressing along the bottom and sides. Trim the corners that overhang the pan and discard.
Spread the sausage mixture on the bottom and cover with an even layer of shredded cheese. Arrange the apple slices on top.
In a medium bowl, whisk together the milk, cream, eggs, mustard (if using), salt, nutmeg, and pepper until well combined. Pour into the pie pan on top of the sausage, cheese, and apples.
Place on foil-lined pan and bake for 35 to 40 minutes until the custard is set and beginning to brown. Allow to cool at least for 30 minutes before serving.