Christmas did not arrive in Massachusetts with the Puritans. Nor did it flourish under them. In fact, by 1659, the Puritan-led government of the Massachusetts Bay Colony had banned Christmas, a celebration they believed distracted from religious piety and encouraged the practice of pagan rites. It would not be until the Victorian era that Christmas, as we know it today — with feasting, gift giving and Christmas trees — would take shape under the guidance of Queen Victoria and her husband, Prince Albert, and make its way from England to the United States.
Christmas, as it was celebrated by the United Society of Believers in Christ's Second Appearing, more commonly known as the Shakers, evolved over time as well, keeping up with the celebrations of the outside world. When the Shakers arrived in what is now the United States in 1774, the communal-minded society did not celebrate the holiday, keeping in step with groups around them.
But by the 1800s, the Shakers were celebrating the day in their own fashion with the Shaker "Rules and Orders" now saying: "Believers should keep Christmas and on that day should examine themselves in regard to their union with each other, and if hard feelings or grudges be found they should this day be put away and reconciliation should be made and union gained between such as have had dissentions that the spirit of Christ may abide in every soul."
The holiday became one of forgiveness and of giving — Shakers collected clothing and distributed it to the poor in neighboring communities. Music became part of the festivities, with songs being written for the holiday and caroling taking place on Christmas morning. (As Shaker numbers dwindled and rules became more lax in communities, Shaker Christmas celebrations began to mirror those of the outside world, complete with Christmas trees and visits from St. Nicholas.)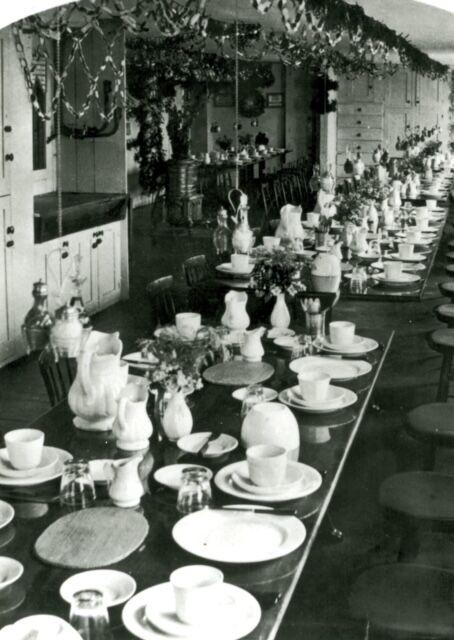 In a post on the Enfield Shaker Museum website, Sister Elmina Philips, (a Shaker from 1841 to 1875) the last school teacher of the North Union Shaker Community in Ohio, recollects how Christmas was celebrated — it of course, was foremost a holy day, but also one filled with singing, sleigh riding and food. The first union meeting took place at 10 a.m., with cheerful chat, singing of old and new songs and the passing of pans of cracked nuts and popcorn.
"At 11 o'clock lunch was carried around to the rooms in big pans by some of the young brethren and sisters — great quarter sections of the most delicious cake, if memories may be trusted, and slices of creamy, homemade cheese and whitest bread and pie," she said. "At 1 p.m. all the families [Shakers lived in communal groups within the villages called families] assembled at the meeting house. The services were the same as at the usual Sunday meetings, except that there were special hymns and special readings from scriptures, old and new. After meeting baskets of choice apples were carried around and the gifts which had been prepared for each one — usually some article of clothing somewhat nicer than common.
"At 4 p.m. came the principal meal of the day, and afterwards a big basket was carried around to the rooms to receive offerings of clothing for the poor. All were expected to give something from their own store."
After reading about Shaker traditions at Hancock Holiday Nights, I became curious about what they baked at Christmas. I then came across a recipe for "Christmas Cake," from the North Union Shaker Village, in "The Best of Shaker Cooking," by Amy Bess Miller and Persis Fuller and decided to give it a try. I went in to making it with a few fears, that it would be heavy or stodgy because of the nuts and the icing, flavored by real maple syrup, would be overwhelmingly sweet. I also consulted some much-trusted colleagues and a website or two about how to add hot maple syrup to egg whites without them curdling. Turns out all my worrying was for naught. The cake is light, not dense at all, and the frosting is not only light and fluffy, it's also compliments the cake by not being overwhelmingly sweet, but just sweet enough.
While I can't confirm that this is the exact cake that Sister Elmina talks about in the Enfield Shaker Museum post, I can say, after making it, that it would be quite the Christmas Day treat.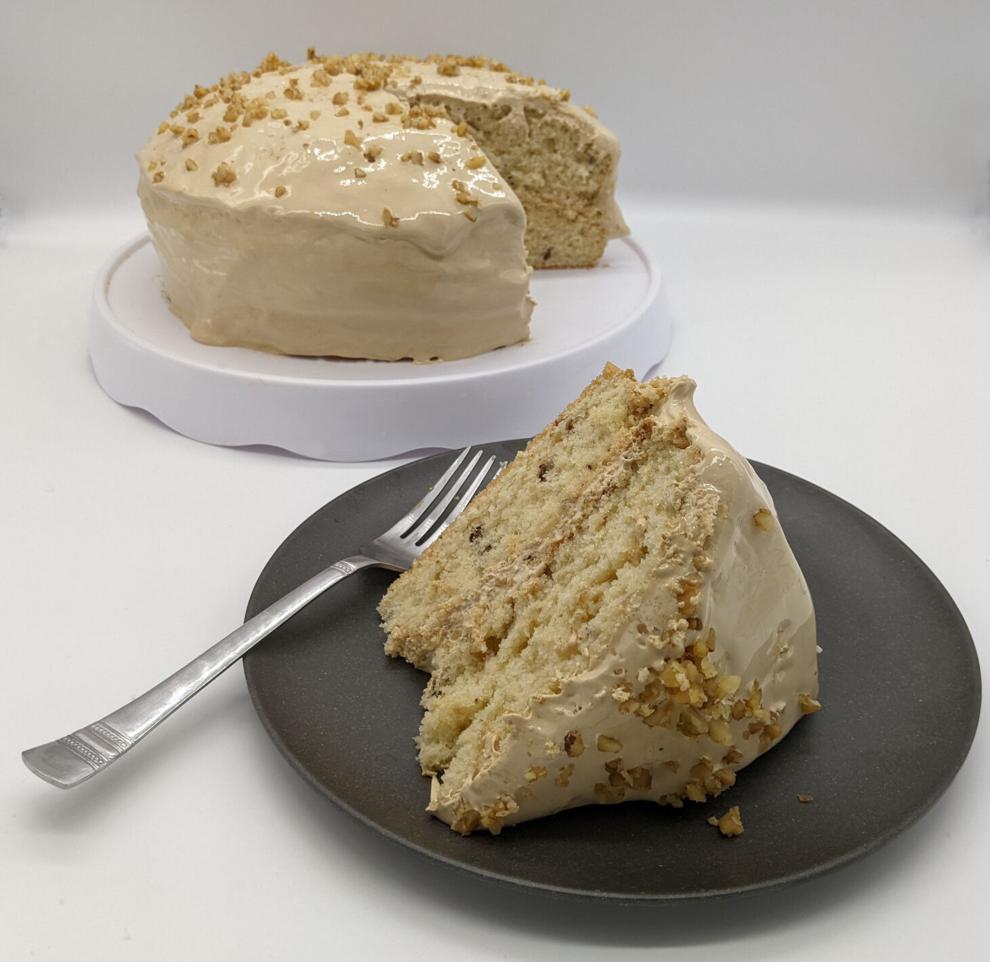 SHAKER CHRISTMAS CAKE
(Recipe adapted from 'The Best of Shaker Cooking')
This cake is usually made in layers, with the number of layers depending on the size of the pans. Traditionally, two 8-inch round pans were used.
INGREDIENTS
2 cups sugar
1 cup butter (2 sticks)
3 1/2 cups all-purpose flour, sifted
4 teaspoons baking powder
1/2 teaspoon salt
1 cup milk
1 teaspoon vanilla or rose water
8 egg whites, beaten until stiff but not dry
1/2 cup chopped butternut meats (walnuts or pecans can be used in place of the butternuts)
DIRECTIONS
Preheat oven to 350 F.
Sift sugar. In stand mixer, beat butter until soft. Combine sugar with butter, blending until nice and creamy.
Sift 3 1/2 cups all-purpose flour into a large bowl. Add baking powder and salt. Resift mixture into another bowl.
Add flour mixture, gradually, into the sugar and butter mixture, alternating with the milk. Add flavoring. In another bowl, beat egg whites until stiff, but not dry. Fold egg whites into cake batter. Fold in nuts. Bake in greased pans for 40 minutes. Remove from oven and cool. When cool, spread with maple syrup icing.
MAPLE SYRUP ICING
(Recipe adapted from 'The Best of Shaker Cooking')
INGREDIENTS
1 cup maple syrup
2 egg whites
1/4 teaspoon salt
1/2 cup chopped nuts
DIRECTIONS
In a medium bowl, whip the egg whites with salt until they can hold a peak.
In a small saucepan, heat maple syrup to between 224 F or until fine threads form when syrup is dripped from a spoon. Gradually drizzle the hot syrup into the egg whites while continuing to whip. Frosting is ready when thick and fluffy. Makes enough frosting for an 8-inch round cake.