If you're looking for treats on Halloween, but are a tad too old to be wearing that Superman costume out in public — or, at least too old to be knocking on your neighbor's door in said costume — you don't have to raid your kids' candy stash. These classic Halloween chocolates are easy to make with items you most likely already have in your pantry.
Serve these to your guests on Halloween alongside the originals and let them decide which version they like better. The higher the quality of melted chocolate you use, the higher the probability that your copycat versions will win.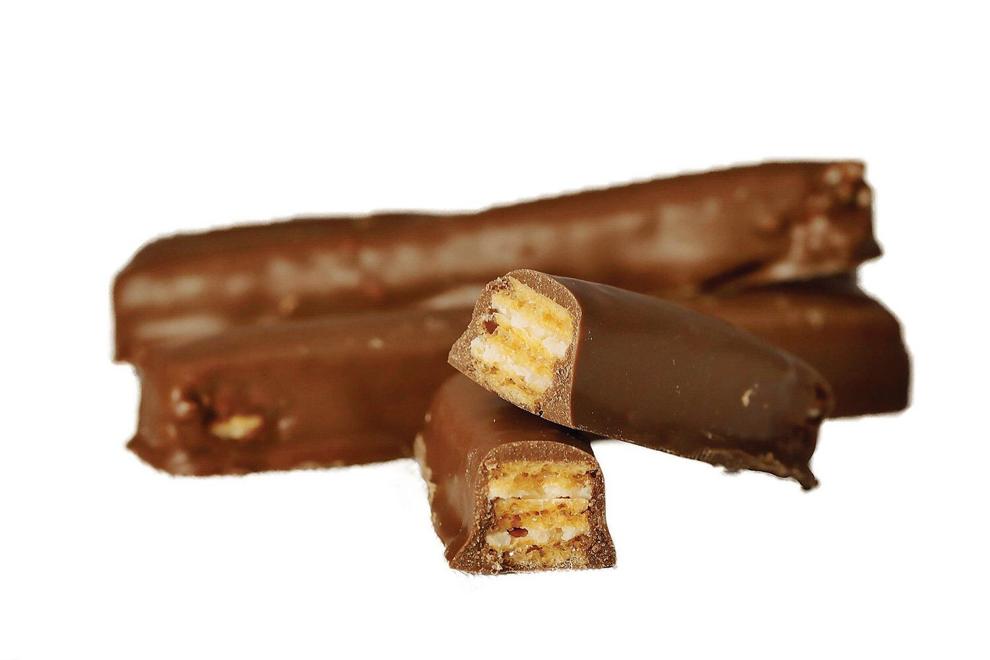 KITKATS
The original KitKat was a mutton pie served at a political club in London during the 18th century, which is quite different than the chocolatey version we're familiar with today. KitKat bars have been around since 1911, are produced in 13 countries, and have been sold in over 200 flavors in Japan. Needless to say, KitKats are pretty popular, and if they're your favorite treat, it's really easy to make your own at home. You can make a big batch for much cheaper than buying Nestle brand ones, and you only need two ingredients — wafer cookies and chocolate.
The process couldn't be much simpler. Start by melting the chocolate, either in the microwave or in a saucepan. Line a baking sheet with wax paper, then dip the crispy wafers in the chocolate and place them on the tray as close together as possible. Once the chocolate sets, they're ready to eat. You can speed it up by putting them in the freezer for a few minutes.
You can use any kind of cookies and coating you want to achieve bars that may not otherwise be available in stores starting out with vegan or gluten or dairy-free wafers and coatings.
— Becky Drees
INGREDIENTS:
1 package vanilla cream wafer cookies
12-ounce package of chocolate (can use chocolate chips, almond bark, or any of your favorite chocolate)
DIRECTIONS:
Cut each wafer in half lengthwise. Melt chocolate according to package instructions. Dunk each wafer into the chocolate until completely coated. Lift cookie out of the chocolate with a fork letting the excess chocolate drip off. Set coated cookies on a wax paper-lined cookie sheet and let chill in the refrigerator for a few minutes until set.
These store well at room temperature or in the fridge in a covered container.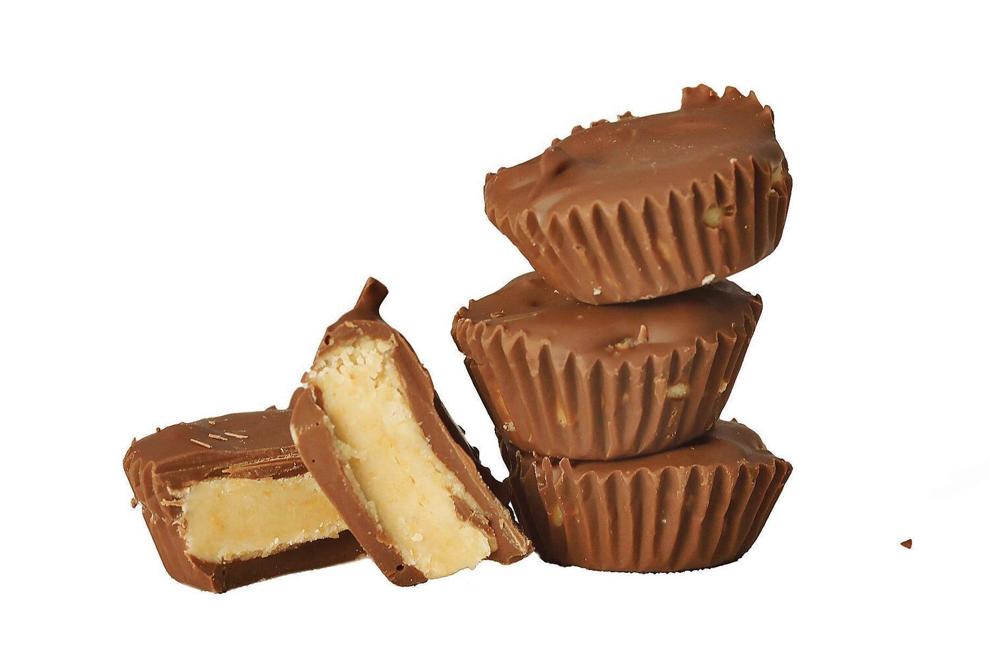 PEANUT BUTTER CUPS
I got this recipe for peanut butter candy cups from a syndicated weekly column that was sent to the North Adams Transcript in my early days as an editor there.
When I first started making them, the mini-muffin cupcake papers were smaller than they are now, so the yield is less. I had about 28 cups when I made the latest batch. I've found that using a pastry blender works great when combining the peanut butter, butter and confectioners' sugar. If you own a doughnut cutter with a removable center hole, the hole cutter is the perfect size for the peanut butter rounds. I once made one giant peanut butter cup, making one large peanut butter round and using an 8-inch pie plate.
When pouring the melted chocolate into individual muffin papers, do only a few at a time and immediately place the peanut butter rounds before the chocolate begins to firm up. Pressing the rounds into the melted chocolate is vital, otherwise, there will be no chocolate on the sides of the cups. Also, I'm not a fan of chunky peanut butter, so I use smooth.
— Margaret Button
(Makes 3 1/2 dozen)
INGREDIENTS:
1/3 cup super chunk peanut butter
1/3 cup butter, soft
1 2/3 cups sifted confectioners' sugar
12-ounce package semi-sweet or milk chocolate pieces, melted
DIRECTIONS:
Place small paper baking cups, (1 3/4 by 1-inch) on a tray or in muffin cups. In a medium bowl, stir together peanut butter and butter until blended. Gradually stir in confectioner's sugar. Turn onto a board. Knead until well mixed. Press with hands or roll out to a 1/2-inch thickness. Cut into rounds with a 1-inch round cookie cutter.
Spoon about 1/2 teaspoon melted chocolate into the paper cups to generously cover bottom. At once, place 1 peanut butter round on top of the melted chocolate in each cup; gently push down to coat sides. Spread additional chocolate over the top, making sure sides are completely coated.
Chill until firm. Store in refrigerator.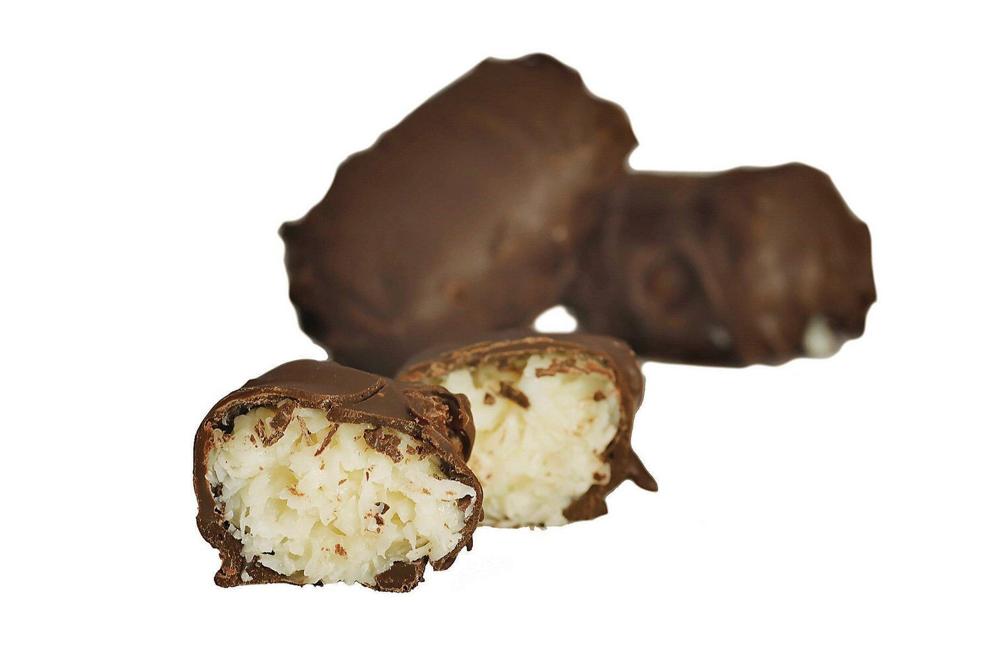 MOUNDS BARS
These homemade Mounds Bars are surprisingly easy to make and taste almost exactly like the real thing, maybe better thanks to good quality chocolate. Warning: this recipe can be messy as the coconut mixture is quite sticky. I would suggest skipping the effort to make these into oblong shapes and just roll the mixture into balls before dipping. These stay well in the fridge or an airtight container.
— Lindsey Hollenbaugh
INGREDIENTS:
2 cups of melted milk chocolate or dark chocolate
3 cups coconut flakes
1 cup sweetened condensed milk
DIRECTIONS:
Mix the shredded coconut with condensed milk, then mold into oblong shape. Put the shapes onto a wax paper-lined tray and put them to freezer for at least 20 minutes. Then dip them into the melted chocolate. If you are more of an Almond Joy kind of candy lover, put almonds on top of the coconut mounds before dipping in chocolate. Let excess chocolate drip off and set for at least 15 minutes before eating.