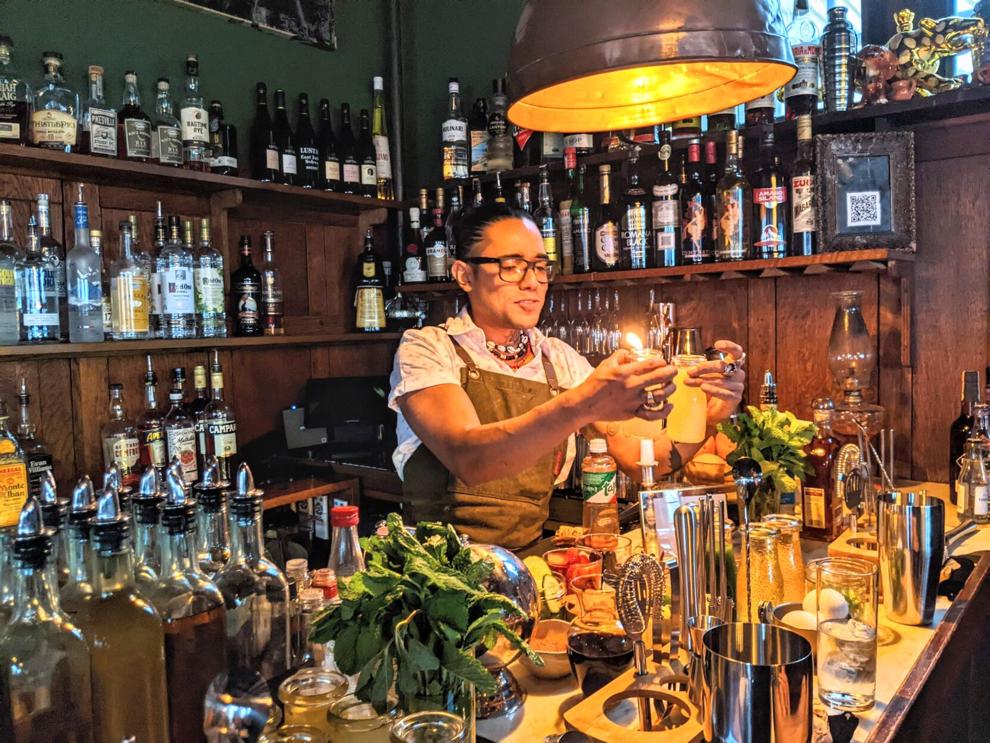 Growing up, my knowledge of cocktails was very limited.
My grandmother drank highballs with her brother, Nello, on special occasions. Otherwise, cocktails were the drinks that Tom Cruise made in the movie, "Cocktail." Then "Sex and the City" came along and everyone seemed to be drinking cosmopolitans and martinis. Soon after, I discovered margaritas and espresso martinis.
I've never really been great at making my own, so when I received an invitation from the Apple Tree Inn to attend an exclusive cocktail making class with their resident mixologist Antonio Bonilla, I couldn't refuse. Afterall, I'd recently heard quite a bit about the Apple Tree Inn's music offerings, as well as its Ostrich Room, an 1895 billiards room turned speakeasy/European cocktail lounge where Bonilla holds court at the bar. I'd heard that "you have to go there" to understand how laid back and relaxed the atmosphere is; to experience the energetic positivity of Bonilla.
Everything I heard was so spot on. In the Ostrich Room, Bonilla had already set the mood with the burning of sage and palo santo wood. The bar was laid out with all the tools and ingredients we would need for the class — bottles of agave and lime, lemon, orange and cucumber juice, bowls of cucumbers, strawberries, chiles and jalapeno peppers. There were vases filled with sprigs of fresh mint and bowls with room-temperature eggs, alongside the custom cocktail kits we'd be taking home.
But, Bonilla said, we didn't even need those things to make cocktails.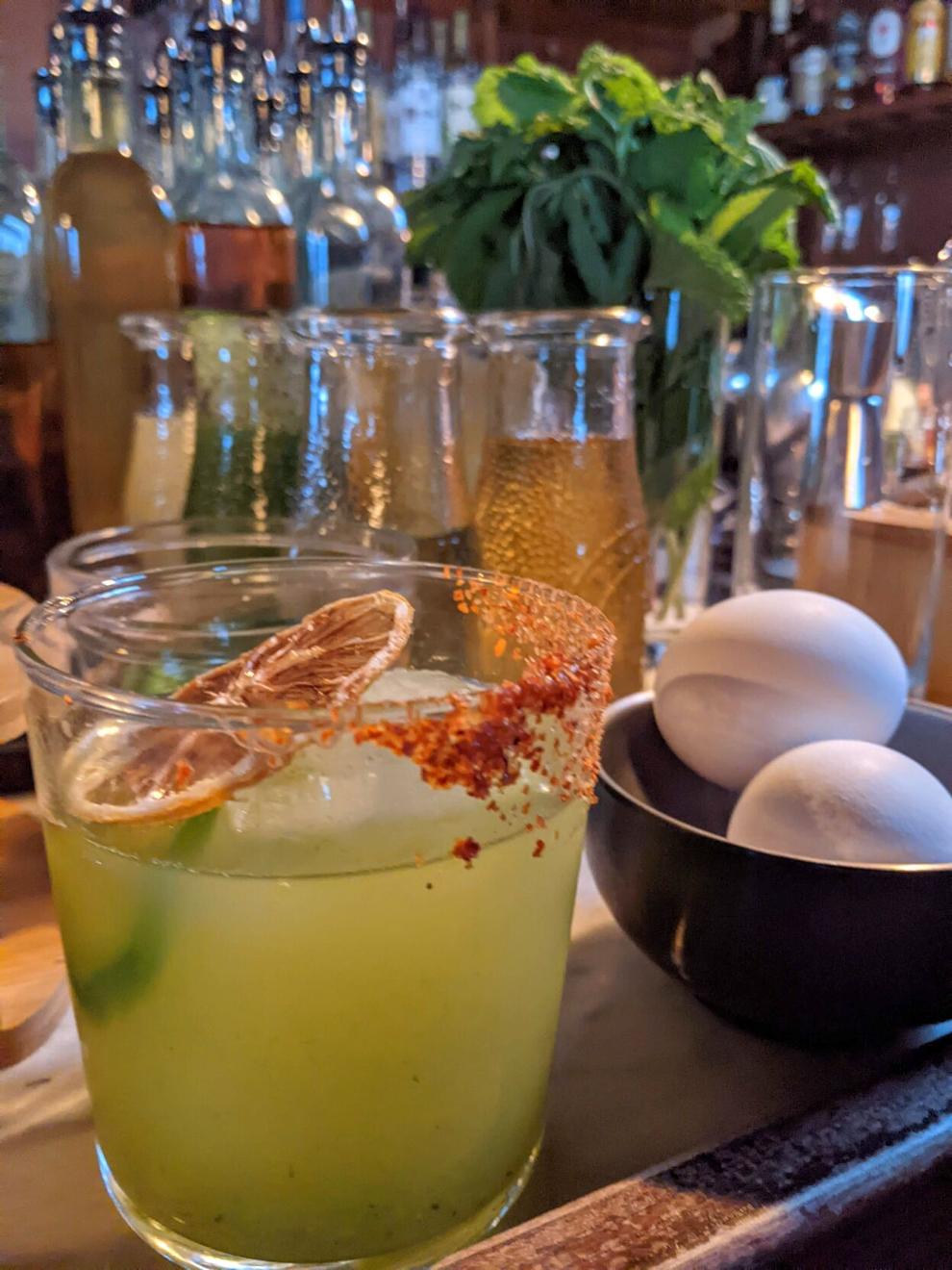 "The jiggers," he said referring to a two-sided tiny chalice, "is used to measure. One side is a 1/2 ounce. The other side is an ounce. But if you don't have one, [measuring] it's as simple as using one of those red cups that you use to play [beer] ping pong. The bottom part of the cup is perfect for that; pour up to that first line on the bottom and you have a 1/2 ounce.
Mason jars are an acceptable replacement for cocktail shakers, he said, emphasizing its the cocktail itself, not the tools, that are important. "We don't have to stick to the standard."
"Every cocktail has a twist," Bonilla told our intimate group of 10. "There's different techniques to making cocktails. But basically, cocktails have three to four ingredients.
"The main ingredient is the spirit. The second ingredient is the sour. The third is the sweetness. The fourth ingredient is optional, it's your personal touch."
We began the class with a quick lesson in how to tell lemon and lime juice apart. "The lemon juice is always darker," he said, holding up two of the bottles of juice.
Telling the difference between the two would be important later on, when making his trademark Spicier Margarita and a strawberry mojito.
For the class, Bonilla had already prepared the first half of the margarita mix, he said, pointing out a sixth bottle of liquid filled with a combination of jalapeno-infused Cazadores blanco tequila, Cazadores blanco tequila, triple sec and green chartreuse. He demonstrated how to line the rim of glasses, running a slice of orange around the rim before dipping it in Tajin clasico chile lime seasoning (as opposed to salt) — to give it an extra kick.
With ice in our shakers, we added the tequila mixture and then measured the amounts of required agave, lime, orange and cucumber juice in our jiggers. We popped the tops on our shakers and waited for his words of wisdom about how to keep the top from getting stuck after shaking.
"This is the trick," he said with grin. "There is no trick. We're creating pressure as we shake. Just make sure you give the shaker a good tap before you shake it."
Another tip, he said, is to watch the frost forming on the outside of the shaker. The halfway mark (on the bottom portion of the shaker) is where you want to stop.
"You can over shake a cocktail," Bonilla said.
After shaking our margaritas, we practiced pouring them over large cubes of ice. We added a slice of jalapeno pepper (without the seed) and Bonilla topped off our drinks with a slice of dried orange. After tasting the fruits of our labors, and a quick wash of our tools, we moved on to learning how to muddle strawberries for a mojito that we poured into slend glasses and topped with a sprig of mint.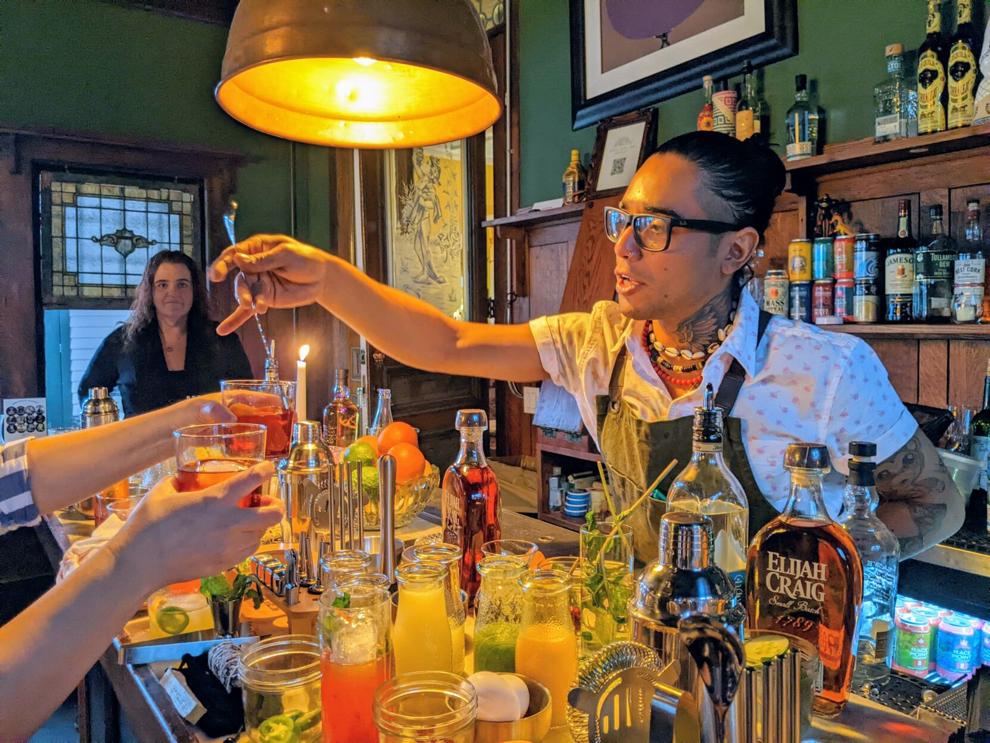 The two-hour class flew by and before we knew it, it was almost time for the Ostrich Room to open for the evening. As the musicians moved their equipment into the room and staff prepared to welcome guests, Bonilla made each of us a special negroni cocktail, in lieu of the old-fashioned we hadn't had time to make.
It was with great reluctance that each of us packed up our gift cocktail set, not wanting the fun to end.
Hopefully, the Apple Tree Inn will host another Cocktails with Antonio in the near future.
ANTONIO'S SPICIER MARGARITA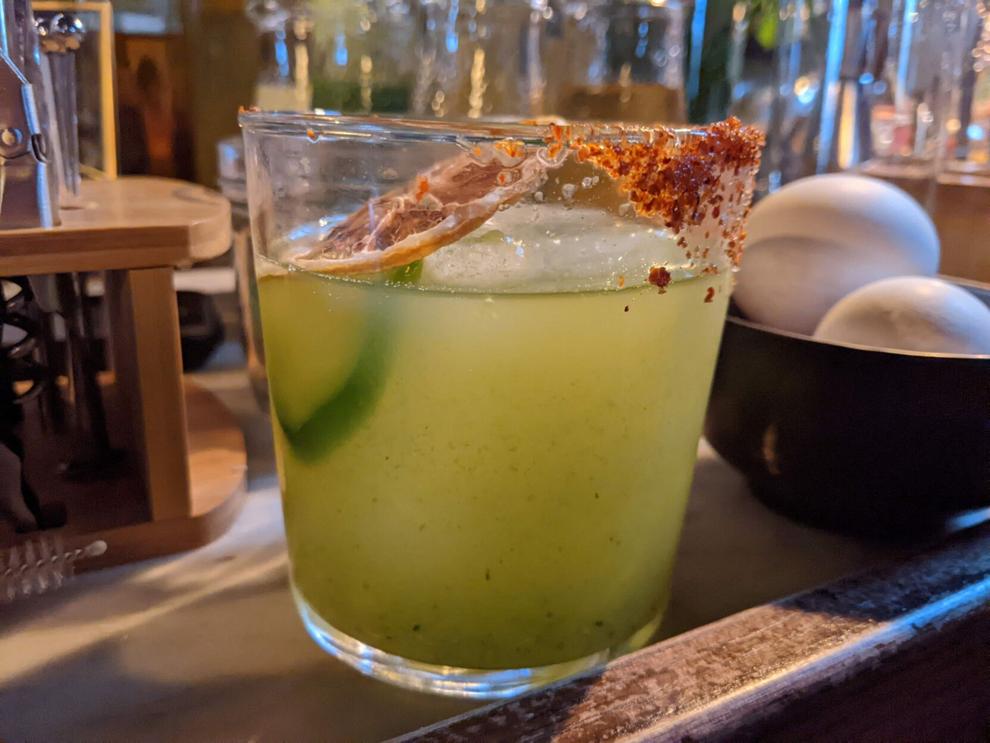 (Courtesy of Antonio Bonilla and Apple Tree Inn)
INGREDIENTS
3/4 ounce jalapeno-infused Cazadores blanco tequila
1/2 ounce Cazadores blanco tequila
1/2 ounce triple sec
3/4 ounce green chartreuse
1/2 ounce agave
1/2 ounce lime
1/2 ounce orange juice
3/4 ounce cucumber juice
Tajin clasico chile lime seasoning for rim
DIRECTIONS
Rim glass with Tajin clasico chile lime seasoning. Combine in a shaker and shake hard. Double strain and pour over ice in a rock glass. Garnish with dried lime or orange or cucumber wheel.