As a general rule, I don't like to go out for dinner on Valentine's Day. Not only do I enjoy cooking, I also find that restaurants tend to feel crowded and rushed on Feb. 14. But of course, this year, I find myself wishing we could, indeed, have a restaurant meal, served to us, with no pots or pans to clean up afterward.
I do hope that we will be able to once again dine out soon. In the meantime, I wanted to plan a menu at home that would make Valentine's Day feel a bit special, so I turned to something that is a bit of a splurge.
Osso buco is an Italian dish of some renown, although, it's not something people tend to make at home. I think many shy away from veal, unfamiliar with its cooking methods. And, to be fair, certain cuts of veal from the store can be tough. Osso buco, on the other hand, is a braise, tender and luscious. You will have to make an effort to source the thick cross-cut pieces of veal shank, but the reward will be great, including the delicacy of a taste of bone marrow, if you like that.
The traditional side for osso buco is Risotto alla Milanese with saffron, the most expensive of spices (by weight), so this truly makes for an indulgence. While traditional risotto requires about 20 minutes of active cooking time, it's not a difficult technique, once you get the hang of it.
Finally, after the effort of this decadent main course, how about an easy, rich, chocolatey dessert that's fun, too. Once you get comfortable making ganache, it can be enjoyed warm over ice cream, or as a cake frosting at room temperature. But for Valentine's Day, it's great fun with fruit and cookies or cubes of store-bought pound cake, dipped into warm chocolate fondue!
OSSO BUCO FOR TWO
Serves 2, can be doubled
INGREDIENTS:
2 pieces osso buco (cross-cut veal shank), about a pound each
1/2 teaspoon kosher salt, divided
1/8 teaspoon fresh ground pepper
1 1/2 teaspoons all-purpose flour
2 tablespoons olive oil
1 medium onion, chopped
1 medium carrot, peeled and chopped
1 stalk celery, chopped
2 garlic cloves, minced or through a garlic press
1 tablespoon tomato paste
1 cup dry white wine
1/2 cup canned crushed tomatoes
1/2 cup diluted chicken stock, homemade or store-bought low-sodium
1 sprig fresh rosemary
1 sprig fresh thyme or 1/2 teaspoon dried thyme
1 bay leaf
6 strips orange zest removed with a vegetable peeler
1/4 cup flat-leaf parsley
DIRECTIONS:
Preheat oven to 350 F.
Dry the osso buco, if necessary, with paper towel, and tie around the meat with butcher's twine, if desired. (The meat might fall apart if not tied, but it's really not essential — it will still taste great!) Sprinkle both sides with 1/4 teaspoon salt and pepper, and dust lightly with the flour. You may not need all the flour.
In a medium Dutch oven or other heavy-bottomed pot with a lid, heat the olive oil over medium-high heat until shimmering and fragrant. Sear the osso buco on both sides until nicely browned, about 4 to 6 minutes on each side. Remove to a bowl.
Add onion, carrot and celery with the remaining 1/4 teaspoon salt, and sauté until the vegetables are softened and the onion is just beginning to brown on the edges, 7 to 10 minutes. Clear a space in the middle and add the garlic and tomato paste, and stir around the open space to cook slightly.
Add white wine and deglaze the pan, scraping up any browned bits stuck to the bottom. Add the crushed tomatoes and chicken stock, and stir to combine. Return the osso buco to the pot and add the rosemary, thyme, bay leaf and three strips of orange zest to the sauce.
Cover and place in the oven for 1 1/2 to 2 hours, checking occasionally. The sauce should reach halfway to two-thirds up the pieces of meat, and, if it is getting too low, add a little water or additional chicken stock.
While the meat is cooking, chop together the parsley and remaining three strips of orange zest to make a gremolata.
Meat should be tender when poked with a fork. Gently remove the osso buco from the pot, serve with Risotto alla Milanese, scoop some sauce over the top, and sprinkle with the gremolata.
---
RISOTTO ALLA MILANESE
Serves 4, and leftovers reheat well in the microwave
INGREDIENTS:
2 to 3 cups chicken stock, preferably low sodium if store-bought, or homemade.
1/2 teaspoon saffron threads, loosely packed
2 tablespoons unsalted butter, divided
1 tablespoon olive oil
1 shallot, minced
Pinch kosher salt
2 cups Arborio rice
1/2 cup dry white wine
1/4 cup grated Parmesan
DIRECTIONS:
Place the broth in a medium saucepan, add enough water to make 5 cups liquid total, and bring to a boil on the burner behind where you will make the risotto. Lower the heat to keep just barely at a simmer. Place the saffron in a heatproof measuring cup or bowl, add 1/2 cup of broth, and set aside.
In a medium, heavy-bottomed saucepan heat 1 tablespoon butter and the oil over medium heat until the butter is melted. Add the shallot with a pinch of salt, and sauté until soft and translucent. Add the rice and stir for about a minute until coated with oil. Add the wine and stir until almost completely absorbed.
Set a timer for 18 minutes, and first add the saffron (with its broth) to the rice and stir. Be sure no stray threads of saffron remain in the measuring cup! Begin adding broth from the saucepan to the rice, 1 to 2 ladlesful at a time, stirring continually to keep the rice from sticking to the bottom. Allow the broth to absorb almost completely before adding the next 1 to 2 ladlesful of broth. Adjust the heat as necessary to keep the mixture hot, but not boiling. If you seem to be running low on broth, add water.
When the timer buzzes, taste a piece or two of rice. (You may not have used all the broth.) It should be tender, but still firm in the middle, al dente, similar to the desired doneness for pasta. If it is still too hard, continue cooking in the same way for a few more minutes. Add the remaining tablespoon butter and Parmesan cheese, and stir until melted into the risotto. Serve immediately with the osso buco.
For any leftover risotto, I find it helpful to stir another ladleful of cool broth into the cooled risotto before putting into the refrigerator.
---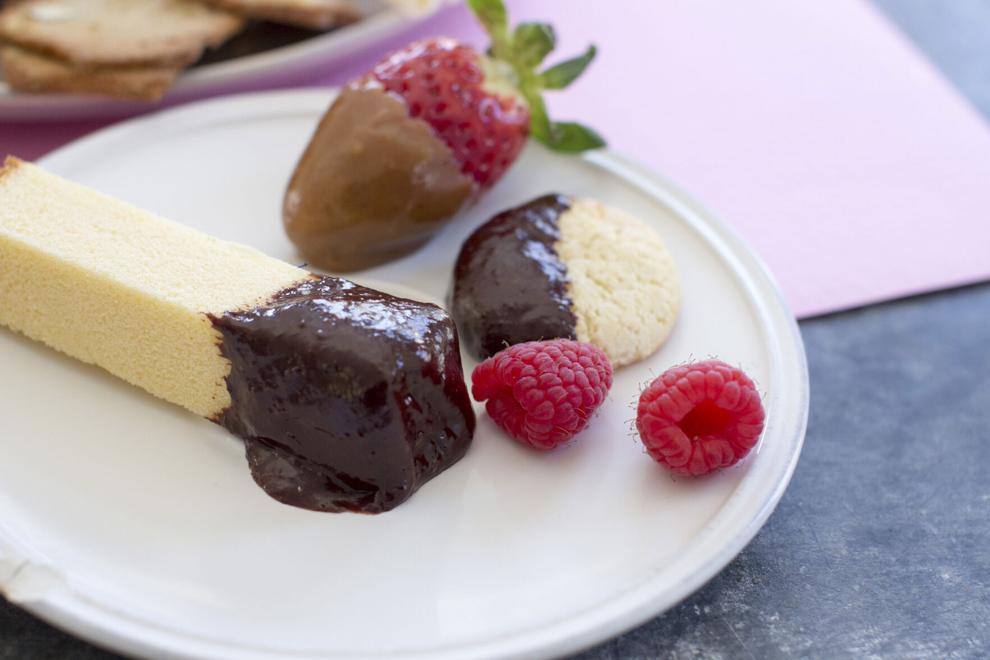 GANACHE FOR FONDUE
Serves 2, increase by half to frost a two-layer cake
INGREDIENTS:
8 ounces good quality semisweet or bittersweet chocolate
1 cup heavy cream
DIRECTIONS:
Break the chocolate into pieces and place into a food processor. Chop into small pieces.
Bring the cream just to boiling over medium-high heat. With the processor motor running, pour the cream into the chopped chocolate and process until smooth. Alternatively, you can pour the hot cream over chopped chocolate in a bowl and whisk until smooth.
For a chocolate fondue or to put over ice cream, allow to cool just slightly until desired consistency. To use as frosting, allow to cool until the ganache is spreadable and holds its shape.