Tropical Storm Henri didn't live up to the hype here in the Berkshires (in terms of wind and rain), but the humidity that followed in its wake was something to talk about. Luckily, during a shopping trip that weekend, I leaned in to making meals that wouldn't require an oven: hamburgers on the grill; vegetable-based pasta with sauce; turkey dogs with French fries made in the air fryer; etc. We ordered from the local pizza house and even enjoyed an evening of "breakfast for dinner."
Saturday night was different. I made one of my family's favorites, chicken tikka masala. It's a simple weeknight dish, that can be made in under an hour and yields a delicious, creamy sauce. I make it with diced/cubed chicken breast that can be purchased at many local grocery stores. I make the chicken marinade the day before, letting it set overnight before cooking. Because my family has issues with lactose and peppers, I leave out the optional chili peppers and substitute chilled coconut milk (place a can of full-fat coconut milk in the refrigerator for an hour) in place of the heavy cream.
CHICKEN TIKKA MASALA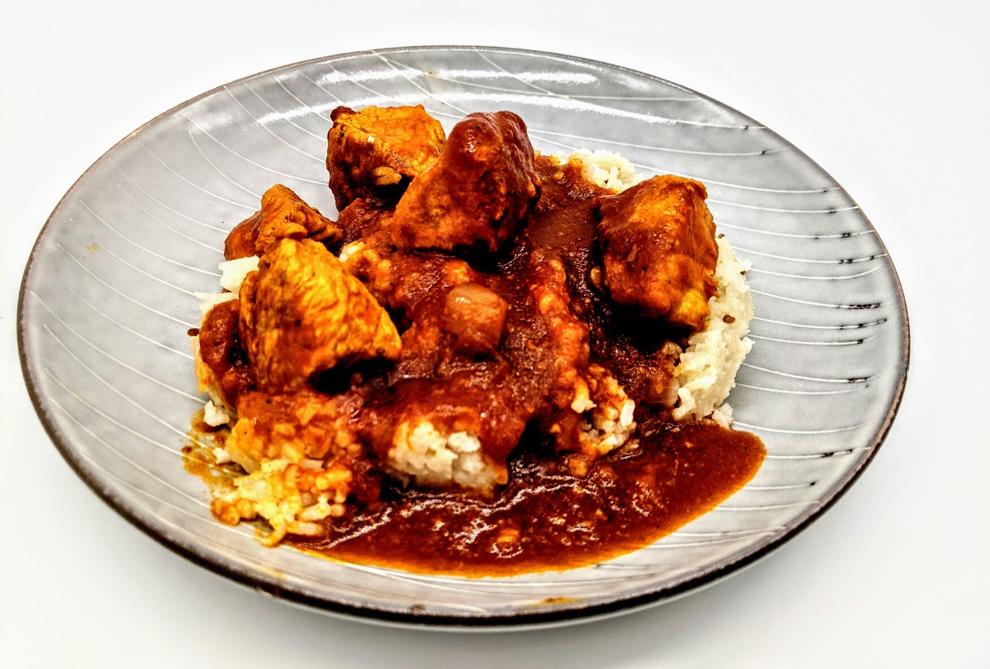 (Adapted from cafedelites.com)
Makes 5 servings.
INGREDIENTS:
For the chicken marinade:
28 ounces boneless and skinless chicken thighs or breasts, diced
1 cup plain yogurt or dairy-free yogurt
1 1/2 tablespoons minced garlic
1 tablespoon ginger
2 teaspoons garam masala
1 teaspoon turmeric
1 teaspoon ground cumin
1 teaspoon Kashmiri chili (or 1/2 teaspoon ground red chili powder)
1 teaspoon of salt
For the sauce:
2 tablespoons of vegetable/canola oil
2 tablespoons butter
2 small onions (or 1 large onion) finely diced
1 1/2 tablespoons garlic finely grated
1 tablespoon ginger finely grated
1 1/2 teaspoons garam masala
1 1/2 teaspoons ground cumin
1 teaspoon turmeric powder
1 teaspoon ground coriander
One 15-ounce can of tomato sauce
1 teaspoon Kashmiri chili (optional for color and flavor)
1 teaspoon ground red chili powder (optional, to your taste preference)
1 teaspoon salt
1 1/4 cups of heavy or thickened cream (or chilled coconut milk)
1 teaspoon brown sugar
DIRECTIONS:
In a bowl, combine chicken with all of the ingredients for the chicken marinade; let marinate for 10 minutes to an hour (or overnight if time allows).
Heat oil in a large skillet or pot over medium-high heat. When sizzling, add chicken pieces in batches of two or three, making sure not to crowd the pan. Fry until browned for only 3 minutes on each side. Set aside and keep warm. (You will finish cooking the chicken in the sauce.)
Melt the butter in the same pan. Fry the onions until soft (about 3 minutes) while scraping up any browned bits stuck on the bottom of the pan.
Add garlic and ginger and sauté for 1 minute until fragrant, then add garam masala, cumin, turmeric and coriander. Fry for about 20 seconds until fragrant, while stirring occasionally.
Pour in the tomato puree, chili powders (optional) and salt. Let simmer for about 10 to 15 minutes, stirring occasionally until sauce thickens and becomes a deep brown red color.
Stir the cream and sugar through the sauce. Add the chicken and its juices back into the pan and cook for an additional 8 to 10 minutes until chicken is cooked through and the sauce is thick and bubbling. Pour in the water to thin out the sauce, if needed. Serve over rice.