A few weeks ago, when Maggy Button stopped by the office to share some of the items she had recently made for her column, specifically the marble cake made with Hostess cupcakes and beef fudge (It's ingenious! You can't taste the leftover beef.), she mentioned a dish, salmon pea wiggle, which she had just recently learned of during a lunch outing. As she described the dish — salmon and peas in a white sauce served over saltine crackers — and mentioned that tuna would be an easy substitute, a few of us looked surprised that she never had eaten either version of this dish. Made with tuna and peas, it's more commonly known as creamed tuna, creamed chipped tuna or tuna gravy.
It's often thought of as being a Depression-era dish, mostly because of its low-cost ingredients, the ability to stretch the dish with little effort and its versatility (you can serve it over crackers, biscuits, toast points, rice, noodles or in a tuna noodle casserole.) But, the origins of creamed tuna go back further than the Depression, back to the days when salted cod was a dish on many tables, canned salmon was a cheap commodity and tuna was still considered a sport fish.
According to the "Routledge History of American Foodways," American cupboards were, at one point, considered bare if they didn't include a can or two of salmon, once abundant and cheaper than beef, pork and chicken. Salmon, it says, was made into loafs, patties, cakes and fritters or bound with a white sauce. In New England, where salmon and peas are a long-standing tradition, a salmon pea wiggle just makes sense.
As I read about American foodways, I discovered that tuna, although first canned in 1903, and hailed by cookbook authors as a "mock chicken" in the 1920s, wouldn't become a major staple of the American diet until after World War II, after sonar and radar opened up fishing of tuna and other Atlantic fish. The popularity of creamed tuna came about, many food historians hypothesize, because not only were its canned ingredients cheap, but also because the dish was quick and easy to make, an attribute highly prized by Americans in the 1940s and '50s.
For me, it's a comfort food from my childhood that just tastes good, no matter how you serve it.
CREAMED TUNA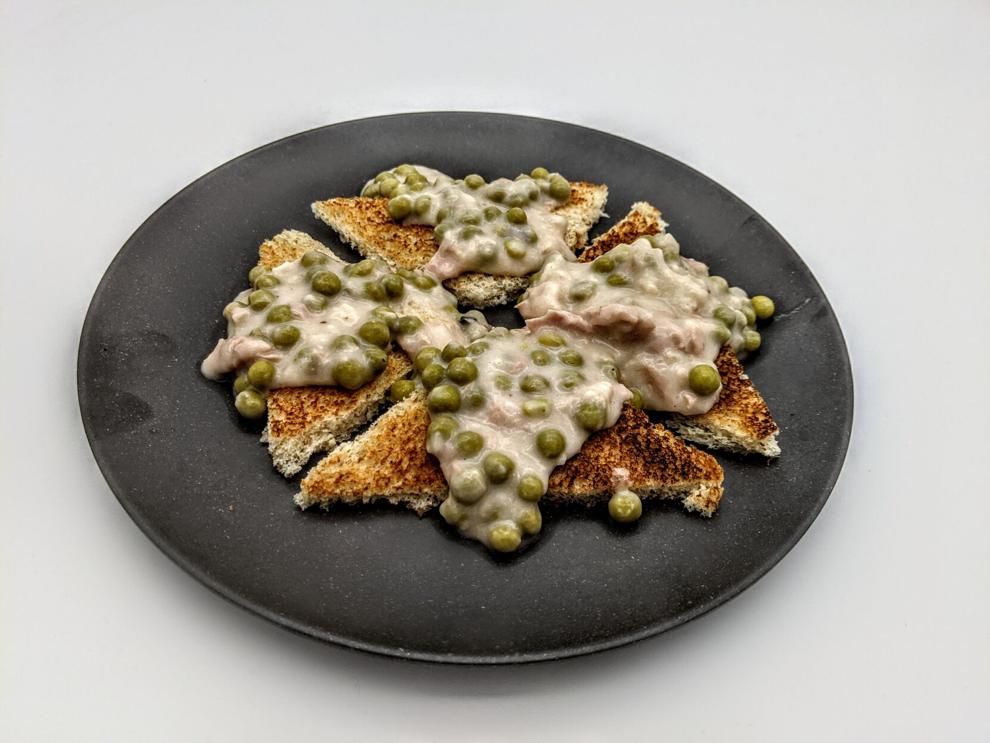 Makes 4 servings
INGREDIENTS
1/4 cup unsalted butter
1/4 to 1/2 cup all-purpose flour
1/2 teaspoon salt
1/4 teaspoon freshly ground black pepper
2 cups milk or almond milk
One 7-ounce can tuna, drained
1/2 to 1 can small young peas
DIRECTIONS
In a medium saucepan, melt the butter over medium-low heat; blend in the flour, salt, and pepper. Stir and cook for about 2 minutes.
Add in milk gradually, stirring constantly. Continue cooking, stirring constantly, until mixture thickens and begins to bubble.
Add the drained tuna and cooked peas. Continue heating and stirring until hot.
Serve creamed tuna over saltines, toast, biscuits, or rice.