A few weeks ago, my son, Isaac and I spent a Saturday morning enjoying The Clark Art's new exhibition, "Nikolai Astrup: Visions of Norway," (which I highly recommend seeing). On the way out, we stopped by the gift shop, where, I purchased a book on Nordic folktales (for Isaac) and for myself, Darra Goldstein's "Fire and Ice: Classic Nordic Cooking."
I was very excited to find this cookbook, as I happen to love her most recent, "Beyond the North Wind: Russia in Recipes and Lore [A Cookbook]," released in February 2020. I've shared several recipes from that cookbook, including my favorites: Roast Lamb with Kasha and mushroom dumplings. But the real reason, I was overjoyed is I've been wanting to try some of the recipes from it, particularly because of my son's interest in all things Norse. (It began with Marvel's Thor and was expanded with Neil Gaiman's "Norse Mythology," hence the book he selected.)
On Sunday, I tried out my first recipe, Pinaatti-ohukkatt, or spinach pancakes. Unlike fluffy American pancakes, this Finnish recipe yields pancakes that are thin, crepe-like, only 3 inches in diameter and have a moist interior.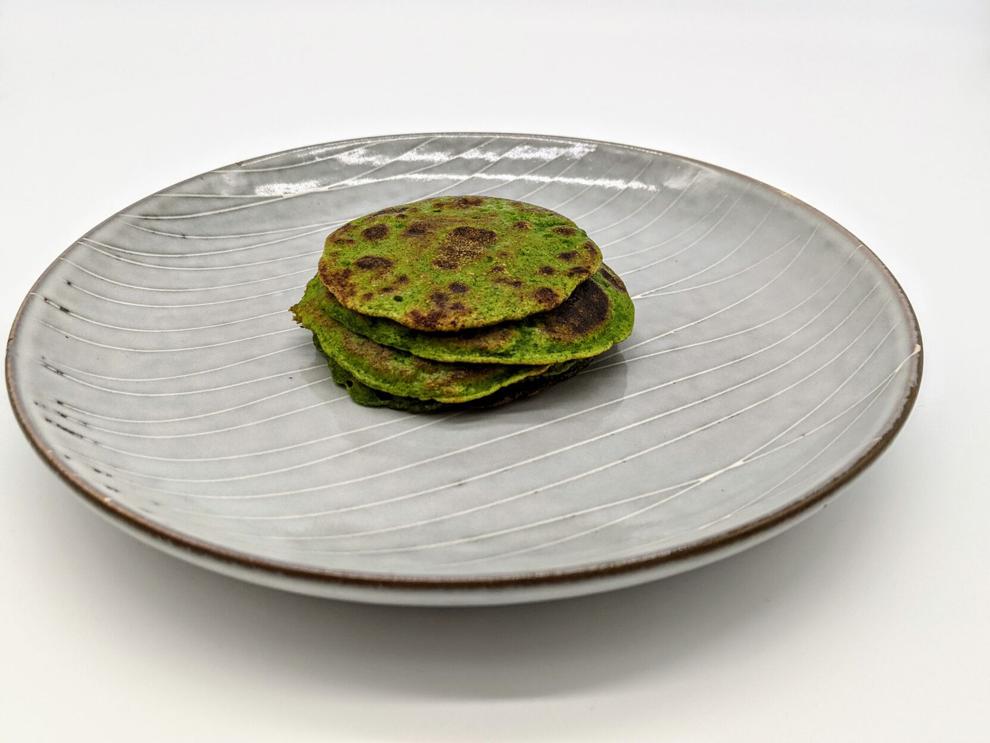 "Traditional spinach pancakes are baked on a muurikka, a large, slightly concave cast-iron griddle designed for cooking outdoors over an open fire," Goldstein writes. "When made in this special pan, the pancakes are large with lacy edges. But who has a muurikka?" (The recipe, in her cookbook, is adapted for any other griddle or cast-iron skillet. I used my Lodge cast-iron griddle.)
Seeing that my own spinach bed went to seed after the last blast of insane heat, I picked up a bag of fresh spinach at the latest farmers market, ensuring I had enough on hand (the recipe calls for 5 ounces or roughly two cups, chopped).
I made everything in the blender, as the recipe below suggests, which came with the added bonus of being able to pour the mixture directly onto the hot griddle as I went along. These were easy to make and a delicious treat. My husband, Robert, said that they just taste like really light pancakes. (A bonus for parents looking to sneak spinach into their children's dietary plan.) He ate his with maple syrup, while I tried them with a dollop of sour cream and some sautéed scallions and garlic scapes. Both ways are delicious.
PINATTI-OHUKKAAT (SPINACH PANCAKES)
(From "Fire and Ice: Classic Nordic Cooking")
Serve 4 to 6
INGREDIENTS:
5 ounces spinach (about 2 cups chopped)
2 eggs
2 cups whole milk (I used almond milk)
1 cup flour
1/2 teaspoon salt
A few grindings of white pepper
Pinch of freshly grated nutmeg
Butter, for cooking
DIRECTIONS
Place the spinach in a blender with the eggs and whir until the spinach is finely chopped. Add milk, flour, salt, pepper, and nutmeg and puree until bubbly, about 30 seconds. The batter will be thin, as for crepes. Let the batter stand for at least 10 minutes before using. The batter can be made well ahead of time and refrigerated for up to 2 days.
Place a generous dab of butter in a cast-iron skillet and set over medium-low heat. When the pan is hot, pour a scant tablespoon of the batter directly onto the skillet. Be careful not to use too much batter or the pancakes won't cook through. Cook until tiny bubbles appear on the surface of each pancake, about 3 minutes, then carefully flip them with a small, blunt knife and cook for about 3 minutes more, until the edges are crisp and the pancakes are lightly browned and cooked through.
The pancakes can be served right away, but if you want to use them for appetizers they can be set aside at room temperature for a couple of hours.