The Instagram algorithm knows me. On weekends, bored on my couch, I find myself scrolling through the "explore" section, and the exploration options I'm offered are spot-on: Doughnuts. Charcuterie boards. And photos of pasta, glossy with spicy vodka sauce, covered in cheese, swirled with pesto or peppered with anchovy-laced breadcrumbs.
Lately, red sauce just isn't doing it for me. Once a staple in my home (I generally buy canned tomatoes in volume, at least 6 to 12 cans at a time), it's giving me wicked pregnancy heartburn, so I've been avoiding it and other acidic foods. I still want to balance my craving for pasta and deep, savory flavor, and these days I'm also looking for something that doesn't take a lot of active cooking time.
The problem with all this photogenic comfort food is it's really, really bad for you. While I will never give up pasta (or carbs or gluten, sorry) I also really don't want cheese tortellini that's also swimming in a thick, cheesy sauce. I think it's really easy to overdo it with rich, cheesy pastas, and while they look indulgent on Instagram, there's just no way I could fathom eating much of something that rich. It's fun once in a while, but I generally eat for pleasure and nutrition, not as a test of what my body can endure. To balance pregnancy cravings with the safety of my arteries, I've been working on simple dishes that still incorporate some indulgence, but don't drown me in cheese, or cream cheese, or a combination of the two.
This tortellini dish hits all my marks — caramelized onions are still rich and offer some umami, peas provide some fiber, and bacon is fatty and flavorful even in moderation. While this recipe directs you to cook peas in the leftover caramelizing oil, you could also cook them with a tablespoon or so of reserved bacon fat for an even deeper flavor.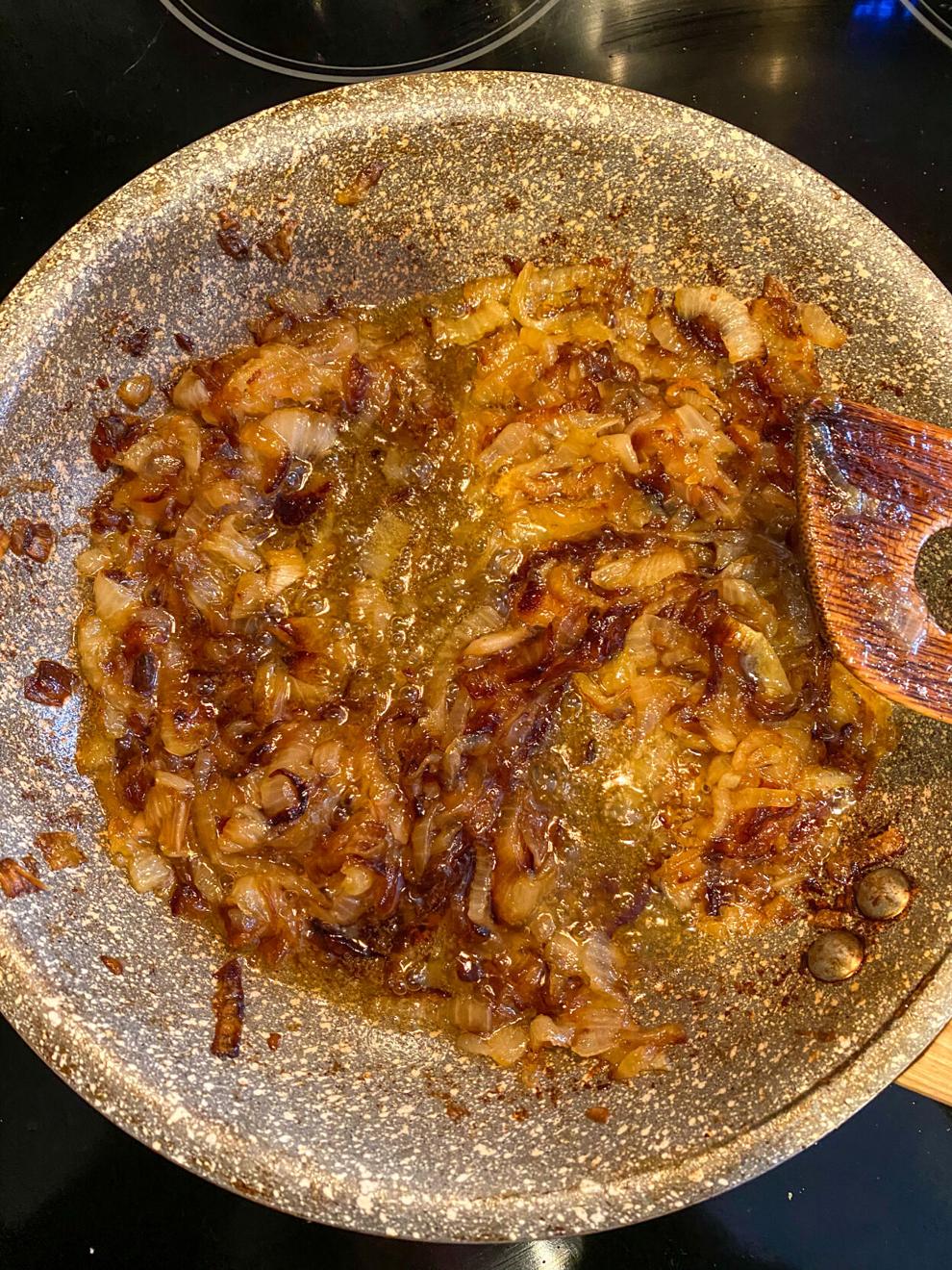 Caramelizing onions takes a while, but it's mostly unattended cook time. I see lots of recipes that assume you can hit caramelization in 15 to 20 minutes; this is a lie. Keep it low and slow, stirring frequently, so you don't burn the onions or the butter, and you'll draw out the natural sugars in the onions slowly and gracefully, leaving you with a sweet, buttery flavor and soft texture that's perfect for tossing with pasta.
If you find yourself with leftover onions, I suggest stirring them into Greek yogurt with a little salt and pepper; this is a great, lower-fat option for sour cream and onion dip and is great with crackers, cut veggies, or on a sandwich.
TORTELLINI WITH BACON, CARAMELIZED ONIONS AND PEAS
Serves 2 to 4
INGREDIENTS:
2 pounds frozen or dried tortellini (I used a dried Trader Joe's brand that expands quite a bit when cooked; if using frozen tortellini from the frozen aisle, just buy two bags)
8 slices bacon
1 large onion, halved and sliced thin
3 tablespoons olive oil
3 tablespoons butter
1 cup frozen peas
Salt and pepper to taste
DIRECTIONS:
First, caramelize onions: Add olive oil, and butter to a pan and heat on medium-low. Add sliced onion and 1 teaspoon salt, then stir to make sure onion is coated with butter and oil. Let onion cook on medium-low, stirring frequently, until onions are soft and translucent. Turn heat down, then continue to cook on low, stirring frequently, until onions reduce and caramelize, turning dark brown.
This usually takes around 45 minutes to an hour; stop when they've reached your desired level of caramelization. I like to go pretty far with this, until onions are mahogany brown. If you want to do the same, I recommend adding a little broth, water, or vinegar (balsamic or apple cider are my picks) near the end of the process to deglaze the pan, ensure the onions don't burn, and add a little extra depth of flavor.
Once you've reached your desired level of caramelization, transfer onions from pan into wire mesh strainer, using a bowl to catch the excess butter/oil. Press down on the onions to release excess oil. Reserve that oil; it's been infused with lovely onion flavor, and you will use it to cook the peas later.
Cook bacon until nice and crispy, crumble, then set aside. Unless you want to cook with the bacon grease, you can let it solidify and then dispose of it.
Add water to a large pot with an ample amount of salt, then bring to a boil. Cook tortellini until done, 7 to 10 minutes. Meanwhile, cook peas in the onion oil mixture, adding a little salt.
Drain tortellini and return to pan. Toss with caramelized onions, peas, and bacon, then serve with grated parmesan cheese.