Memorial Day, typically, is the official kick off to the summer grilling season. Last year, Berkshire Eagle staff members — armed with bottles of antacids — bravely volunteered to taste test four "extreme burgers," ultimately endorsing a French Toast Burger that featured slices of tomato, lettuce, red onion slices, dill pickle slices, cheddar cheese, crispy bacon and topped with a maple syrup glaze served on ... french toast.
This year, we put our stomachs on the the line again. (We'll do anything for you, dear readers!) We thought, well ... beyond the bun. How about a Reuben hot dog, wrapped in pastrami, smothered in sauerkraut, drizzled with Russian dressing and topped with shredded Swiss cheese? A Hawaiian salsa hot dog topped with a spicy-sweet mango salsa and a thin slice or avocado? Or maybe a Buffalo hot dog topped with a spicy Buffalo mayonnaise, chopped celery and tangy blue cheese? And then there's the Skunk dawg, whose name does not indicate a certain scent, but rather the stripes, created by chocolate sauce and marshmallow sauce drizzled on top of the hot dog — and did we forget to mention the peanut butter spread on the inside of the roll?
Twenty members of The Eagle staff gathered Monday to taste test the four "extreme" hot dogs — half a hot dog of each — and then voted on their favorite.
And the "wiener" — by a landslide — was ... the Hawaiian hot dog with mango salsa! Coming in second was the Reuben hot dog, followed by a tie between the Buffalo dog and the skunk dawg.
BUFFALO HOT DOGS
Serves: 8 hot dogs
INGREDIENTS:
Buffalo mayo:
1 cup mayonnaise
1/8 cup Frank's RedHot Buffalo Wing Sauce, more for drizzling
Juice of half a lemon
1/4 teaspoon coarse ground black pepper
Hot dogs:
8 hot dogs
8 hot dog buns
4 sticks celery, diced
1/2 cup crumbled blue cheese
DIRECTIONS:
For the Buffalo mayo, combine all ingredients and keep refrigerated until serving time.
Cook hot dogs according to package directions or grill them for the best taste. Place hot dog inside of bun and drizzle with Buffalo mayo. Sprinkle celery and blue cheese, pouring extra Frank's over the top. Serve immediately.
REUBEN HOT DOGS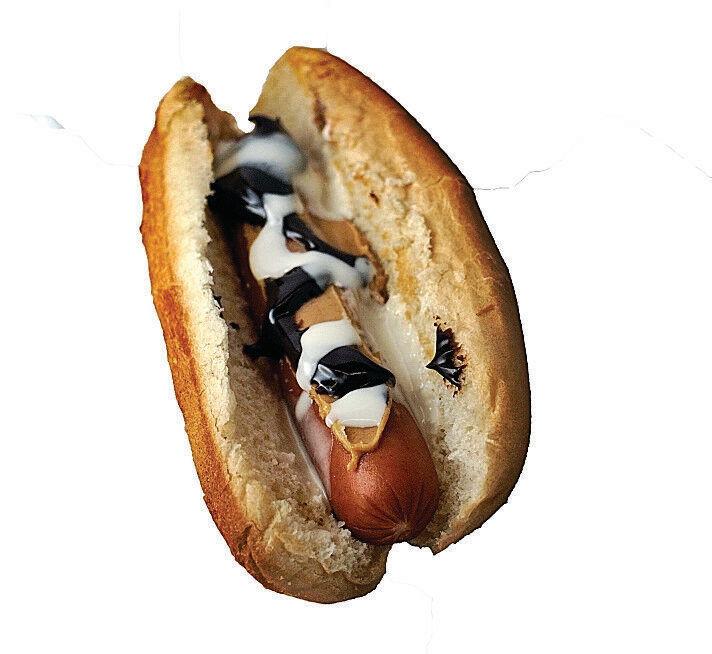 INGREDIENTS:
6 to 8 brat-knockwurst links (we used regular hot dogs at the Eagle taste-test)
Hot dog rolls
Sliced pastrami
1 small can sauerkraut
1/2 cup shredded Swiss cheese
1/2 cup Russian dressing
DIRECTIONS:
Grill links over medium-high heat until heated through and have nice grill marks. Meanwhile, arrange buns so that they wont slide about and spill your links in an oven safe pan and preheat the broiler.
Wrap each link in pastrami, more or less depending on taste, and place in a bun. Top with sauerkraut and drizzle Russian dressing on top. Sprinkle with Swiss.
Optional: Place under broiler for 1 minute, until cheese has just melted.
HAWAIIAN HOT DOGS WITH MANGO SALSA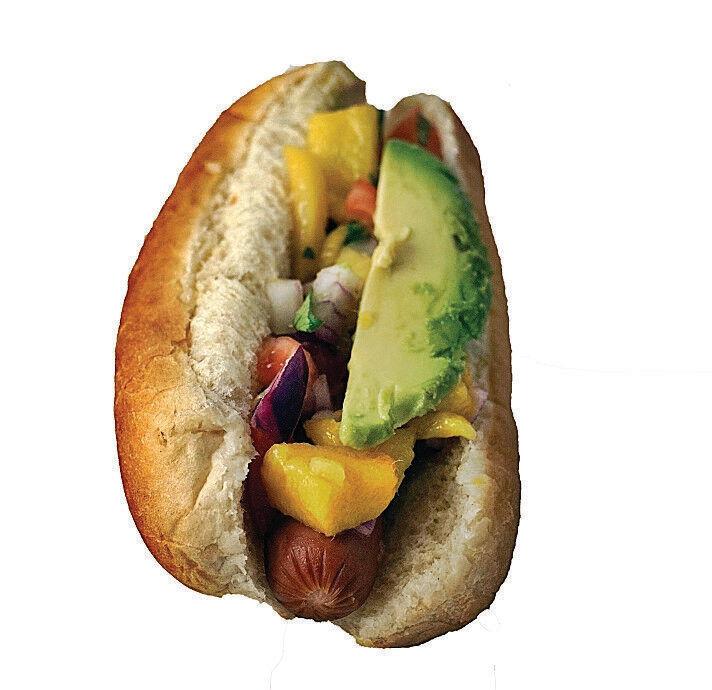 Yield: 6 servings
INGREDIENTS:
1 mango, peeled and diced
1 Roma tomato, diced
1 jalapeño, seeded minced
1/4 cup diced red onion
2 tablespoons chopped fresh cilantro leaves
2 tablespoons freshly squeezed lime juice
1/2 teaspoon honey
Pinch of salt
6 hot dogs
6 hot dog buns
1 avocado, halved, seeded, peeled and thinly sliced
DIRECTIONS:
In a large bowl, combine mango, tomato, jalapeño, red onion cilantro, lime juice, honey and salt; set aside.
Preheat grill to medium high heat. Add hot dogs to the grill and cook until golden brown, about 3-4 minutes.
To assemble the hot dogs, add hot dogs into each hot dog bun, top with mango salsa and avocado.
Serve immediately.
SKUNK DAWG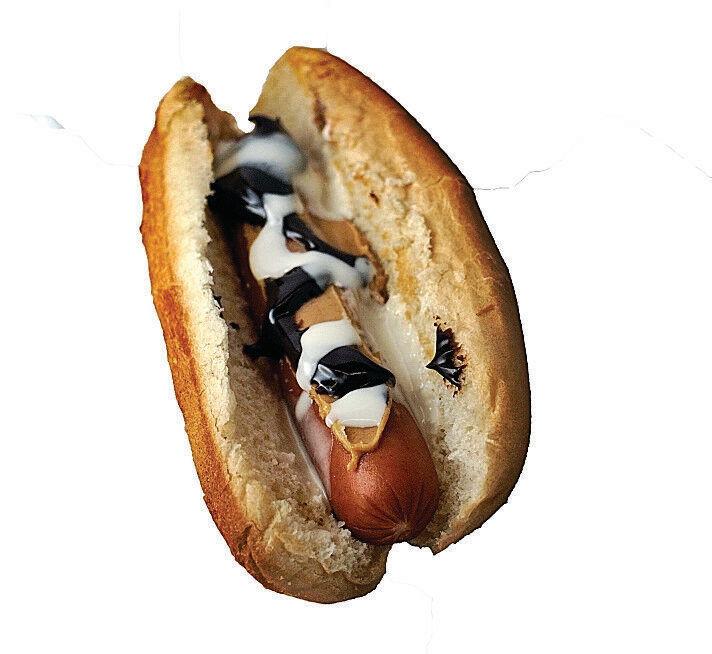 INGREDIENTS:
Hot dogs
Buns
Peanut butter
Marshmallow sauce
Chocolate sauce
DIRECTIONS:
Spread inside of each hot dog roll with peanut butter. Place hot dog in roll and drizzle chocolate sauce and marshmallow sauce over the top.