Consumers may be facing an increased demand for meat substitutes as the cost of meat increases. One option to adding easy protein to a meal is using beans, either dried or canned.
Beans are high in protein and fiber, and contain no saturated fat. According to self.com, a cup of black beans has 15 grams of protein, 15 grams of fiber, 227 calories and no saturated fat. Pair beans with some vegetables and healthy fat, and you've got a well-rounded meal.
Most people are familiar with dry beans as navy beans, red kidney beans or black beans sold in one-pound packages at the grocery store. However, there are dozens, if not hundreds, of dry bean varieties, including many heirlooms, such as "Vermont Cranberry," with interesting histories.
When making Boston baked beans, I've used cranberry beans at times, but found that the best tasting baked beans occurred when I used dry soy beans. My neighbor gave me that tip. He told me that his late father, a dairy farmer, always made baked beans using soy beans. I recommend planting edamame, which is actually soy bean, harvesting some as shelling beans while the pods are still green and steaming or boiling those for eating fresh, and then leaving the rest to mature to the dry pod stage. The pods are then threshed or shelled as I do my other dry beans.
It is good to know the dry bean conversion when preparing to cook bean dishes:
- 2 cups of dried beans = 1 pound of dry beans
- 1 pound of dry beans = up to 6 cups of cooked beans
- 1 cup of dry beans = 3 cups of cooked beans
- A heaping 1/2 cup of dried beans = one 15-ounce can of beans
- 1 1/2 cups of cooked and drained beans = one 15-ounce can of beans
- These are approximations as the actual amounts will vary a little depending upon the size of the dry beans.
One final note, my wife reminded me that when she freezes cooked and drain beans, she first spreads them out on a flat pan and then places that in the freezer. Once the beans are frozen, she'll gather them up and store them in freezer bags. By doing this, you don't wind up with a large frozen clump that requires a jackhammer to break apart when needing less than the whole bag of beans.
WHITE BEAN, KALE AND SAUSAGE SOUP
INGREDIENTS:
2 onions, chopped
4 garlic cloves, minced
2 celery stalks, chopped
3 tablespoons olive oil
2 bay leaves
1 sprig thyme
4 cups chicken or vegetable stock
1/2 quart diced tomatoes
1 1/2 cups cooked white beans — mash some of the beans
1 bunch kale, chard or spinach, chopped and sauteed
3 links chicken or pork Italian sausage, chopped and sauteed
Salt and pepper to taste
Hot sauce to taste, optional
DIRECTIONS:
In stockpot, saute onions, garlic and celery in olive oil.
Add bay leaves, thyme, tomatoes and stock. Simmer 10 minutes.
Add white beans, kale. Simmer another 10 minutes.
Add sauteed sausage. Season to taste.
---
BLACK BEAN CAKES WITH SALSA CRUDA
This black bean cake recipe, which is really black bean burgers, is from the "Light Cooking" book, Publications International, Ltd, 1995. Instead of the salsa cruda, my wife and I use jarred salsa along with chopped avocado and shredded cheese (usually sharp cheddar) for the topping. Also, we used our dry beans rather than the canned beans. We found that starting with our own dry beans, soaked over night and then cooked, were meatier than using a can of store-bought beans, which made the burgers too moist and a bit mushy. Also, the leftovers actually seemed to have a beefy taste the next day. Makes 4 servings
INGREDIENTS:
Salsa Cruda (recipe follows)
1 can (about 15 ounces) black beans, rinsed and drained
1/4 cup all-purpose flour
1/4 cup chopped fresh cilantro
2 tablespoons plain low-fat yogurt
1 tablespoon chili powder
2 cloves garlic, minced — large scoop garlic powder
Non-stick cooking spray
DIRECTIONS:
Prepare Salsa Cruda.
Place beans in medium bowl, mash with fork or potato masher (in food processor) until almost smooth, leaving some beans in larger pieces. Add flour, cilantro, yogurt, chili powder and garlic; blend well.
Form patties.
Spray large non-stick skillet with olive oil cooking spray; heat over medium-high heat until hot. For each cake, drop 2 heaping tablespoons bean mixture unto skillet; flatten to form cake with back of wooden spoon. Cook 6 to 8 minute until lightly browned, turning once.
Serve with Salsa Cruda, shredded cheese, avocado and salsa. Garnish with lime wedges, pepper and fresh cilantro, if desired.
---
SALSA CRUDA
INGREDIENTS:
1 cup chopped tomato
2 tablespoons finely chopped onion
2 tablespoons chopped fresh cilantro (optional)
2 tablespoons lime juice
1/2 jalapeno pepper, seeded, minced
1 clove garlic, minced
DIRECTIONS:
Combine all ingredients in small bowl. Cover with plastic wrap. Refrigerate 1 hour. Bring to room temperature before serving.
---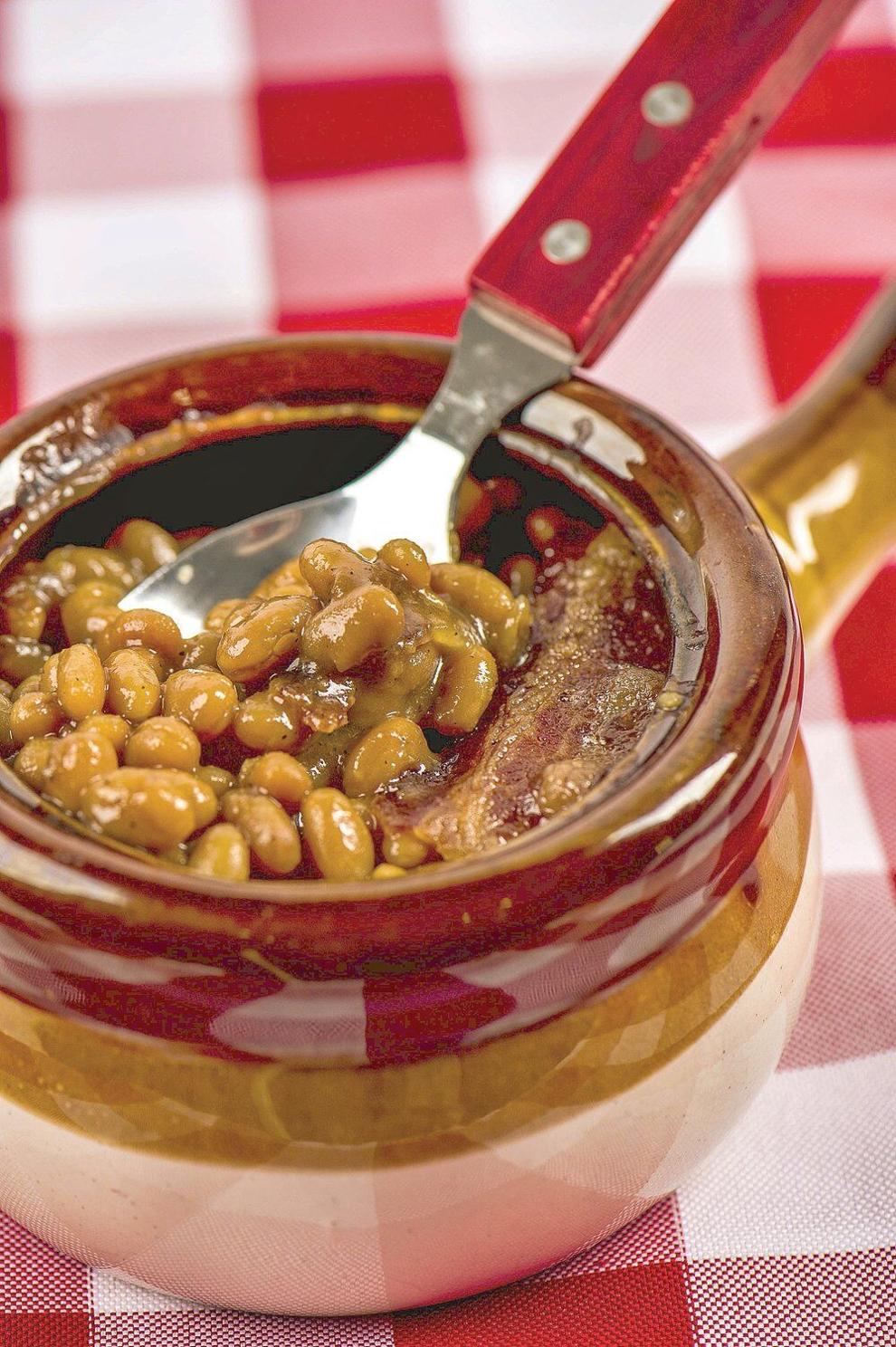 BOSTON BAKED BEANS
Prep time: 20 minutes
Cook time: 4 hours
Servings: 6
INGREDIENTS:
2 cups dried navy beans
1/2 pound bacon
1 onion, finely diced
3 tablespoons molasses
2 teaspoons salt
1/4 teaspoon ground black pepper
1/4 teaspoon dry mustard
1/2 cup ketchup
1 tablespoon Worcestershire sauce
1/4 cup brown sugar
DIRECTIONS:
Soak the beans overnight in cold water. Simmer the beans in the same water until tender, approximately 1 to 2 hours (25 to 30 minutes when using fresh dry beans harvested from the garden). Drain and reserve the liquid.
Preheat oven to 325 degrees F.
Arrange the beans in a 2-quart bean pot or casserole dish by placing a portion of the beans in the bottom of the dish, and layering them with bacon and onion.
In a saucepan, combine molasses, salt, pepper, dry mustard, ketchup, Worcestershire sauce and brown sugar. Bring the mixture to a boil and pour over beans. Pour in just enough of the reserved bean water to cover the beans. Cover the dish with a lid or aluminum foil.
Bake for 3 to 4 hours in the preheated oven, until the beans are tender. Remove the lid about halfway through cooking and add more liquid if necessary to prevent the beans from getting too dry.
---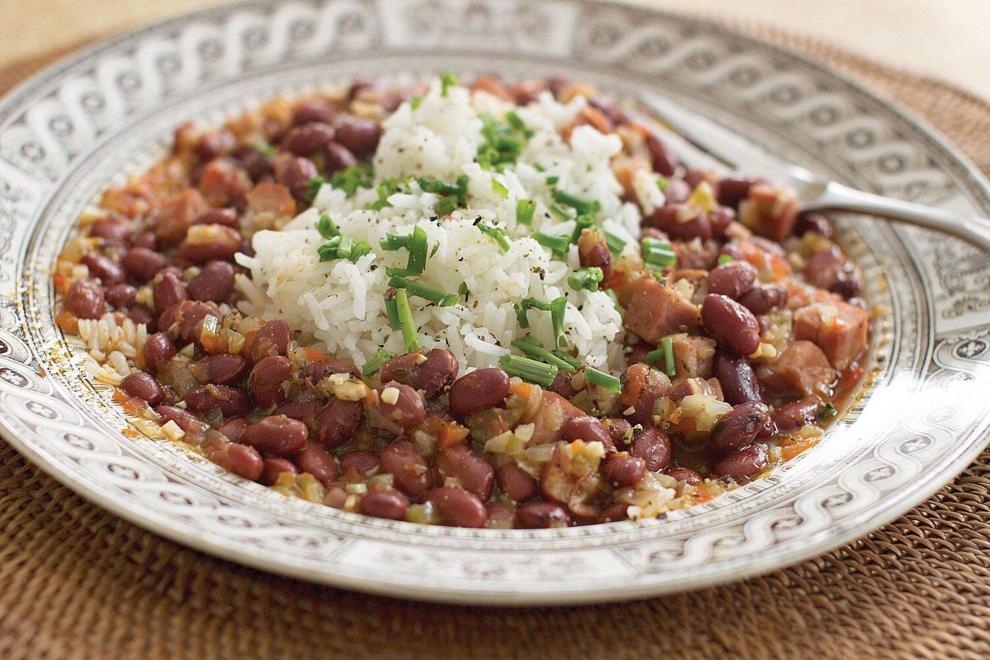 CROCKPOT RED BEANS AND RICE
Prep: 10 min
Cook: 7 hours
INGREDIENTS:
1 pound dried red beans
7 cups water
whole green bell pepper, chopped
1 whole onion, chopped
3 stalks celery, chopped
3 cloves garlic, finely chopped
1/2 pound Andouille sausage or Polish sausage, sliced
3 tablespoons Creole seasoning
Hot cooked rice
DIRECTIONS:
Place all ingredients except rice in a 4-quart slow cooker. Cook, covered at High for 7 hours or until beans are tender. Serve with hot cooked rice and some homemade cornbread.
(We substituted chicken broth for the water, added 1 to 2 tablespoons lemon juice at the end and preferred chorizo sausage to the Andouille because there is no casing on the chorizo.)