The Easter season and Passover are both underway, and store shelves are overflowing with chocolate bunnies, filled eggs, jelly beans and candied fruit slices. The members of the features staff got to thinking ... if the store-bought stuff is good, is it possible that DIY candy would be even better?
We took to our test kitchens (cleverly disguised as the kitchens in our homes) to see if do-it-yourself marshmallow eggs, peanut butter eggs, gumdrops and matzo brittle were better. Here is what we found out …
---
These marshmallow eggs are simple, easy and just as good as the store-bought kind. The only real difficult part of making these is trying not to make a mess of the chocolate when you dip them. If you don't have melting chocolate, melt what you have on hand. My favorite combination is milk chocolate cut with a handful of dark chocolate chips.
— Meggie Baker, Digital products manager for news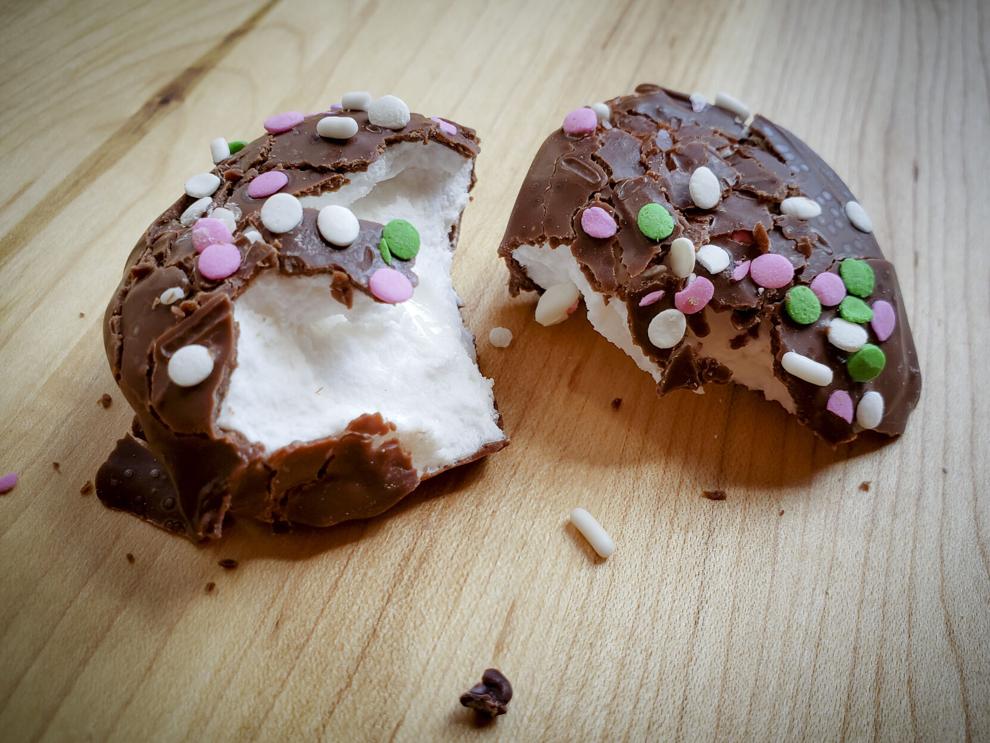 MARSHMALLOW EGGS
(Adapted from Mels' Kitchen Cafe, melskitchencafe.com)
INGREDIENTS:
1/4 cup cold water
1 1/2 envelopes unflavored gelatin
3/4 cups granulated sugar
1/2 cup light corn syrup
1/4 cup water
1/8 teaspoon salt
1/2 tablespoon pure vanilla extract
All-purpose flour
6 ounces (1 cup) chopped chocolate or good-quality chocolate chips for dipping
Sprinkles
DIRECTIONS:
Fill a rimmed baking sheet with an even layer of flour. Use an egg to press lightly into the flour to make egg molds, about 1-2 inches apart (about 18). Set aside. (Do not worry about how much flour you use here: The flour won't stick to the marshmallows, and you can pour it back into the bag when finished.)
For the marshmallow centers, pour the cold water into the bowl of an electric stand mixer fitted with the whisk attachment, or in a large bowl if using a handheld electric beater. Sprinkle the gelatin over the top and set aside to soften.
Combine the sugar, corn syrup, water, and salt in a medium saucepan and heat over medium-low heat until the sugar dissolves. Increase the heat to medium and let come to a boil. Continue cooking without stirring until the syrup reaches 240 degrees on a candy thermometer.
Turn the mixer to low speed and slowly incorporate the hot syrup into the gelatin mix. Once it has all been added, turn the mixer to medium or high and let the mixer whip the mixture for 10 minutes, until the mixture is cooled and is thick and fluffy, like marshmallow sandwich spread. Mix in the vanilla extract.
Grease a spoon with cooking spray and scoop spoonfuls of the marshmallow mixture into the flour mold. Let sit for 10-15 minutes, then flip over to cover the other side.
Let the marshmallows set for 1-2 hours, then brush off excess flour. Pour your flour mold back into your flour container. If your eggs have rough edges or lumps, trim them up with kitchen shears.
Melt the chocolate over low heat or in the microwave on 50-percent power in 1-minute increments until melted and smooth. To prevent blooming (the white streaks in chocolate after it has set), stir in a bit of reserved finely-chopped chocolate into the hot, melted chocolate to lower the temperature just a bit.
One by one, drop a marshmallow egg into the chocolate. Using a fork, cover the egg in chocolate. Lift the egg up onto the fork and tap the handle of the fork on the edge of the bowl to let the excess chocolate fall through the tines of the fork into the bowl. Gently scrape the bottom of the fork on the edge of the bowl and then transfer the egg to a parchment or wax paper lined baking sheet.
Place the eggs in the refrigerator to let the chocolate set. After the chocolate has set, colored melting wafers or other chocolate can be drizzled over the eggs. Store in the refrigerator for up to a week.
---
As a self-proclaimed peanut butter egg expert and addict, I can personally attest that these taste pretty close to the Reese's real deal. Kids will love to help shape the peanut-butter mixture into eggs and good melting chocolate makes this recipe easier.
—Lindsey Hoellenbaugh, managing editor of features
CHOCOLATE PEANUT BUTTER EGGS
(missjennyshouseofsass.blogspot.com)
INGREDIENTS:
4 cups powdered sugar
1 1/2 cups creamy peanut butter
1/4 cup butter or margarine, melted
2 to 3 tablespoons milk
3 cups semisweet chocolate chips
1 tablespoon shortening
DIRECTIONS:
Mix together the powdered sugar, peanut butter, and butter. Add the milk one tablespoon at a time until it becomes a nice workable dough. It will be just like play dough, it will be really easy to work with. Form the dough into egg shapes, and place in the freezer for about an hour.
Place the chocolate chips and shortening in a glass measuring cup. Microwave 1 minute at a time stirring in between until completely melted. (You can also use a double boiler if you prefer, but I am lazy)
Dip each egg in the melted chocolate and place on waxed paper until set. (I use a skewer and then slide the dipped egg off and cover the hole)
Once they are set you can trim any excess chocolate off that may pool at the base with a paring knife to make them look pretty. You could also decorate them with royal icing and make a really special Easter treat.
---
These gumdrops are really easy to make. I did have my moments — there is food coloring on my favorite sweatshirt and counter, and the burn on my thumb still stings. They aren't quite as firm as store-bought gumdrops, but they aren't Jell-O either; but then again, they're still "ageing" on me. Personally, I would add more extract for a stronger taste. I used mini bread pans, and I can't emphasize enough to make sure to spray the pans with cooking spray to get the gelled block of candy out of the pans!
— Margaret Button, associate features editor
HOMEMADE GUMDROPS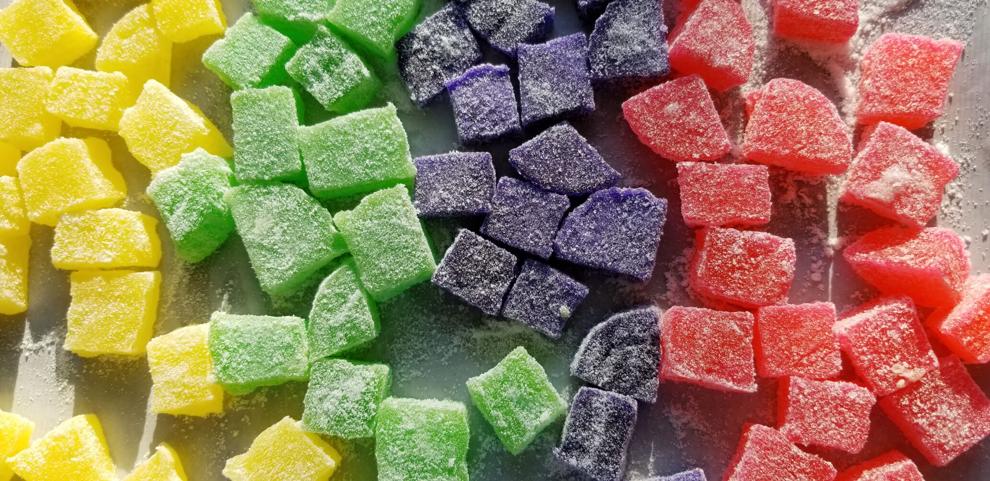 (eatknitanddiy.com, adapted from Betty Crocker)
Prep: 15 minutes
Total: 9 hours
Servings: About a pound
INGREDIENTS:
3 envelopes unflavored gelatin
3/4 cup cold water, divided
2 cups sugar
Food color
Flavored extract
Additional sugar
DIRECTIONS:
Lightly spray candy molds or miniature muffin cups with cooking spray.
In large bowl, sprinkle gelatin on 1/2 cup cold water; set aside.
In small saucepan, heat 3/4 cup water and 2 cups sugar to boiling over high heat. Reduce heat; simmer uncovered 5 minutes until sugar is dissolved and mixture thickens slightly. Remove from heat; carefully add to gelatin mixture, stirring until gelatin is dissolved.
Divide mixture into 4 small bowls (or more, depending on how many colors/flavors you want). Tint each bowl with 4 to 5 drops food color, then stir in 1/2 teaspoon extract. Carefully spoon mixture into molds. Refrigerate 8 hours or overnight until set.
Carefully remove gumdrops from molds, using a butter knife as needed to coax gumdrops from molds. Roll gumdrops in sugar; place on waxed paper. Let stand at room temperature 24 hours to crystallize slightly. Store tightly covered at room temperature.
Tips: Don't have candy molds or a mini muffin tin? Use mini loaf pans and cut the gelatin into squares to remove.
---
A popular Passover dessert, this chocolate toffee candy is reminiscent of a Heath Bar, except it starts with matzo. The unleavened, cracker-like bread provides a crunchy, flaky base for a layer of buttery caramel and melted chocolate. A sprinkle of chopped pecans supplies a second wave of crunch and a hint of salt complements the sweet notes. Other topping options are: chopped pistachios, crystalized ginger, or a swirl of peanut butter. Gluten free Matzo works wonderfully, too.
— Becky Drees, features department graphic designer
MATZO BRITTLE
YIELD: Makes about 30 pieces of candy
INGREDIENTS:
4 to 5 matzo pieces
1 cup firmly packed dark brown sugar
1 cup (2 sticks) unsalted butter
1 cup chopped bittersweet chocolate or semi-sweet chocolate chips
Toppings, like chopped nuts, candied ginger, sea salt, peanut butter chips, and chocolate chips
DIRECTIONS:
Preheat the oven to 375 F and line a baking sheet with aluminum foil or parchment paper. Place the matzo in one layer on the baking sheet, breaking it when necessary to fill the pan completely.
In a large saucepan, melt the butter and brown sugar over medium heat, stirring constantly. Once the mixture reaches a boil, continue to cook for an additional three minutes, still stirring, until thickened and just starting to pull away from the sides of the pan. Remove from heat and pour over the matzo, spreading an even layer with a heat-proof spatula.
Put the pan in the oven, then immediately turn the heat down to 350 F. Bake for 15 minutes, watching to make sure it doesn't burn. If it looks like it is starting to burn, turn heat down to 325 F. (While it is cooking, resist all urges to scrape the pan with extra pieces of matzo. You will burn yourself. Trust me.)
After 15 minutes, the toffee should have bubbled up and turned a rich golden brown. Remove from the oven and immediately sprinkle the chocolate over the pan. Let sit for five minutes, then spread the now-melted chocolate evenly over the caramel with a spatula.
You can leave it just as is, enjoying the simplicity, or sprinkle the brittle with toppings while the chocolate is still melted.
Let the brittle cool completely, then break it into smaller pieces and store in an airtight container. Rumor has it that this will last a week stored properly, but we've never had it last long enough to know.