I think of April as daffodil month since it is when these beauties burst into bloom. They are clearly the most popular of spring flowering bulbs to appear in home landscapes in April.
On the other hand, I think of May as tulip month. That thinking was probably ingrained in me during my years as an undergraduate and graduate student in Albany, where tulips were and continue to be celebrated in a big way. There are vast displays of over 100,000 tulips in the city park, an annual tulip festival, which includes a Dutch tradition of street scrubbing, selection of a tulip queen and a parade through the downtown. However, due to the COVID-19 pandemic, this year's festival will consist of a mix of virtual and live programming, all tulip-related.
Though I have separated the flowering of daffodils and tulips by month in my mind, the clever folks at Naumkeag have integrated these spring bloomers into their version of a festival — the Daffodil and Tulip Festival that runs through to May 16. Their promotion states that over 130,000 grace the grounds at the Stockbridge site, but who's counting?
What got me thinking of tulips is that our own modest display of these flowers has come into full bloom over the past weekend. I'll admit I had nothing to do with the planting of the bulbs. That credit goes to my daughter, Jennifer. Nevertheless, her selection of tulip varieties has restored my interest and love of the plant, an admiration that faded over the many decades since moving over from Albany to the neighboring Berkshires.
I'm sure there are many other folks who have memories of gardens and plants from their distant past. Well, this may be the year to restore those interests by planning to include not just daffodils and tulips in the fall planting schedule, but other memorable plants in this spring's planting plans. Retail garden centers are well-stocked now with spring, summer and fall flowering herbaceous and woody plants. Also, this Saturday is the annual plant sale at the Berkshire Botanical Garden, where your plant purchases help support this public garden of renown.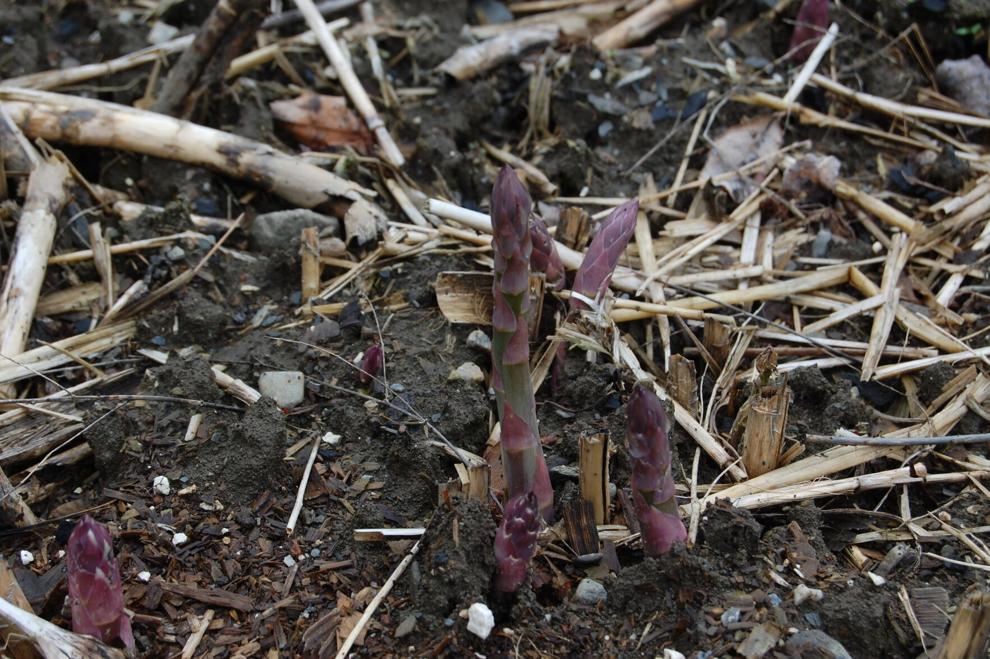 FUN (?) CHORES IN THE GARDEN
In between celebrating daffodils and tulips and buying plants, dedicate some fun time … OK, some work time for these gardening tasks:
Harvest asparagus when the spears are 6 to 8 inches tall. The spears just began poking through the ground last weekend. Harvesting can be done by either cutting off the spears at ground level or by snapping off the spears. Any spears that are as thin or thinner than a pencil should be ignored and allowed to grow into ferns. A mature bed of asparagus, i.e. more than three years old, may be harvested through May and June, but not beyond the end of June.
Apply neem oil, as per label directions, to leeks, onions, shallots and garlic plants to control allium leaf miner. Although last week I mentioned covering these crops with a floating row cover, spraying neem, an organic pesticide, every 7 to 10 days through spring is an alternative strategy for managing this new garden pest.
Sow seeds of broccoli, cauliflower and late cabbage directly in the garden. Though I have already set out seedlings of these crops, a seeding now will provide for a late-season harvest.
Thin earlier sowings of leaf lettuce, turnips, spinach, beets and carrots. The remaining seedlings will grow better without the competition. However, don't simply toss the seedlings that have been pulled up. The leaves of these, including the carrot seedlings, can all be used in salads.
Looking to dispose of wood ash collected over the winter from the fireplace or wood stove? Before doing so, apply some of the ash to the soil around lavender plants. Lavender thrives in alkaline soils. Just a handful around each plant is enough. If planting new lavender plants, work some wood ash into the soil. Wood ash worked into soils in the vegetable garden is another option since most vegetable crops prefer a soil that is not acidic.
Focus attention on weeding out garlic mustard, a very common weed in the landscape, especially woodlots. Garlic mustard is a biennial plant, meaning that it takes two years to mature and produce flowers. Why worry about this weed? The primary reason is that garlic mustard is very invasive and out-competes other plants by releasing chemicals from its roots; these chemicals inhibit the growth of other plants. The mature plant can be recognized by its triangular-shaped, tooth-edged leaves. If in doubt, crush some leaves. They'll emit a garlicky odor. The mature plants are now in bloom and must be removed before seeds develop as each plant is capable of producing hundreds, if not thousands, of seeds.
Mow lawns later in the day when the grass is dry. There will be less clumping of the clippings. Given the frequent rains of late, mowing frequently may be a problem. If grass is quite tall when finally mowed, it would be wise to double cut the grass. That will leave finer clippings that will move down into the turf canopy. If clippings are excessive, rake them up and use in the garden as a mulch.
Feeling a bit depressed during these difficult times? Surround yourself with more houseplants. Studies have shown that the presence of houseplants can lift your mood, lower your blood pressure and allow for a more restful sleep. Studies conducted by NASA have also found spider plants, English ivy and asparagus fern to be very effective in removing pollutants from indoor environments, such as in space stations. This is very useful information for those who foresee a space station as a second home.