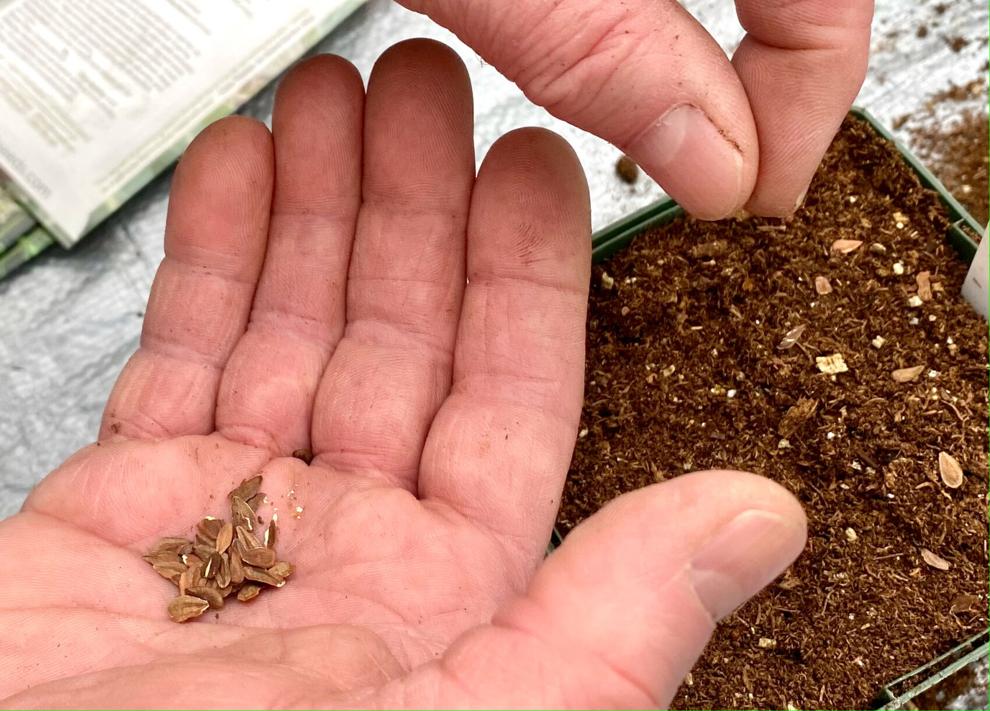 If you are gardening in Rochester, Minn., and you get a craving for Ethiopian kale, where do you go for seeds? The Rochester Public Library, of course.
This institution has, since 2018, run a thriving seed library, which includes all sorts of cosmopolitan crops among its accessions. You just show your library card and that entitles you to select 10 packets of seeds from its rack. There is no cost, although the library encourages borrowers to let a few of each type of plant go to seed in their gardens, collect the seed, and return this harvest to the library to help provide material for the next year's distribution.
Seed libraries are a fairly recent phenomenon in the United States. The earliest example I can find is BASIL, the Bay Area Seed Interchange Library, which was founded in 2000 at the Berkeley Ecology Center in Berkeley, Calif. The idea — to create a self-sustaining source of free food crop seeds for the community — quickly caught on. I've seen one calculation by professor Michael S. Carolan, of Colorado State University, who included a study of seed libraries in his 2018 book, "The Food Sharing Revolution," that as of the time of publication there were some 660 seed libraries in the 48 contiguous states. Most are associated with public libraries, which can provide a centrally located place to house this endeavor, and staff to assist with its operation, as well as expertise in securing funding.
The services that a seed library can provide are several. A source of free, easily available seeds encourages library patrons to embark on growing their own food, and so improving their diet. Unlike commercial seed suppliers, whose economics force them to focus on generic best-selling cultivars, seed libraries can stock vegetable and fruit varieties that perform particularly well in the local region. Likewise, by emphasizing saving the seeds of the best performing individual plants, and then making them available for replanting in the same community the next year, seed libraries help to foster the evolution of locally adapted genetic variants. By featuring crops such as Ethiopian kale that are important to local cultural groups, a seed library can not only foster the food ways of that sub-community, but also help to introduce them to other residents and expand the interactions between neighbors.
Seed libraries also help to keep seeds in the public domain. Years ago, farmers and gardeners almost all saved seeds from each year's crops to furnish the material for the next year's planting. Sharing such seeds was common. Over the last century, however, seeds have become big business. Seed companies now patent outstanding cultivars so that saving seeds from them for public distribution is illegal, and most new introductions are hybrids anyway, which means that offspring from saved seeds are unlikely to resemble closely the parent plant. The resulting concentration of seed distribution has had a profound effect. According to Carolan, just three companies, Bayer Monsanto, DuPont and Syngenta, account for roughly 50 percent of all seed sales worldwide. Corporate consolidation has also shrunk product lines, hugely reducing the diversity of food crops available to gardeners.
From talking with Keri Ostby, the librarian in charge of the Rochester Public Library's seed library, it became apparent that this venture had also become a point of intersection for all sorts of gardening organizations, from garden clubs to the cooperative extension. The connections formed in this way provide a critical mass for other initiatives, horticultural and otherwise. In Rochester, for example, the seed library catalog and accompanying education materials are being published now not only in English but also Spanish, Somali and Khmer, and volunteers associated with the seed library have begun a program to find space in community gardens for would-be gardeners without a plot of their own.
For help with starting a seed library in your own community, I recommend you consult the "Start a Library" page of the Seed Libraries webpage, seedlibraries.weebly.com. For additional insights, listen to my conversation with Keri Ostby of the Rochester Public Library. You'll find that on the Berkshire Botanical Garden's "Growing Greener" podcast at thomaschristophergardens.com/podcast.
Editor's note: The Berkshire Athenaeum, in Pittsfield, hosts the Berkshire Seed Library, which provides seeds for the community to plant, grow and harvest. You can "check out" and take home up to 10 fruit, vegetable or flower seeds per family with your library card. For more information, call the reference desk at 413-499-9840 ext. 202 or email info@pittsfieldlibrary.org.