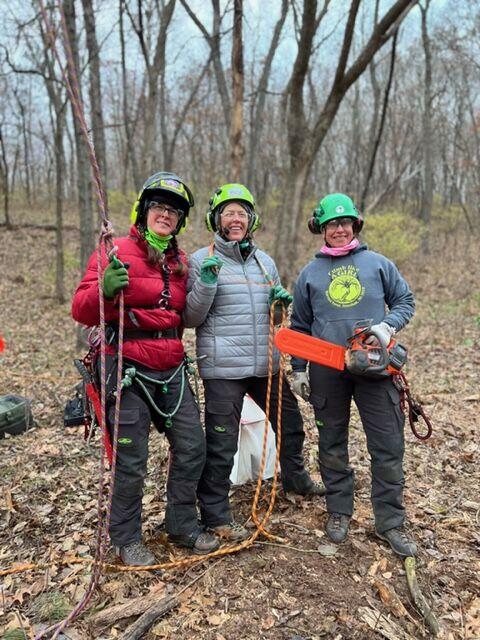 A Sheffield arborist will be in the national spotlight in an upcoming episode of the CBS series "Mission Unstoppable."'
The Daytime Emmy Award-winning series, hosted by Miranda Cosgrove, profiles women who are superstars in the STEM (science, technology, engineering and math) fields.
"As often as I can, for anyone who wants to listen, I will speak trees, about trees and tell people about the importance of them," Melissa LeVangie Ingersoll says in the segment, which also features her twin sister, Bear LeVangie, and friend Rebecca Seibel. LaVangie Ingersoll teaches womens' chainsaw skills workshops at Berkshire Botanical Gardens, in Stockbridge, and regularly participates in Sheffield's annual Arbor Day ceremonies, pruning trees with other local arborists.
The trio of arborists will appear in the "Mission Unstoppable" episode airing on Saturday, May 14. In the Berkshires, the series airs on Saturdays at 6 a.m. on CBS affiliate WSHM-TV (Channel 3 for Spectrum customers in the Pittsfield/Lee service areas); at noon on CBS affiliate WBZ-TV (Channel 3 for Spectrum customers in the North Adams service area) and at 11 am. on WRGB-TV (Channel 6 for all Spectrum and Charter subscribers).
"We are educators. We are the voice of the trees because they cannot talk," Bear LeVangie says during an interview at the top of the segment. Together, the sisters, who grew up in Barre, discovered their dream jobs were in arboriculture. But after realizing that training opportunities for female arborists were far and few, they founded the Women's Tree Climbing Workshop (WTCW), a national women-led organization dedicated to creating a safe and empowering learning environment for women to climb trees. To date, the organization has taught over 700 women how a climbing arborist works, safe climbing techniques and responsible tree care. Seibel is a lead instructor at WTCW.
The LeVangie's recently partnered with The TurfMutt Foundation, an organization that encourages outdoor learning experiences, stewardship of green spaces, and care for living landscapes, to showcase these outdoor career possibilities for young women. During the episode, the trio demonstrates how to safely climb and use power tools to properly prune trees, while removing dead wood from an elm tree behind Seibel's home in Wisconsin.